2018 Fantasy Baseball: Post Winter Meetings Breakdown– NL East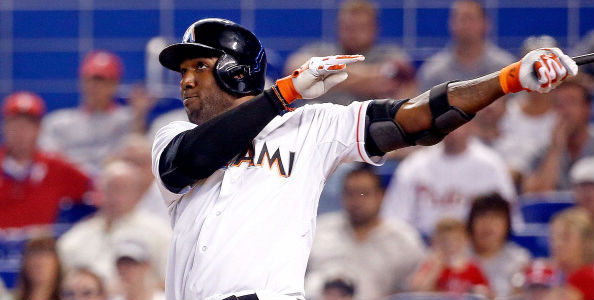 The Winter Meetings are over, but there is nearly two months left in the offseason. There has been some intriguing moves made in the NL East that could make it one of the more interesting divisions long term. There are certainly more moves to be made, so we will look at what has been done and what could still go down.
Atlanta Braves
2017 Record: 72-90 (3rd)
Key Free Agents: SP R.A. Dickey, RP Jason Motte
Key Additions: SP Scott Kazmir, SP Brandon McCarthy, IF Charlie Culberson
Key Losses: OF Matt Kemp
Let's forget for a moment that 72 wins somehow netted them third place. The needle is pointed up for the Braves after they systematically jettisoned some more expensive players including Matt Kemp. They took back some salary, but some of that is in the form of Kazmir and McCarthy. The two should provide veteran leadership in the rotation if they are healthy. They also have seven players rated among the top 100 prospects in baseball. At least a few will establish themselves this year on the parent club, so the future could be brighter.
Major Moves on the Horizon
This seems like a natural fit for Mike Moustakas. The Braves need a third baseman badly and his power bat would be huge in a lineup that needs one more dangerous hitter to pair with Freddie Freeman. Overall, the Kemp move was a good one, but it does remove a key power bat from the lineup, so adding someone like Moustakas could be huge. It wouldn't make them a playoff contender, but it would make them a lot better than most people think.
Miami Marlins
2017 Record: 77-85 (2nd)
Key Free Agents: OF Ichiro Suzuki
Key Additions: 2B Starlin Castro
Key Losses: OF Marcell Ozuna, OF Giancarlo Stanton
Does Miami really deserve a team? They've gone through three major garage sales and nothing seems to change. Scott Boras called them baseball's version of a pawn shop. Many think he's a scumbag but it's hard to argue with his analysis. So, the only real question will be how much they barter off before the beginning of the season. The sad thing is that they currently have only two of the top 100 prospects in baseball, so it's hard to argue that all of the liquidation has really benefitted them all that much.
Major Moves on the Horizon
J.T. Realmuto and Christian Yelich are the best remaining players. They are relatively cheap for the moment and both are top ten players at their position. So, could they net two or three top 100 prospects? You could argue they've gotten volume up to this point, but at some point they need to add some quality.
New York Mets
2017 Record: 70-92 (4th)
Key Free Agents: SS Jose Reyes
Key Additions: RP Anthony Swarzak
Key Losses: None
The good news is that the Mets were never this bad. They just suffered decimating injuries that you would have to believe were a one-time phenomenon. In particular, their pitching staff is better than this with two of the most intriguing young pitchers in the game in Noah Syndergaard and Jacob deGrom. If Matt Harvey ever rediscovers his stuff it could be an entirely different season.
Major Moves on the Horizon
The Mets have been one of the teams rumored to be in on Lorenzo Cain. That and a reunion with Neil Walker would seem to make a lot of sense. They will also be without Michael Conforto for a good portion of the season, so signing a secondary outfielder would also be wise. Heck, a reunion with Jay Bruce also makes sense given his ability to slide to first base.
Philadelphia Phillies
2017 Record: 66-96 (5th)
Key Free Agents: SP Clay Buchholz, OF Hyun-Soo Kim
Key Additions: RP Pat Neshek, RP Tommy Hunter, 1B/LF Carlos Santana
Key Losses: SS Freddy Galvis
The signing of Santana was a surprise for an organization still a year away from true competitiveness. Santana and Rhys Hoskins are both first basemen. One or both could play left field to make room for the other. Neither profiles as a strong outfielder. Signing Neshek and Hunter gives them a credible bullpen to go along with a credible lineup. They are a starter or two away from respectability.
Major Moves on the Horizon
They have been rumored to be in on guys like Jaime Garcia. Give them a credible pitcher or two and they could vault to second in a very weak division. They could deal Cesar Hernandez to make room for some young players at that position as well.
Washington Nationals
2017 Record: 97-65 (1st)
Key Free Agents: 1B Adam Lind, SS Stephen Drew, IF/OF Howie Kendrick, OF Alejandro De Aza, OF Jayson Werth, SP Edwin Jackson, RP Matt Albers, RP Joe Blanton, RP Oliver Perez
Key Additions: None
Key Losses: None
You have to feel for the Nationals in some respects. They have two dominant starters and a young superstar. Some have some decent complementary pieces as well. Usually that would be enough to advance to a World Series. Unfortunately, they've run into some buzzsaws in the Dodgers and Cubs. Neither of those teams are going away anytime soon, so it looks they have to back to the drawing board to find that one additional piece to get them over the top.
Major Moves on the Horizon
Like other elite organizations, there isn't one spot where the Nationals have to improve their team. They could conceivably add a third special starter, they could add another position player that could serve as an upgrade (catcher?). They could also add more depth to their bullpen. One thing is for sure. They are sure to add something somewhere.