2019 Fantasy Baseball: Final Second Base Rankings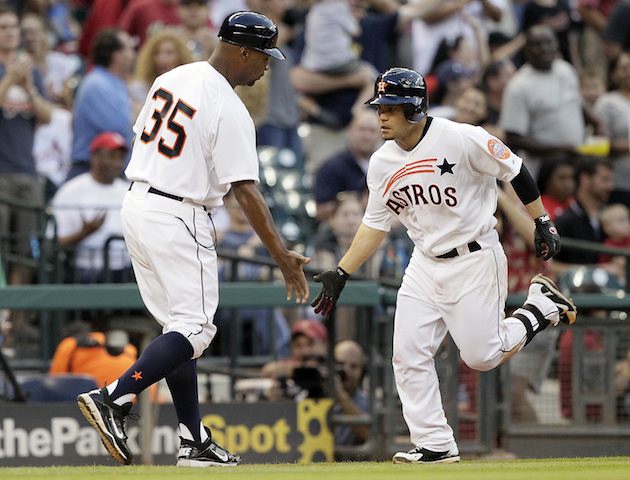 As I write this, Game 7 is just underway. The end of the 2019 season is coming to an end tonight wherher we like it or not. Before we dive into 2020 we should take a look back of what was 2019. As someone wise once said, "past is prologue." We can learn a lot about the future by looking at the past. In this case we will be looking at the top 15 second basemen according to six category, total points, and total points per game. The combination of the three formats gives us a good cross-section of the position.
Additionally, we took the numbers of all second basemen with 300 or more plate appearances. From there, we came up with the positional averages for the six categories. Players will have those numbers in green and red font. Green numbers indicate that the player was better than average and red numbers indicate the player was worse than average.
Average: .262/18 HR/66 Runs/61 RBI/9 SB/42 BB
Total Points= Total Bases + Runs + RBI + SB + BB + HBP – SO- CS- GIDP
Ketal Marte– Arizona Diamondbacks
Six Categories: .329/32/97/92/10/53 (1)
Total Points: 498 (1st)
Points Per Game: 3.46 (1st)
We don't consider positional flexibility officially, but Marte does earn extra points for being eligible in center field. No one saw this season coming and it might be unlikely that we will see it again. We see seasons like this every now and then. 1987 comea to mind, The league denied that the ball was juiced but it is hard to deny the facts. He might be more like a 20 home run guy in the future.
Ozzie Albies– Atlanta Braves
Six Categories: .295/24/102/86/15/54 (2nd)
Total Points: 463 (2nd)
Points Per Game: 2.89 (4th)
This is two good seasons in a row for Albies. Albies and Acuna seem to be the backbone of the Braves run into the future. Pair them with Freddie Freeman and you have a very strong core for the future. Albies has steadily improved in his plate discipline and that is probably the one thing separating him from being a great offensive player.
Gleyber Torres– New York Yankees
Six Categories: .278/38/96/90/5/48 (4th)
Total Points: 394 (5th)
Points Per Game: 2.74 (5th)
There is always the temptation of reading a great deal into postseason performance. Fantasy players have lost titles doing that for decades. Torres was one of the lone bright spots for the Yankees in the ALCS. He would have been the MVP of the AL playoffs if they had won. The question is whether that has any bearing on what he will do in the future. Surely, there will be one or two players in your fantasy league willing to bet on that.
Whit Merrifield– Kansas City Royals
Six Categories: .302/16/105/74/20/45 (5th)
Total Points: 420 (3rd)
Points Per Game: 2.59 (6th)
Merrifield doesn't have the power of the other top second basemen, but he does everything else. Eventually, the Royals are going to get better and he's going to have even more runs scoring opportunities. Of course, with a new manager they will likely run less as a result. Of course, total points doesn't care about individual categories nearly as much, so it all depends on what format you choose to play in.
Jeff McNeil–New York Mets
Six Categories: .318/23/83/75/5/35 (8th)
Total Points: 404 (4th)
Points Per Game: 3.04 (3rd)
Here is another ode to multipositional flexibility. McNeil is eligible in some formats at third base and the outfield as well. How you feel about McNeil depends largely on how heavily you cling to individual categories. When you take total production he ends up looking a lot better because all he does is hit. Unfortunately, he doesn't run much or draw many walks, but in a five category format you can live with that.
Jose Altuve–Houston Astros
Six Categories: .298/31/89/74/6/49 (7th)
Total Points: 382 (9th)
Points Per Game: 3.08 (2nd)
We reiterate the words we said about Torres here. Altuve was the MVP of the AL playoffs and performed fairly well in the World Series as well. In his case you could easily play the "if he were healthy the whole season" game. You start throwing out numbers like 40 home runs, 110 runs scored, and 90 RBI. As players get older that becomes much more difficult to assume. Instead we should accept what we have at face value.
Jonathan Villar– Baltimore Orioles
Six Categories: .274/24/111/73/40/61 (3rd)
Total Points: 387 (6th)
Points Per Game: 2.39 (7th)
There is often a gap between fantasy baseball and real baseball. Total points has a way of bringing that out. In real baseball, Villar is sometimes erratic in the field and swings and misses too often to be a really good player. In fantasy terms, he adds the kind of power and speed that is rare. So, based on the format he might be a great play or a lackluster play.
Cesar Hernandez– Philadelphia Phillies
Six Categories: .279/14/77/71/9/45 (10th)
Total Points: 347 (8th)
Points Per Game: 2.16 (9th)
If we take these numbers in a vacuum we have to come away impressed. Unfortunately, numbers never occur in a vacuum. Hernandez used to walk a ton and is now barely above the positional average. That's an alarming trend for a player that doesn't have great power or good speed. He is at best average in those categories and perhaps average overall moving forward.
Adam Frazier–Pittsburgh Pirates
Six Categories: .278/10/80/50/5/40 (13th)
Total Points: 329 (9th)
Points Per Game: 2.16 (9th)
Looking at positional averages can be helpful but they can also be decieving. If you go by these numbers you'd assume that Frazier was a below average second baseman. Only his power is significantly below average. As the Pirates get better, the run scoring will be better as well. Plus, we have to expect some natural growth as well. He won't be an upper echelon second baseman, but maybe someone to target if you punt the position.
Rougned Odor–Texas Rangers
Six Categories; .205/30/77/93/11/52 (6th)
Total Points: 276 (12th)
Points Per Game: 1.90 (14th)
Ah, the ultimate space between performance on the field and mere counting numbers. Yes, he hits home runs and steals the occasional base. He even draws a walk every now and then. He also strikes out and strikes out a ton. In real life he is barely replacement level, but here he is in the top ten. If you can hold your nose long enough it might even be worth a gamble.
Kolten Wong–St. Louis Cardinals
Six Categories: .285/11/61/59/24/47 (11th)
Total Points: 317 (11th)
Points Per Game: 2.14 (11th)
Wong has been hanging around for years after being one of the top prospects in baseball. You never know when someone is going to find their level and he seems to have found his. No, he is not an upper tier second baseman, but he is solidly in the middle of the pack. It's impossible to pack your fantasy team or your real team with all-stars at every position.
Cavan Biggio–Toronto Blue Jays
Six Categories: .234/16/66/48/14/71 (12th)
Total Points: 230 (17th)
Points Per Game: 2.30 (8th)
Development is rarely ever linear. It's dangerous to assume that Biggio can simply protract his numbers out over 600 plate appearances. Teams get a book on you and they know how to exploit your weaknesses. That is until you grow as a player and make the adjustment. No one knows quite how long that will take. Sometimes it is instantaneous and sometimes it takes years. We just never know.
Starlin Castro–Free Agent
Six Categories: .270/22/68/86/2/28 (14th)
Total Points: 328 (10th)
Points Per Game: 2.02 (13th)
Castro's second half may have just saved his career. He finally has gotten to the end of the contract he got after a few good seasons to start his career. Castro just swings at too many pitches to be an effective offensive player, but he may have developed enough power to hold down a full-time job for aanother season or two before he rides off into the sunset.
Ryan McMahon–Colorado Rockies
Six Categories: .250/24/70/83/5/56 (9th)
Total Points: 256 (14th)
Points Per Game: 1.82 (16th)
McMahon sort of came out of nowhere this year when the Rockies finally moved Ian Desmond to the outfield full-time. That moved Daniel Murphy to first base and opened up second for McMahon. The Rockies will always have hitters and they will always put up numbers. Who knows how mich better McMahon will get or if he will stick long-term as an everyday bat. They have Brendan Rodgers waiting in the wings and McMahon does have some multipositional flexibility.
Jason Kipnis–Free Agent
Six Categories: .245/17/52/65/7/40 (16th)
Total Points: 257 (13th)
Points Per Game: 2.12 (12th)
The Indians have already declined Kipnis' option. Who knows where he might land from here and if he will even get an everyday job. The problem is that expensive mediocre players are not hot commodities on the open market. Bad teams don't want to pay for slight improvement and good teams won't get better by signing players like Kipnis. He might have to settle for a bench role and a chance to get a regular gig if he gets hot.