45 Prospects in 45 Days: Phillies' Maikel Franco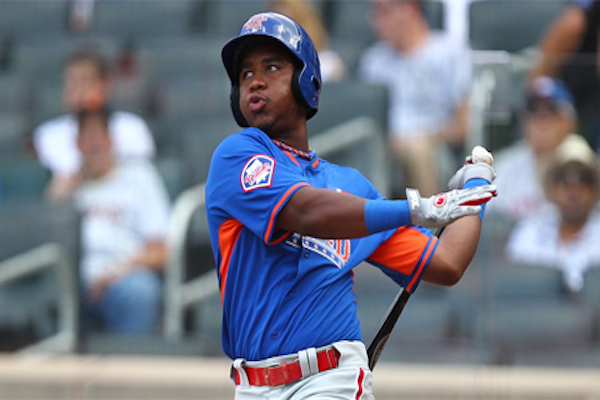 Over the next 45 days the staff here at The Fix will profile and predict the fantasy fates of prospects that could – should, in some cases – be closely monitored on the waiver wire or even in the draft room.
For the projection portion of the article, we will try our best to give you projections from all three major projection systems. Those projection systems are: ZiPS, Steamer, and Oliver. Oliver varies from the other two by projecting what a player would accomplish over 600 PA. Obviously, most prospects won't reach 600 PA, due to various reasons. It can help to pay more attention to the rate stats that are included in order to get a clearer idea of what you're dealing with in a particular player.
Profile
Maikel Franco is a solid hitter. Unfortunately, despite that fact, most of his fantasy value is tied to where he ends up defensively. Despite playing at first base a little last season Franco is currently a third baseman, and the Phillies appear committed to giving him a chance to stick there. And while the organization, who no doubt knows their player, is at least somewhat confident in his ability to stay there, the scouting reports that have been piling up over the past year state that he likely can not call third base home long term.
Franco's defense might be in question, but his ability to barrel the ball is not. He lacks the plate discipline that I prefer to see, but it's hard to argue with the results he's been able to coax out of his bat over the past year and a half. Despite his penchant for swinging more than his peers, his strikeout rates are fine. Much of that can be accredited to his tremendous hand-eye coordination, of which scouts have given rave reviews.
So, Franco has question marks, but in his carrying tools – his bat and power – happens to be the one that matters the most in fantasy.
Pundits
Franco's rankings have caused a little disagreement within the scouting community, which is normal, but the varying opinions on Franco seem a little wider than they do on other prospects. ESPN's Keith Law ranked Franco 61st in his recent update and wrote the following:
The 20-year-old punched out just 70 times in nearly 600 plate appearances, so while his recognition of off-speed stuff is poor, he has enough hand-eye coordination to foul off some of those pitches and keep himself alive to hunt for another fastball. His hands get very high and deep, and between that and his raw strength he has at least grade-65 power, although he doesn't always get to it between that deep load and inconsistent hip rotation.

…

He's an everyday player as a first baseman who should hit .290 or so with a low OBP but 25-30 homers a year, which might get him into the occasional All-Star game along the way.
Obviously, .290 with 25+ homers plays in any league, but it sure would be nice if we could get that production at third base; a feat Law doesn't see happening.
Jason Parks was lower than Law on Franco's overall profile, but actually ranked him higher by slotting him in at 52 during his recent update. Parks has much more concerns regarding his ability to perform well against upper tier arms:
Franco was a monster in 2013, hitting for average and power, but sources question the utility of the hit tool against better arms, particularly arms that can beat him with sequence. His preternatural feel for contact helps him recover from a late trigger or a poor pitch read, so he should be able to keep the ball in play. But his impressive plus-plus power is likely to play down as a result of his swing and approach, which will limit his overall value, especially if he can't make the profile work at third base. I can see a .260-plus hitter with 20-plus bombs, most likely coming at first base, and I would probably be higher on the overall profile if the work ethic received praise from outside the org sources rather than questions and red flags.
If Parks' evaluation is more in tune with Franco's future production, then the picture is not nearly as rosy.
Baseball America, however, paints an even rosier picture than Mr. Law. I do not currently have a BA subscription, but the publication ranked Franco 17th in its recent update. The small blurb available to everyone went like this:
Franco already has power and polish at the plate. Adding polish and maintaining his agility at either infield corner would speed his arrival in Philadelphia, at either spot.
Simple and effective. Obviously, BA's rankers believe in Franco's bat, perhaps even more so than Law.
Minor League Production

Franco has always been viewed, or at least until he exploded, as a "raw" prospect. It took a little while, but Franco really began to turn a corner in 2012. His raw tools began translating into game situations, and since then, he's performed admirably.
After slugging 31 homers in 2013, it's no surprise that Philadelphia has begun factoring him into their plans for the immediate future.
Projections
Both systems see the same player. ZiPS is much higher on his power going forward, or at least for this season. All three systems see a rise in his strikeout rate, which is to be expected given his struggles with quality breaking stuff during his tenure in the minor leagues.
Warts included, Franco is projected to be an above league average hitter right now by ZiPS, which bodes well for his future.
Prediction
Franco's aforementioned future is still up in the air. If, by some mircale, he's able to stay at third base his fantasy value shoots up. If, like most expect, he has to move to first base his value goes down.
It appears like Franco will hit for a respectable average, with room for growth. On the other hand, his value in OBP leagues will likely be nonexistent unless he's able to hit around .300 on a yearly basis.
Franco could receive a call to join the big club in Philadelphia this season, but given Philadelphia's current roster – includes Ryan Howard, and his contract, and Cody Asche, whom the Phillies want to see get plenty of playing time – Franco's age (21), and their seemingly small chance of competing for a playoff spot this season, there's no reason for them to rush Franco's clock. Due to the situation, Franco's 2014 impact is likely to be minimal.
Owning Franco in a long term league is another conundrum. If I own him, I'm likely shopping him now and trying to talk up the fact that he's currently a third baseman.  If Franco is as good of a hitter as he could be, he's still a long term play at first base, but there is a much higher bar to clear than there is across the diamond.