Arizona Diamondbacks Aquire Shelby Miller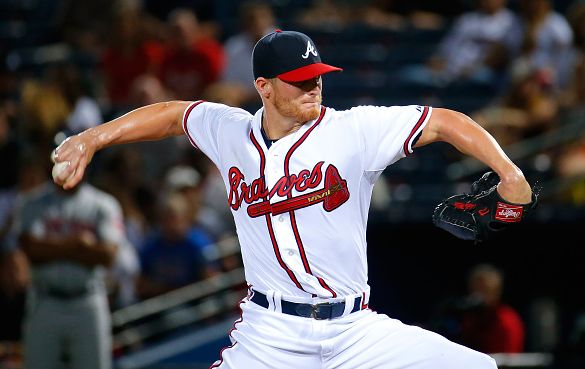 The Arizona Diamondbacks are all in for 2016. After breaking the bank to sign starting pitcher Zack Greinke to a record deal worth $206.5 million in total and over $34 million annually for the next six years, the D-Backs made another high profile move in what was the first true blockbuster trade of this offseason. In an effort to beef up their lackluster starting rotation that was worth only 8.1 wins last season according to Fangraphs, Arizona acquired right hander Shelby Miller and a minor league reliever from the Atlanta Braves in exchange for Ender Inciarte and two prospects.
At first, it seemed like a dead-even swap from a surface level understanding of the deal — a breakthrough outfielder for a power arm coming into his own — but once the names of the prospects involved became publically known, the trigger response was to bash Arizona and praise Atlanta. The Braves haul includes Inciarte, of course, but also brings the top-two prospects in the D-Backs system over to Atlanta; Dansby Swanson, the first overall pick in last year's draft, and righthander Aaron Blair.
With the deal, Swanson becomes just the third first overall pick to be dealt by the organization that drafted him before reaching the big leagues along with Adrian Gonzalez and Shawn Abner. Swanson was a finalist for the Golden Spikes Award during his final year at Vanderbilt, which is awarded to the nation's top college player, and hit a solid .289 with an .876 OPS in short-season Class-A ball. Swanson profiles as an ideal two-hitter with good bat control, athleticism, and 15-homer pop; and as we've seen from former college players like Michael Conforto and Kyle Schwarber last year, Swanson can be on the fast track to the show. He's also a solid to above-average defender at shortstop and is actually from Marietta Georgia, so he will be going to play for his hometown team.
While MLB.com's #10 prospect Swanson was the highlight of the trade for the Braves, Aaron Blair is far from just a throw-in. Blair is a 6'5", 230 pound hard throwing righthander with sink on his fastball. The most accurate comparison for Blair from Arizona has actually been former Diamondback ace and 2006 NL Cy Young award winner Brandon Webb. If that comp doesn't accurately describe just how much the D-Backs valued the right arm of Blair, his 2.92 ERA and 1.17 WHIP between the top two Minor League levels last season really speaks to his talent.
When it comes to the crux of the deal — Miller for Inciarte — Arizona decided to trade from a position of strength and surplus being that they believe their window to win is opening now. The Diamondbacks finished third in their division last year, and are clearly winning the offseason out West just by stealing Greinke away from both the Dodgers and the Giants. They have a young core of talented players, and now with Shelby Miller in the mix, a strong pitching rotation to go with it. Ender Inciarte will certainly be missed in the D-Backs lineup, but for an offense that scored the second most runs in the National League, pitching had to be the priority this winter.
In terms of WAR, Inciarte was worth about 3.3 wins a year, which was good for third best on the club between two guys who will need to pick up his slack, A.J. Pollock and David Peralta. Inciarte, 25, does a lot of things very well and is already drawing trade interest from other clubs for the Braves. Atlanta almost certainly won't be in the playoff mix this year, but they do have four more years of arbitration control over Inciarte so they could move him or keep him for the the new stadium opening in 2017; whichever they see fit.
There is no doubt Arizona gave up a lot of young talent to get Shelby Miller from the Braves, too much talent if you ask most; but the move to acquire another arm to go along with Greinke and Patrick Corbin was made to fulfill World Series aspirations. Miller, being 25 years of age and a former first round pick himself, reached new career highs with 205 ⅓ IP, 171 Ks, and pitched to the tune of a 3.02 ERA. He was just 6-17, but with a 3.3 WAR and All-Star appearance in 2015, that poor record is more indicative of his team's struggles as opposed to his own. Miller had a tough second half of the year and can be a bit wild at times, but has top of the rotation-type stuff and likely has yet to reach his ceiling. Although he's moving from the pitcher-friendly Turner Stadium to the thinner air of Arizona's Chase Field, Miller will surely be aided by the stellar defense of the Diamondbacks. Both Pollock and Paul Goldschmidt  took home Gold Gloves last season for their work out on the defensive side of the ball, and according to fangraphs, shortstop Nick Ahmed and third baseman Jake Lamb were top-three defenders at their positions as well. By those estimations, Arizona may very well possess the best defense in all of baseball (and please, save me your Royals talk; Eric Hosmer and Mike Moustakas are average at best in the infield). With solid D, a strong offense, and formidable pitching staff, maybe the Diamondbacks weren't so crazy to give up what they did for Shelby Miller. Maybe they're just in perfect position to go for it.