Chicago Cubs Sign Ben Zobrist and John Lackey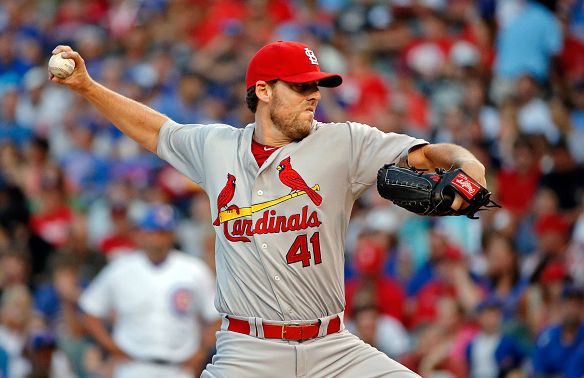 The Winter Meetings hadn't even officially begun before the Chicago Cubs began wheeling and dealing. They officially signed starting pitcher John Lackey and now second baseman/left fielder Ben Zobrist. The Cubs were rumored to be involved with David Price for awhile, but when you look at the financials involved, they ended up getting two players for a little more than they would have spent on Price. Lackey signed a two year, $32 million deal and then Zobrist agreed to a four year, $56 million deal. That's a total of 35 million a season in comparison with the 31 million that it took to sign Price in Boston.
Why the Cubs signed John Lackey
The Cubs had the second best record in baseball in 2015. They made it all the way to the NLCS before the bowed out to the Mets. Make no mistake, their biggest competition isn't the Mets, Dodgers, or the Giants. Their biggest competition is the Cardinals. You can do no worse than taking a prominent free agent from your rival and signing him to your team. Lackey's 13-10 record hid a very productive 2.77 ERA a year ago to go along with 218 innings. Don't look now, but the Cardinals are now without two of their best starters in 2016 (Lance Lynn will miss the season with Tommy John surgery).
As for the Cubs, Lackey slots in behind Jake Arrieta and Jon Lester in the rotation. Admittedly, Lackey probably isn't as good as his numbers last season look, but he has pitched 180 or more innings in nine out of his 12 seasons. With Jason Hammel sliding into the fourth starting spot, the Cubs will probably be looking for one more starting pitcher to round into their rotation. However, the best part of the equation is that they made the Cardinals a little worse in the process.
Why the Cubs signed Ben Zobrist
Tuesday evening brought a flurry of activity. The Cubs dealt Starlin Castro to the New York Yankees almost at the same time as they signed Ben Zobrist. I've made my admiration of Zobrist known on these pages over and over again. The kids call it a man crush. Funny, but Castro has always been the antithesis for me. He doesn't get on base with any proficiency and he didn't do a good job defensively when he was a shortstop. Fantasy players don't care about WAR, but looking at the oWAR and dWAR for Zobrist since he became a regular in 2009 tells the whole story.
2009: 6.1/2.5
2010: 2.8/1.4
2011:  5.7/3.2
2012: 5.3/0.4
2013: 4.0/1.2
2014: 4.1/0.9
2015: 3.1/-1.3
Keep in mind that when you look at the numbers from last season, most of them came with Zobrist playing left field. Even though second base is his natural position, he has also played third base, shortstop, left field, and right field. So, if Javier Baez is still a Cub in Spring Training and they decide he has to play second base, then they can easily put Zobrist in left field. His versatility is an added plus.
What these deals mean for you
Buying high on John Lackey is a sucker bet. His career ERA (3.92) is probably a closer bet to what he will produce in Chicago. There is a place on your fantasy team for a guy that can hurl 200 innings with an ERA in the high threes. That is probably towards the end of your fantasy rotation. If you carry five or six starters on your fantasy team, he could end up being your fifth or sixth starter. However, you could do a lot worse. Just don't make the mistake of thinking he's the guy that hurled a 2.77 ERA a year ago.
Zobrist is a little more complicated. He failed to steal 10 or more bases for the first time in his career last season. At 36, he is at the tail end of his prime. Still, he will hit north of .260, hit ten or more home runs, and draw at least 60 walks a season. Add all that up and he will score runs for you and drive them in at a decent rate. As a pure second baseman he might rate somewhere near the bottom of the top ten. When you consider he is eligible at so many positions then he plays up a little. Being on a good team always helps. His production was better in Kansas City than it was in Oakland and it will continue in Chicago.