Two to Add, Two to Drop: Left Field Edition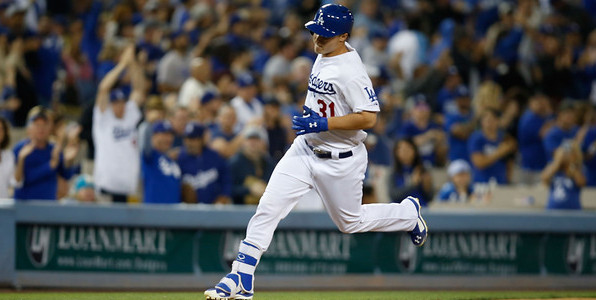 Dealing with outfielders is always a challenge in fantasy sports. Some of my leagues treat outfielders separately while others clump them together. There really is no good way to treat them, but if we separate them out into positions then you can always put them back together on your own. It is a lot more difficult to treat them all as one and then separate them out. I'd imagine that the positional medians will end up being similar, so it is just a question of classification. We use the players that have qualified primarily as left fielders and looked at their batted ball statistics.
Batted ball statistics can show us whose batting average on balls in play (BABIP) should be better than it is. If you treat players like stocks then these are the stocks that should be on the rise. Of course, the reverse is also true. You can trade or release players that have performed up until now, but are likely to decline as the season moves on. So, we are ignoring traditional numbers for the time being.
We are primarily focusing on four statistics: contact rates, chase rates, hard contact, and home runs per flyball. All of these give some context to BABIP and help us determine whether a player's BABIP is deserved. Before we move forward with the two to add and two to dump we should take a look at the median rates for all regular left fielders.
BABIP: .291
Contact: 76.7%
Chase: 27.9%
Hard Contact: 40.1%
HR/FB: 19.1%
Two to Add
Hunter Renfroe– San Diego Padres
Yahoo: 57%
Contact: 76.3%
Chase: 34.6%
Hard Contact: 52.8%
HR/FB: 33.3%
BABIP: .243
Renfroe is second amongst qualified left fielders in hard hit rate (Joey Gallo) and tied for second in HR/FB rate with Joc Pederson. Unlike Gallo (who is also first in HR/FB rate), Renfroe is at least close to the median in contact rates. So, everything points to him having a significant rebound in batting average in the remaining months. Of course, he is already hitting home runs at an alarming clip. There really is nothing else opposing teams can do to hold him back.
On the other hand, the Padres themselves can hold him back. They have Wil Myers, Franmil Reyes, and Renfroe for two outfield slots. None of them are capable of playing center field, so they have to share left field and right field. Reyes is playing a little better at the moment and Myers is well compensated, so he may end up being the odd man out. Of course, if he gets dealt for pitching that could end up working in his favor. Stay tuned.
Joc Pederson– Los Angeles Dodgers
Yahoo: 76%
Contact: 78.8%
Chase: 30.0%
Hard Contact: 39.1%
HR/FB: 33.3%
BABIP: .235
Technically, Pederson is at the median or barely below it in most of the categories. His only elite skill is his ability to hit flyballs out of the ballpark. This can cut both ways. He could continue to hit home runs or we could see regression to the mean. However, the biggest consideration here is the BABIP. If your contact rates and hard hit contact rates are near the median and your chase rate is near the median then your BABIP should be near the median as well.
Like Renfroe, Pederson is part of a crowded outfield scene in Los Angeles. He should get most of the playing time from here on forward, but with Kiki Hernandez, Chris Taylor, and Alex Verdugo in tow you just don't know for sure. They will likely go with the hot hand. I would have to think Pederson should have a BABIP around .280 to .290 from here on out. With average contact rates that ends up being maybe .280/15/50/50 from here on out. That's pretty darn good.
Two to Dump
Andrew Benintendi– Boston Red Sox
Yahoo: 98%
Contact: 78.2%
Chase: 33.0%
Hard Contact: 35.9%
HR/FB: 8.1%
BABIP: .340
If any of you have read the other articles in this series then you know most of these players are players you would deal and not dump. Dump is a euhpemism in this case. It is hard to fathom, but he is actually outproducing his current numbers. His erosion is a perfect example of what happens to teams that win the World Series. You naturally assume that things will continue to happen, but like with Mookie Betts and J.D. Martinez, Benintendi has been off of his game this season.
There will be those that will assume that he will bounce back and you can play into that belief and get yourself a decent player in return. He is on pace to hit about 15 home runs and steal close to 20 bases. That has value on the open market, but it can be replaced. Don't overplay your hand and you can get a better player.
Eloy Jimenez– Chicago White Sox
Yahoo: 64%
Contact: 66.8%
Chase: 36.4%
Hard Contact: 28.6%
HR/FB: 18.8%
BABIP: .294
I love Jimenez long-term and the past couple of days (with home runs in both games) demonstrate that he has a great future in the game. The White Sox were smart to give him a long-term deal, so they can plug him in and let him learn. Pitchers are smart and they'll figure out your weaknesses soon enough. He has managed to have an above average BABIP despite not having hard contact. On top of that, he has a lot of swing and miss in his game that is probably related to his chase rate.
If I were a dynasty owner I'd play the long game and wait for improvement. He has superstar potential, but it is unlikely to play up this season. Watching young players grow is a blast and the White Sox have a lot of good ones. In 2020 and 2021 they will make some serious noise. It won't happen this season. If you can find someone that thinks he will be a star this season then you can get good value for him. You might find someone to give you Renfroe or Pederson straight up for him. That would be a good move.