2013 Fantasy Basketball Division Preview: Northwest Division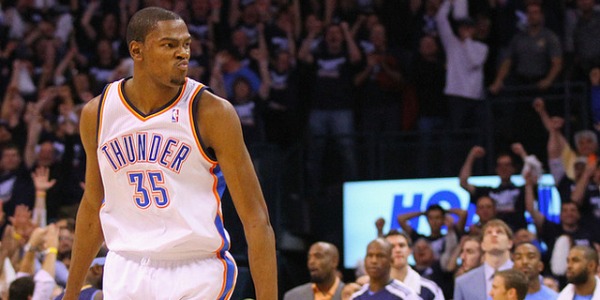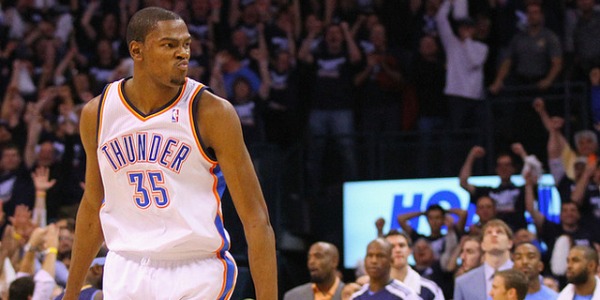 Northwest Division:
The Northwest Division seems to be one in flux.  The top dog is still the Oklahoma City Thunder, but that doesn't mean they are improved from last season.  They could miss out on having the best record in the West this year.  The other top dog in the division last season, the Denver Nuggets, isn't expected to be nearly as good either.  Meanwhile, the Jazz, Trail Blazers, and Timberwolves are all making progress in their own ways.  In fact, one of those teams may have a realistic chance of making the playoffs.

Team: Oklahoma City Thunder
Last Season Record: 60-22
Key Fantasy Additions: Ryan Gomes
Key Fantasy Losses: Kevin Martin, Ronnie Brewer
2013 Draft Picks:Steven Adams, Andre Roberson, Grant Jerrett
Team Overview: To say the Thunder organization is trying their hardest to save money and miss the chance at a title is an understatement.  They have enough young talent that may step up and save the day, but this team is beginning to fail Kevin Durant.  Russell Westbrook had a setback with his injury, so that doesn't help matters.
The Thunder lost Kevin Martin to free agency and Russell Westbrook will be out for at least the first month of the season, so it could be a bumpy road.  However, there are some bright spots.  Reggie Jackson looks like he has turned a corner and could be a real spark even when Westbrook gets back.  Lamb is also making some strides, but it doesn't look like he will have the same impact as Jackson.  Serge Ibaka continues to improve his all-around game and could also take a big step up in Westbrook's absence.  Kevin Durant is Kevin Durant and if Lebron James wasn't around, well, then we would be wondering why Kevin Durant has yet to win a title.  Then we would question his heart and "clutchness" and all that other nonsense we tend to do with great players (admittedly, it is fun to do with Lebron).  The Thunder still have Kevin Durant as well as enough talent to support him.  How far they go depends on Westbrook's health and how much the team improves around him.  If Jackson could take another step forward, the Thunder could have that dynamic piece they have been missing since trading Harden.
Pressing Questions: When will Russell Westbrook return, and will he be 100%?  Westbrook being out actually gives guys like Jackson and Lamb a chance to grow, but let's not fool ourselves.  Despite his flaws, Westbrook is needed for the Thunder to make a title run this season.  Can Reggie Jackson, Serge Ibaka, and Jeremy Lamb all take a step forward?  The Thunder need someone to really become Robin to Durant's Batman while Westbrook is out, but more importantly, this team needs their investments to step up.  The Thunder have title aspirations, and whether or not Westbrook is healthy, they also need some more help.  As for the draft, Westbrook has been taken between the second to third round.  In Head to Head leagues, I'd bite in the third.  Ibaka is being drafted on him fulfilling some extra offensive potential, but if he doesn't step up that part of his game, owners will be wondering why they took him over Anthony Davis or not wait another round or two and grab Larry Sanders.  Reggie Jackson is the X-factor here and owners should target him on draft day and take him with a smile.
Sleeper: Jeremy Lamb
Breakout Candidate: Reggie Jackson
Rebound Candidate: Russell Westbrook's right knee
Bust Candidate: Russell Westbrook
Depth Chart:                                
| | | | |
| --- | --- | --- | --- |
| Position | Starters | 2nd String | 3rd String |
| Point Guard | Russell Westbrook | Reggie Jackson | Derek Fisher |
| Shooting Guard | Thabo Sefolosha | Jeremy Lamb | |
| Small Forward | Kevin Durant | Ryan Gomes | Andre Roberson/Perry Jones III |
| Power Forward | Serge Ibaka | Nick Collison | Grant Jerrett |
| Center | Kendrick Perkins | Steven Adams | Hasheem Thabeet |
Team: Denver Nuggets
Last Season Record: 57-25
Key Fantasy Additions:Randy Foye, J.J. Hickson, Nate Robinson, Darrell Arthur
Key Fantasy Losses:Andre Iguodala, Corey Brewer, Kosta Koufos, Julyan Stone
2013 Draft Picks:Erick Green
Team Overview: The Denver Nuggets signed up for some "out with the old, in with the new" this offseason, and I don't mean just the players.  Out is George Karl. Out is general manager Masai Ujiri.  In is new head coach Brian Shaw.  Iguodala was the biggest loss, and while the Nuggets recovered some depth in free agency, they didn't get better on paper.  Danilo Gallinari is still recovering from his knee injury and isn't expected back before December.
Brian Shaw finally gets his chance as a coach.  I expect him to emphasize defense, so we could see a real shake up in rotational minutes for those who fail to do perform on that end of the floor.  Wilson Chandler slides into the small forward position because of Gallinari's injury, while Javale McGee finally appears destined for starter minutes.  The biggest playing time question marks come at the 2 and 4.  Kenneth Faried is trying to fight off J.J. Hickson for the starting power forward spot.  It goes to show you how much Faried has come down from a once promising fantasy life.  As for the shooting guard position, Randy Foye and Evan Fournier are the two battling it out on the depth chart, but Foye is expected to start.  He drains threes, so that makes him interesting, but I believe Nate Robinson ends up with the most significant impact from the 2 spot, playing next to both Ty Lawson and Andre Miller.  However, there is the scenario where Gallinari returns and Chandler moves to the shooting guard position.  Either way, I'm skeptical of Foye.
Pressing Questions: Will the Denver Nuggets keep the same pace?  New coach, slower pace?  We aren't quite sure what system Brian Shaw will run, but if he slows the pace dramatically, it could really hurt Ty Lawson.  Can JaVale McGee finally take the leap?  We know he can block shots, but can he finally put it altogether for a full season?  A double-double with two blocks a game waiting to happen, McGee could be a real steal late in drafts at the center position.  Will Wilson Chandler be fantasy worthy with Gallinari out?  Will Danilo Gallinari come back at full strength?  Could Kenneth Faried win back the hearts of fantasy owners.
Sleeper: Wilson Chandler
Breakout Candidate: JaVale McGee
Rebound Candidate: Kenneth Faried
Bust Candidate: Randy Foye
Depth Chart:                                
| | | | |
| --- | --- | --- | --- |
| Position | Starters | 2nd String | 3rd String |
| Point Guard | Ty Lawson | Andre Miller | Nate Robinson |
| Shooting Guard | Randy Foye | Evan Fournier | |
| Small Forward | Danilo Gallinari | Wilson Chandler | Jordan Hamilton/Quincy Miller |
| Power Forward | Kenneth Faried | J.J. Hickson | Darrell Arthur |
| Center | JaVale McGee | Timofey Mosgov | Anthony Randolph |
Team: Utah Jazz
Last Season Record: 43-39
Key Fantasy Additions:Brandon Rush, Richard Jefferson, Andris Biederins, John Lucas III, Ian Clark
Key Fantasy Losses:Al Jefferson, Paul Millsap, Mo Williams, Randy Foye, DeMarre Carroll, Earl Watson, Kevin Murphy
2013 Draft Picks: Trey Burke, Rudy Gobert
Team Overview: For a team that lost so many pieces, you would expect us to be more down on the Jazz.  However, they finally cut the financial burden of pieces with whom they were never going to win.  Now, they allow their young pieces to grow and see what they are made of. 
The Jazz lost their best players from last season in Al Jefferson and Paul Millsap.  But lucky for them, they have two replacements in Derrick Favors and Enes Kanter.  And when you include Gordon Hayward and Trey Burke, the Jazz are on the right track.  Unfortunately, Trey Burke had to have surgery on his finger and his timetable is kind of in the air right now.  The other unfortunate part is that the Jazz lack depth pretty much everywhere.  It is going to be a long season, no doubt, but the wheels are in motion and the right ping pong ball can change a lot in a hurry.
Pressing Questions: Can Enes Kanter and Derrick Favors properly replace Al Jefferson and Paul Millsap?  I would say not yet, but soon enough.  Perhaps they won't ever be as crafted offensively as Jefferson and Millsap, but Kanter and Favors have a real chance to become all-star level type bigs in this league, which would put them alongside the two men they replaced.  Favors has a chance to really break out for fantasy owners and should be high on your center position rankings.  Can Gordon Hayward handle running the team?  He is now the veteran on the team and will be asked to do a lot.  Fantasy owners should take notice as he has a chance to stuff the stat line quite often this season.  Will Trey Burke make an impact this season?  And will he be fantasy relevant?  Hard to say, but he is worth a stash in deeper leagues, while other should keep an eye on him from the waiver wire.
Sleeper: Gordon Hayward
Breakout Candidate: Derrick Favors
Rebound Candidate: Alec Burks
Bust Candidate: Trey Burke
Depth Chart:                                
| | | | |
| --- | --- | --- | --- |
| Position | Starters | 2nd String | 3rd String |
| Point Guard | Trey Burke | John Lucas III | |
| Shooting Guard | Alec Burks | Brandon Rush | Ian Clark |
| Small Forward | Gordan Hayward | Marvin Williams | Richard Jefferson |
| Power Forward | Derrick Favors | Jeremy Evans | |
| Center | Enes Kanter | Rudy Gobert | Andris Biedrins/Brian Cook |
Team: Portland Trail Blazers
Last Season Record: 33-49
Key Fantasy Additions:Robin Lopez, Mo Williams, Dorell Wright, Thomas Robinson, Earl Watson
Key Fantasy Losses:J.J. Hickson, Eric Maynor, Sasha Pavlovic, Jared Jeffries, Nolan Smith
2013 Draft Picks: C.J. McCollum, Allen Crabbe
Team Overview: The Trail Blazers are a team stuck in the middle.  For a team that has some real talents in LaMarcus Aldridge, Damian Lillard, and Nicolas Batum, they have been coming up short in the standings.  Some of that is due to depth, and that was addressed in the offseason.  The pieces added weren't game changers, but then again, maybe the Blazers just needed bench pieces that wouldn't give the game away. 
The Blazers actually have plenty of interesting fantasy assets.  Aldridge, Lillard, and Batum will all be gone in the first three to four rounds, while Robin Lopez adds some intriguing value at center in the later rounds.  Wesley Matthews is another solid, unspectacular player you can consider late in drafts.  Mo Williams, Dorell Wright, and Thomas Robinson, round out a much deeper team than the Blazers 2012 roster.  McCullum is hurt and it may take a while before his gets into the rotation.  Considering their youth, new found depth, and the potential attached to talents such as Lillard and Batum, it is possible that the Blazers could make a push for the 8th seed this season.
Pressing Questions: The pressing question around this team involves potential and breakout.  Can Lillard and Batum join Aldridge into the elite levels at their positions?  If so, we are looking at a team that can breakout of its funk and provide some juicy fantasy numbers.  Robin Lopez must stay healthy, so that is a question, but if he can, the team has a solid center who can also be solid for fantasy owners.  When will C.J. McCullum be ready?  He may not be relevant this season for fantasy basketball, but the Blazers need McCullum to get healthy, stay healthy, and produce at some point in the near future.
Sleeper: Robin Lopez
Breakout Candidate: Nicolas Batum
Rebound Candidate: Thomas Robinson
Bust Candidate: Wesley Matthews
Depth Chart:                                
| | | | |
| --- | --- | --- | --- |
| Position | Starters | 2nd String | 3rd String |
| Point Guard | Damian Lillard | Mo Williams | Earl Watson |
| Shooting Guard | Wesley Matthews | C.J. McCollum | Will Barton/Allen Crabbe |
| Small Forward | Nicolas Batum | Dorell Wright | |
| Power Forward | LaMarcus Aldridge | Thomas Robinson | Joel Freeland |
| Center | Robin Lopez | Meyers Leonard |   |
Team: Minnesota Timberwolves
Last Season Record: 31-51
Key Fantasy Additions:Kevin Martin, Corey Brewer, Ronny Turiaf
Key Fantasy Losses: Andrei Kirilenko, Luke Ridnour, Greg Stiemsma, Brandon Roy, Malcolm Lee, Mickael Gelabele
2013 Draft Picks: Shabazz Muhammad, Gorgui Dieng, Lorenzo Brown
Team Overview: Point guard obsessed David Kahn is finally gone and Flip Saunders has now taken over. Apparently he isn't the patient type as he splurged a bit during the offseason.  I understand the signing of Kevin Martin and I get bringing in Corey Brewer.  However, giving 15 million over 3 years to Chase Budinger seemed a bit overboard.  Unfortunately for the T-Wolves, he suffered another knee injury and is without a timetable.  Despite the Budinger signing, they seemed to make some solid moves this offseason.  Whether it is enough, may depend on the health of some key players.
To say the T-Wolves were snake bit last season would be a disservice to what actually occurred to that roster.  If healthy, this team really can compete for a playoff spot.  A healthy Love and Rubio can finally get the offense on track and the addition of Martin finally gives them a scorer to go along with Love.  Brewer is an underrated signing and becoming a nice two-way player.  The team has some nice depth, and once Budinger gets healthy, it will only add to it.  Muhammad may or may not be a factor, but he won't have to be relied upon once this team is completely healthy.  Dieng could be a nice backup center and a rim protector.  Nikola Pekovic and Ricky Rubio both still have some potential to fill out, so it should be interesting to see if they can improve even further, especially Rubio.  Derrick Williams had a decent season for fantasy owners, and was actually quite useful during stretches, but I question his ability to replicate his success.  I may like this team more than others, and maybe I am being a bit optimistic, but I see a team that can certainly compete and make the playoffs.
Pressing Questions: Health, health health.  That's the biggest question for many of the T-Wolves.  Can Kevin Love stay healthy after suffering wrist and knee injuries last season?  Can Ricky Rubio stay healthy and can he improve his shooting stroke?  His FG% and lack of threes are a real bummer for those who have drafted Rubio in the past.  If he corrects those issues even just a smidge, he could be a fantasy beast.  Will Nikola Pekovic take another step forward or will Love hurt his fantasy output?
Sleeper: Corey Brewer
Breakout Candidate: Ricky Rubio
Rebound Candidate: Kevin Love
Bust Candidate: Derrick Williams
Depth Chart:                                
| | | | |
| --- | --- | --- | --- |
| Position | Starters | 2nd String | 3rd String |
| Point Guard | Ricky Rubio | J.J. Barea | Lorenzo Brown |
| Shooting Guard | Kevin Martin | Alexey Shved |   |
| Small Forward | Corey Brewer | Shabazz Muhammad | Chase Budinger/Robbie Hummel |
| Power Forward | Kevin Love | Derrick Williams | Dante Cunningham |
| Center | Nikola Pekovic | Gorgui Dieng | Ronny Turiaf |