2013/2014 Fantasy Basketball: Is Ricky Rubio a Burden?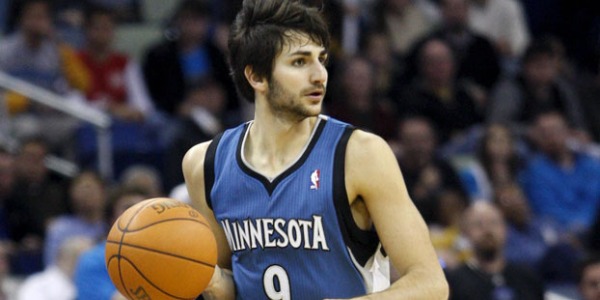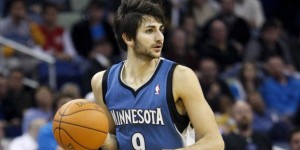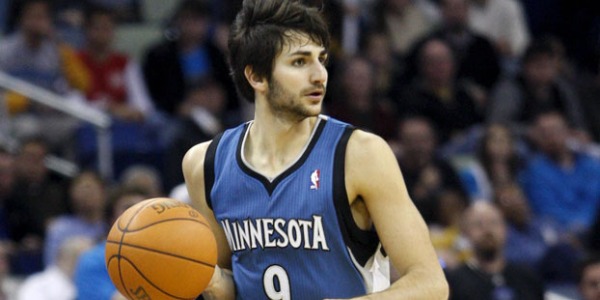 Some things in life are truths, and some are hopes.  The New York Knicks becoming a well-run organization under James Dolan is a hope.  The Knicks continuing to disappoint me as long as the Dolan family is in charge is a truth.  Another truth?  When you watch Ricky Rubio play basketball, you will see something exciting.  At times, the guy can be a human highlight reel.  And because of this excitement, many considered the point guard a second round pick in this year's fantasy basketball drafts.  However, Ricky Rubio may have a burden to bear, which makes living up to his high price tag nothing but a hope.
Rubio will rack up a ton of steals and be among the league leaders in assists.  He even rebounds well for a point guard.  These are all truths his fantasy owners will love.  But there is one major problem, he can't shoot.  Through eight games, Rubio is shooting 31.9% from the field.  You may want to scream small sample size, but he shot less than 36% the last two seasons.  So, yes, this statistic is terrifyingly bad.  Rubio is attempting nine shots per contest, so his owners are feeling the sting in their weekly head-to-head matchups.  His shooting woes have been well documented, and it was a concern before he ever stepped onto a NBA court.  Now Rubio owners must ask themselves, "is the rest of his fantasy line worth the burden?" 
The problem with owning Ricky Rubio is a similar issue to owning Dwight Howard.  They can destroy your percentages.  To compensate for these flaws, you must build your team around them, making sure you have enough high percentage shooters to carry the load.  This can be a difficult task and could prevent you from acquiring pieces that would be very helpful towards your fantasy team.  Granted, Rubio's FG% is more manageable than Howard's FT%.  Players attempt more field goals than free throws, so there is more volume to hide Rubio's flaw.  And when compared to the league average, the drop off from Rubio's field goal percentage is less than the drop off from Howard's free throw percentage.  But even with this in mind, you are constantly putting yourself in a hole with these types of players.  Week in and week out, winning the percentage war is an uphill battle. 
We know Howard will never become a decent free throw shooter.  The chance of that has come and gone.  But as for Rubio, he is only 23 years old and in his third NBA season.  Then again, he's been playing professionally since 16 years of age.  You would have liked to see some progress by now.  Perhaps we can find some positives signs in Rubio's shot chart.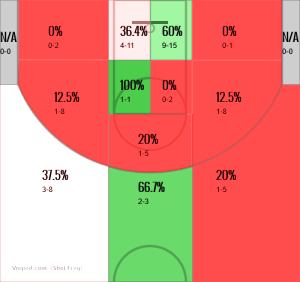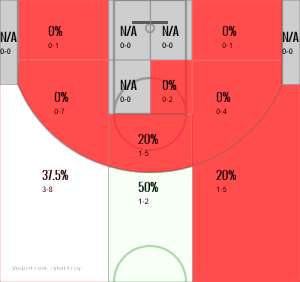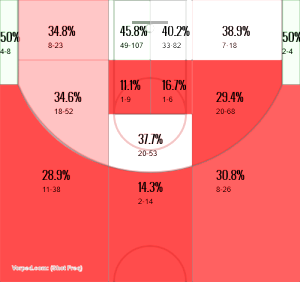 Look at all that red.  Maybe Rubio should try corner threes more often, as he did have limited success there last season.  Vorped.com is supplying these shot charts, and they have certain attempts labeled as "special jump shots".  The special jump shots are excluded in the second chart, so a few makes by Rubio are now out of the equation.  This includes a three pointer.
Last season, Rubio shot 36% from the field, the year before that, 35.7%.  If you exclude the special jump shot he made on a three pointer, then he is shooting 33.3% from downtown this season.  It is a small sample size, but there is no evidence that even his three-point shooting has improved.  As for finishing around the basket better this season, he is doing slightly better than last season, but his finishing is still way below league average, including when compared to other guards.  There has been a lot written about his jump shot, and Tom Westerholm gives us an even deeper breakdown.  There is nothing to suggest that he has gained control of his shooting form.  Much like a pitcher with inconsistent mechanics, Rubio's shooting success will be up and down, but in all likelihood, will be mostly down. 
In my fantasy basketball player rankings, I had Ricky Rubio ranked as the 15th  best fantasy point guard, and if I knew Russell Westbrook would be back so soon, instead of the possible six weeks we all feared, he would have been number 16 on that list.  Many love to watch Rubio play, and I do as well, but he is crushing fantasy teams with his field goal percentage, and there is no end in sight.  He is getting steals at a record pace and it is the main statistic saving his fantasy value, but it still isn't enough to justify the draft day cost.  There is no doubt, if Ricky Rubio could get that field goal percentage in the low 40s, while hitting a few more threes, he would be a fantasy monster.  But that isn't the reality.  That is the hope.  And his second round price tag was based on that hope.