2014-15 Fantasy Basketball: Sizzlin' and Fizzlin' – Week 2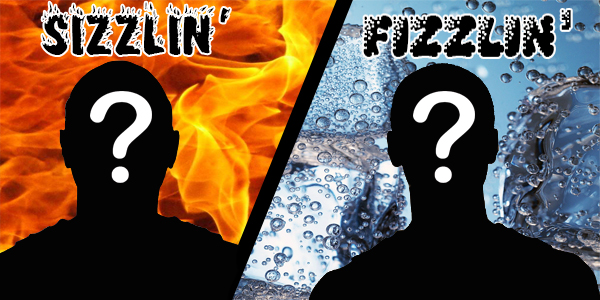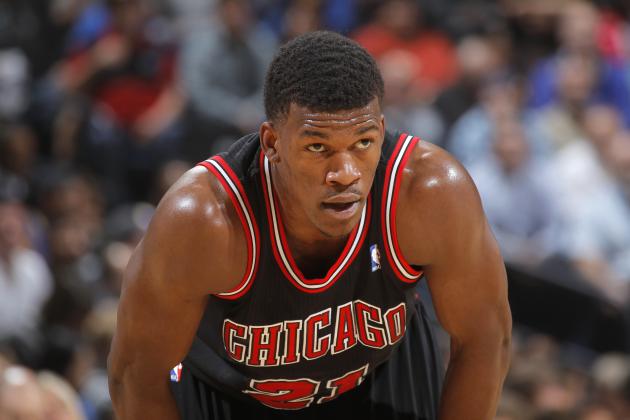 The sizzlin' hot player I'll be discussing this week is Bulls shooting guard, Jimmy Butler. After missing the first two games of the season, Butler returned in a big way and hasn't slowed down since. Over the past five games Jimmy has been a fantasy beast posting averages of 19.6 points, 6.2 rebounds, 3.8 assists and 1.8 steals. He's also been shooting really well from the field (50%) and the charity stripe (78%). To no surprise at all, Chicago coach Tom Thibodeau is giving Butler all the minutes he can possibly withstand at 38.8mpg, fourth highest in the league thus far.
It was safe to say that the 25-year-old would take a step forward this season, but if he can keep up this rate, he'd become a real fantasy stud. Aside from three-pointers, Jimmy has improved in basically every fantasy category. Let's compare:

It's worth noting that Butler and Bulls "superstar" Derrick Rose have only played in four games together…ever (three last season and once this season). We really don't know how playing alongside Rose will go if Rose can stay on the court for once. I'd tend to believe that Butler's points could drop very slightly and the assists could take a cut as well. Either way, Jimmy is going to play major minutes, and he's too good not to deliver nicely for his fantasy owners. You'd like to see his three-pointers take a jump back to over one but thus far he's taking 1.5 less treys than he did last season after he started playing significant minutes in December.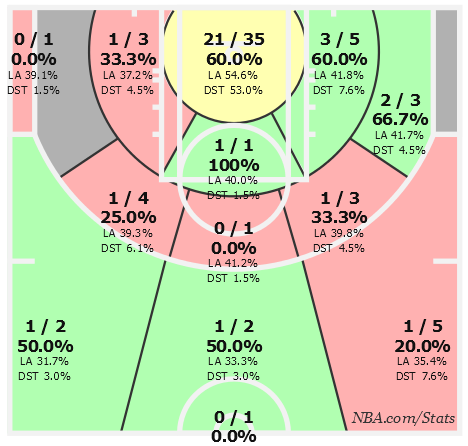 As you can see to the left, Butler hasn't had much of a thirst for the deep ball as of yet, and he's been going to the hoop quite frequently. Last season Butler only took 36% of his shots at the basket where as this season he's taken 53% of his shots at the rim. This explains his much improved FG% as well as the escalated trips to the foul line. Ideally Butler will take between two and three shots behind the arc per game and hit at least one of them, but we want him to keep attacking the basket to continue to be a plus-percentage guy for a wing.
Do I think Butler will stay this hot? Doubtful. But he will still provide around top-50 value as long as he stays aggressive with the ball. How he and Rose mesh will be telling and if anybody is willing to pay you anywhere near his top-10 value over the past week, rob them for all you can.
UPDATE: As I wrote this article the Bulls played another game and Derrick Rose did return to the lineup. Butler still had a solid game with 19 points, four rebounds, one assist, no steals, 6/12 from the field, 3/3 from the free throw line and a big 4/7 from treyville. While the drop in assists was predictable with Rose back, the increased shots from deep was nice to see.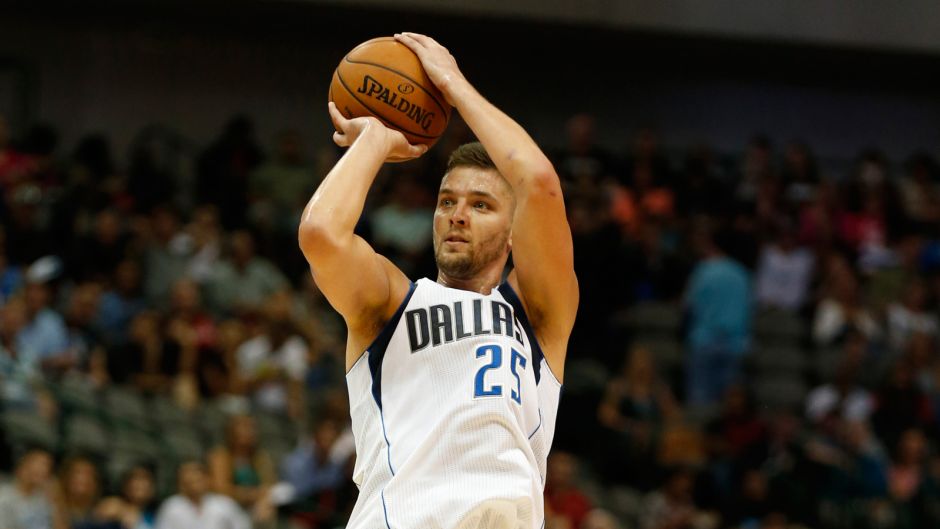 The fizzlin' player for this week is none other than the Mavericks new big money man, Chandler Parsons. Not an ideal way to start out your first season on a new team after they gave you a four-year $46million contract, eh? After finishing last season as a top-50 player, fantasy owners expected big things from Parsons again this season, but out of the gate they're feeling concerned for good reason.
Through seven games Parsons has delivered a mediocre line of 13.6 points, 4.4 boards, 1.4 assists, 1.1 steals, 1.1 treys all while shooting just 39% from the field. What made Parsons such a fantasy asset was his ability to do many things including score, dish, knock down trifectas and do it all with good percentages. You can understand his owners pain when you see the lowly shooting and lack of assists early on. Despite his uninspiring stats so far, Parsons' usage rate is actually higher than it was last season with the Rockets from 19.4% to 22%. Now, let's get surgical on this beast…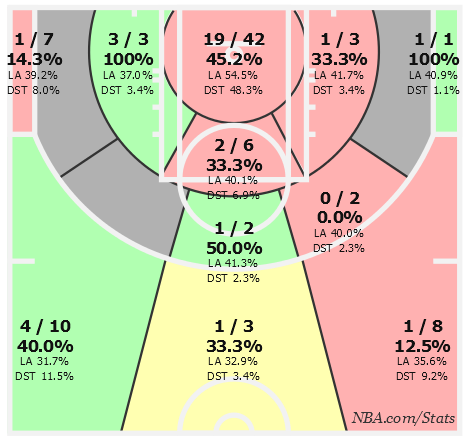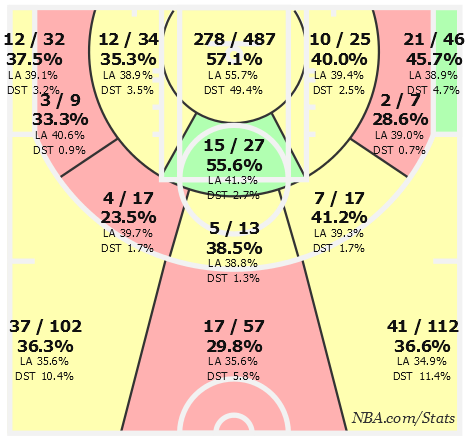 On top you'll see Parsons shot charts for this season through seven games followed by the chart for his last season with the Rockets. You'll notice as far as shot distribution it's pretty similar. The amount of shots is not the issue, he's only taking one less shot per game and that's even playing six minutes less per game so far. It all boils down to Chandler not knocking down the shots he was making a year ago. Last season he was 47% from the field and 37% from three-point land, this season 39% from the field and 29.5% from deep. What shows that this is a mental issue is 66-percent of his three-point shots have been "open" shots (defender 4+ feet away from him) and he's just been unable to convert. He's really taken very few well contested three point shots, so he's not forcing things by any means. 48-percent of his shots have been catch and shoot and that's resulted with just 31% makes. Last season 52-percent of his shots were catch and shoot and he was converting 48% of those.
So what is the problem? Did Parsons cash in and get too caught up with his modeling to focus on improving for this season? I can't imagine that being the case. Now, could he have started off with a couple of dud shooting nights and the pressure of the big pay day be weighing on his mind making him perform even more poorly? That is what I believe is the case here. In interviews you can feel Parsons frustration and he's saying all of the right things. It's only a matter of time before he shakes it off and gets things rolling. If his owner in your league is frustrated and selling low, buy him now before he begins torching the nets from long distance once again.
For more fantasy basketball analysis and to answer any questions you may have, follow Zack on Twitter @BigZack44