2014-15 Fantasy Basketball: Waiver Wire Fix — Week 14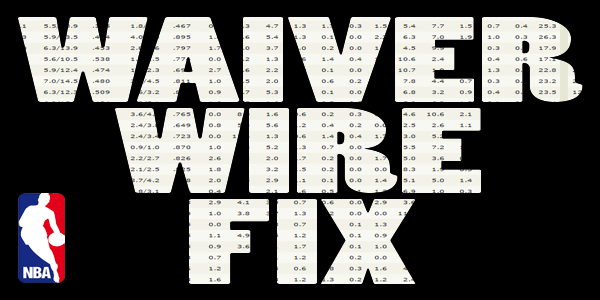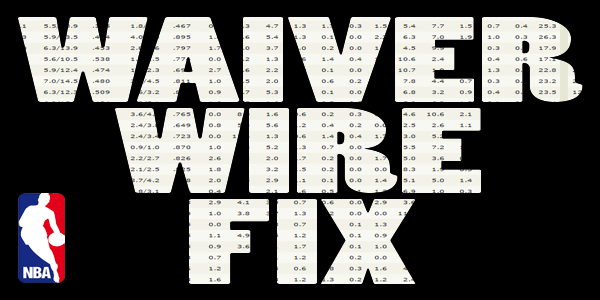 Welcome to the week 14 Waiver Wire Fix. Be sure to check back here every week for the duration of the fantasy hoops season for more wire targets. I've begun breaking the column down according to player types. This should help you find the player that best fits your team's specific needs. There will be different categories every week, so I hope you enjoy the new format. If you're not sure if you should drop a certain player from your team for one of these targets, then shoot me a tweet and I'll give my two cents.
I only discuss players that are owned in less that 51% of ESPN leagues. I also won't repeat players that I've mentioned in a previous column unless it's absolutely needed because they've leaped into an even better opportunity. This all said, if any of these players are available in your league you should grab/consider them: Eric Gordon (owned in 54% of ESPN leagues), D.J. Augustin (51%), Jarrett Jack (51%), Mason Plumlee (owned in 47% of ESPN leagues), Nerlens Noel (49%), Enes Kanter (46%), Trey Burke (41%), Rudy Gobert (39% – should be near 100%), Elfrid Payton (44%), Louis Williams (43%), Manu Ginobili (39%), Timofey Mozgov (37%), Robert Covington (36%), DeMarre Carroll (34%), George Hill (34%), Khris Middleton (29%), Amir Johnson (23%), Langston Galloway (22%), Robin Lopez (21% – If you're playoff bound, stash him now), Michael Kidd-Gilchrist (20%), O.J. Mayo (17%), Matt Barnes (14%), Alex Len (13%), Jusuf Nurkic (11%), Zaza Pachulia (11%), C.J. Miles (9%), Marcus Smart (7%), Brian Roberts (7%), Wesley Johnson (6%) and Greivis Vasquez (4%).
Let's get to this week's wire targets.
Injury beneficiaries:
Mario Chalmers (29%) – I've never been a Mario Chalmers supporter, but plain and simply, when Dwyane Wade is out this season, Chalmers steps up. Wade has missed ten games this season and in those ten games Chalmers has posted surprising averages of 15.9 points, 2.6 rebounds, 6.5 assists, 1.7 steals and one trifecta. Wade has said that a best case scenario would have him out just 2-3 weeks, so that's 2-3 weeks of legit fantasy production from Chalmers. I wouldn't drop a really good player since this will only last about a month, but if you have an iffy player, I'm game with owning Chalmers in leagues of any size. Use up all of the value Chalmers will give while Wade is down.
Wayne Ellington (21%) – Where there's a bad team there's plenty of opportunities for average or less players to emerge as fantasy options for stretches of the season. Sometimes these stretches only last a week or two and occasionally it runs through the remainder of the season. With Kobe Bryant done for the season the Lakers needed scoring, and while they've tried a lot this season in Kobe's absences, they've basically exhausted their options. Recently stepping up has been two players one being Wayne Ellington and the other to be discussed later. A former UNC Tarheel, Ellington has delivered a nice scoring spark starting at wing for the Lakers averaging 16 PPG over the past six games. In the last three games Wayne has played 36 minutes a night and taken 17 shots a game. If he can continue to put up more then 15 points, a few boards, couple assists, a steal and over one trey a night, he'll continue to be a fantasy asset in standard leagues.
Scoring guards:
Jordan Clarkson (7%) – The other emerging Laker, Clarkson, got a surprise start a few games back against the Spurs and the rookie hasn't let go of the gig since. While the assists you usually seek from the point guard position haven't been there, he has put up solid points, steals and threes. We definitely will be hoping he can at least grow into a guy who will come through with four dimes a night and it'd also be appreciated if Clarkson could improve on his field goal percentage. He's shot just 46% inside of 3-feet which is where he's taken 42% of his shots over the last five games. There's definitely room for improvement with his shooting but no guarantee it comes up as he's still a young fella who needs to get stronger and take smarter shots. Clarkson is a borderline add in 12-teamers for the time being.
Aaron Brooks (8%) – If you're in need of scoring and 3-pointers, you have to take notice of the way Brooks has been playing off the bench for Chicago. It's been pretty incredible what he's been able to do in just 20 minutes a night, but he's really found his place in this offense when his number is called. Over the past nine games Brooks has shot a pure 52% from the field and staggering 59% from beyond the arc. In those games he's scored 14 PPG, knocked down 2.1 treys, grabbed 2.1 rebounds, dished 2.1 assists and just shy of a steal a game at 0.8 a night. Brooks is fully capable of turning cold at any point, but while he's sizzling from the field you can definitely consider adding him if you're in need of threes without damaging your percentages.
Big men:
John Henson (5%) – I mentioned earlier how poor teams have players fluctuating from valuable to useless in terms of fantasy week-to-week, and here's another of those instances. Zaza Pachulia had about a month of decent fantasy value but he's now out and up steps John Henson who most of us have been wanting to get this role for awhile now. A young team like the Bucks should be working harder at developing guys like Henson who is just 24-years-old over Zaza who is 30. Zaza is currently sidelined with a calf injury, and he's a notoriously slow healer, so Henson could have a few weeks to own this starting job. Pachulia has missed two and a half games and Henson has been quality in his absence. In four games this season where Henson has played 24 minutes or higher he's averaged 11.25 points, eight boards, two blocks while shooting above 60% from the field. If you're in need of help in the blocks and/or rebounds categories, Henson is a solid option as long as he's starting.
Brandon Bass (12%) – Bass is known to be a roller coaster of fantasy relevance. A couple weeks he's top-100 value, the next few weeks he's barely worth noting in 16-team leagues. Bass is on a nice run recently though where he's been good more often than not. Over the last nine games Bass has put up a fairly strong line of 13.4 points, 6.9 boards, 0.8 steals and one block while shooting well from both the field (50%) and free throw line (77%). Bass has swatted at least one shot in seven straight games and it's not always easy to find consistent blocks on the wire. While Bass doesn't do any one stat at a top notch level, he's solid across the board when he's getting the minutes he is currently. Like it or not, he's worth owning in most 12-team leagues, especially of the roto variety.
For more fantasy hoops analysis and to have any questions you may have answered, follow Zack on Twitter @BigZack44