2014-15 Fantasy Basketball: Week 14 Preview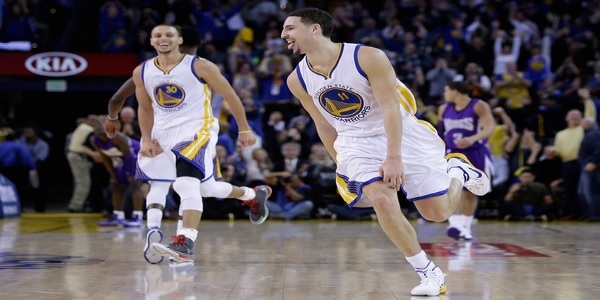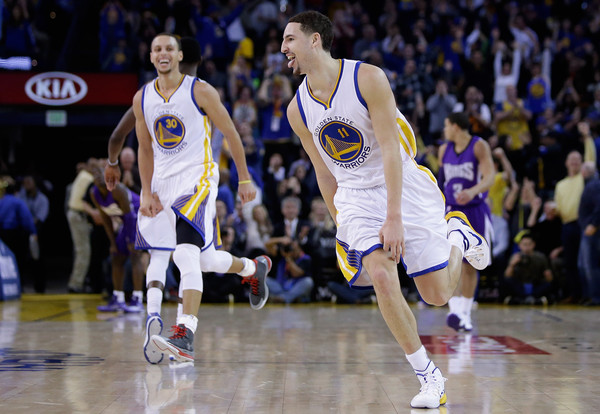 This post was written by our newest fantasy analyst, Max Haldeman, exclusively for TheFantasyFix.com. Follow Max on Twitter @MaxHaldeman13
Week 14: Jan 26 – Feb 1
4 Games: BOS, CLE, DAL, DEN, LAC, MEM, MIN, NY, PHI, POR, SAC, TOR
3 Games: ATL, BKN, CHI, DET, GS, HOU, IND, LAL, MIA, MIL, NO, OKC, ORL, PHO, UTA, WSH
2 Games: CHA, SA
Two weeks ago, Derrick Rose was featured as someone who's "ice cold" and "should be avoided in all formats until he stays healthy and proves himself more." Since then he has averages 23 points, 6.0 assists and 3.4 three pointers made per game. All of this while shooting 48% from the floor.
Just last week, Brandon Jennings was featured as "on fire" and "should continue to be one of the main scorers in the Piston's offense with Josh Smith now in Houston. Jennings is now, unfortunately due to injury, out for the season with an achilles injury.
Who will it be this time that flips categories?
On fire:
Klay Thompson: It's hard to start anywhere else than the hottest member of the splash bro's, who in the last week has been the second most efficient fantasy player. Although most of that is due to one game, it was still enough to get him on this list. Thompson shot a ridiculous 56% from the field this past week, scoring 52 points and making 11 threes in a win over the Sacramento Kings. As if scoring 52 points wasn't enough, Thompson set an NBA record for points in a quarter with 37 points in the third quarter alone. Thompson is white hot and will continue to be a top source of three pointers and points the rest of the way. Klay is also just one of three players (Danny and Draymond Green are the other two) who are on pace to finish the season averaging at least one thee, one steal and one block.
Isaiah Thomas: The Suns crowded backcourt has made for an up and down season for Thomas, Bledsoe and Dragic. However, this past week was definitely the best week of the season for Thomas, who showed signs of being an elite fantasy PG when given the allotted minutes. He's averaging 24.3 points, 3.0 assists, 3.7 rebounds, 1.7 steals and 3.7 three pointers made per game. He has done this all while shooting 56% from the field and 89% from the free throw line. Those numbers on a consistent basis would make Isaiah a top-15 player at all positions and would appear to be on track with where he was in Sacramento. Dragic appears to be the odd man out of this three headed monster as of late, making Thomas a very intriguing option moving forward in any format.
Ice-cold:
Lance Stephenson: If you're a Lance Stephenson owner, you have to be disappointed in the year he's having thus far. Stephenson was brought in by the Hornets this past offseason to be the teams starting SG and one of the main scoring options on the team, along with Kemba Walker and Al Jefferson. In the last two weeks, he's averaged 8.2 points, 5.0 assists and is shooting 37% from the field and just 50% from the line. Injuries have been as issue this season for Stephenson, which could be the main piece of this puzzle, but that doesn't help fantasy owners in the near future. The Hornets should be getting Kemba Walker back relatively soon which would allow the main three to have a chance to work together for the first time in a while. Look elsewhere than Stephenson for now, but he still has potential to record a random triple-double game.
Wilson Chandler: Let me clarify before I write anything further on Chandler; he isn't someone that is supposed to be putting up top, or even middle of the pack numbers, but he is still better than he's playing. He's averaging 11.8 points, 5.5 rebounds per game and is shooting 38% in the past two weeks. The Nuggets have been a nightmare this season all around, but look for Chandler to remain a solid option from here on out in ten team leagues or more. However, he will either have to pick up his scoring, or begin to contribute in more categories to be able to stay on your roster.
Stream options:
Hassan Whiteside: Every week this kid gives everyone more and more to talk about. Whiteside posted his first career triple double Sunday, in a more rare fashion than normal. He finished the game with 14 points, 12 rebounds and 12 blocks in Chicago against the Bulls. Whiteside had actually missed the previous two games and appeared to have slowed down since he signed with the Heat in November. He's averaged nearly a double-double with over three blocks per game in the past month and is someone to add if he is still available in your league, regardless of how many teams.
Eric Gordon: Coming back from injury, Eric Gordon was a strong candidate to make the list as someone who's on fire, just as he has been for the Pelicans. Averaging 17.1 points, 5.1 assists, 3.6 rebounds and 1.9 three pointers per game. He's also shooting 47% from the field, which is better than normal for Gordon. With his ability to contribute in multiple categories, Gordon is a great stream option for the time being if he was dropped while injured earlier this season.
J.R. Smith: Like Gordon, Smith can hurt you in the field goal percentage category some nights, however, you can see what he's capable of on other nights like the way he played January 13th in Phoenix, hitting eight threes and scoring 29 points. Even on days like Sunday where he hurt you with his percentage (went 4/14 from the field) he still nailed four three pointers and scored 14 points while playing 32 minutes. Smith will be an up and down player, but should be more comfortable and confident playing alongside LeBron James in Cleveland.
D.J. Augustin: Augustin will most likely be the most popular add this week with his recent promotion in the Pistons lineup due to Brandon Jennings' injury, and his play Sunday only furthered that. The new Pistons starting PG scored 35 points and added eight assists in his first start as the team's new primary ball handler. He added five threes, went 6/6 from the charity stripe and 12/20 from the field. The Pistons have said they would possibly look to add another guard to help fill the void of Jennings missing the remainder of the season, but if DJ continues to play like this, there will be nothing to worry about.
Injury report:
Kobe Bryant: Kobe has an MRI scheduled for Monday and he and the team will shortly after decide if he'll have shoulder surgery causing him to miss the remainder of the season or to skip the surgery for now and try another treatment. This looks like the end of the road for Kobe no matter how much he wants to play it out. There are no ideal adds from the Lakers as they are one hot mess of a team.
Brandon Jennings: Jennings will miss the remainder of the 2015 season after fully tearing his Achilles this past week. As noted above, D.J. Augustin is the guy to add here who produced well for the Bulls last season once they lost Derrick Rose.
Nicolas Batum: Batum should be considered day-to-day with a wrist injury. He missed Saturday's game against the Wizards and is considered questionable for Monday against the Nets.
LaMarcus Aldridge: LMA was supposed to miss 6-8 weeks with thumb surgery, but has instead decided to put off the surgery for a later time. Just think, there are people out there that had dropped Aldridge already, too. He returned after just a two game absence and scored 26 points while playing 36 minutes against the Wizards. Keep an eye on the situation and proceed with caution.
Jrue Holiday: It appears that Holiday is expected to miss the next 2-4 weeks after an MRI revealed further damage to his ankle. He has already missed two weeks and will continue to sit to nurse a lingering ankle injury that most likely won't heal completely until this offseason. He's good enough to stash as long as the timetable doesn't extend further.
Kemba Walker: Kemba has been in and out of the lineup lately with reoccurring knee pain. The team has flirted with the idea of surgery or making their young star rest for a significant period of time to make sure he's good to go next season. Keep an eye out on the decision the team makes, but don't do anything too drastic quite yet.
Carmelo Anthony: Melo could very well be the next Kobe Bryant, and not in the good way. Melo missed the Knicks previous game to rest his bad knee. He will likely continue to do so here and there for the remainder of this season, and could ultimately decide to do what's necessary to heal now when the team is in line for a top three pick, instead of the off-season. Don't do anything stupid, Melo is still one of the best in the business when he's out there playing. If you own him though and anybody is willing to give a decent return for him in a trade, you have to highly consider it.
Kelly Olynyk: Kelly O will likely miss the next couple of weeks due to an ankle sprain. Stay tuned for more info, but it appears he will sit for at least two weeks.
Deron Williams: The Nets point guard continues to sit to repair his rib injury, but appears to be somewhat close to a return.
Dwight Howard: Dwight will likely not miss any significant time to nurse his injured ankle. The Rockets don't play again until Wednesday, which gives D12 a good shot to return to the lineup then.
Tony Wroten: Wroten unfortunately has a torn ACL and will miss the rest of the 2015 season. This frees Michael Carter-Williams even more to rack up the stats and usage for the Sixers, but the more MCW shoots, the harsher he is to your team's overall field goal and free throw percentages.
For more fantasy basketball analysis or to have your questions answered, Follow Max on Twitter @MaxHaldeman13.