2015-16 FANTASY BASKETBALL: BOX SCORE BROWSING – KEMBALIEVABLE!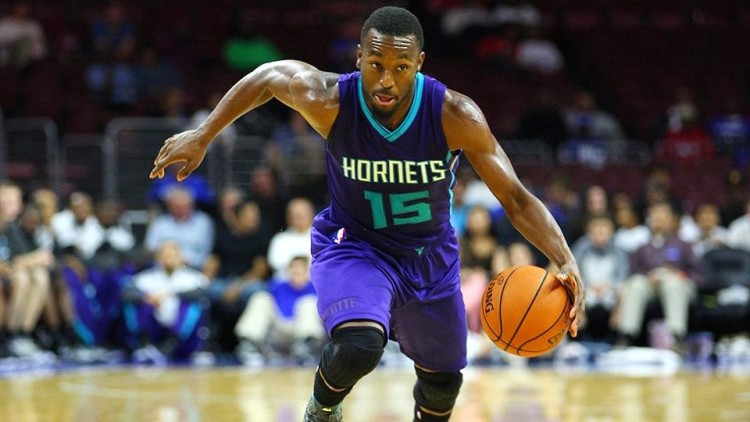 It's safe to say this is a career year for Kemba Walker.
While it may seem he's been around for a decade, he's only 25 years old but he's already in his fourth full season as a starting point guard.
The Hornets have seen success employing Walker alongside Jeremy Lin and Nicolas Batum, two players known as ball-handlers who are unselfish and willing to defer to a hot hand, as Walker has been over the past few weeks.
Since he went into a six game shooting slump in mid-December, Walker has been torching the nets at an elite rate. Through that bad stretch he killed any team's field goal percentage by hoisting up over 15 shots a night while making just 35.2% of them (including 0.8 out of 4.5 attempts from three – that's 19%!), which is a bad rate even by his career standards (40% career).
I normally don't advocate for a guy who can submarine your percentages. You know what they are and they're not just going to change their spots halfway through their career – except you Chris 'first five seasons 55% FT shooter' Webber. He shot 71% the rest of his career, including a career high 79% in 2005. It's not often you see someone shoot 45.4% (79-174) one year and then 311-414 (75.1%) a year later.
Where were we again?
Walker – the guy is hitting career highs in no less than TEN categories. He's having his best FGM, FG%, 3PT FGM, FTM, FTA, FT%, REB, BLK and PTS. That's something not many people have probably realized because none of the numbers individually stand out that much.
He's been blazing hot lately, averaging 26.6 points on 44% from the field and 96% (43-45) from the line, along with 2.1 threes, 4.9 rebounds, 5.3 assists and 2.4 steals over his last seven games!
Were I a gambling man I would suggest selling high, having noted he's missed 25 games over the past two seasons combined and he's yet to miss a game this year. Of course selling high on a player having a career year is kinda like an expert knot tier quitting a knot-tying contest right in the middle of tying a knot, but that's just my opinion (and Bart's).
I traded Reggie Jackson in one of my main leagues earlier this season and I have to admit, I was rather disappointed with my initial Lopez pay-off.
The two games after trading Jackson, the SOB went off for a combined 65 points, 24 assists, 6 threes, 23-38 (61%) shooting from the field and 13-15 (87%) from the line. Lopez's first two games post-trade were rather underwhelming in the big man stats I was after; 23 points with 6 rebounds and 1 block against the Suns, then 21 points, 4 rebounds and 2 blocks on 8-20 shooting at New York a couple of nights later. Pretty sigh-worthy stats all things being said, considering I was after big rebounds, field goal percentage and blocks.
After a prime buy-low period where he averaged just 10.7 points, 8.3 rebounds, 0.7 blocks, 3.7 turnovers and horrendous 38% shooting from the field, Lopez has turned the corner and returned to being an elite source of big man and shooting stats.
He's been beasting over his last 9 games, averaging 21.8 points, 11.0 rebounds, 2.0 assists, 1.2 steal and 2.2 blocks a night. The best thing about Lopez's roto game has always been his shooting efficiency, as he shot 47% from the field and 79% from the line during that stretch, which are both very good marks but both are slightly less than his impressive season averages.
The only reason for caution with Lopez – besides that BAD, long foot injury history – is that he won't have Jarrett Jack spoon-feeding him the ball anymore, after he suffered a season ending knee injury last week. Larkin and Sloan sound like a law firm but both are inexperienced, relatively young point guards who can make an impression on Nets brass if they run the show and set Lopez up.
Rajon Rondo wouldn't look out of place on many rosters this season, he's been a massive source of rebounds, assists and steals from the point guard spot, hoping to land possibly his last big pay-day this off-season.
But the quiet and unassuming perennial back-up Collison has proved to be a reliable fantasy option himself, despite playing predominantly off the bench this season. What's good about Collison is that he doesn't really hurt you anywhere; he's the classic waiver wire grab player who nets you solid scoring, assists, steals and threes. Jeremy Lin and Jerryd Bayless are similar players, though both tend to shoot you into the dark ages in terms of field goal percentage.
Collison won't net you 20 points most nights like Kemba Walker or Isaiah Thomas can, nor will he net you 12 assists like Ricky Rubio or his teammate Rondo will, but the guy chips in across the board and he's a solid stream option or as an insurance for the aforementioned Rondo. Of course upon finishing this piece I noted Collison spot-started for Rondo…and dropped 12 assists on the Mavericks!
Anyone who owns Rondo might want to try and handcuff Collison either from off the waiver wire or via a low-end trade as he might be relatively cheap to get.
Smith's season reminds me of that magical Darren Collison rookie year in 2009-10, when he managed to get in the rotation, get out of it just as quickly, then cement his spot in the starting line-up due to a Chris Paul injury. That stellar run (last 36 games he put up 19-3-9 on 50/85 splits in one of the more underrated rookie stretches in recent memory) to end his rookie year seems so long ago but I can't help but see the similarities with Smith.
This year Smith's ascent to fantasy relevance began with the banged up Pelicans needing a pass-first player to get the ball to Anthony Davis in Tyreke Evans' absence. Jrue Holiday's much talked about leg issues saw his minutes kept right round the 15-20 minute mark, limiting chemistry and spoon-feeding Davis to a minimum.
Enter Ish Smith. I followed this guy closely after he became a cult hero in his brief time with my Suns, but I NEVER saw this sort of leadership and on-court production coming from him.
Since arriving in Philly, he's started every game and the team has somehow gone .500! In those six games he's averaged 14.7 points, 2.8 rebounds, 1.5 steals and a whopping 8.2 assists. The field goal percentage at 37% would make Ricky Rubio blush, but the 84% from the line on more than three attempts goes some ways to softening the blow. Take out the 3-19 shocker at Los Angeles and he'd be shooting a much more respectable 32-75, for 43%.
Ride the Smith wave while it lasts is my advice. He's clearly leap-frogged Kendall Marshall and TJ McConnell in the point guard charts in Philadelphia, while also single-handedly raising Nerlens Noel's value and game in the process and he should be locked into a 12-4-8 type of line for the rest of the year.
Feel free to hit me (@macetastic) and the rest of the hard-working Fix hoops team up on Twitter for any fantasy NBA related discussion.