2015-16 Fantasy Basketball: Draft-Only League Draft Recap and Analysis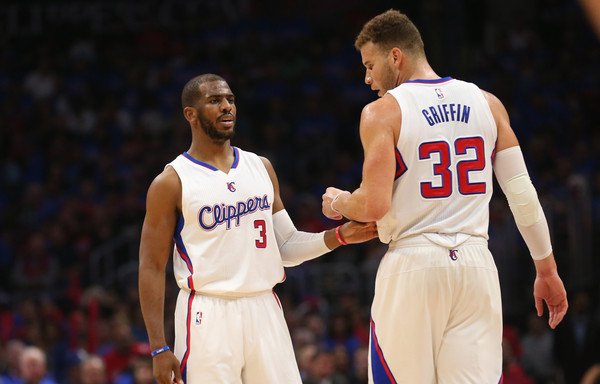 One of the few drawbacks of playing fantasy sports is the free time it consumes. Setting your lineup every day, and doing so for multiple teams can take a toll. Even for people like myself who play or write about fantasy sports for a living, there comes a point where you simply have too many teams to manage.
Over the past few years, a new form of fantasy league has come along that allows us to add a team or teams to our arsenal without having to sacrifice any more time than you normally would. All you need is one hour (give or take) to draft your squad.
These leagues are called "draft-only", "draft-n-go" or "best-ball" leagues. While all three may have some slight differences, they're all focused around one specific feature: no roster moves once you've completed the draft.
So how does this work? Well, it's pretty simple. You enter a draft room just like any other draft, you draft a team full of players, and you never touch it again. Each player you draft will accumulate stats throughout the season. There are no benches. There are no waiver adds or trades. Who you draft is who you're stuck with. If Derrick Rose gets hurt, you can't sub him out. You'll just endure having an empty spot in your lineup till he returns (or doesn't). Of course, part of the strategy is to avoid players who may miss extended periods of time.
Draft-only leagues are great because you get to draft — which is, in my opinion, the best part of a fantasy season — and you can still win prizes, but you don't have to touch the team at all for the remainder of the season, allowing you to focus on your other teams and/or life.
If you're a big fantasy football fan, you've undoubtedly played or at least heard of the MyFantasyLeague 10 (MFL10) leagues. RealTime Sports has the same setup for fantasy baseball. But as of yet, there are no sites where you can play in a draft-only league for fantasy basketball. So my thought was to get some going!
I created a league on ESPN, and invited loyal readers of TheFantasyFix to challenge me in a draft-only duel. After the draft, I asked each owner a question regarding their draft strategy or players they drafted. Ten of the 11 responded and came back to me with some well-thought-out answers, leading me to believe that I could be in for some serious competition!
Here's a quick breakdown of the settings:
12 teams
8-category roto scoring (PTS, REB, AST, STL, BLK, 3PT, FG% FT%)
15 roster spots (PG, SG, SF, PF, 2 C, 2 G, 2 F, PF/C, 4 UTIL)
I'll give a brief recap of each team in the order they drafted, as well as their responses (minus the one who didn't respond) from the quick survey I did:
Robert DiPietro
Big Guns: Anthony Davis, Eric Bledsoe, Draymond Green, Tyreke Evans
Rookies: Karl-Anthony Towns, D'Angelo Russell
Last Pick: Nik Stauskas
Question: I loved your pairing of Anthony Davis and Eric Bledsoe and then Draymond Green and Tyreke Evans. Was going with the "punting assists" strategy your plan all along, or did it just manifest itself that way?
Robert's Reply: Usually my strategy in basketball is taking point guards and bigs and then filling in the wings with all around lower-tier stat stuffers. Going with Davis first overall over Stephen Curry started the manifestation against my normal strategy. By going with Evans and Green, I was trying to add assists from other spots. I also believe C.J. McCollum will dish out close to five assists per game.
Seth Klein (ME!)
Big Guns: Stephen Curry, Serge Ibaka, Brook Lopez, Hassan Whiteside
Rookies: Jerian Grant
Last Pick: Brandan Wright
Question: Since I can't ask myself a question, I'll quickly discuss my early-round strategy… Taking Stephen Curry was a no-brainer once Davis was off the board (I actually have Curry No. 1 anyway). Once I had Curry, I decided to pair his scoring, assists, steals and 3-pointers with some big men that can block shots, but who also have high percentages. By adding Ibaka, Lopez and Whiteside I nearly guaranteed myself a top two finish in blocks, barring injury. And with Ibaka and Lopez, I'm not hurting my FG or FT percentages.
Brittany Berky
Big Guns: Russell Westbrook, Paul Millsap, Pau Gasol, Monta Ellis
Rookies: None
Last Pick: Paul Pierce
Question: You took Paul Pierce with your final pick. I know he is one of your favorite players of all time. Was this more of an emotional pick, or do you think he still has some gas left in the tank?
Brittany's reply: It was a combination of both the fact that he is my all-time favorite player and that I think he is going to have a great opportunity in LA to remind everyone that he still can play this game. He is back with Doc Rivers, and I think that even with his decrease in playing time over the past few years, Pierce is going to have the opportunity to really help the Clippers where they need it. He is still going to lack defensively, but will do whatever he can to get the Clippers a title this year, which leads me to believe he is going to be putting up bigger numbers than we have been seeing for the past couple of seasons; nothing crazy, just a bit better from The Truth.
Bill Lilien
Big Guns: James Harden, Nikola Vucevic, Kevin Love, Kyrie Irving
Rookies: None
Last Pick: Jose Calderon
Question: You took Kyrie Irving in the fourth round. That was a real risk/reward type of pick since he has no concrete timetable to return from his knee injury. Any regrets the morning after?
Bill's Reply: The Kyrie pick ended up being one I actually liked the most! There is no concrete timetable, which means an early return could happen just as easily as a prolonged absence. If he misses minimal time, I may have landed a late-first, early-second round value in the fourth round! Can't pass that up as a fantasy risk taker!
Magnus Nissel
Big Guns: Kevin Durant, Gordon Hayward, Derrick Favors, Al Jefferson
Rookies: Mario Hezonja
Last Pick: Mario Hezonja
Question: Al Jefferson is coming off the worst season of his career, but you took him with your fourth pick. Are you deeming last year a fluke, or are you buying in to the "contract year" theory?
Magnus' Reply: It wasn't necessarily the "contract year" theory, but last year was an aberration with terrible team chemistry and he had more injuries than usual. For his career, he has been really consistent and healthy, and players like him project to age reasonably well. I also wanted to get another big man after Favors, and I was confident that I could get some decent point guards later on. Greg Monroe, Jonas Valanciunas, Hassan Whiteside, Kenneth Faried and Markieff Morris were not appealing as available alternatives to me.
Vivek Patel
Big Guns: DeMarcus Cousins, Marc Gasol, Victor Oladipo, Reggie Jackson
Rookies: None
Last Pick: Kosta Koufos
Question: I know you LOVE Nicolas Batum. You had the opportunity to select him in Round 3, but chose Victor Oladipo instead (Batum was taken immediately after). Was that a tough decision for you?
Vivek's Reply: Oladipo's going to be great this year based on how well he performed from January on. Definitely a prelude for this coming season. I love Batum and thought I could steal him in Rounds 4 or 5. Nevertheless, taking Olidipo over Batum was an easy decision in Round 3.
Donald Yates
Big Guns: Damian Lillard, Nerlens Noel, Nicolas Batum, Giannis Antetokounmpo
Rookies: None
Last Pick: Randy Foye
Question: You named your team "Nur-kic Don't Kill my Vibe" even prior to drafting him, so you're clearly a fan. Now that he's on your team, do you have any concerns taking him where you did given that he could miss multiple weeks while recovering from knee surgery?
Donald's Reply: Hahaha, it would've been my team name regardless. He was my best player available or so at that point. I have no concerns with him and I'm fully aware of his injury.
Steve Wright
Big Guns: LeBron James, Rudy Gobert, LaMarcus Aldridge, Rudy Gay
Rookies: Myles Turner, Justise Winslow
Last Pick: Justise Winslow
Question: You took rookie Myles Turner about six rounds ahead of his ADP (average draft position). That's a huge reach. Are you THAT high on him or were you just more willing to gamble after having already secured some pretty steady performers in LeBron, Gobert, Aldridge, Gay, Isaiah Thomas and Bradley Beal?
Steve's Reply: It is basically all of the above. I wanted another big man that blocked shots and knowing I had kept to my values up to that point, I felt I could afford to reach. Going through the lists, I did not see anyone else with the upside I was looking for in blocks and percentages. But I am also very high on him and thought he should be drafted in the top 100 anyway.
Ryan Burd of Fantasy Sports Addicts Anonymous
Big Guns: Chris Paul, Blake Griffin, Jeff Teague, Mike Conley
Rookies: Frank Kaminsky, Willie Cauley-Stein
Last Pick: T.J. Warren
Question: You selected two Clippers (Chris Paul, Blake Griffin) with your first two picks. Is THIS the year the Clip Joint finally puts it all together and makes a championship run?
Ryan's Reply: Yes, I did take two Clippers with my first two picks, not because I was targeting the Clippers, but just because they were there when it was my turn to draft. I was real happy that CP3 was still there with the ninth pick. This COULD be the year they make a championship run; they've been close and have had trouble closing out. The West is brutal and it really could be any of the top five Western teams that make it. The Clippers with Lob City is still one of, if not, the most exciting and fun team to watch.
Alex Rivera
Big Guns: John Wall, Jimmy Butler, Chris Bosh, Goran Dragic
Rookies: Jahlil Okafor, Kristaps Porzingis
Last Pick: Bismack Biyombo
Timothy Bennett
Big Guns: Paul George, Klay Thompson, DeAndre Jordan, Kyle Lowry
Rookies: Stanley Johnson, Emmanuel Mudiay
Last Pick: Mitch McGary
Question: You were noticeably upset after selecting Arron Afflalo with your ninth pick. What do you attribute that anger to?
Timothy's Reply: I remember my frustration in having to settle on him as well. Owning the 11th pick in a snake draft, you have to sit back and observe long runs till your picks make it back around. I was targeting Jahlil Okafor to shore up my forwards and add an "upside pick." He went one pick ahead of me! So I changed direction and had to come back to forward later in the draft. Afflalo was, in my opinion, the next best option to add strong production. His health is always a concern though. Hence the frustration of missing on Okafor.
Michael Kohon
Big Guns: Kawhi Leonard, Carmelo Anthony, Al Horford, Andre Drummond
Rookies: None
Last Pick: Thabo Sefolosha
Question: Your strategy seemed to be to grab a lot of big men, but doing so left you with limited assist potential and very few three-point shooters. A bounce-back season from Derrick Rose and an eventually healthy Brandon Jennings could help in both departments, though. How much do you think your team will rely on those two?
Michael's Reply: Any league with two C positions calls for centers in the early rounds. Since I went with the best available players with my first two picks (who happened to not be centers), I had to go C-C with my third and fourth picks. That left me with a need for assists. However, after the third or fourth round of roto drafts, I try to identify the category I am weakest in and simply ignore it, focusing on building up my mid-level categories. While Rose and Jennings could get me a point — maybe two — in assists by the end of the season, I actually intend to use them as high-risk, high-reward plays for other categories.
Thanks again to all who participated in this draft and for your timely responses. Looking forward to a great season!