2015-16 Fantasy Basketball: Mid-Season Industry Draft Recap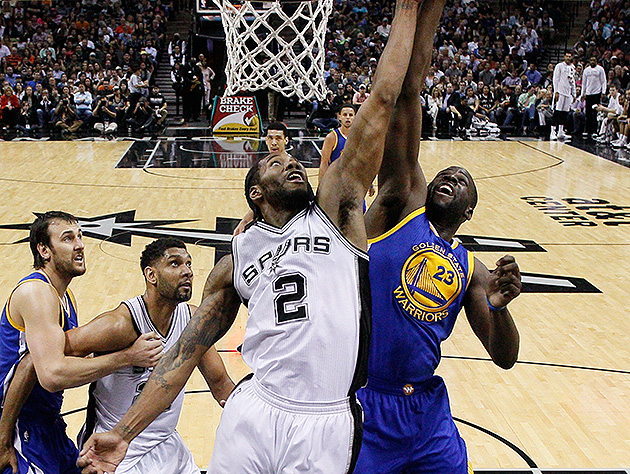 Do you ever find yourself wondering how differently a fantasy draft would go a few months into the season? Well, that's what I got some of the best fantasy analysts together to do recently, and I will let you know in advance, things changed quite drastically. There were rookies who sky rocketed up the draft board, waiver wire gems were drafted at their current value, and let down players tumbled well beyond their pre-season average draft positions (ADP). I felt that showing you where 12 fantasy writers would draft players based on how they believe they will do the rest of the way, would be more informative for you guys than the typical "rest of season rankings," so I hope you enjoy it.
Mid-season drafts are fun to do because, well, drafting is always awesome, and it gives you another chance to correct flaws that you felt you made back in your October drafts. You can't do live drafts on the primary league host sites anymore, so we went old school and did a slow draft via Google spreadsheet over the past two weeks. The one problem you may have when looking for owners is that most people maxed themselves out (or went passed their limits) and don't want another league where they have to set their lineups, look for trades, etc.. So, what I did was knock that extra work out of the equation. There are no benches, so all 13 players are active from start to finish. There is also no trading. We're allowed just two waiver wire moves, so this leaves everyone with the task of determining whether to save those for big injuries to their teams or to jump at the first hot waiver wire option that comes up. OK, let's get to the league settings and then the draft review.
First, know that we drafted understanding that stats would only be accumulated from February 1st through the end of the season, so what a player has done before February is totally irrelevant.
12 teams
8-category roto (points, rebounds, assists, 3s, steals, blocks, FG%, FT%)
13 roster spots, no benches: PG, SG, SF, PF, C, C, G, G, F, F, Util, Util, Util
3rd round reversal – So the draft goes 1st-12th, 12-1st, 12th-1st and then continues normal snake after
No games played limits
Only two waiver moves allowed
No trading
Winner takes all
Here are the participants in the randomized draft order (You should be following all of them on Twitter):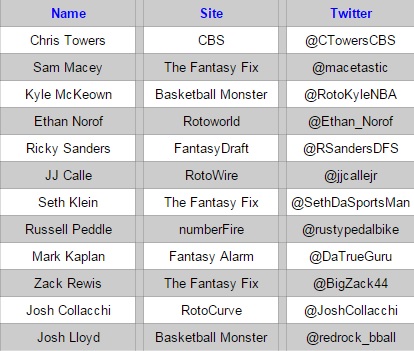 Rounds 1 and 2: I don't even know where to begin! Kawhi Leonard and Draymond Green go fifth and sixth, James Harden slips to eighth and LeBron James goes last pick of round one. The only part of this that truly shocked me was Harden. In an 8-category league, I just have a hard time understanding him falling outside the top five, but I think the reasoning could be that the Rockets are among four teams who play a league low 32 games from February 1st and on.
Round two saw two rookies come off the board, Karl-Anthony Towns was no surprise at all, he's been incredible. I wasn't anticipating to see Kristaps Porzingis go quite this high, but his second half upside is great, and he's definitely fun to own. Josh Collacchi stuck his neck out for Blake Griffin and basically got punched in the face — too soon? Seeing Nerlens Noel go before KAT was unexpected, but I later saw what Seth Klein was up to.
My picks: I started out with a dominate point guard duo. I was thrilled to land John Wall at ten and then Kyle Lowry at 15. Lowry has far exceeded my expectations for him this season, and he's rated fifth on the season in this format, eighth the last two months according to BasketballMonster. I just really liked locking up high assists, steals, free throw percentage and an elite three-point shooter.
Rounds 3 and 4: Round three was reversed, so we started at the back end of the draft board to help the balance a bit. We saw seven bigs go off the board in the round, including a couple of FT-percentage tankers. I didn't expect to see Jae Crowder go this early, was thinking he'd go around the same spot the next round, but he's held 3rd round value all season, so I can't argue with it. Chris Towers paired up the Splash Brothers, so I think he gets all 12 roto points from the treys category by default. I also liked the Carmelo Anthony pick by Kaplan here, he has potential to far surpass this draft spot.
Round four went pretty text book until we saw Ish Smith selected 47th overall. I like Ish but his poor field-goal percentage and lack of threes limits him a bit, but I think Josh is a Sixers fan, so I get it, Ish is the Philly savior. As I mentioned before, we really see that Seth embraced a full-on punt of FT-percentage when he took Drummond here. Seth's plan was definitely to go counting stat heavy throughout while locking in a strong FG-percentage with the bigs he has. Curious to see how that pans out since I have always been anti-punting in roto. You could easily say that Russell Peddle had his first four picks fall in his lap, all could be considered values for their draft spots if all goes right.
My picks: Pau Gasol was my target in round three and I got him. He plays a tied for most, 36 games from Feb. 1 on, and as always, he has been just a true stud despite always being overlooked in drafts. 16.6pts – 10.9rebs – 3.1asts – 2.1blks – .468 FG – .792 FT on the season, and with Noah out, there's no reason to believe that he slows down. In the fourth I was a little torn. I knew I was loaded at PG, and I didn't want to miss out on adding another double-double with blocks type big man, so I decided to snag Marcin Gortat even though it felt slightly early. He gave me what I needed there plus comes with great percentages.
Rounds 5 and 6: There was really nothing that stood out about round five other than when Josh Lloyd selected C.J. McCollum proving that all of our preseason hype still didn't do him justice. I think our site was pretty aggressive ranking him 74th for 8-cat roto in early October, and here he goes 49th overall. The kid is legit. I did not at all expect our own, Sam Macey to ever draft a player like Dwight Howard, especially as early as he did, never been his style. Sam sold me on the fact that with Durant, Hayward and Jackson, that he could still keep a high-70s percent number at the line, we'll see if he's right.
In round six, Sam caught my eye again when he drafted his favorite waiver wire gem, Will Barton. I felt this was a bit early for Barton who has been less consistent in January and his lack of steals and drooping FG-percentage aren't pleasant. With the very next pick, Kyle McKeown made the group recognize that it was time to start taking some chances when he took rookie Myles Turner, who was in the midst of a few breakout games while Ian Mahinmi was out. With this being a league where only the winner gets paid, Kyle came out swinging for the fences from the get go, and I respect that. He went for the upside picks in almost every round. I also think Towers got a potential steal in Brandon Knight here. If Knight can stay on the floor he will see a really high usage rate the rest of the way, and I think at this turn is where Chris realized he'd be basically punting FG-percentage and be fine with it, taking Ricky Rubio and Knight to go with some of his later choices as well.
My picks: I was leaning towards taking Rudy Gay in the fifth and then I decided to quit being a pansy and went for the riskier, but higher upside guy in Danilo Gallinari. I just had flashbacks to how strongly he finished last season (top-12 after the break), and how high I was on him before this season and went for it. He's looked really good since returning from his six game absence at the end of December. Hindsight though, I probably should have taken a big man here, but it's all good. In round six I was really torn between Dwyane Wade and my eventual pick, Elfrid Payton. Again, playing Monday morning QB, looking back I wish I had gone with Wade for the scoring, but I convinced myself that Elf had more upside in assists and steals, plus he pitched in at least some threes. Hopefully that's not the decision that burns me.
Rounds 7 and 8: I felt like round seven was full of bargains. Solid (when healthy) point guards Jeff Teague, Goran Dragic and George Hill were strong values here if they remain healthy, Teague could also get a boost if he or Schroder are traded. LaMarcus Aldridge may get to sit out a lot of fourth quarters due to blowouts, but his dependable 16 and 9 with efficient shooting numbers is nice here for Ricky. Kyle gets Andrew Wiggins three rounds later than he did in our first preseason mock draft five months ago, and I felt the Otto Porter, Rodney Hood and Chandler Parsons picks were fantastic selections here.
In round eight, you really started to see owners target team needs, whether it be a rebounding, passing, 3-point shooting or any other stat specialist. At this point there weren't any obvious standout players, the player pool began to get grimy. You could get yourself an assists guy, but he more than likely would really put a dent in your FG-percentage. You could select a rebounder, but he may weigh down your free throw shooting or not help you anywhere else. The one player who kind of stood out to me as the guy who slipped and became a nice value was Monta Ellis. I was hoping he'd slip a couple more spots to me in this round.
My picks: I was in desperate need of a rebound and blocks guy at this point, and instead of going with a guy who at best was going to get me one block a game, I went for the upside of Willie Cauley-Stein. The defensive versatility and hustle should keep Willie in the starting lineup and getting around 30 minutes the rest of the way, and if that is the case, I definitely believe he has 10 points, 10 rebounds, one steal and two blocks potential as he matures. In the eighth, after I saw that I missed out on Monta, I felt that J.J. Redick was the next best guy on the board. I loved his elite 3-point shooting, which I needed, his quality scoring, and his shooting efficiency both from the field and foul line, despite not doing much else.
Rounds 9 and 10: The ninth round was loaded with players who we all had higher hopes for but they failed to live up to the potential in the first half of the season: Kenneth Faried, Zach Randolph, Nikola Mirotic, Gorgui Dieng, rookie D'Angelo Russell, Wesley Matthews. The Nikola Jokic pick by Ethan got several disgruntled emails sent out due to jealousy. It seemed everyone was planning to land Jokic within the next round. Kyle continued his obsession with upside, taking Dennis Schroder, who could see a big boost in value if he's dealt somewhere he'd start or if Jeff Teague is dealt away by Atlanta before the February 19th trade deadline.
Round ten was not one of many eye catching selections. Sam took a shot on Archie Goodwin, hoping he'd stay hot down the stretch. Sam (a Suns fan) says he has a feeling Brandon Knight could be shut down sooner or later to 'tank' and not risk further injury, if that's the case, that's great for Archie. McKeown decided to go less flashy here with Tony Parker, and Ricky grabbed the injured Al Jefferson, who could pay nice dividends down the stretch if he returns before the end of February and is able to stay healthy.
My picks: Well, I am not one of those drafters who is drawn or bias to my hometown team at all, but I sure felt like it at this point when I drafted Aaron Gordon in the ninth and Evan Fournier in the tenth. That gave me three current Magic players, and I also had two former Magic players in Gortat and Redick. I just love the roto potential of Gordon now that he's a starter, and Fournier seems to be a favorite of coach Skiles whether it be starting or off the bench, he gets big minutes.
Rounds 11, 12 and 13: The wildcard rounds! This is the prime spots to take shots on guys you think could take big steps forward the rest of the way, and/or you simply continue padding your team with 'safe' options who you know will at least keep contributing towards your roto totals, the hell with upside. I think Julius Randle and Marcus Smart were really strong picks in the eleventh round, both possess big upsides, but they both tarnish your team FG-percentage a decent bit.
In the twelfth, Seth taking Mason Plumlee was a strong pick since he was already punting FT-percentage. Also, I'm a big Gary Harris fan, so liked that pick by Calle this late. Ethan and Ricky decided to take the plunge for two of the bigger let downs of the first half, Kyle Korver and Danny Green, who were both so money for roto last year. If they return even close to their form of last year, mega steals here. Towers went with the guy we all would love to see get more minutes the rest of the way, rookie Bobby Portis. Nothing really noteworthy about round thirteen other than Collacchi taking Michael Kidd-Gilchrist who just returned from injury and could be interesting.
My picks: I started the wild card rounds with Joe Johnson. I like the way he's been playing the point-forward role a good bit since the Jarrett Jack injury, and he's actually been shooting the ball better, too. I liked the threes and assists he pitched in for me this late. The last two picks I was taking shots for knockout punches. In the twelfth I took Jusuf Nurkic who is still trying to get back into game shape after off-season knee surgery, but has slowly been looking better, and with the Nuggets lack of quality bigs, he could potentially become a force down the stretch with his rebounding, steals and block abilities. In the last round I took a total swing for the fence, hoping that Brandon Jennings would be traded to somewhere like Brooklyn or New York, where he would start, before the deadline. There's 19 days between our stat counting start and the trade deadline and six of those days are off for the All-Star break, so he can't do much harm before I find out if he'll get a big uptick in value or not. If he doesn't get moved, I'll probably use him as one of my two free agent moves when something comes up.
Well, that's it! I'd like to thank all of the fantasy analysts who took part in this draft, it was a lot of fun as always. I really hope you all enjoyed the draft recap and that it helps you decipher how to value certain players here at the mid-way point. We'd love to hear your thoughts on who had the best and worst drafts, picks you liked or disliked, and any more feedback you may have in the comments section.