2015-16 Fantasy Basketball: NBA Stock Market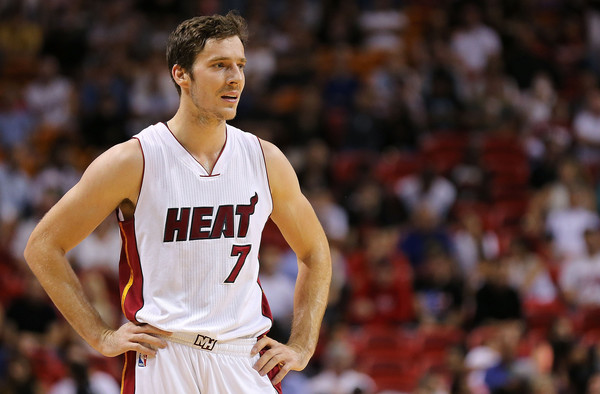 Welcome to NBA Stock Market, a weekly article where I will take the temperature of certain players around the league. This will be designed to let you know who you should be trading for, and who it may be time to cut bait with. There will be two sections in this article, one being "stock rising," meaning those players who are playing above their head, while "stock falling" will be for players who should be playing at a much higher level than they currently are. For the sake of the article we will only touch upon players with serious NBA cred. If James Anderson is having a bad week, we can just chalk it up to the fact that he isn't very good. It is pretty self-explanatory. Without further ado, let's get started.
STOCK RISING
Rajon Rondo – PG, Sacramento Kings
Rondo has turned back the clock, as the former Celtic has been tearing up the league this year to the tune of 12.6 points, 7.7 rebounds and a league leading 10.9 assists. Head coach George Karl has shown a willingness to give Rondo excessive playing time, as he's averaging a whopping 40 minutes over the past two weeks. He's also averaging a ridiculous 14 assists over that time and has recorded a triple-double in four of his past 10 games. This is the Rondo that we were so accustom to in Boston all those years ago. He is the best passer in the league and his rebounding prowess for a point guard is second to none. His has eyes in the back of his head and if you have never watched him play I highly recommend purchasing NBA league pass and checking it out, because he is a treat.
As for fantasy purposes, he's been a multifaceted producer all season long despite his lack of scoring ability and high turnover rate. Surely owners are not complaining though when he's churning out ridiculous triple-doubles. He is not untouchable by any means, but I do not see a point in moving the four time all-star, as he should continue to produce like this all season. Darren Collison is more of a two guard anyway.
Brandon Knight – PG, Phoenix Suns
For years the lasting memory of Brandon Knight was when DeAndre Jordan took his soul on a dunk back when he was on the Pistons. He has since cleansed his hands of that, as he's turned into one of the best point guards in the NBA. His play this season has been stellar, as the former Kentucky Wildcat is averaging a whopping 21.9 points, 4.7 rebounds and 5.7 assists. He and Eric Bledsoe have turned into one of the premiere backcourts in the NBA. Knight has morphed into a prolific scorer and he's finally getting a chance to display his abilities, as he's averaging 35 minutes on the season. He never received ample playing time with Detroit or Milwaukee, but head coach Jeff Hornacek has decided to unleash his star point guard.
Trading for Knight will not be easy, as his huge lines over the past few weeks have caused his value to skyrocket. As for people who currently own him, I would not be against moving him in the right deal. You could ask for a huge haul in return and his owner would bite. Phoenix plays at a really fast pace so Knight should be able to contribute at this level all season. He is currently returning second round value.
STOCK FALLING
Zach Randolph – PF, Memphis Grizzlies
Z-Bo is not the player he once was. He is constantly getting injured and his numbers are down across the board. He's averaging 14.5 points and 8.7 rebounds on the young season. Recently he has been bitten by the injury bug, as his troubled knee has kept him out of the lineup for a few games. Memphis is just not running their offense through Randolph anymore. Marc Gasol, has become one of the premiere centers in the NBA and is a dual threat on offense, so giving him more touches is optimal for offensive success.
In terms of fantasy value, Randolph is essentially a waiver wire player at this point. His name however, still carries some weight. So if you have Z-Bo on your team I would suggest offering up as many trades as possible, especially when he gets back from injury. Wait for him to have a couple good games in a row and see what happens. I do not expect him to just stop contributing altogether, but his recent injuries and unproductive play have raised serious red flags, and it may be time to cut ties with the veteran forward.
Goran Dragic – PG, Miami Heat
It's a really good thing the Heat are 9-5, otherwise there would be a lot of eyes aimed at the poor play of the Slovenian point guard. Miami gave him a five year, $90 (!) million dollar contract this past summer to be their point guard of the future. He has been alarmingly underwhelming through the first 14 games this season, averaging 10.9 points, 3.3 rebounds and 4.6 assists. Miami has a lot of options on offense and when Dwyane Wade is healthy, he is still the primary ball handler. Things should get better for Dragic, as he's been a proven 20-point scorer in the league before. Now is the time to trade for him.
His value will never be lower than it is right now and I'm sure some of his owners are contemplating dropping him altogether. He will have his share of big games as the season goes along. There is nothing wrong with Dragic as far as injuries go, so there is no reason for him not to improve this year. I have been offering all sorts of trades for him in my leagues. Wade will take some maintenance days, and the Miami's guard play behind Dragic is not very strong. Go out and get the dragon. When he's on, he is an incredibly efficient player that can contribute in multiple categories and he can be a pivotal part of your team as we get closer to the playoffs.