2015-16 Fantasy Basketball: NBA Stock Market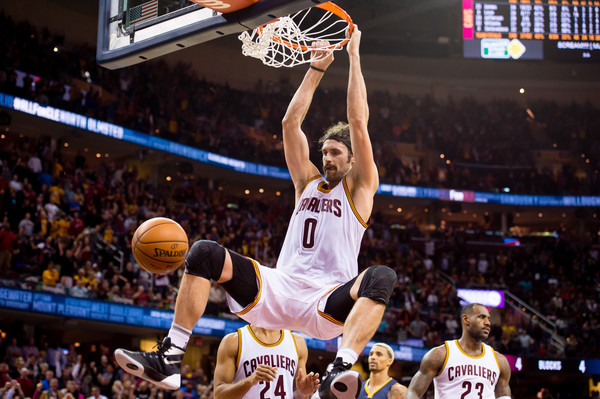 Welcome to NBA Stock Market, a weekly article where I will take the temperature of certain players around the league. This will be designed to let you know who you should be trading for, and who it may be time to cut bait with. There will be two sections in this article, one being "stock rising," meaning those players who are playing above their head, while "stock falling" will be for players who should be playing at a much higher level than they currently are. For the sake of the article we will only touch upon players with serious NBA cred. If James Anderson is having a bad week, we can just chalk it up to the fact that he isn't very good. It is pretty self-explanatory. Without further ado, let's get started.
STOCK RISING
Anthony Davis – PF, New Orleans Pelicans
After a very slow start to the season, the Brow has really picked it up of late, scoring at least 26 points in four of his past six games and grabbing at least 11 rebounds in all but one of them. AD put together a ridiculous line on Monday night against Memphis, dropping a 17-point, 14-rebound double-double to go along with a whopping nine blocked shots. Davis is finally showing owners why he was worth of the number one overall pick in drafts this year. His unique ability to fill up all areas of the stat sheet make him an irreplaceable asset on your roster. He has even added a three point shot to his repertoire, making him close to impossible to defend. He is still only 22-years-old and has limitless potential. Anyone who made a hasty decision to get rid of him due to injury or poor play earlier in the season should be kicking themselves, as there will be no slowing this train down for the remainder of the season. Brow will finish second behind Steph Curry in terms of fantasy value.
If you were lucky enough to rip off another owner and snag AD in a trade, celebration is in order, as he will keep putting up these monster lines all season long. There is nobody in the NBA, besides maybe Steph Curry, who has the upside that AD possesses. There is no doubt in my mind that we will see a quadruple-double from him at some point this season.
Kevin Love – PF, Cleveland Cavaliers
Love was a guy that flew under the radar in drafts this season. He required shoulder surgery that kept him out of the NBA finals last year and people were scared off by his injury concerns. In a few of my drafts I even saw him drop to the fourth round. If you happen to have been one of the people who took the plunge and drafted him, he is paying you back handsomely. Love will enter play Friday with averages of 19.2 points, 11.6 rebounds and 2.3 assists on the season. Combine his three point prowess and we are looking at tail-end first round value from the veteran power forward thus far. It clearly took him a little while to get acclimated with Cleveland, but he has seemed to have meshed with LeBron well over the first month and is paying huge dividends.
His value has never been higher, so I do not recommend trying to trade for him at this juncture, but if you know an impulsive owner in your league who you can convince, then by all means pull the trigger. I myself, have been trying to acquire Love for a few weeks now, and with each passing day and huge fantasy line that he puts up, it keeps getting more difficult.
STOCK FALLING
Al Horford – C, Atlanta Hawks
Part of my head-to-head strategy is to never draft players like Al Horford. Someone who does no one thing great, but most things well. In head-to-head leagues, each week is a new, meaning a players field goal percentage or lack of turnovers will not count for the following week like it does in rotisserie scoring. I prefer to only draft players who dominate categories, and in my opinion, dropping a mid-to-late second round pick on a player like Horford is a death sentence for your team. He comes into play Friday averaging 15 points and seven rebounds. While he does block over a shot per game and shoots well from the field and the line, he just does not provide any upside whatsoever, and I could never burn an early round pick on him. I do understand the allure of him from a rotisserie standpoint. His percentages are great and the lack of deficiency in any category helps a great deal, but in a head-to-head league, it's about winning one particular week, and I just don't think having a player like that helps you.
Horford has cracked the 20-point mark just once in his past 11 games and has cracked double digit rebounds three times in that span. My guess is that's not what you signed up for when you burned an early round selection on him. Another thing is that his minutes have been down this season. He's averaging just 31 minutes this season, which is down from his career average of 33. There is nothing wrong with Horford, and he certainly isn't surprising anyone with his production, but it's just disappointing because he could produce at a higher clip if given minutes in the upper 30s. His value is way down right now and there is no better time to offer a trade for him. I'm sure his owner will bite if presented with the right offer.
Nikola Vucevic – C, Orlando Magic
There is nothing physically wrong with Vucevic, but he has been caught in the Scott Skiles doghouse over the past couple weeks for whatever reason. It is incredibly frustrating owning any player who plays for that guy, as his rotations are just constantly influx. He will pull a player out and bench him for missing a defensive assignment. This is especially frustrating in daily formats, as even when the Magic have a favorable matchup, it is still incredibly hard to trust Skiles. Vuc is averaging 15 points and eight rebounds on the season with his usual good percentages, but his minutes have been down lately and it does not seem like he and his coach are on the same page.
Vucevic is an incredibly talented big that theoretically should be having a breakout season, but we all know how Scott Skiles runs things. I still have faith that he will snap out of this funk and start to play better, despite the limited minutes. He is just too talented and Orlando didn't hire Skiles to bench the team's best players. As far as value goes, there is no better time to trade for the big fella than right now. He can only go up from here and you can be the beneficiary of his elite production that will be forthcoming. I would be on the phone this instant attempting to work something out. He has 20/10 upside for the rest of the season.