2015-16 Fantasy Basketball: NBA Stock Market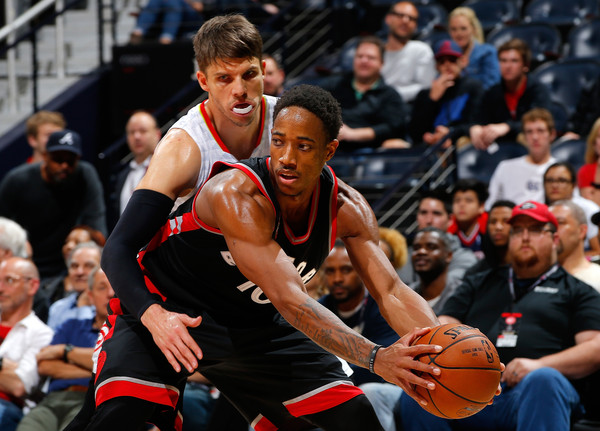 Welcome to NBA Stock Market, a weekly article where I will take the temperature of certain players around the league. This will be designed to let you know who you should be trading for, and who it may be time to cut bait with. There will be two sections in this article, one being "stock rising," meaning those players who are playing above their head, while "stock falling" will be for players who should be playing at a much higher level than they currently are. For the sake of the article we will only touch upon players with serious NBA cred. If James Anderson is having a bad week, we can just chalk it up to the fact that he isn't very good. It is pretty self-explanatory. Without further ado, let's get started.
STOCK RISING
DeMar DeRozan – SG/SF, Toronto Raptors
DeRozan has been playing some of his best basketball of the season, averaging 25 points over his past four games. I personally have an affinity for DeRozan which I cannot explain. Most people are not enamored with his game, being that he's kind of a one-dimensional player, but I have always just loved watching him play. He is an elite scorer. Few players have mastered the art of the mid-range jumper better than DD has. He is not a very strong three-point shooter which is why he doesn't attempt many. He is also very James Harden-esque in terms of his voluminous free-throw shooting. We know what he is and we know what he's not. He's never going to be a great defender, but he is someone that can fill it up like few others can. On the year he's averaging 21 points, four rebounds and four assists. I will take those numbers all day, especially from a fifth round player. DeRozan is tied for 19th in the NBA with a 26.7 usage rate. We know his opportunities will be there, as besides Kyle Lowry, the Raptors do not have many true scorers on the roster.
I personally just acquired DeRozan in a multi-player trade about two weeks ago. He is someone that you can always trade for because of his lack of peripherals and sometimes poor shooting efficiency. I always look to own him every year and somehow end up with him on my team one way or another. He is incredibly fun to own during weeks like this, when he's dropping 25-plus points regularly and getting to the line a ton. Go out and get him before the price to acquire him becomes too steep.
Carmelo Anthony – SF, New York Knicks
Melo is having himself quite a week as he's averaged 27 points, 12 rebounds, and five assists to go along with both a steal and a block. Rookie sensation Kristaps Porzingis has hit somewhat of a wall, so Melo has picked up the load in all facets of the game. Wednesday night against the Timberwolves he just missed out on a triple-double, as he finished one assist shy. He ended the night with 20 points, 15 boards and nine assists in what resulted in a nice home win. Melo has been putting up top 40 value all season and although you spent an early round pick to get him, he should only improve as the season goes along. Remember, he is still trying to get his legs back after undergoing knee surgery last February. It has taken some time, but it appears that he is rounding into his old self again. He's also been rebounding and assisting at a very nice clip recently. So if his point total has to suffer a little, its a trade we'll  gladly make.
Good luck trying to acquire him after this week. The best course of action would be to wait until he has a poor shooting night and then try and offer deals for him. There will always be impatient owners out there, and due to Melo's advanced age, maybe they will be inclined to get rid of him. Until that day comes, just stand pat.
STOCK FALLING
Hassan Whiteside – C, Miami Heat
After taking the league by storm during the first couple of weeks, Whiteside has settled down considerably. He has actually been pretty bad considering where you had to draft him. The big fella comes into play Friday averaging 12.5 points, 10.6 rebounds and 3.9 blocks on the season. He has been especially bad over the past 10 games, failing to score double digit points in all but three of them and grabbing over 10 boards in just half of them. His block numbers have been steady during that time, but that alone cannot keep his value afloat. If he isn't going to get you a double-double on a nightly basis then he is basically more of a detriment to your team than he is a help. He is a horrible free-throw shooter who does not contribute in the threes, assists or steals department.
I have no idea why you would even draft a player like that to begin with, but if you have the misfortune of having him on your team, I would field any offers that I could for him. He will not improve as the season goes along. Miami plays at a very slow pace and they already have two legit scoring options in Dwyane Wade and Chris Bosh. At this point, it would not be a bad idea to just cut your losses and get 75 cents on the dollar for him.
Kyle Korver – SG/SF, Atlanta Hawks
Coming off an ankle surgery, we knew it would take some time for Korver to get right, but he has just been way too inconsistent for anyone's liking this season. He has hit just one three pointer in four of his past six games and has not been the multi-dimensional threat that we are so accustomed to. The good thing about Korver, is that we aren't really relying on him for huge scoring totals. We just need him to get back to his usual self and knock down multiple treys per game while also recording some steals and blocks along the way. It takes guys time to fully get their legs back after ankle surgery, so I would give him a few more weeks before we label him a bad draft pick.
As far as trading for him, I could not think of a better time. He will soon have one of those games where he hits about eight threes and then it will be impossible to acquire him. I recommend getting on that now while his window is still wide open. If you already own him I would just stay put for a couple of weeks and see what happens. He just start to gradually improve as he gets his stamina back and starts to play 30-plus minutes consistently.