2015-16 Fantasy Basketball: Waiver Wire Fix — Week 13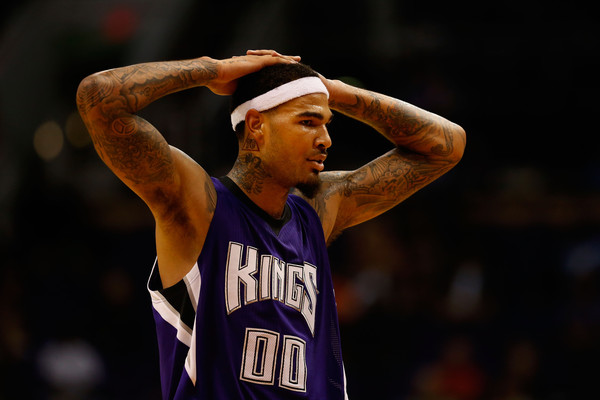 Welcome to the weekly Waiver Wire Fix, an article where I will be discussing which five players should be picked up based on recent production. The only criteria is that they have to be owned in less than 50% of Yahoo leagues. Let's get started.
Willie Cauley-Stein — C — Sacramento Kings
It looks like Willie Cauley-Stein has finally made enough of an impression that he has earned a bigger role. Not only has Willie started the last few games, but in the last two games it is like a light switch turned on, and all of the sudden WCS is flowing perfectly with the Kings' first unit. Over the last two games, Willie has put up back-to-back double-doubles and averaged 29.5 minutes, 12 points, 10.5 rebounds, two steals and one block, while shooting 62.5% from the field. He and Rondo have really been in sync with the lob passes, and WCS has shown he can defend most positions with his quick feet and defensive instincts — having his crazy length to recover of course helps. His lone flaw — as with many big men — is his foul shooting, but I don't see him going to the line enough to hurt you too badly. Willie is owned in just 10% of leagues right now, but is worthy of an add just in case he keeps up this pace.
Jeff Green — SG/SF — Memphis Grizzlies
Jeff Green has been around for a while now, but has shown that he could still be a productive player in this league. It's been the same story for Memphis this season, they don't really have any guys who are adept at creating their own shot. Zach Randolph and Marc Gasol are talented, but are much better when being fed the ball rather than creating for themselves. Green is not Kevin Durant by any stretch, but he is still a player that create for himself and put up nice scoring totals when given the minutes. He's scored at least 16 points in each of his last three games while also contributing in the peripherals department as well. At the moment, he's owned in just 35 percent of Yahoo leagues. A number that is definitely too low for someone averaging minutes in the upper 20s. Green is also versatile, as he's eligible at shooting guard and small forward. He is not exciting by any stretch, but he can still be very effective. Go scoop him and reap the rewards.
Frank Kaminsky – PF/C – Charlotte Hornets

I have to be honest, I did not think Kaminsky would be a good pro. I thought he was too lanky and one dimensional. He has since proved me wrong, and has given Charlotte meaningful minutes off the bench while Al Jefferson recovers from knee surgery. The rookie has scored in double figured five out of his past six games and grabbed at least five rebounds in all of them. He's also averaging about 27 minutes in that span. Charlotte does not have a lot of scoring depth in their front court, so anything Kaminsky can give them is a plus. As long as he's playing like this he should firmly remain in the rotation. As it stands he's owned in just 26 percent of Yahoo leagues. Frank the Tank is also unique because of his three point prowess. He can contribute across multiple categories and is starting to find his niche in the NBA. I always like to pick up rookies before they develop into serious contributors. Kaminsky is on his way. I highly recommend giving him a look.
Myles Turner — C — Indiana Pacers
Myles Turner is an interesting specimen. There are not too many players his size that can shoot the way he does. The rookie shot a ridiculous 11-for-13 from the field, scoring a career high 25 points while also adding seven rebounds against Denver the other night, while Ian Mahinmi was out. He has since seen significant playing time in that span, as he played 31 minutes the following game against Phoenix. Indiana considers themselves to be contenders, so Mahinmi's job is safe at the moment, but it would be incredibly wise for Frank Vogel to utilize his rookie center more often, as he clearly has an NBA skill set. Look for Turner to be featured more in the rotation moving forward, meaning he's definitely worth a pick up. He's currently owned in just 25 percent of Yahoo leagues. He can provide some help in the rebounds and blocks department while also offering close to double digit point upside. Give him a look if you need a big man.
Markieff Morris — PF/C — Phoenix Suns
The issue has never been talent for Morris. At 6-10, he's an extremely versatile player. He's described as an incredibly athletic tweener that can step out and knock down a trey while also beating you in the low block. The problem, however, is his attitude. Phoenix traded his twin brother Marcus to the Pistons in the offseason which pretty much set Markieff off. The two are incredibly close, they drove to practice every day together, have matching tattoos and both live in the same house with their girlfriends. They are the epitome of what twins are supposed to be like. Markieff has suffered through injuries and inefficient play all season. His spats with head coach Jeff Hornacek also found him in the doghouse for a majority of the time as well.
It appears now that all that drama is behind him and that he's ready to contribute for Phoenix. At the moment he's owned in 50 percent of Yahoo leagues, which I believe is too low for a player of his caliber. Before he injured his shoulder the other night, he played over 22 minutes in three straight games, averaging about 10 points and seven rebounds in the process. He is still volatile, and there's no guarantee he will stay in the rotation, but he's the best offensive option that Phoenix has, and if they don't wanna turn into the league's biggest embarrassment, he should be in line for more minutes.