2015-16 Fantasy Basketball: Week 20 Preview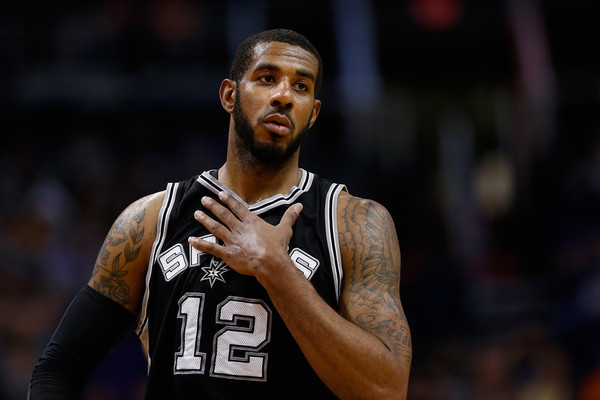 5 Games: TOR
4 Games: BOS, CHA, CHI, CLE, DAL, DEN, DET, GS, HOU, LAC, MEM, NO, OKC, ORL, PHI, POR, SAC, UTA. WSH
3 Games: ATL, BKN, IND, MIA, MIL, MIN, NY, PHO, SA
2 Games: LAL
ON FIRE
LaMarcus Aldridge – PF – San Antonio Spurs
It took a while for the newest member of the Spurs to find his role in the offense, as he is still averaging just 17.7 points per game this season, down from 23.4 a season ago. However, Aldridge is averaging 25.5 points per game over the last week to go along with 9.5 rebounds, 2.0 blocks, and 2.0 assists while shooting 59% from the field and 96% from the free throw line. While Aldridge has the least experience in the playoffs of any player on the Spurs roster, he is the most talented offensive player and younger than the majority of the team. He is averaging numbers like he did a season ago when he was a top 20 player.
Jrue Holiday – PG – New Orleans Pelicans
Despite just eight points on 4/13 shooting in his last outing, Jrue Holiday averaged 25.0 points, 7.5 assists, 4.0 rebounds, 2.0 three's, and 1.3 steals per game over the last week while shooting 47% from the field and 89% from the free throw line. With Tyreke Evans and Eric Gordon out with injury, the Pelicans have relied on Holiday to be their anchor in their backcourt and he has delivered. He has contributed across the board, both offensively and defensively. He's been a top-10 player in fantasy basketball for the past week, despite a tough outing his last time out.
ICE COLD
Serge Ibaka – PF – Oklahoma City Thunder
It appears that the thunder buddies carrying the load in OKC is just Kevin Durant and Russell Westbrook. Many believed the Thunder had a big three of their own with Ibaka in the starting five, but it's been a rough go of late. He's not scoring, he's not blocking shots, and he's only averaging 5.3 rebounds per game in the last week while shooting 32% from the field and 62% from the free throw line. His ADP in ESPN leagues this season was 18.5, making him a candidate for the biggest bust of the year in fantasy basketball. Averaging 8.8 points, 5.3 rebounds, 0.8 blocks, and shooting the ball as poorly as he has over the last week, those are numbers of players that should be on the free agent wire, not an 18.5 ADP.
Stream Options
Tony Allen – SG – Memphis Grizzlies
The Grizzlies are decimated with injuries right now leaving the door wide open for Tony Allen to be one of the top options for a team battling to keep their playoff position. The most intriguing asset TA provides is his ability to contribute both offensively and defensively. He's averaging 15.3 points, 3.3 steals, 1.8 assists, 5.0 rebounds per game over the last week while shooting 52% from the field. He's not the best shooter considering he's a shooting guard, but he still score for this Grizzlies team that is desperate to have someone step up, all while being one of the best in steals around the league. At just 17.0% owned in ESPN leagues, Allen is likely out on the waiver wire and can chip in here and there in just about every category. If you need a boost in steals, Tony Allen is undoubtedly the top choice.
Gary Harris – SG – Denver Nuggets
Over the past week Harris has averaged 15.3 points, 2.8 assists, 4.0 rebounds, 1.3 three's, and 1.3 steals per game over the past week all while shooting 54% from the field and 100% from the free throw line. He is owned in 45.7% of ESPN leagues and should contribute in points and three's with a good shooting percentage as long as he continues to play around 35 minutes per game.
Joe Johnson – SG, SF – Miami Heat
Since joining the Miami Heat, Joe Johnson has averaged 15.5 points, 3.1 boards 2.9 assists, and 1.9 three's per game while s hooting an abysmal 37.8% from the field. However, his last outing against the Raptors he finished with 28 points while shooting 11/21 from the field in 43 minutes played. He's owned in 59% of ESPN leagues, so it's likely that he isn't available on your waiver wire. However, if he is available, he will give you numbers that are worth owning if he can find his shooting stroke.
Games of the Week
Monday – Portland at Oklahoma City
Damian Lillard and the Blazers head to OKC to take on Kevin Durant and Russell Westbrook in a possible first round 3-6 matchup in the Western Conference. Lillard is perhaps the best point guard in the league that doesn't get any attention.
Tuesday – Clippers at Spurs
The Clippers always seem to underachieve considering the roster they have. While they are without Blake Griffin at the moment, he is considered to return soon, but they will have to try to be the first team that beats the Spurs at home for the first time this season without him.
Wednesday – Mavericks at Cavaliers
LeBron James and the Cavs host Dirk Nowitzki and the Mavericks in a matchup of two playoff teams.
Thursday – Grizzlies at Bucks
Giannis Antetokounmpo has been sensational of late, and the Grizzlies have been decimated with injuries. However, Memphis continues to figure out new ways to win.
Friday – Warriors at Mavericks
The Warriors have been playing a little shaky of late (by their standards set this season), and the Mavericks have been good at home this season in big games.
Saturday – Cavaliers at Heat
LeBron James returns to Miami yet again, which will always mean something to both he and the Heat organization.
Sunday – Kings at Knicks
Boogie and the Kings take their trip to play in the world's most famous arena to take on Carmelo Anthony, Kristaps Porzingis and the Knicks.