2015-16 Fantasy Basketball: Week 9 Preview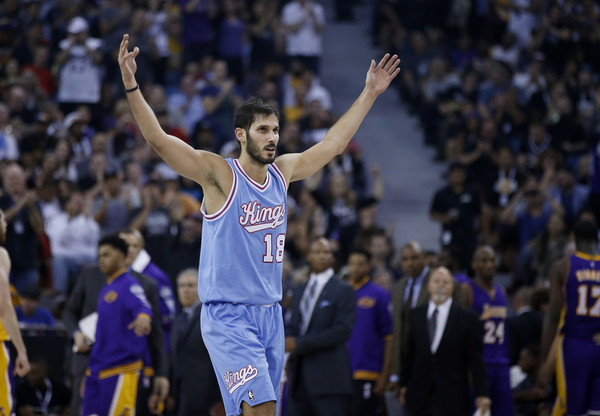 4 Games: BOS, HOU, LAL, MEM, NY, OKC, POR
3 Games: ATL, BKN, CHA, CHI, CLE, DAL, DEN, DET, IND, LAC, MIA, MIN, NO, ORL, PHI, PHO, SAC, SA, UTA, WSH
2 Games: GS, MIL, TOR
ON FIRE
Matt Barnes – SF – Memphis Grizzlies
With Zach Randolph moving to the bench for the Grizzlies, Matt Barnes has seen a large minutes increase as the Grizzlies have moved to small ball of late. Barnes has been a top-five fantasy player in any format over the last week of play as a stat sheet stuffer, averaging 13.2 points, 1.4 blocks, 2.2 steals, 1.8 assists, 7.0 rebounds and 2.2 three pointers per game. Barnes has also played an average of 32.6 minutes per game while shooting exactly 50% from the floor and 86% from the free throw line. There is nothing that Barnes does statistically that is going to put him in the elite level of that specific category, but players like Barnes that can chip in on the stat sheet in many areas are fantasy studs in their own right. Barnes had just seven points, one block, one steal and one rebound in 22 minutes against the Bulls on December 16th, but was still able to put up the second best fantasy numbers according to ESPN standard leagues in week eight. This is likely just a temporary flash of brilliance for Barnes in Memphis, so make sure to use him while he's hot.
ICE COLD
Zach Randolph – PF – Memphis Grizzlies
It is easy to say that times have been better for Zach Randolph and the Grizzlies. Z-Bo has been moved to the bench as the Grizzles have moved to a smaller lineup, where he has found himself averaging just 8.6 points and 6.2 rebounds per game in just 23 minutes a night. He has been shooting the ball relatively well, but is averaging just 7.8 shots per game over the last week. The Grizzlies are desperate to try anything that is going to give their team a spark and jump start them into a contender in the Western Conference like we all anticipated they would be. Even in a game against the Bulls when Matt Barnes had a rough night, Randolph only managed nine shot attempts in 30 minutes. If it weren't for a 3/10 shooting night on the 18th against Dallas, Randolph would have shot 11/20 from the field this week. Even when he was a starter earlier in the season, Randolph hasn't been contributing the way that we have known him to in years past. It's going to be hard to cut ties with the former All-Star, but he is just unwanted baggage to his fantasy owners right now.
Stream Options
Matt Barnes – SF – Memphis Grizzlies
Normally I do not like to feature one player in more than one segment of an article, but Matt Barnes has been that good and is that under-owned currently. Not only is he just 25% owned in ESPN leagues, Barnes and the Grizzlies are one of just seven teams to play four times this week. As I previously stated, Barnes isn't going to light it up in any of the categories on a night-to-night basis, however, he will contribute enough in each category to make him a viable fantasy option in Memphis as long as he continues to see starter minutes.
Jameer Nelson – PG – Denver Nuggets
Jameer Nelson has been filling in and playing big time minutes due to the injury to Emmanuel Mudiay, and he has filled in well. Nelson has averaged nearly 12 points and six assists per game in 31 minutes, which is great for a player that is just 15% owned in ESPN leagues. Nelson is a good option this week if you're looking for help in assists or threes, especially in deeper formats.
Omri Casspi – SF – Sacramento Kings
Omri Casspi has scored in double digits in each of his last 11 games he has played, and has been great over the last week. Casspi is averaging 15 points, 1.5 steals, 3.0 assists, 5.0 rebounds, 3.0 three pointers a game while shooting 61% from the field. Casspi isn't a flashy fantasy basketball player by any means, but he is just 37% owned and the Kings play three games this week, giving him enough of an opportunity to help your team.
Games of the Week
Monday – Indiana Pacers at San Antonio Spurs
Paul George and the Pacers take on Kawhi Leonard and the Spurs in a matchup with one of the best in the West against one of the best in the East. If the Cavaliers and/or the Warriors do not make it back to the NBA finals, these two teams are right up at the top of the list as candidates that will make it there instead. Also, a couple of years ago, Kevin Durant said to the press that Kawhi was a "system player" and not as good as Paul George. Of course Kawhi has an NBA Finals MVP award since then, but you know the Spurs players remember that quote from KD, and George who had nothing to do with it will have to pay.
Tuesday – Dallas Mavericks at Toronto Raptors
Dirk Nowitzki, Kyle Lowry, Mark Cuban and Drake headline the main event on Tuesday night. The Raptors are fast on the rise and are one of the top teams in the East, facing the always interesting Dallas Mavericks. As long as they have Dirk, it ought to make for a great game.
Wednesday – Utah Jazz at Golden State Warriors
It has become beyond annoying to hear the world talk about the Warriors as the best players and the best team in NBA history. That being said, it is going to be very intriguing to see how the Jazz are able to handle the Warriors who are still fairly fresh coming off of the loss (and then redemption win) to the Bucks.
Thursday – NO GAMES
Friday – Cleveland Cavaliers at Golden State Warriors – MERRY CHRISTMAS
While everyone is excited and waiting to see the rematch of the NBA Finals from a year ago, I believe that this might be the most lopsided game of the day. I believe the Warriors are going to come out swinging like they have something to prove to the world, because they are the only team in NBA history to win an NBA championship and feel like they have something to prove. It's good to see Kyrie Irving back in action as well. Adam Silver dressed as Santa Claus gave us all a truly great Christmas gift this year.
Saturday – Memphis Grizzlies at Charlotte Hornets
The last time these two teams met, the Grizzlies started the game on a 10-0 run, but ended up losing 123-99. Marc Gasol led the Grizzlies with 17 points, five assists and five rebounds in that game, and it will be interesting to see how he shows up against the Hornets without Al Jefferson.
Sunday – New York Knicks at Boston Celtics
Melo and Porzingis travel to the TD Garden as the Knicks face off against the balanced, well coached Celtics team that keeps finding ways to get it done. One night it's Isaiah Thomas and the next night is Kelly Olynyk, but the Celtics have been able to have different guys step up and deliver in each of their wins this season.