Daily Fantasy Basketball Strategy: December 10, 2015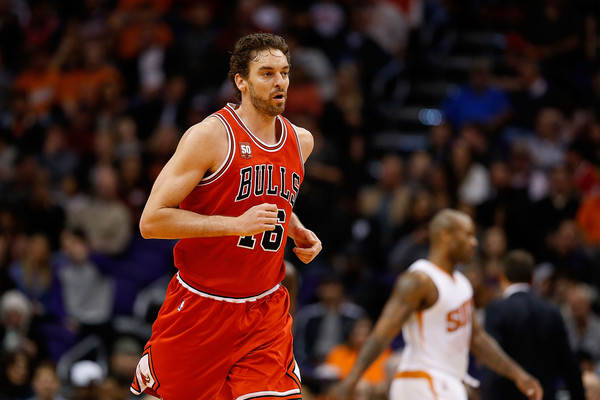 After a jam-packed Wednesday slate that included 10 games, we're back down to four contests in Thursday's NBA action. I finally ended my slump and erased any losses from the past few weeks with some process changes and a big Wednesday performance, and Thursday is a great day to keep the momentum rolling despite the short slate.
[cointent_lockedcontent article_labels="basketball"]
Vegas lines and totals
Philadelphia 76ers @ Brooklyn Nets (-7) – total of 196.5
Atlanta Hawks @ Oklahoma City Thunder (-8) – total of 212
Los Angeles Clippers @ Chicago Bulls (PK) – total of 201
New York Knicks @ Sacramento Kings (-5.5) – total of 207
Hawks-Thunder and Knicks-Kings look like good games to pick from Thursday, while Clippers-Bulls has both teams projected to score over 100 points as well. Even the Nets should hit the century mark and pretty much every team has multiple players in play besides the hapless 76ers.
Let's take a look at the top options and values at each position:
POINT GUARD
Chris Paul ($8,400) – If you're paying up at point guard Thursday night, I'd suggest looking Paul's way for $2,000 less than Russell Westbrook, who has been uneven lately with Kevin Durant playing out of his mind. Paul is fresh off an 18-assist performance against the makeshift Milwaukee backcourt and gets a nice matchup with Derrick Rose and the Bulls on Thursday. Paul is a good bet for 40 fantasy points in this one.
Jose Calderon ($4,300) – Calderon played just 21 minutes as the Knicks didn't get off the plane in Utah until the second quarter, when they were already down 20 points. The Kings have been very lenient to opposing point guards and Calderon has been playing consistent, if low-end, basketball of late. He's slightly underpriced and should be good for points in the low 20s, which will let you spend elsewhere.
Cheap risk option: Short slates always make it tough to find good cheap fliers, and Thursday is no different. Darren Collison ($4,800) has put up 30 fantasy points in two of his past three outings and should thrive against the Knicks' struggling second unit.
SHOOTING GUARD
Jimmy Butler ($7,500) – Coming off a 36-point performance Wednesday, Butler gets a matchup with J.J. Redick on Thursday night. Redick has essentially zero chance of keeping Butler from doing whatever he wants on the court, and Butler brings rare consistency to a generally volatile shooting guard position.
J.J. Redick ($4,000) – Speaking of Redick, the sharp-shooter is coming off a 31-point performance which saw him go 6-of-9 from beyond the arc. He'll see some of Butler on Thursday but the Bulls would be crazy not to use Jimmy Buckets on Chris Paul at some points, and Redick is seriously underpriced for a starting guard who can shoot the lights out on any given night.
Cheap risk option: Just because Ben McLemore ($3,700) starts for the Kings doesn't mean he should start for your fantasy team, but he has the ability to get hot on any given night to keep himself on the court, like when he dropped over 40 fantasy points on the Rockets a few games back. McLemore has either been hitting value or bottoming out over his last five games, so only fire him up if you're feeling lucky.
SMALL FORWARD
Kevin Durant ($10,100) – Since Westbrook wasn't recommended a top-two PG play earlier despite the Thunder having the highest team total on the board, that would lead you to believe I'm high on Durant tonight. That belief would be absolutely true. Durant has been on fire lately and has failed to meet 4.5x value just once in his past seven games. Despite being a good defender, Thabo Sefolosha was no match for Durant when these teams met Nov. 30, as Durant had 51.5 fantasy points.
Bojan Bogdanovic ($4,200) – Bogdanovic is rarely a trustworthy option, but his price is appealing in a very good matchup with the 76ers. Coming off a 19-point night where he attempted 16 shots and cleared the 30-fantasy-point plateau, Bogdanovic will likely be a popular play and is a good value option to slide into your forward spot, assuming you use Durant. His likely popularity makes a bust more palatable.
Cheap risk option: Small forward has been a black hole for the Clippers this season, but Wesley Johnson ($3,200) has shown some life of late off the bench with over 80 fantasy points in his last three games. His 21-point outburst two games ago against the Magic was fluky, as he's scored just 17 since, but Johnson is seeing 20-25 consistent minutes a night and playing well enough when he's on the court to be worth a punt at near-minimum price.
POWER FORWARD
Thaddeus Young ($7,400) – Sticking with the Nets frontcourt against the 76ers, Thaddeus Young is one of my favorite plays of the night. Like Durant, Young has been very consistent of late and has hit value in six of seven games and eight of ten. It's tough to envision Philadelphia slowing Young down Thursday night, as they've struggled all season against power forwards.
Taj Gibson ($4,000) – This play is contingent on Gibson being in the starting lineup like he was Wednesday. While Gibson saw just 20 minutes of court time compared to 22 for Nikola Mirotic and 21 for Joakim Noah, he's been performing regardless of role with 18 fantasy points or more in each of his past four games. He's a potential cap saver on a short slate if you're uncomfortable playing Bogdanovic, in the same mold as Calderon. The upside is limited, but cheap, reliable production has value on these slates.
Cheap risk option: It was strange to see Kevin Seraphin ($3,200) play just nine minutes in Wednesday's blowout while the rest of the bench saw playing time in the double-digits. Seraphin is nowhere near a safe play in Derek Fisher's frontcourt rotations, but he's the best of a bad lot when it comes to cheap PFs on Thursday and has a great matchup. The Kings like to play small with Rudy Gay at the 4, though, which could limit Seraphin's chances barring Robin Lopez foul trouble. Suffice to say, I won't be going cheap at PF on this slate.
CENTER
Pau Gasol ($7,700) – I recommended Gasol on Monday and he rewarded me with a 54-point performance. I played him again Wednesday with similar results. Gasol continues to dominate and is averaging around 50 fantasy points over his last five, making him a must-play at his price in a good matchup against DeAndre Jordan and the Clippers. Another monster double-double should be in the cards for Gasol on Thursday.
DeAndre Jordan ($7,100) – My numbers threw Steven Adams at me for the No. 2 center spot, but it wouldn't surprise me to see the Thunder go away from him Thursday against a Hawks team that plays a glorified power forward at center in Al Horford; Adams busted hard in the Thunder's last meeting with the Hawks. While Gasol should go off on offense, his defense leaves much to be desired and Jordan has been a beast on the boards of late, grabbing 12-plus rebounds in five straight, including two 19-board games.
Cheap risk option: There's risk involved here, but the aforementioned Steven Adams ($3,900) has a good matchup if Billy Donovan doesn't decide to stick him on the bench like he did in the last matchup between these two teams, where Adams played only 14 minutes with just two rebounds to his name. Center is pretty nondescript below $4,500 on Thursday, so I'll likely be paying way up to fill the spot.
Cash Game Ranks
This isn't necessarily an order of who will score the most DraftKings points. Rather, the rankings are aimed to find the best price, value and production combo to help you win cash games, also taking into account potential ownership levels for each player.
PG
1) Jose Calderon
2) Chris Paul
3) Rajon Rondo
4) Isaiah Canaan
5) Russell Westbrook
6) Derrick Rose
SG
1) J.J. Redick
2) Jimmy Butler
3) Arron Afflalo
4) Kyle Korver
SF
1) Kevin Durant
2) Bojan Bogdanovic
3) Robert Covington
4) Omri Casspi
5) Joe Johnson
PF
1) Thaddeus Young
2) Taj Gibson
3) Kristaps Porzingis
4) Serge Ibaka
5) Paul Millsap
6) Blake Griffin
C
1) Pau Gasol
2) DeAndre Jordan
3) Brook Lopez
4) Steven Adams
5) Jahlil Okafor
6) Al Horford
As always, stay locked to Twitter and follow me @christripodi, where I'll do my best to break down the implications of any late scratches or lineup changes before the first game tips at 7:30 p.m. EST. I'll also update this article as news breaks throughout the day if at all possible, but I will usually update via Twitter first.
[/cointent_lockedcontent]
//
//
//