Daily Fantasy Basketball Strategy: December 13, 2015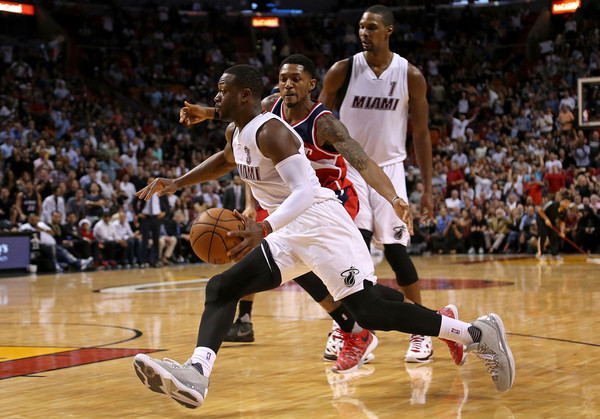 Sunday's three-game slate is a slight letdown after the NBA scheduled nine games on Saturday, but such is life as the NFL season tails down. The Wolves and Suns play a 3:30 matinee but DraftKings' big tournaments only include the games from 6 p.m. on, so those will be the only ones covered here. There are plenty of good plays in that early game, though, if you do play the all-day slate.
[cointent_lockedcontent article_labels="basketball"]
Vegas lines and totals
Memphis Grizzlies @ Miami Heat (-4) – total of 190
Philadelphia 76ers @ Toronto Raptors (-12) – total of 193
Utah Jazz @ Oklahoma City Thunder (-8.5) – total of 202
Not only is it a letdown to have just three games, but two of them are unattractive from a fantasy perspective. Grizzlies-Heat projects as a low-scoring, defensive battle between two of the eight slowest teams in the league, while 76ers-Raptors could be over by the end of the third quarter. That leaves Jazz-Thunder as the only appealing matchup, which makes building teams tough Sunday, as both squads rely rather heavily on two or three fantasy-relevant players. Regardless, let's see who comes out as the top plays and values at each position:
POINT GUARD
Russell Westbrook ($10,300) – The Thunder are the only team with a total over 100 points Sunday, so this won't be their first mention in this column. The Jazz defense hasn't been quite the same without rim protector Ruby Gobert, and Westbrook makes much of his living on drives to the basket. His consistency has been outstanding, with at least 46.75 fantasy points in his last four games.
Goran Dragic ($5,100) – Dragic has been up and down this season, and down is the direction he's trended in his last two after three straight 30-point outings. Those two games came against the Hornets and Pacers, two of the better teams at defending the point guard position, and Sunday's comes against the Grizzlies, who are in the top-five of points allowed to PGs. A return to the range of 25-30 points is likely for Dragic here.
Cheap risk option: Despite coming off the bench, Trey Burke ($4,300) has been remarkably consistent of late, scoring at least 21 fantasy points in each of the five games Ruby Gobert has missed due to injury. It wouldn't be crazy to throw Burke into cash games if you need the salary relief, but he's a high-floor GPP play who has topped 28.75 points twice in his past five, so there's upside here too.
SHOOTING GUARD
Dwyane Wade ($7,000) – Despite playing in a game that looks like a slow, defensive grind, Wade is one of the top plays Sunday night. He gets a Memphis defense that struggles to cover the wing despite the presence of Tony Allen, and he's topped 32.75 fantasy points in four of his last five, with the lone bust coming against the scorching Hornets. Wade should be good for 35-plus fantasy points in this one.
Terrence Ross ($3,800) – Ross seems likely to start in place of DeMarre Carroll again, barring a quick turnaround for the latter, and fits in nicely as cheap value Sunday. On a larger slate Ross wouldn't be an option, but you have to get a bit creative with lineups when there are only three games, and Ross is averaging just under 21 points per game in this three starts. More than half of those points came in his first start against the Lakers, but the 76ers present a similar matchup that could lead to a decent game from Ross.
Cheap risk option: He's moved back to the bench with Luol Deng in the starting lineup, but Gerald Green ($4,200) still has the ability to fill it up on any given night and saw 28 minutes against the Pacers on Friday, scoring 13 points with three triples, two steals and a block. He probably doesn't have 30-point upside against Memphis, but beggars can't be choosers on this slate.
SMALL FORWARD
Kevin Durant ($10,000) – Like Westbrook, Durant is the top play at his position Sunday and not just on a total points basis. He has a good matchup against the Jazz and has topped 45 fantasy points in seven of his past nine outings. Sunday is a day where I'm looking to lock in the two top options in Westbrook and Durant with the expectation of 100 fantasy points from the pair, as fading either could prove costly on a light day.
Gordon Hayward ($7,400) – If you don't want to pay up for Durant, Hayward is not a bad choice at his still-depressed price tag. The monster upside isn't there, but Hayward has at least 38.5 fantasy points in each of the five games Gobert has missed. The Thunder are a neutral enough matchup for opposing small forwards that Hayward should be good for at least 35 in this one despite spending much of his time guarding Durant.
Cheap risk option: The picking are real slim for cheap small forwards Sunday, but Justise Winslow ($3,800) is probably the best of the bunch. If we knew James Johnson was a lock for garbage-time minutes if the Raptors were to blow out the 76ers, he'd be a solid GPP punt, but Winslow has a good matchup with the Memphis wings and gets solid minutes. Just don't expect anything more than 20 fantasy points from anybody in this range.
POWER FORWARD
Serge Ibaka ($5,900) – Another Thunder player is his position's top play, surprise, surprise. Ibaka's price tag is finally below $6,000 and while he hasn't been great of late with just over 26 fantasy points per game in his last five, a matchup with Trey Lyles is the best on-paper matchup his team has. The Jazz have been a bottom-10 team in allowing points to PFs over their past four and bottom-five when it comes to rebounding, so 14 and eight sounds like a reasonable expecation for Ibaka with a block or two thrown in and a good chance at 30 fantasy points.
Chris Bosh ($7,200) – The Grizz haven't been as giving to power forwards this year as they have been to wings, but the PF position is not very attractive Sunday with Derrick Favors facing the Thunder and Nerlens Noel and Zach Randolph underperforming. Bosh is one of the few players on the board at the position who has shown any semblance of consistency recently and he should be good for fantasy points in the low-mid 30s on Sunday against Zach Randolph.
Cheap risk option: There's no guarantee he gets extra minutes in a blowout as one of the top seven players in the rotation, but Patrick Patterson ($3,800) has been playing well of late with at least 21.5 fantasy points in three of his past four games. He's played 29 minutes or more in all four of those games while seeing more court time than starters Luis Scola and Bismack Biyombo. That playing time could make him cash-viable if you need the savings, too.
CENTER
Marc Gasol ($7,300) – Brother Pau has been a better DFS play of late than Marc, but the younger Gasol is the best option among centers over $5,000 on Sunday. Hassan Whiteside has struggled of late and while the Heat still aren't a great matchup for Gasol, his consistency is unmatched at the position considering the rest of Sunday's options. It will be tough to get him in a lineup with Westbrook, Wade and Durant, though, so you'll likely be picking three. In that case, Gasol won't make it onto my teams.
Bismack Biyombo ($4,900) – Center is really a barren wasteland on Sunday's slate behind Gasol, who may be tough to pay for considering the other options on the board. Biyombo has hit value just once over his past five games and is significantly overpriced, but his one good game came against the Lakers, much like Ross above. The 76ers are just as hapless, but it's hard to realistically expect more than points in the low 20s from Biyombo, although that would suffice in this instance.
Cheap risk option: There's always risk with Steven Adams ($3,800), but he's actually been the second-most consistent center on Sunday's board with three games of 18.5 fantasy points in his past five. Of course, that says more about the position than it does about him and he scored just 20.75 combined points in the other two games, including a nine-point dud against the Jazz on Friday, but he had a similar dud against the Hawks on November 30 before bouncing back with 23.5 points in a rematch shortly thereafter.
Cash Game Ranks
This isn't necessarily an order of who will score the most DraftKings points. Rather, the rankings are aimed to find the best price, value and production combo to help you win cash games, also taking into account potential ownership levels for each player.
PG
1) Russell Westbrook
2) Goran Dragic
3) Kyle Lowry
4) Trey Burke
SG
1) Dwyane Wade
2) Terrence Ross
3) DeMar Derozan
4) Alec Burks
5) Gerald Green
SF
1) Kevin Durant
2) Gordon Hayward
3) Luol Deng
PF
1) Serge Ibaka
2) Chris Bosh
3) Derrick Favors
4) Patrick Patterson
5) Luis Scola
C
1) Marc Gasol
2) Bismack Biyombo
3) Steven Adams
As always, stay locked to Twitter and follow me @christripodi, where I'll do my best to break down the implications of any late scratches or lineup changes before the first game tips at 6 p.m. EST. I'll also update this article as news breaks throughout the day if at all possible, but I will usually update via Twitter first.
[/cointent_lockedcontent]
//
//
//
//