Daily Fantasy Basketball Strategy: December 19, 2015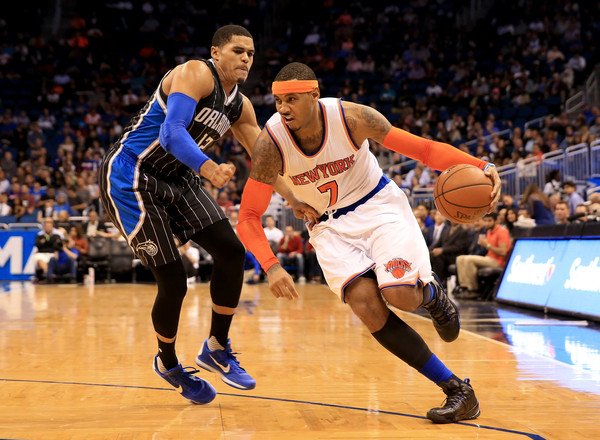 Not including the 5 p.m. blowout special between the Lakers and Thunder, which isn't in any of DraftKings' big-money tournaments, Saturday offers DFS players a four-game NBA slate to choose from. It's a solid slate with four competitive games and none featuring lockdown defensive teams, which could lead to some relatively high fantasy scores even with just a handful of games. Let's take a look at the Vegas lines for each game to start.
[cointent_lockedcontent article_labels="basketball"]
Vegas lines and totals
Charlotte Hornets @ Washington Wizards (PK) – total 206
Chicago Bulls (-3) @ New York Knicks – total of 195
Indiana Pacers @ Memphis Grizzlies (-1) – total of 198.5
Los Angeles Clippers @ Houston Rockets (-1) – total of 213.5
Clippers-Rockets should be a lot of fun, but that's not the only game with DFS appeal Saturday night. All the games feature starters that should see a full complement of minutes and with no spread under 195 points, every game is seemingly in play for fantasy purposes. There will certainly still be some very chalky plays, but Saturday is the rare short slate where there is some potential diversity at multiple positions.
POINT GUARD
Chris Paul ($7,800) – Paul has put together four straight games with at least 41.25 fantasy points, and while he has a slightly difficult matchup against Patrick Beverley, he's easily the top PG on Saturday's four-game slate. Start Paul with confidence before his price jumps back up where it belongs now that he's proven himself fully healthy.
John Wall ($9,300) – If Otto Porter sits out Saturday, which seems more likely than not at this point, John Wall will have to be a one-man wrecking crew with Bradley Beal also sidelined. If Porter plays I'd likely bump Wall out of the top two, but the usage bump he'll get from the absence of both should help make up for a tough matchup against Kemba Walker and the Hornets.
Cheap risk option: With Beal out of action, Ramon Sessions ($4,000) has logged 26 minutes in four straight games, scoring no less than 18.25 fantasy points in that span. While this isn't the best matchup to use Sessions expecting a 25-point night, he's the best of a bad group of cheap options at PG on Saturday night.
SHOOTING GUARD
Jimmy Butler ($7,500) – Shooting guard is a struggle Saturday night, with very few decent options and none that project to significantly beat their price. Butler gets an average matchup with the Knicks in a game where the Bulls are projected to score a run-of-the-mill 99 points. He should score in the mid-30s, which is just fine at his price tag on a short slate.
Courtney Lee ($4,500) – Lee has a solid matchup against the Pacers and has been playing well since moving into the starting lineup four game ago, despite scoring just 12.5 points against the Mavericks on Friday. Indiana allows almost five points per game more to SGs than Dallas on the season, which should allow Lee to get back into the 20-point range Saturday. Saving money at SG could be the way to go with some good options available at other positions.
Cheap risk option: Speaking of saving at SG, Gary Neal ($4,200) may get another start in place of Beal on Saturday. He was thrown into the lineup Wednesday against the Spurs and predictably busted with 14.75 fantasy points, but you could see that one coming a mile away. Neal is a gunner, and a streaky one at that, leaving him best served for GPPs, but he could be an OK cash play if you're desperate on the short slate.
SMALL FORWARD
Carmelo Anthony ($8,300) – Anthony's box score may not look great from Friday's rout of the 76ers, but he pushed for 30 first-half fantasy points and could've had his fourth straight 50-point performance if the game wasn't over early. Anthony has been involving his teammates more of late, which allows for more well-rounded production, and Tony Snell and the Bulls struggle to cover opposing small forwards. Melo might see some of Jimmy Butler on Saturday, but he's still the top SF on the board as one of the hottest players in the NBA over the past week.
Nicolas Batum ($7,500) – Batum should be over his sickness from the middle of the week, and he'll step right back into the lineup in a prime matchup with a Wizards team that struggles to defend opposing wings even with Bradley Beal and Otto Porter healthy. With both potentially out, Batum could be in for a real nice game as long as he's feeling up to it.
Matt Barnes ($5,300) – Just in case Batum sits, a third SF option is included here. It's also because Barnes is a nice play in his own right, and playing all three of these guys isn't a bad strategy if you can pull it off. Outside of a bad matchup against the Bulls, one of the few teams that still plays a traditional PF with Taj Gibson now starting, Barnes has been a near-lock for 30 fantasy points as a starter. With the Pacers playing C.J. Miles and Paul George at the forward spots, Barnes' minutes won't be in the low 20s like they were against Chicago.
Cheap risk option: I'm not sure where his newfound jump shot came from, but Lance Thomas ($3,600) has become a very viable DFS play of late. Thomas has been above 13 fantasy points for an unfathomable 10 games in a row and he's scored at least 18 in half of those. Derek Fisher loves him, so his minutes are safe, and he's arguably the best sub-$4,000 play on the board Saturday.
POWER FORWARD
Blake Griffin ($8,800) – Blake Griffin against the Rockets just sounds unfair. Houston is downright awful defending power forwards this season and Griffin has been a matchup nightmare for almost every defender he's faced this season. It's possible Houston shakes up their starting lineup by moving Clint Capela to the bench for Donatas Motiejunas or Terrence Jones, but it doesn't matter who the Rockets throw at Griffin. He's going to feast.
Kyle O'Quinn ($3,300) – Remember when I said Lance Thomas was arguably the best sub-$4,000 player on the board Saturday? O'Quinn is the reason there's an argument, as the elite per-minute producer has seen at least 13 minutes in five straight games, knocking Kevin Seraphin out of the rotation for the time being. O'Quinn has hit double-digit fantasy points in all five of those games, and he has 20 or more in four of the five. His price won't be this close to minimum much longer, and PF is ugly after Griffin on Saturday.
Cheap risk option: If Porter sits for Washington, it's possible Kris Humphries ($3,700) will get his second straight start unless Randy Wittman wants to plug raw rookie Kelly Oubre into the starting lineup. If Humphries does draw the start, he could even be a viable cash play against a Hornets frontcourt that struggles to stop anybody. Humphries has blown plenty of chances this season, though, but there's reason to think he has some upside Saturday.

CENTER
Dwight Howard ($7,100) – Howard vs. DeAndre Jordan sounds like a heavyweight defensive battle, but in reality both players are a great matchup for the other. Howard gets more offensive touches, which gives him the slight advantage over Jordan, especially with the latter's teammates Paul and Griffin already locked in as top plays. The Clippers do well against opposing SGs, which could keep James Harden somewhat quiet and open up a few extra looks for Howard.
DeAndre Jordan ($6,800) – Jordan is a good play as well, and you can really flip a coin between him and Howard. If you need the $300 elsewhere, nothing should stop you from going with Jordan on Saturday night and playing him with Paul and Griffin against a terrible Houston defense isn't that risky of a stack. Jordan doesn't need to score to hit value.
Cheap risk option: It's been a rough first season in New York for Robin Lopez ($3,900), but the Bulls give up points a plenty to the center position and the Knicks won't be able to play Kristaps Porzingis at the 5 as much against Pau Gasol. Lopez almost has to see a good amount of minutes, but the question is whether he'll use them to produce.
Cash Game Ranks
This isn't necessarily an order of who will score the most DraftKings points. Rather, the rankings are aimed to find the best price, value and production combo to help you win cash games, also taking into account potential ownership levels for each player.
PG
1) Chris Paul
2) John Wall (bump below Walker if Otto Porter plays)
3) Patrick Beverley
4) Derrick Rose
5) Kemba Walker
6) George Hill
7) Mike Conley
SG
1) Jimmy Butler
2) Courtney Lee
3) Gary Neal
4) Jeremy Lamb
5) Rodney Stuckey
6) Monta Ellis
7) James Harden
SF
1) Carmelo Anthony
2) Nicolas Batum
3) Matt Barnes
4) C.J. Miles
5) Lance Thomas
6) Trevor Ariza
7) P.J. Hairston
8) Jared Dudley
PF
1) Blake Griffin
2) Kyle O'Quinn
3) Kristaps Porzingis
4) Marvin Williams
5) Kris Humphries (bump to No. 3 if he starts)
C
1) Joakim Noah
2) Dwight Howard
3) DeAndre Jordan
4) Marcin Gortat
5) Marc Gasol
6) Clint Capela
As always, stay locked to Twitter and follow me @christripodi, where I'll do my best to break down the implications of any late scratches or lineup changes before the first game tips at 6 p.m. EST. I'll also update this article as news breaks throughout the day if at all possible, but I will usually update via Twitter first.
[/cointent_lockedcontent]
//
//
//
//
//
//