Daily Fantasy Basketball Strategy: December 29, 2015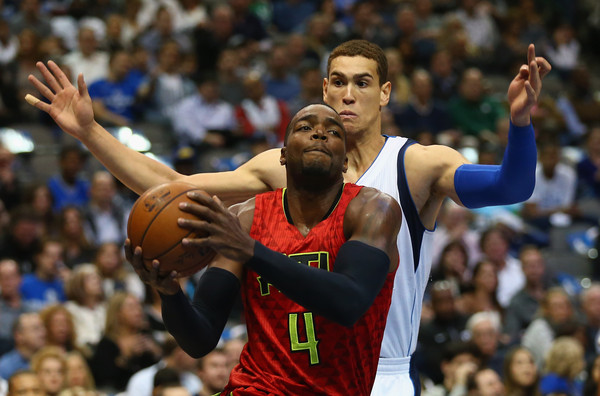 U-G-L-Y. Those four letters tell you all you need to know about Tuesday's slate. It's about the worst five-game slate I've seen in a while, with very few players I'd be interested in playing on a normal night. Then again, everything is relative and there are still some guys who are better plays than others. Let's take a look at what Vegas thinks about Tuesday's games.
[cointent_lockedcontent article_labels="basketball"]
Vegas lines and totals
Detroit (-1) @ New York – total of 198
Miami @ Memphis (-4.5) – total of 189.5
Milwaukee @ Oklahoma City (-14) – total of 204
Atlanta @ Houston (-2.5) – total of 209.5
Cleveland (-6.5) @ Denver – total of 197
It's possible you're thinking, why is this slate so awful with two games projected to go over 204 fantasy points and only one below 195? First off, one of the two games looks to be a blowout, which could limit the playing time of stars like Russell Westbrook and Kevin Durant. Also, Jason Kidd's rotations are chaotic enough that the Bucks are tough to peg for cash-game value. That leaves Hawks-Rockets, which is a decent game to target, and little else. There's no obvious value available on this slate as of this writing, either, meaning you'll have to take a few risks to play the studs in cash games.
Let's take a look at who can make a difference on a potentially slow Tuesday night.
POINT GUARD
Reggie Jackson ($7,300) – Jackson's game projects to be a lot closer in just as good of a matchup with the Knicks. Jose Calderon started the year playing well on defense, and the season-long stats still bear that out as the Knicks allow the 24th most points to point guards in 2015. Calderon's defense has slipped a bit lately, which isn't surprisingly considering he's never been a plus defender in his career, and Jackson's quickness and penetration ability could give Calderon fits.
Matthew Dellavedova ($4,800) – With Kyrie Irving out Tuesday night against the Nuggets, Dellavedova will step back into the starting lineup and a likely 30-minute role. While the days of him playing 40 minutes are likely over with Mo Williams, J.R. Smith and Iman Shumpert available in the backcourt, Delly gets a great matchup and the lack of tangible value on this slate means he'll be a pretty popular play. Just don't expect a 30-point performance, and you won't be disappointed.
Cheap risk option: Speaking of Jose Calderon ($3,800), he's decent enough GPP flier if you think you can catch him on a good night in a great matchup. The Pistons have been very giving to point guards this year, and Reggie Jackson, much like Calderon, isn't thought of as much of a defender. Calderon has hit 24.75 fantasy points in two of his past three, and Tuesday could make it three of four.
SHOOTING GUARD
Khris Middleton ($6,100) – Shooting guard is not pretty Tuesday, with each of the top three options at the position facing tough matchups. Enter Khris Middleton, who had three straight games with 37-plus fantasy points and had at least 27.5 in eight straight before struggling against Dallas on Monday. Middleton is a good bet to rebound against the Thunder, and hopefully the Bucks can stay in the game long enough for him to reach value.
J.R. Smith ($4,600) – Affording Middleton may be tough if you pay up at other positions, which leaves Smith as a low-cost option at the position. It's tough to justify paying up for James Harden or Dwyane Wade tonight, and Smith is the only SG left below Middleton with either a good matchup or a missing teammate. Smith happens to have both, and he got back on track Monday with 17 points and five three-pointers. Say a prayer for the SG position Tuesday night.
Cheap risk option: There isn't much at the bottom of the SG tank, but Langston Galloway ($3,700) is the best of the bunch. His matchup isn't good but he should get some minutes at the point against either Jackson or Steve Blake to avoid the defense of Kentavious Caldwell-Pope, and it's possible he'll turn those minutes into bankable production. Don't count on it, though.
SMALL FORWARD
Lebron James ($9,600) – If James was playing better basketball at the moment, he'd be a much stronger play than he already is Tuesday. The Nuggets are starting Kostas Papanikolaou at small forward in place of Danilo Gallinari, and neither he nor Will Barton off the bench is capable of slowing down LeBron. The only person who can, it seems, is LeBron himself, and playing on the second night of a back-to-back adds a little more risk to this pick than there would usually be taking James.
Kent Bazemore ($5,300) – Small forward is also a potential spot to save Tuesday night, as James hasn't cleared 45 fantasy points in five games and the other top options have tough matchups. The Rockets wing defense has always been a good target for DFS players this season, and Bazemore's style of play is well-suited to take advantage. Houston is in the bottom-five in points and steals allowed to small forwards and sixth-worst in three-pointers allowed, which happen to be Bazemore's strengths as a player. Expect some solid shooting, scoring and pilfering from Bazemore on Tuesday.
Cheap risk option: Sticking with the Hawks-Rockets game, Marcus Thornton ($3,900) is the kind of player who can win you a GPP. He's also the type of player that's a lot more likely to score points in the mid-teens than explode, but cheap fliers are hard to find on a slate like Tuesday's. Thornton has shown he can get hot off the bench at any time, and he usually stays on the court when he goes on a heater. Corey Brewer's struggles help Thornton here.
POWER FORWARD
Paul Millsap ($7,700) – Power forward is easily the strongest position of the night, and Millsap gets the best matchup against Houston. No matter who starts at the 4 for the Rockets, they can't seem to defend opponents at the position, and Millsap has a tendency to go big in games like this. Houston is bottom-two in rebounds, blocks and points allowed to PFs, and Millsap contributes in all three of those categories, among others. Expect a double-double and a solid all-around performance from the Sapper.
Serge Ibaka ($6,600) – Ibaka has a tendency to be a little up and down as a lower-usage player who relies on defense to get his numbers, but he's scored at least 29.75 fantasy points in three of his past four games, the importance of which can't be understated on a slate like this. Ibaka also gets a great matchup against the Bucks, who've struggled against opposing PFs all year and allow nearly two blocks per game to the position. And that's when they're not even facing an elite shot blocker like Ibaka. They're also last in three-pointers against, so maybe Ibaka finds himself open beyond the arc for a triple or two despite his decrease in long-range shots this season.
Cheap risk option: There isn't much at all below $3,500 on Tuesday night, and Mike Scott ($3,300) is pretty much all the low rungs have to offer. Scott is playing almost 19 minutes per game in his past four, with two 18.25-point performances at a bargain price. A fast-paced game with the Rockets should give him the chance to hoist some long jumpers and see if they drop.
CENTER
Andre Drummond ($9,400) – Like Jackson, Drummond gets the Knicks at one of their two weakest positions. That's a problem for New York, since the Pistons' best players play point guard and center, which have been trouble spots for the Knicks this year. Robin Lopez will be no match for Drummond, who is my top play over $8,000 for the Tuesday slate.
Dwight Howard ($6,500) – If you don't want to pay up for Drummond, Howard's matchup against the Hawks is just as delectable. Howard hasn't been in top form of late, however, scoring no more than 31.5 fantasy points in his last four with two games under 20. If Dwight can't top 30 fantasy points in this matchup, he doesn't deserve the usage he's been clamoring for of late.
Cheap risk option: While I'm targeting his defense, Robin Lopez ($4,000) has some upside Tuesday night if he can stay out of foul trouble. The Knicks will need his size against Drummond in the post, which could give Lopez a shot at 30 minutes for the third time in his past five games. He scored a combined 48.5 fantasy points in the previous games he saw those minutes in, and could put up a similar performance if Derek Fisher keeps him on the court due to the matchup.
Cash Game Ranks
This isn't necessarily an order of who will score the most DraftKings points. Rather, the rankings are aimed to find the best price, value and production combo to help you win cash games, also taking into account potential ownership levels for each player.
PG
1) Reggie Jackson
2) Matthew Dellavedova
3) Russell Westbrook
4) Jose Calderon
5) Mike Conley
6) Patrick Beverley
7) Goran Dragic
SG
1) Khris Middleton
2) J.R. Smith
3) Dwyane Wade
4) James Harden
SF
1) Kent Bazemore
2) LeBron James
3) Trevor Ariza
4) Luol Deng
5) Jeff Green
6) Kevin Durant
PF
1) Paul Millsap
2) Serge Ibaka
3) Chris Bosh
4) Kristaps Porzingis
5) Kevin Love
6) Tristan Thompson
C
1) Andre Drummond
2) Dwight Howard
3) Robin Lopez
4) Hassan Whiteside
5) Marc Gasol
6) Al Horford
7) Greg Monroe
As always, stay locked to Twitter and follow me @christripodi, where I'll do my best to break down the implications of any late scratches or lineup changes before the first game tips at 7:30 p.m. EST. I'll also update this article as news breaks throughout the day if at all possible, but I will usually update via Twitter first.
[/cointent_lockedcontent]