Daily Fantasy Basketball Strategy: December 5, 2015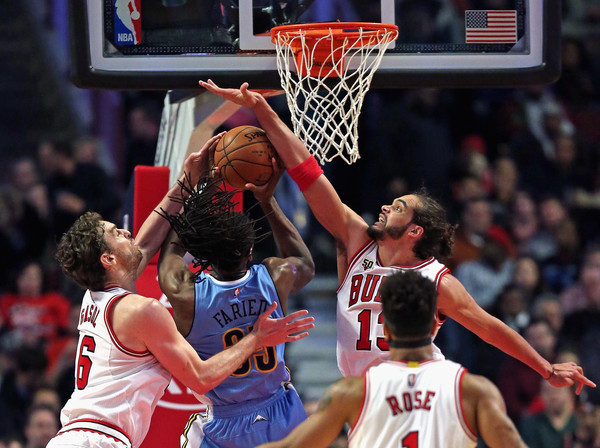 Saturday's 10-game slate is the largest in almost a week, but two of those games will happen well before the standard 8 p.m. start time, meaning they won't be included here since DraftKings doesn't include them in their big tournaments. That still leaves eight games, including one juicy one for daily fantasy purposes.
[cointent_lockedcontent article_labels="basketball"]
Vegas lines and totals
Cleveland Cavaliers @ Miami Heat (-2) – total of 191.5
Portland Trail Blazers @ Minnesota Timberwolves (-2) – total of 203
Sacramento Kings @ Houston Rockets (-3.5) – total of 217.5
Charlotte Hornets @ Chicago Bulls (-5.5) – total of 195.5
New York Knicks (-2) @ Milwaukee Bucks – total of 191
Boston Celtics @ San Antonio Spurs (-9) – total of 189.5
Indiana Pacers (-2) @ Utah Jazz – total of 194.5
Orlando Magic @ Los Angeles Clippers (-2.5) – total of 198
That Kings-Rockets game looks like a fantasy goldmine, with two teams who are consistent DFS targets for their porous defense meeting in by far the highest-scoring game of the night, and one that projects to be tight on top of that. Minus the Sacramento backcourt, most every starter is playable in that game. Celtics-Spurs, on the other hand, has an over/under 190 with some blowout potential, so you won't find many good fantasy options in that one.
Now, for the top options and values at each position:
POINT GUARD
Damian Lillard ($8,900) – Lillard gets a nice matchup against Minnesota and he's averaging over 50 fantasy points in his last five completed games. He's one the few top plays on the board that doesn't hail from the Kings-Rockets matchup, but he's definitely the top PG option available tonight. The Wolves defend SGs well, which means C.J. McCollum may have trouble scoring and Lillard will have to pick up the slack.
Michael Carter-Williams ($5,100) – Just a few games after being benched by head coach Jason Kidd, Michael-Carter Williams is the last man standing in the Milwaukee backcourt. His price has dropped significantly and while the Knicks have been a tough matchup on PGs this season thanks to surprisingly tough three-point defense from Jose Calderon, they're also in the bottom 10 for rebounds, steals and turnovers against for PGs, which bodes well for Carter-Williams' skill set. He should also see north of 35 minutes.
Patrick Beverley ($4,400) – Since entering the starting lineup, Beverley has no fewer than 21 fantasy points in any of his five games. Averaging nearly 30 minutes per game, his price should soon rise into the low $5,000s, making him good value while you can get it. His low usage rate limits his upside, but he shouldn't struggle for open looks from deep and should be good for at least two three-pointers in addition to his trickle of other stats.
Cheap risk option: Trey Burke ($3,600) – The Jazz went small often without Ruby Gobert against the Magic on Thursday, and the Pacers are a team that should allow them to do it once again with Paul George and C.J. Miles manning the forward spots. Trevor Booker may start the game, but he could easily be phased out quickly like he was against Orlando. Burke had 25.75 DK points in 34 minutes and could see a similar workload Saturday.
SHOOTING GUARD
James Harden ($10,500) – The Kings play terrible defense against guards and Harden has been rolling with seven straight games of 50-plus fantasy points. I'm expecting him to push 60 tonight in an uptempo matchup where defense is optional, which is certainly Harden's preferred brand of basketball. Harden is the top superstar of the night.
Jamal Crawford ($4,900) – The Clippers starting backcourt of Chris Paul and J.J. Redick is unlikely to play Saturday night, which means Crawford should be locked into minutes in the mid-30s. The matchup against the Magic isn't great but it isn't bad either with Victor Oladipo coming off the bench, meaning Crawford should have no trouble clearing 25 fantasy points and pushing for 30.
Austin Rivers ($3,900) – Rivers is in the same boat as Crawford, except he's not as good at basketball. He does have a good matchup against Elfrid Payton, however, which gives him some upside at his price in a 35-minute role. Even a complete bust should net him 15 points, which isn't a team-killer at his price, but there are certainly better options at SG.
Cheap risk option: Ben McLemore ($3,500) – McLemore should begin Saturday's game on the court but as usual, his early performance will likely determine whether he sees much of it afterward. Harden is unlikely to be focused on covering McLemore early and if he nails a couple shots, his confidence should grow and in turn, maybe head coach George Karl's will as well. McLemore has sneaky upside in this game, but the floor is fairly low here.
SMALL FORWARD
Kawhi Leonard ($8,700) – Leonard has a great matchup against the Celtics' poor wing defense Saturday night and has been playing extremely well of late, consistently hitting the 40-point mark in close games. Vegas is unsure how close Saturday's game will be, which hurts Leonard a little bit, but the Celtics have played well enough lately that they can keep this one close. I'm probably not paying up at SF on Saturday but if you do, Leonard is the guy you should buy.
Trevor Ariza ($5,300) – I never get Ariza right, as the times it seems obvious to recommend him are the times he disappoints. He's been inconsistent of late, with two games of at least 31 fantasy points and three of 21 or fewer in his past five. It's hard to see him busting in a solid matchup here, but he's the most likely Rockets starter to have a down game, so approach with caution if you're loathe to trust Ariza.
Omri Casspi ($4,700) – George Karl insinuated he may be starting Casspi on Saturday with Willie Cauley-Stein out, and the move makes sense against the Rockets, who may be moving Terrence Jones back into the starting lineup with Dwight Howard returning to the floor. Casspi doesn't actually lose that much value in the event he stays on the bench, as his usage rate will be higher and he's still a near-lock for 30 minutes. He's a great value no matter what Saturday.
Cheap risk option: Corey Brewer ($3,400) – The bottom of the small forward pool is extremely ugly Saturday, so Brewer gets the nod despite his poor season so far. He's picked it up over his last three with almost 18 fantasy points per game, and this game projects well for his strengths in the open court and creating turnovers. Just be prepared for him to play 10 minutes and barely register on the stat sheet, too.
POWER FORWARD
DeMarcus Cousins ($10,800) – Cousins will likely be moving to center if Casspi joins the starting lineup, which sets him up for a matchup against Dwight Howard. While Cousins should be able to win that matchup more often than not, his upside is a little limited compared to the rest of the top plays in this game. He's still the best bet besides Casspi on the Kings side, even if he won't fit into many of my lineups.
Blake Griffin ($9,000) – The Pacers contained Griffin once Chris Paul left Wednesday's game due to injury, but Channing Frye and the Magic seem significantly less likely to do that Saturday. Griffin generally takes over most of the usage when Paul misses time, with the offense running through him often at the high post. Griffin should score in the high 40s against Orlando.
Terrence Jones ($5,000) – If Jones starts, he's arguably the top PF play of the night based on pure value. Jones is way more talented than his price tag would indicate, as he started the season at least $1,000 higher before his recent slump sent him to the bench. If Clint Capela stays in the starting lineup, however, Jones would take a hit and become far less attractive in cash games. Keep an eye on those lineups as lock approaches.
Cheap risk option: Taj Gibson ($4,000) – If Nikola Mirotic misses Saturday's game due to a concussion he suffered earlier this week, Gibson would slide in as the third big man for the Bulls. That would lock him into 25 minutes or so instead of his usual 20, and the Hornets struggle to defend opposing bigs. It's not crazy to think you could get 25 points from Gibson at a bargain price.
CENTER
Pau Gasol ($7,200) – Gasol has been a monster of late, averaging over 40 fantasy points in his last five and over 55 in his last two, one of those coming against the stingy Spurs. Fresh off crushing the Nuggets for 26 points and 19 rebounds, Gasol gets an Al Jefferson-less Hornets team that will likely start Cody Zeller at center before running small for much of the night. Mirotic's absence may push Gasol to power forward, but Marvin Williams will be no match for him either. Play the man.
Dwight Howard ($7,000) – Howard will have his hands full on defense against Cousins, but Boogie's sometimes-lackadaisical defense should give Howard plenty of opportunities to rack up fantasy points on his own. Foul trouble could be an issue but as long as Howard stays on the court, the pace of this game lends itself to plenty of production, and Howard should be well-rested after taking Friday off.
Joakim Noah ($4,300) – If Mirotic sits, Noah may very well be the play of the day. He saw a whopping 35 minutes against the Nuggets and responded with 30.75 fantasy points, while he averages about a fantasy point per minute. If he surpasses the 30-minute mark again Saturday, another 30 fantasy points are very likely to follow in a juicy matchup against Cody Zeller or whoever the Hornets trot out at center behind him.
Cheap risk option: Gorgui Dieng ($4,500) – I recommended Dieng on Tuesday and he responded with 28.75 fantasy points. His price is slowly creeping into "no longer cheap" range and if he keeps playing at this level, he'll be back in the mid-high $5,000s in no time. His run has to come to an end at some point, as Sam Mitchell can't keep Karl-Anthony Towns down for too long, but until it does, I'm riding the Dieng train for some nice GPP upside. Who's with me?
Cash Game Ranks
This isn't necessarily an order of who will score the most DraftKings points. Rather, the rankings are aimed to find the best price, value and production combo to help you win cash games, also taking into account potential ownership levels for each player.
PG
1) Damian Lillard
2) Patrick Beverley
3) Michael Carter-Williams
4) Kemba Walker
5) Isaiah Thomas
SG
1) James Harden
2) Jamal Crawford
3) Austin Rivers
4) O.J. Mayo
5) Dwyane Wade
6) Arron Afflalo
7) Jimmy Butler
SF
1) Omri Casspi
2) Trevor Ariza
3) Kawhi Leonard
4) Nicolas Batum
5) LeBron James
6) Rudy Gay
7) Tobias Harris
8) Carmelo Anthony
PF
1) Terrence Jones (if he starts)
2) DeMarcus Cousins
3) Blake Griffin
4) Derrick Favors
5) Kristaps Porzingis
C
1) Joakim Noah
2) Pau Gasol
3) Dwight Howard
4) Clint Capela (if he starts)
5) Nikola Vucevic
6) DeAndre Jordan
7) Mason Plumlee
8) Greg Monroe
As always, stay locked to Twitter and follow me @christripodi, where I'll do my best to break down the implications of any late scratches or lineup changes before the first game tips at 8 p.m. EST. I'll also update this article as news breaks throughout the day if at all possible, but I will usually update via Twitter first.
[/cointent_lockedcontent]
//