Daily Fantasy Basketball Strategy: February 6, 2016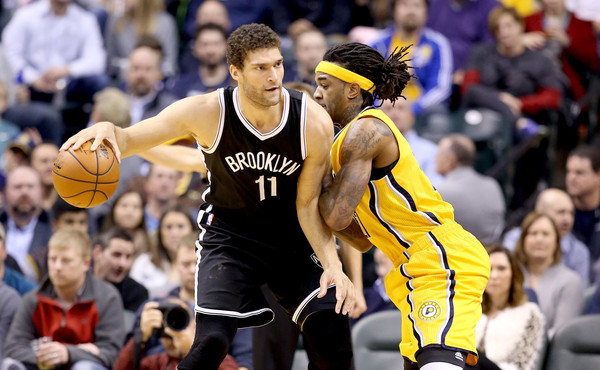 With Super Bowl Sunday on tap for tomorrow, Saturday's slate features an unusual 10 games after 11 on Friday. That means a ton of teams are playing on back-to-back sets, 11 to be exact, which is something the NBA wanted to avoid this year. With the Super Bowl and impending All-Star break, however, it just wasn't meant to be. Let's see how Vegas feels about this 10-game slate.
Vegas lines and totals
Washington @ Charlotte (-4.5) – total of 209
Detroit @ Indiana (-3.5) – total of 203.5
New Orleans @ Cleveland (-9.5) – total of 209
Brooklyn @ Philadelphia (-1.5) – total of 206
Dallas @ Memphis (-6) – total of 192.5
Chicago @ Minnesota (-3) – total of 204
L.A. Lakers @ San Antonio (-16) – total of 204
Utah (-6) @ Phoenix – total of 189
Oklahoma City @ Golden State (-8) – total of 231
Thunder-Warriors is the must-see game of the night, and it's also the highest-scoring projection by over 20 points. The problem with stacking the game is simple: You can really only fit three high-priced studs in your lineups, and there aren't very many near-minimum options to make that viable unless you get very lucky. Stacking that game should really be reserved for GPPs, but you're going to need a piece in cash games too. Let's see which players from that game and others will lead you into the green.
[cointent_lockedcontent article_labels="basketball"]
POINT GUARD
Russell Westbrook – Westbrook is one of two players entering Saturday's big Thunder-Warriors showdown on a triple-double streak, the other being Draymond Green. Westbrook has three in a row and while Stephen Curry isn't a bad defender, the pace the Warriors play at makes them a good target for point guards, especially elite ones like Westbrook. Yes, he's my pick over Curry for that game, but I'm playing both in the late-night contests.
Derrick Rose – With Jimmy Butler doubtful Saturday, Rose will have a lot on his plate in a favorable matchup with the Timberwolves. Pau Gasol is questionable as well, and if he sits, Rose will see an even larger bump to his usage and therefore, his fantasy production. It might be tough to fit Rose if you're playing some of the other studs Saturday, but he's well worth the price if you can.
Cheap risk option: With his minutes on the rise and Trey Burke possibly out Saturday, Raul Neto becomes a nice value play that you'll need to play the high-scoring studs on Saturday's slate. Neto has hit value in four straight games, averaging over 10 points per game with four assists. He's not flashy, but he could be in line for 35 minutes Saturday, which would mean even a bad game becomes passable in DFS.
SHOOTING GUARD
Klay Thompson – Thompson gets the best matchup of the Thunder-Warriors game, as even the defensive-minded Andre Roberson couldn't keep opposing SG from dropping fantasy points galore on OKC. Dion Waiters is, well, not so defensive-minded, and Thompson is averaging 33.5 points and 5.5 threes in his past four games. He was overshadowed by Curry's 50-point night in the Warriors' last game, but Curry may defer a bit more to Thompson tonight if Westbrook steps up his defense in this marquee matchup.
J.R. Smith – J.R. Smith kind of falls in no-man's land tonight: He's not cheap enough to truly be considered "value," but he isn't the kind of player you want to big a high-scoring lineup around. If you have some money and an open guard slot, though, Smith is playing a home in a game the Cavs project to score almost 109 points in and has been far more consistent of late. The Pelicans are a good matchup for opposing SGs, so Smith has a good chance at a solid night for a somewhat cheap price.
Cheap risk option: If you want a cheap piece of Thunder-Warriors, look no further than Dion Waiters. He's starting and seeing big minutes for OKC, and while his usage drops substantially in the first unit, he's still been productive enough to return his price in a game his team should easily clear 110 points in. Klay Thompson is a great defender, but he may not be looking to completely shut Waiters out, which could give Waiters a few opportunities to get free. Whether he capitalizes is always the question.

SMALL FORWARD
Nicolas Batum – Is Batum finally back? His 21-point, seven-assist, six-rebound, three-block night against the Heat would suggest he is, and he draws a good matchup against the Wizards, who have struggled all season against opposing wings, even moreso with Bradley Beal in the starting lineup. Well, Beal is back as a starter, and Batum has a great chance to build on Friday's effort. It helps that he's significantly better at home this season, and this game is in Charlotte.
Stanley Johnson – After playing 44 minutes Thursday against the Knicks with a 22-9-5 line, Johnson should again be a popular play despite his big price jump. Even still, you need value somewhere Saturday, and Johnson still counts as he's essentially stepped right into Kentavious Caldwell-Pope's high-minute role at SG. The matchup with the Pacers isn't ideal, but Johnson is cheap enough where he should still return value.
Cheap risk option: With Jimmy Butler doubtful, Tony Snell will likely move into the starting lineup. While he isn't very good, he should see some good minutes on the wing and can be a near-minimum punt for those looking to go hard in GPPs with three stars. Andre Iguodala is another option as well, but he's a bit more expensive than Snell and may not actually be worth his price. Both carry a good deal of risk.

POWER FORWARD
Thaddeus Young – Young has returned to his regular level of production after his numbers dropped once Jarrett Jack went down, and he came through as a popular play Friday against the Kings. A matchup with the 76ers on Saturday should see Young be a popular play again, and he has a good chance to come through for DFS owners at an average price tag. Like Rose, though, it may be tough to use him if you're paying up at multiple spots.
Marvin Williams – If you can't afford to get to Young, I have Williams projected just two points lower for a nice relative discount. The return of Michael Kidd-Gilchrist and Batum to the lineup has not hurt Williams a bit, as he's averaging 20.5 points and 7.3 rebounds per game over his past four, with a 27-point outburst Friday against the Heat in Batum's return. An easier matchup is on tap Saturday and while Williams won't continue to shoot almost 64 percent from the field, Saturday doesn't seem like the game he'll bust. Of course, he's done it before.
Cheap risk option: If Pau Gasol sits again, Bobby Portis is likely to see minutes in the high 20s like he did Friday night in Denver. Portis didn't start, but he still turned in a nice fantasy game and his price remains in the same range despite the increased opportunity. It's not ideal to attack Minnesota up front against Karl-Anthony Towns and Gorgui Dieng, but the extra minutes should wash out most matchup concerns here.
CENTER
Brook Lopez – I've been riding Bro-Lo (cue Jason Derulo soundtrack) of late, and he's been rewarding me with huge fantasy nights. His price is slowly rising, but not as much as it should, making him an excellent play against Jahlil Okafor in Philadelphia on Saturday. Lopez actually rates as my top dollar-for-dollar play on the night thanks to his recent surge and an ideal matchup, and I will have him in as many lineups as possibly as my second or third star.
Marc Gasol – I probably won't have much Gasol in contests where Lopez is available, as the price difference between the two is negligible, but that shouldn't take away from his as a top play at center. Gasol has been much more effective at home this season, and Dallas has struggled a bit against the center position recently. Part of that was Zaza Pachulia missing a few games, but it's also natural regression, as Pachulia isn't a great defender on his own and Dallas' success is more based on pace and scheme. Gasol shouldn't have a problem hitting value.
Injury play: Myles Turner – If Ian Mahinmi remains out, Turner should shift to center with Jordan Hill at power forward, giving him a tasty matchup with Andre Drummond. Drummond takes most of the rebounds, but Turner can still make his money by scoring and blocking shots, and Drummond has been very giving to opposing centers this year, especially recently. If Turner shifts to power forward and Mahinmi starts, I wouldn't be quite as bullish on him.
Cheap risk option: Another Spurs blowout means another chance to throw Boban Marjanovic into your GPP lineups in hopes for a cheap double-double. San Antonio just crushed the Mavericks in Dallas, and now they get to host the Lakers in San Antonio. I'm not sure a 16-point spread is enough for this game, barring another Kobe Bryant explosion, and it wouldn't shock me to see Boban play the entire final quarter and be the focal point of San Antonio's garbage-time offense.
CASH GAME RANKS
This isn't necessarily an order of who will score the most fantasy points. Rather, the rankings are aimed to find the best price, value and production combo to help you win cash games, also taking into account potential ownership levels for each player.
PG
1) Russell Westbrook
2) Derrick Rose
3) John Wall
4) Stephen Curry
5) Ish Smith
6) Raul Neto
7) Ricky Rubio
8) Kemba Walker
9) George Hill
10) Donald Sloan
11) Norris Cole
SG
1) Klay Thompson
2) Rodney Hood
3) J.R. Smith
4) Wayne Ellington
5) Dion Waiters
6) Bradley Beal
7) Kobe Bryant
8) E'Twaun Moore
SF
1) Nicolas Batum
2) Stanley Johnson
3) Michael Kidd-Gilchrist
4) Joe Johnson
5) Kevin Durant
6) Jeff Green
7) LeBron James
8) Jared Dudley
9) Tony Snell
PF
1) Marvin Williams
2) Thaddeus Young
3) Draymond Green
4) LaMarcus Aldridge
5) Nerlens Noel
6) Derrick Favors
7) Tristan Thompson
8) Jordan Hill
9) Anthony Davis
C
1) Brook Lopez
2) Myles Turner (if Mahinmi sits)
3) Marc Gasol
4) Karl-Anthony Towns
5) Gorgui Dieng
6) Andrew Bogut
7) Steven Adams
8) Cody Zeller
As always, I'll do my best to update this article as news breaks throughout the day if at possible and before the first game starts at 7 p.m., so follow me on Twitter @christripodi for last-minute updates and suggestions.
[/cointent_lockedcontent]
//