Daily Fantasy Basketball Strategy: January 19, 2016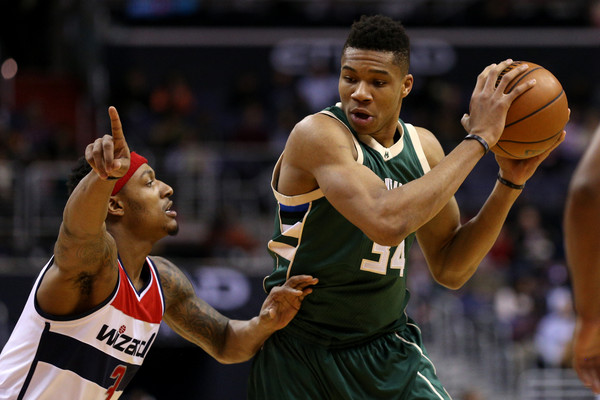 Monday's loaded MLK Day schedule has led us back to another short slate, with just four games on tap for Tuesday. There are a good amount of DFS plays on the ledger, though, and it should be a fun slate. Let's see how Vegas feels about it.
[cointent_lockedcontent article_labels="basketball"]
Vegas lines and totals
Milwaukee @ Miami (-5.5) – total of 192.5
Minnesota @ New Orleans (-5) – total of 203.5
Indiana (-7) @ Phoenix – total of 209
Oklahoma City (-8.5) @ Denver – total of 212
Even the Bucks-Heat game provides some intrigue when it comes to value plays, as injuries across the Miami roster have created extra opportunities for a few players. The rest of the games project as somewhat high-scoring, particularly the late tilts, and the favorites being on the road helps in terms of blowout potential. Take a look at my top plays below to help you win cash games.
POINT GUARD
Russell Westbrook – A great matchup against the Nuggets in Denver gives Westbrook a nice opportunity to be the highest scorer on Tuesday's small slate. The Thunder are less likely to blowout the Nuggets, which means a full complement of minutes for Westbrook, who continues to come through in games where he sees at least 33 minutes, his season average. I expect him to have to play down the stretch Tuesday, making him a great DFS play
George Hill – Hill is currently away from the Pacers due to a personal issue, but if he returns for Tuesday's game against the Suns, he's in a great spot. Hill has upped his game of late and gets the top matchup of the night against the Suns, who have been a complete disaster for weeks. Hill played well (20 points, five assists, four threes) last time he played Phoenix, and I'd expect similar numbers if he plays.
Injury play: Jrue Holiday – If Tyreke Evans sits again like he did Monday, and he's a game-time call Tuesday due to his recurring knee issue, Holiday should see a slight uptick in usage and a big uptick in assist percentage. With more responsibility running the offense and coming off a 23-point, nine-assist game against the Grizzles, Holiday should pay off his price.
Cheap risk option: Sticking with players who will benefit if Evans sits, Norris Cole should play 30-plus minutes in the starting lineup if 'Reke remains out. If so, he shouldn't have much difficulty hitting value and always has decent upside if he gets hot from the field. Just know that Jrue Holiday will push Cole off the ball whenever they share the court, meaning his usage rate won't rise too much.
SHOOTING GUARD
Monta Ellis – Ellis is a good play even if Hill plays, but if Hill is out he becomes the No. 1 SG play by virtue of the increased usage he'll get starting at PG. Ellis scored 24 and dished out five assists in Indiana's last game, which Hill missed, and he should perform against the Suns either way. If Hill plays, my top four SG (listed below) will essentially be on the same level.
Tyler Johnson – Johnson's price is a bit higher than it's been of late, but that's because he's been playing good ball. Another player listed at SG but playing PG with Goran Dragic and Beno Udrih out, Johnson is essentially the only Miami player left who can play the point besides Dwyane Wade, who has to soak up shooting guard minutes in a thin backcourt. Johnson should minutes in the mid-high 30s and fill up the stat sheet, even in a slightly negative matchup with Michael Carter-Williams and the Bucks.
Cheap risk option: After recently fixing a flaw in his shot, Dion Waiters has been on a roll with 18 or more points in his last three games. He won't do much besides score, but 18 points would nearly pay off his cheap price tag and there's upside for more in a high-scoring game against a bad defensive team. Waiters isn't shy about pulling the trigger, and you shouldn't be either in GPPs.
SMALL FORWARD
Giannis Antetokounmpo – Antetokounmpo is rolling with five straight double-doubles and two games where he pushed the 30-point mark. I don't expect him to score at that rate in a slugfest with the Heat, but the rebounds should be there along with the all-around production, as Luol Deng is one of the weak spots of Miami's defense—not that he's awful, by any means. Don't expect a 50-plus point fantasy night, but I'm projecting a similar night to the one the Greek Freak had against Nic Batum and the Hornets on Saturday (14 points, 11 rebounds, three assists, three blocks).
Luol Deng – Speaking of Deng, he's a good value option Tuesday against a Bucks team that bleeds points to small forwards. Deng struggled in his last game against Kevin Durant, but he had been very consistent before that and should get back to scoring fantasy points in the low 20s, which is good for his price and will allow you to spend on other players.
Cheap risk option: SF is a struggle on Tuesday in terms of depth and value, but Shabazz Muhammad has been seeing minutes in the high 20s in most of Minnesota's recent games. While he does little besides score, at least he's a threat for 20 fantasy points, something that can't be said for the players listed below him.
POWER FORWARD
Serge Ibaka – Ibaka has bounced back after two brutal games against the Lakers and Grizzlies, and he's averaging 17.3 points per game over his last three along with 7.7 boards and two blocks. His price has dropped significantly due to his struggles, but Ibaka should be able to flirt with 30 fantasy points in a good matchup with the Nuggets. Power forward doesn't have any stud plays at the top Tuesday, and Ibaka represents nice value in the mid tier.
Markieff Morris – In terms of value, Morris is a nice play Tuesday if you're looking to save a little cap at PF. In his last three games, all starts, Morris is averaging 14 points per game and 7.7 boards, numbers which would be enough to hit value at his price without any other stats to his name. The Pacers run small lineups often, especially if Ian Mahinmi stays out, which should be a good boost for Morris while he hits value.
Injury play: Jordan Hill – While Hill saw just 19 minutes in his start at center Sunday due to the emergence of Myles Turner off the bench, he still represents nice value against the Suns, who have been struggling at the 5 all season save for a nice short run from Alex Len. Even 20 minutes for Hill should be enough to pay off his price tag as long as Mahinmi sits again due to injury, and there's upside for a bit more court time.
Cheap risk option: PF is like SF, where options above minimum that are cheap enough to fit this section are slim. Nemanja Bjelica is the best cheap option at near-minimum price, as he's played at least 23 minutes in three of his last four games and hit value in all three. The matchup with the Pelicans isn't normally the best for PFs, but Bjelica should see at least half of his minutes without Anthony Davis on the floor, and he could return a nice night.
CENTER
Hassan Whiteside – Whiteside has picked up his play of late, including a triple-double with blocks against the Nuggets on Friday. He should run his double-double streak to five against the Bucks on Tuesday, and he's easily my highest-projected center of the night by over five fantasy points. Start him if you can fit him.
Karl-Anthony Towns – Towns has been a bit up-and-down of late, but a matchup with the Pelicans is one where he should reach value. His recent rough games came against good defensive teams up front like the Thunder and Maverick, while the Pelicans are not strong up front despite Anthony Davis seeing plenty of minutes at the 5. Towns should have a nice Tuesday night.
Cheap risk option: After his 25-point, seven-rebound explosion Sunday, Myles Turner is firmly on the DFS radar for GPP purposes. If he starts he'll be a great cash-game play too, but one great game doesn't necessarily translate into reliability. Along with Waiters, Turner is a top-two cheap GPP punt option on this night.
CASH GAME RANKS
This isn't necessarily an order of who will score the most DraftKings points. Rather, the rankings are aimed to find the best price, value and production combo to help you win cash games, also taking into account potential ownership levels for each player.
PG
1) Russell Westbrook
2) George Hill (if he plays)
3) Jrue Holiday (if Evans sits)
4) Norris Cole (if Evans sits)
5) Emmanuel Mudiay
6) Michael Carter-Williams
SG
1) Monta Ellis
2) Dwyane Wade
3) Andrew Wiggins
4) Tyler Johnson
5) Gary Harris
6) Devin Booker
SF
1) Giannis Antetokounmpo
2) Luol Deng
3) Kevin Durant
4) Paul George
PF
1) Serge Ibaka
2) Markieff Morris
3) Chris Bosh
4) Jordan Hill (if Mahinmi sits)
5) Anthony Davis
C
1) Hassan Whiteside
2) Lavoy Allen
3) Karl-Anthony Towns
4) Steven Adams
5) Ian Mahinmi (if he plays)
As always, I'll do my best to update this article as news breaks throughout the day if at possible and before the first game starts at 7:30 p.m., so follow me on Twitter @christripodi for last-minute updates and suggestions.
[/cointent_lockedcontent]
//