Daily Fantasy Basketball Strategy: November 13, 2015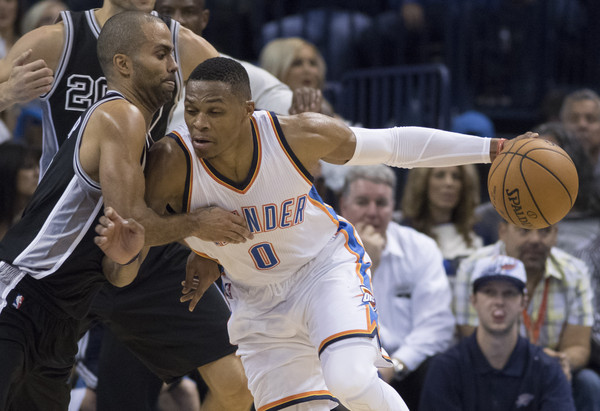 Well, it happened again.
Kevin Durant left Wednesday's game against his hometown Wizards with a strained left hamstring and now will miss at least a week (but probably more). You know what that means? It's time to fire up Russell Westbrook every single game until his price approaches impossible-to-roster-a-team-around-him levels. Last season, Westbrook played 40 games without his partner in crime, and all he did was averaged 30.6 points per game (PPG), 7.7 rebounds per game (RPG), 9.1 assists per game (APG) and 2.1 steals per game (SPG) or a whopping 57.1 Draftkings points per game (DKPPG). Just for context, that means he averaged more points last season than DeMarcus Cousins' top fantasy point output so far this season in five games; 54.3 is the greatest total he has produced. There's simply no reason to fade Westbrook unless you multi-lineup and you want to go with one contrarian lineup in case he gets in foul trouble, is ejected or happens to get injured due to his crazy style of play. Assuming he stays healthy for a full game, he's going to put up a monster line…period, end of story.
With that being said, let's dig deeper into some other story lines and potential plays heading into the night of November 13.
[cointent_lockedcontent article_labels="basketball"]
Point Guard
"The Play": Russell Westbrook. What more needs to be said?
Others to Consider: #NarrativeStreet, or the idea that a story will write itself, is strong tonight with Ty Lawson facing his former team for the second time, but there are other matchups I prefer. Jeff Teague's usage is up this season which has led to ultra-consistency; he has now scored at least 33.25 fantasy points in seven consecutive games. On the other side of the court in that same game, I happen to like Isaiah Thomas as well, although his recent hot streak has tailed off a bit. He hasn't eclipsed 25.0 fantasy points in back-to-back games due to around 30-percent shooting in both, but he's the team's top scoring option and just needs to get hot in order to hit value at $6,900. Rajon Rondo doesn't seem to come off the floor these days and is coming off two straight triple-doubles so it's hard to not consider him. With Victor Oladipo out, it's worth noting Elfrid Payton averages 1.13 fantasy points per minute without Oladipo off the floor, and he should be set for big minutes even against the Utah Jazz. Last but not least, T.J. McConnell will run the point for Philadelphia in a fast-paced game against Westbrook and the fast-paced Thunder. They aren't nearly as effective as a team without Durant which means this game could be closer than the 13.5 point spread suggests. McConnell also plays in borderline garbage time so, combined with his ability to fill up a box score, he makes for a great cheap option.
Shooting Guard
"The Play": Right before our eyes Andrew Wiggins is developing into a true number one scorer in the NBA. In a difficult matchup yesterday against the top defensive efficiency team in basketball by far this season (Golden State), Wiggins scored 19 points on 7-17 shooting and added five assists (AST) and two rebounds (REB). He had scored 30 points (PTS) in back-to-backers prior to this outing, which once again led the team. Minnesota will draw a matchup against the Pacers who play a much slower brand of basketball than Golden State. However, they also allow a 30-percentage points higher field goal percentage to the shooting guard position. He's starting to find his groove and has added at least four AST in his last two games, so it seems this is a young stud just putting it all together. Expect him to score upwards of 20 points tonight in a slightly more favorable matchup tonight and eclipse the 30-fantasy point plateau like he did the last time he faced the Pacers (January of last season).
Others to Consider: The reason Wiggins is "the" guy tonight is because the position is awfully weak tonight. Evan Turner would be destined for bigger minutes if Avery Bradley once again does not play tonight, but we won't know that until later. If spending up, James Harden certainly makes sense as he dropped 46 fantasy points on the Nuggets earlier this season despite shooting just 28.6 percent in that game (although they also were without Dwight Howard). Otherwise there's not that much to work with here: Evan Fournier should see a bigger role in the offense without Oladipo, Jimmy Butler is safe but sports a poor history against Charlotte, Eric Gordon will likely have to deal with the return of Jrue Holiday and DeMar DeRozan is purely scoring dependent as per-usual. The only other name worth mentioning is Kent Bazemore who surprisingly has emerged as a consistent producer and would see a boost if defensive-minded Avery Bradley didn't play as well.
Small Forward
"The Play": There's something about playing on the big stage of Madison Square Garden that creates an added source of inspiration for LeBron James. Remember he once dropped a 55-point triple double there and somehow that wasn't even a great outlier. For his career, James averages 52.4 DKFPPG at the Garden which equates to a 28.5-7.0-6.8 stat line. Without Kyrie Irving in the rotation, James is free to dominate the ball and do the LeBron-esque things he loves to do. For that reason, it's not surprising he's averaging more than three more FPPG this season (51.1) than last season (47.9). You'll have to use some punts in order to fit Westbrook and James, but values should emerge closer to tip-off.
Others to Consider: Assuming Rudy Gobert sits, Gordon Hayward picked up some additional rebounding opportunities last night and also produced a season-high in points. Whenever Darren Collison is out, it means some added scoring opportunities for Rudy Gay who draws a matchup against Brooklyn who's allowing the seventh greatest field goal percentage (45.7) to the small forward (SF) position. Minnesota should kick up the pace a bit which means Paul George is a reasonable alternative to James if you need the $700 to spend elsewhere. I also like Danilo Gallinari, Omri Casspi, Trevor Ariza, James Johnson (if no DeMarre Carroll and especially Terrence Ross) and Nicolas Batum as secondary options.
Power Forward
"The Play": Nikola Mirotic is expected to step back into the starting lineup tonight sending Joakim Noah to the bench. His minutes have been a little shaky recently as he's played less than 20 minutes in two of his last three starts. This may scare some owners off but Charlotte is a team against whom he matches up perfectly. They do not have a second center type that will dominate him in the post; instead, they will mostly roll with Marvin Williams who is a somewhat similar type of player. Butler has struggled in previous meetings with Nicolas Batum and the same goes for Rose with Kemba Walker. Therefore, a lot of the offense will need to run through Mirotic who will be happy to comply. Do not let the recency bias dissuade you…it's time to invest heavily in the struggling Mirotic.
Others to Consider: Derrick Favors would be "the" guy if you could guarantee me Rudy Gobert was sitting out once again but that news has not dropped just yet. Nerlens Noel will return to the court tonight and he possesses 50 fantasy point upside anytime he plays. Regardless of if the Rockets go big (Terrence Jones) or small (Trevor Ariza) at power forward, Kenneth Faried has developed into a double-double machine and he sprinkles in the steals and blocks. The pace of this game is the projected fastest of the night which means double-digit rebounds are almost certainly in order. Paul Millsap has been the most consistent contributor of maybe anyone this season and faces the defensively-challenged frontcourt of the Celtics tonight. Honorable mentions: Zach Randolph (sporadic production and minutes), Kevin Love, Serge Ibaka, Jared Sullinger, Ryan Anderson, Pau Gasol and Kristaps Porzingis.
Center
"The Play": Mason Plumlee as a defender? Lol. According to Nylon Calculus, Plumlee allows a field goal percentage of 65-percent at the rim on contested shots which ranks fourth worst among qualified players this season behind only Nene Hilario, Brandon Bass and Tiago Splitter. While Marc Gasol is a well-rounded player, his specialty is playing in the post. If Plumlee isn't going to be able to put up a fight against him in the paint, Gasol is going to have a field day. Somehow his price has dropped all the way to $6,700, so now he merely costs you the equivalent of a mid-tier center. Gasol ain't no mid-tier talent, so pounce while the value is still immense.
Others to Consider: DeMarcus Cousins is a better defender than he's typically given credit for but Brook Lopez is the team's number one scoring option and can still be relied upon tonight. Speaking of Cousins, he's a great alternative to spending up on LeBron as his ceiling is enormous as always. Enes Kanter emerges as the team's third scoring option without Kevin Durant and is a near lock for a double-double. Don't sleep on Dwight Howard against notoriously awful big-men defending Denver. I also think Ian Mahinmi is a fantastic value and Al Horford has a shot to dominate.
Good luck tonight! Grind on….
[/cointent_lockedcontent]