Daily Fantasy Basketball Strategy: November 21, 2015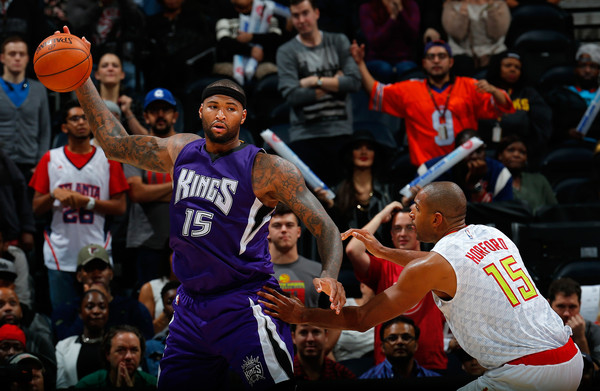 A mild seven-game slate awaits us after an action-packed Friday night in the NBA. Based on the Vegas totals, this projects to be a slightly below-average night from a fantasy perspective, but that doesn't mean there aren't stars to play and value to mine. Let's take a closer look at the slate below.
[cointent_lockedcontent article_labels="basketball"]
Vegas lines and totals
Sacramento Kings @ Orlando Magic (-2) – total of 207
Milwaukee Bucks @ Indiana Pacers (-5) – total of 193
Atlanta Hawks @ Cleveland Cavaliers (-5.5) – total if 198
Philadelphia 76ers @ Miami Heat (-14) – total of 193
Washington Wizards @ Detroit Pistons (-3) – total TBA
New York Knicks @ Houston Rockets (4.5) – total of 205
Memphis Grizzlies @ San Antonio Spurs (-7.5) – total of 190
As you can see, we have three games under 195 total points and just three above the 200-point threshold, which I consider to be average. While this doesn't completely rule out players from the low-scoring games as good plays, it certainly doesn't help their cause, and most of the teams involved in those games are bad fantasy matchups in general. Below is our daily reminder of the DraftKings scoring system.
Point = +1 PT
Made 3pt. shot = +0.5 PTs
Rebound = +1.25 PTs
Assist = +1.5 PTs
Steal = +2 PTs
Block = +2 PTs
Turnover = -0.5 PTs
Double-Double = +1.5PTs (MAX 1 PER PLAYER: Points, Rebounds, Assists, Blocks, Steals)
Triple-Double = +3PTs (MAX 1 PER PLAYER: Points, Rebounds, Assists, Blocks, Steals)
Now, for the top options and values at each position:
POINT GUARD
Matthew Dellavedova ($4,100) – With Mo Williams already ruled out for Saturday's game against the Hawks, Dellavedova should play close to the 39 minutes he saw Thursday night, when he had 26.75 DK points. The matchup is favorable no matter who starts at the point for the Hawks, and a similar performance is likely even with a likely low usage rate.
Elfrid Payton ($5,900) – Scott Skiles isn't exactly the coach you want for your daily fantasy plays, but Payton seems to be in the circle of trust. He's played at least 37 minutes in four of his last five games, which is six higher than his season average, and Victor Oladipo played in half of those games, so it wasn't all about being short-handed. This game should be high-scoring, and the Kings haven't defended the PG position well. Expect 30-35 DK points from Payton, barring Skiles being Skiles.
Rajon Rondo ($8,800) – I'm not a huge fan of Rondo's price right now if the Kings were at full strength, but Rudy Gay seems likely to be sidelined by a shoulder injury, leaving more on the plate of Rondo and DeMarcus Cousins. With four triple-doubles in his last seven games and a close call in a fifth, it's hard not to play Rondo right now at any price with a teammate missing action.
Mike Conley ($6,300) – If there's a position the stalwart Spurs struggling to defend, it's point guard. Couple that deficiency with Zach Randolph's potential absence, and Conley is a solid bet to beat his price Saturday night. If Randolph plays, however, Conley becomes a pretty average play in his own right. If I had to guess, I'd learn towards Memphis holding Z-Bo out, especially after a 12-point win against the Rockets.
Cheap risk option: Mario Chalmers ($3,700) – Chalmers has topped 20 fantasy points in every game since being traded to Memphis and, like Conley, gets the Spurs where they're weakest on defense. Chalmers brings much-needed perimeter scoring to the Grizzlies' second unit and if he gets hot off the bench, 30 DK points is a real possibility.
SHOOTING GUARD
James Harden ($10,200) – With Dwight Howard sitting, Harden should see an increase in usage Saturday night against the Knicks. As is often the case with shooting guard, there aren't a lot of great options, which makes a top-dollar play with his fellow star sitting a good option. There's other high-priced players I like more, but there are also better mid-tier and value options at their positions.
Victor Oladipo ($7,100) – Oladipo played just 20 minutes in his return from a concussion Wednesday night, but it had nothing to do with his health; Skiles benched both Oladipo and Nikola Vucevic with the Magic down big at the half. Oladipo should be back to his normal playing time Saturday, and a matchup with the Kings should help him get back on track.
Kentavious Caldwell-Pope ($5,000) – Caldwell-Pope has been trending down of late, but I wasn't lying when I said shooting guard was ugly Saturday. His near 40 minutes of playing time are bankable enough for a 15-20 point floor and if he can get his short right and pick up a few steals, he should be fine. The Pistons playing up in pace against the Wizards certainly doesn't hurt.
Cheap risk option: Langston Galloway ($4,300) – Galloway has at least 19.5 DK points in eight of his last nine games, and he's successfully survived the return of Arron Afflalo. As you can imagine with the top plays at the position, shooting guard isn't exactly strong at the lower levels either, making the potential for 25 fantasy points Galloway possesses good enough at his price point.
SMALL FORWARD
Trevor Ariza ($5,600) – Ariza gets to play an uptempo game against the Knicks, and he's been playing better over the past week. He still can't shoot, but he produces in other areas of the stat sheet as well and has scored 56 points in his last three games. Ariza played for the Knicks during his early years, and maybe he'll have a little extra for them for not making an effort to retain him.
Omri Casspi ($4,500) – Assuming Rudy Gay is out, Casspi will likely slide into the starting lineup again and see 35-40 minutes. That's easily enough for him to pay off this price tag even with a lower usage rate next to Rondo and Cousins. Casspi is a near-lock for 25 DK points and could push for more if he shoots it well.
Tobias Harris ($6,100) – If you're counting, that's five recommendations so far from the Kings-Magic game. Think there may be some points scored? Harris is generally a safe play, as Skiles trusts him far more than he did in their Milwaukee days, and he's cleared 30 fantasy points in three of his last four outings. A fast-paced matchup with a bad defense seems like an unlikely time for him to bust.
Carmelo Anthony ($8,500) – Anthony has finally hit his stride, shooting at least 45 percent in four of his past five games with 40-plus DK points in five of his past six. An uptempo matchup with the Rockets should play to Melo's strengths, as he loves to pull up for threes in transition. He's the top high-priced SF play excluding the early 5 p.m. game.
Cheap risk option: Justise Winslow ($4,000) – Winslow has been seeing good minutes lately, but he just isn't a stat producer for fantasy. Luol Deng is under the weather, however, and the Heat likely won't need the veteran small forward to beat the lowly 76ers anyway. This could lead to a start for Winslow, and maybe there's some untapped upside in him running with the ones. Don't bank on it, though.
POWER FORWARD
Tristan Thompson ($4,800) – Timofey Mozgov might miss up to two weeks of action, which thrusts Thompson into the starting lineup at center. He'll likely see 30-35 minutes in a good matchup against the Hawks' struggling interior defense, and Thompson is a lock for double-digit rebounds and a few putbacks. A realistic expectation is around 30 DK points, which makes him a real nice value.
DeMarcus Cousins ($10,300) – Cousins already has a sky-high usage rate, and that's with Rudy Gay finished almost 25 percent of the Kings' possessions. If Gay is out, Cousins will do battle with Nikola Vucevic, who isn't exactly known for his defense despite some improvements this season. Don't be shocked if Cousins goes for 60 DK points Saturday, and he's the high-priced star you want in your lineups.
Chris Bosh ($7,500) – Bosh is still underpriced at this point in the season, as he's played really well with at least 37.5 fantasy points in seven of his last eight games. I may or may not have recommended him the one time he didn't hit that threshold (I did), but I'm willing to go back to the well against the 76ers. This game could turn into a blowout pretty easily, but Bosh will get his before that happens and is viable as a cash play, although the GPP upside is lacking.
Cheap risk option: Kris Humphries ($4,000) – The three-point-shooting version of Humphries has hit 14 triples in 30 attempts so far this season, while the Pistons struggle to guard the power forward position. The former Mr. Kardashian's five-three performance against the Magic will be tough to repeat, but there's always upside in a power forward launching over three triples per game.
CENTER
Clint Capela ($4,700) – Capela's price is high enough where he isn't an auto-play even with Dwight Howard sitting, but that doesn't mean he's not a good play. He scores over a DK point per minute and should see around 25 minutes Saturday, giving him a good chance to score in the high 20s. He doesn't provide the same value as Dellavedova, Casspi or Thompson do, but he's still solid.
Robin Lopez ($4,200) – The last time I recommended Lopez was on a Sunday, with the Knicks facing the Lakers. He had a season-high 38.75 fantasy points. Self-pats on the back aside, Lopez is in a good matchup with Capela in an uptempo game, and his price is dirt cheap. I prefer Capela, but Lopez should be good for around 25 DK points, even if he hasn't reached that plateau in 11 days.
Nikola Vucevic ($7,300) – Vucevic, like Oladipo, was benched in the second half of Orlando's last game, but that isn't something we should expect to happen often. I'd expect a bounceback here from the Magic center, who could put up 35-40 fantasy points as long as he stays out of foul trouble against Cousins. I'll likely be going cheap at center Saturday.
Cheap risk option: Kosta Koufos ($3,800) – Koufos is about as low as we should look at the center position Saturday and while his upside isn't great, he's a good bet for 20 or so fantasy points in a high-paced game with the Magic, assuming he stays in the starting lineup. Willie Cauley-Stein is probably a better fit for how this game will be played, however, but George Karl seems unwilling to play the rookie more than 20 minutes per game. That leaves 25-plus minutes for Koufos.
Cash Game Ranks
This isn't necessarily an order of who will score the most DraftKings points. Rather, the rankings are aimed to find the best price, value and production combo to help you win cash games, also taking into account potential ownership levels for each player.
PG
1) Matthew Dellavedova
2) Elfrid Payton
3) Rajon Rondo
4) Mike Conley
5) John Wall
6) Jose Calderon
7) Tony Parker
SG
1) James Harden
2) Victor Oladipo
3) Kentavious Caldwell-Pope
4) J.R. Smith
SF
1) Trevor Ariza
2) Omri Casspi
3) Tobias Harris
4) Carmelo Anthony
5) Marcus Morris
6) Evan Fournier
7) Luol Deng
8) Paul George
PF
1) Tristan Thompson
2) DeMarcus Cousins
3) Chris Bosh
4) Kristaps Porzingis
5) LaMarcus Aldridge
6) Kevin Love
C
1) Clint Capela
2) Robin Lopez
3) Nikola Vucevic
4) Kosta Koufos
5) Andre Drummond
6) Greg Monroe
7) Marc Gasol
8) Hassan Whiteside
As always, stay locked to Twitter and follow me @christripodi, where I'll do my best to break down the implications of any late scratches or lineup changes before the first game tips at 5 p.m. EST. I'll also update this article as news breaks throughout the day if at all possible, but I will usually update via Twitter first.
[/cointent_lockedcontent]
//