Daily Fantasy Basketball Strategy: November 7, 2015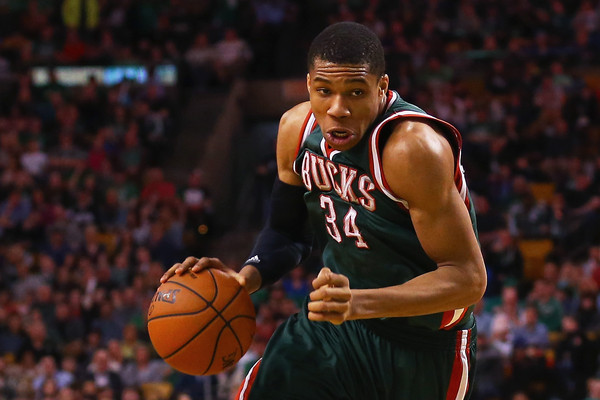 After Friday's exciting 10-game slate, Saturday returns with eight games, including two Western Conference matchups that project to be high-scoring and fast-paced. Let's get right to it, and we will be excluding the 6:05 p.m. game between Minnesota and Chicago, as DraftKings hasn't included it in their Saturday slate.
[cointent_lockedcontent article_labels="basketball"]
Vegas lines and totals
Orlando Magic (-4) @ Philadelphia 76ers – total of 193.5
Washington Wizards @ Atlanta Hawks (-3.5) – total of 204
Charlotte Hornets @ San Antonio Spurs (-10) – total of 193.5
Brooklyn Nets @ Milwaukee Bucks (-5.5) – total of 195
New Orleans Pelicans @ Dallas Mavericks (-5) – total of 209.5
Memphis Grizzlies @ Utah Jazz (PK) – total of 179.5
Golden State Warriors (-13) @ Sacramento Kings – total of 218
Houston Rockets @ Los Angeles Clippers (-8) – total of 218
That Memphis-Utah game is looking ugly for fantasy purposes, as both teams are in the bottom-three for pace and have strong defenses. The four games with over/unders of 204 and above are where there's money to be made in DFS on Saturday. Below is your daily reminder of the DraftKings scoring system.
Point = +1 PT
Made 3pt. shot = +0.5 PTs
Rebound = +1.25 PTs
Assist = +1.5 PTs
Steal = +2 PTs
Block = +2 PTs
Turnover = -0.5 PTs
Double-Double = +1.5PTs (MAX 1 PER PLAYER: Points, Rebounds, Assists, Blocks, Steals)
Triple-Double = +3PTs (MAX 1 PER PLAYER: Points, Rebounds, Assists, Blocks, Steals)
Now, for the top options and values at each position:
POINT GUARD
Stephen Curry ($10,100) – Recommending Curry is getting boring, but the money he's made DFS players sure isn't. Curry went relatively low owned on Friday's slate by his standards, and responded with nearly 70 fantasy points. I'm not sure people are going to make the mistake of fading him again, even in a projected blowout. He only needs three quarters to crush it.
Ish Smith ($4,400) – With Jrue Holiday sitting the second half of a back-to-back set, Smith is listed as the starter for Saturday's game against the Mavericks. In his three games with at least 29 minutes played this season, Smith has posted fantasy scores of 27 (29 minutes), 33.5 (34 minutes) and 38.5 (38 minutes). Those numbers provide a good picture of his floor and ceiling, and he's a must-play for value Saturday.
Ty Lawson ($6,100) – Patrick Beverley is set to miss Saturday's game, setting Lawson up for another 40-minute workload in the game of the night, as Rockets-Clippers should be far closer than Warriors-Kings. He's averaging nearly 35 DK points over his last three games and should have no trouble hitting value, even against Chris Paul, as the Clippers have actually struggled against opposing point guards this season.
Cheap risk option: J.J. Barea ($3,800) – The Mavericks face a Pelicans team which struggles defending point guard and is playing the second night of a back-to-back set. Jrue Holiday is sitting out Saturday as a result, which weakens New Orleans' already thin backcourt. Barea could have a nice night off the bench, and he'll likely climb over $4,000 soon.
SHOOTING GUARD
Marcus Thornton ($4,800) – Like McConnell, Thornton is no longer priced under $4,000, but he's still arguably the top shooting-guard value Saturday. Ever since entering the starting lineup, Thornton is averaging almost 30 DK points per game, and a high-scoring game against the Clippers should give him every chance to match that output. Keep playing him until Terrence Jones comes back, or until his price reaches the mid-$5,000s.
Kent Bazemore ($4,600) – Bazemore has cleared 26.75 DK points in four of his last five games, and the Wizards have allowed fantasy points by the boatload to wings so far this season thanks to a top-five pace. The Hawks generally run at a bottom-10 pace but the faster team usually dictates the game, hence the over/under near 205. The Hawks are in play, even on the second night of a back-to-back.
Kyle Korver ($4,300) – This play is contingent on Korver playing a back-to-back set for the first time this season, something he plans on talking to coach Mike Budenholzer about before the game. If Korver does play, he's coming off a huge game against the Pelicans, another team playing at a high pace, albeit slightly slower than the Wizards. Korver is a better play than anybody else in his price range.
Cheap risk option: Nik Stauskas ($4,200) – Stauskas is starting in Philadelphia and has the green light to shoot from beyond the arc, which has resulted in consistent fantasy production in the mid-20s. A matchup against Victor Oladipo does provide some risk, but the Magic run at the fastest pace in the NBA, meaning there could be 15-20 shots available for Stauskas. If he hits a few, he could hit the 30-point plateau.
SMALL FORWARD
Giannis Antetokounmpo ($7,300) – The Greek Freak hasn't put up over 40 fantasy points since his season debut, but has scored at least 35 points in three of his past four games. Antetokounmpo torched the Nets for 21 points and eight rebounds Nov. 2 at Barclays, and now the Bucks will head home for a rematch with the Nets. Expect another nice night from Giannis.
Tobias Harris ($6,100) – There is always some risk associated with Harris as long as Scott Skiles is his head coach, but Skiles gave Harris 36 minutes after holding him to just 21 on Wednesday. The trust seems to be there and even when Harris' minutes are limited, he's still shown a nice fantasy floor. A great matchup against the 76ers doesn't seem like one that will find him glued to the bench.
Cheap risk option: Lance Stephenson ($3,200) – I doubt I'm the only person loathe to trust Lance Stephenson, even in a starting role, but everything lines up for him nicely to post his first night of 20 fantasy points this season. The Rockets struggle to defend small forwards and play with good pace, meaning there should be opportunities for Stephenson in transition. Who knows what he'll do with them.
POWER FORWARD
Blake Griffin ($9,600) – Power forward is very, very strong Saturday night, with three of the top options in great situations. Griffin faces off against a Rockets team that has been playing Trevor Ariza at power forward in the absence of Terrence Jones. While Ariza is a good defender, he's no match for Griffin, as the stats bear out. Griffin has been rolling to start the season, and there's no reason that will stop Saturday.
Draymond Green ($7,100) – Green has a juicy matchup as well, and what's keeping him below Griffin on this list is the fact that he's been a little inconsistent this season. The Kings will probably start Rudy Gay at power forward, and Green's combination of strength and athleticism should be too much for Gay to handle. A well-rounded stat line and fantasy feast could be on the way.
Anthony Davis ($10,600) – Anthony Davis finally paid off Friday night, scoring 33 second-half points to help the Pelicans put up a fight against the Hawks. He gets a nice matchup against the Mavericks on the second night of a back-to-back, but I find it difficult to pay up for Davis with Griffin on the board and Green $3,500 cheaper.
Cheap risk option: Dwight Powell ($4,500) – I'm bad at keeping the cheap risk options under $4,000 right now, but there just isn't much in that price range. I don't trust Jason Kidd to play John Henson more than 15 minutes even though Henson saw 23 on Friday, as it's highly unlikely we see Greg Monroe below 25 minutes again. Powell's minutes have been steady around 25 over his past three games, and he's averaging almost 30 DK points a night during that span.
CENTER
Festus Ezeli ($4,500) – Andrew Bogut's status has been routinely updated well before the early games start, meaning we will know for sure whether Ezeli is a viable play or not. Golden State plays small a lot, which limit Ezeli to around 20 minutes, but he continues to produce over a point per minute anyway. He topped 30 fantasy points Friday against Denver in just 17 minutes, and gets an equally juicy matchup with the DeMarcus Cousins-less Kings on Saturday. Paying up for Curry and Griffin means you have to save somewhere.
Al Horford ($7,300) – Horford has yet to dip below the 30-point mark in any of his seven games so far this season. A master of consistency, Horford gets a great matchup against the Wizards, who are struggling to defend opposing centers at their new fast pace. Horford's athleticism should allow him to thrive in an up-tempo game, and 30 fantasy points is a near-lock. He has the upside to hit 40, too, which he's done twice this season.
Dwight Howard ($7,000) – After sitting Friday night, Dwight Howard should return to the Rockets' starting lineup for a big game against the Clippers. I love taking centers opposing DeAndre Jordan, as his defensive reputation is far greater than his ability to keep opposing centers from racking up fantasy points. Howard is coming off a monster game against Orlando and while he won't face his former team or go 10-for-10 from the field again, this is a prime spot for him to produce.
Cheap risk option: Marreese Speights ($3,200) – I feel like I continue to throw Speights in this section, only to have him disappoint. I've rarely had him in my lineup, so it hasn't actually hurt my teams, but this might be his last chance to produce a nice line at near-minimum price before I give up on him having any upside.
Cash Game Ranks
This isn't necessarily an order of who will score the most DraftKings points. Rather, the rankings are aimed to find the best price, value and production combo to help you win cash games, also taking into account potential ownership levels for each player.
PG
1) Stephen Curry
2) Ty Lawson
3) T.J. McConnell
4) Deron Williams
5) Rajon Rondo
SG
1) Marcus Thornton
2) Kent Bazemore
3) Kyle Korver
4) Bradley Beal
SF
1) Giannis Antetokounmpo
2) Tobias Harris
3) Trevor Ariza
4) Otto Porter
PF
1) Blake Griffin
2) Draymond Green
3) Anthony Davis
4) Dirk Nowitzki
C
1) Festus Ezeli (if Andrew Bogut sits)
2) Al Horford
3) Dwight Howard
4) Marcin Gortat
5) Kosta Koufos
6) Zaza Pachulia
As always, stay locked to Twitter and RotoWorld for any late-breaking news the hour before the first game tips at 7 p.m. EST. I'll do my best to update this article as news breaks throughout the day, but the best way to get the latest is always to follow me on Twitter @christripodi, where I'll do my best to break down the implications of any late scratches or lineup changes.
[/cointent_lockedcontent]
//
//