Fantasy Basketball 2014-15 – Box Score Browsing: It's fun to stay at KawhiMCA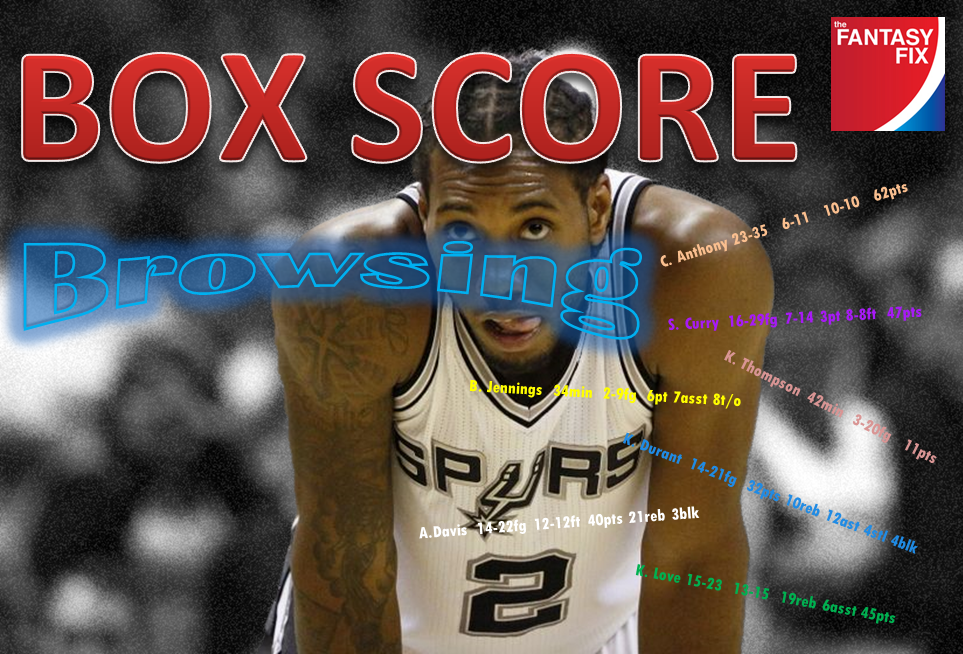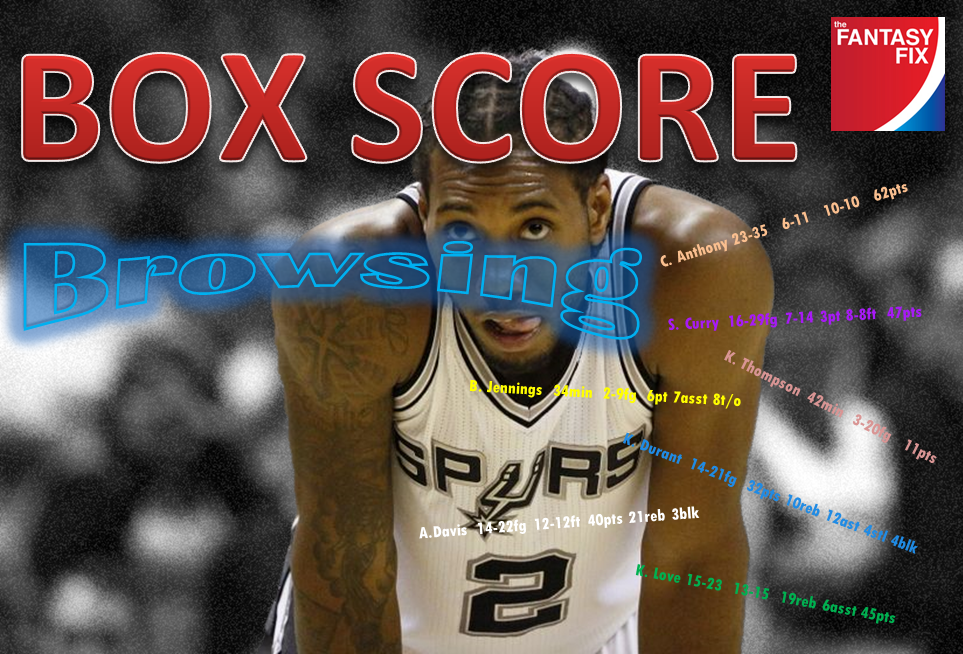 Was there a more hyped young player coming into fantasy basketball this season?
Anthony Davis, maybe? But Leonard, fresh off a Finals MVP performance to end 2013-14, was being talked about as taking 'the leap' in fantasy circles, whereas you could argue Davis had already made that ascension to the fantasy elite last year (2nd in per game value last season).
Leonard's coming out party hasn't quite hit the lofty expectations many were hoping for, but his gradual climb in production this year sees him as a fantasy asset in nearly every category for any format of the game.
Yes, his field goal percentage this year has taken a hit (44%, down from 51% through his first three seasons), mainly due to playing a career high 31.6 minutes per game and taking a career high 12.3 shots per night. The extra double teams and national exposure provided by his showing on the big Finals stage in 2014 has meant more scouting to counter his activity on the offensive end.
Leonard's hitting career highs in nearly every category; he's upped his points, rebounds, assists and steals per game for the third consecutive season – quite an accomplishment for a the guy being touted as the next franchise guy for the hugely successful Spurs.
Over his last four games he's averaged 18.5 points, 7.5 rebounds, 2.3 assists, a whopping 2.8 steals, 1.5 blocks, 1.0 three pointer per, along with 54% from the field and 77% from the line.
Leonard is in line for big minutes as the Spurs march towards the playoffs, hoping to attain the one elusive NBA accomplishment they've yet to achieve – back-to-back titles. He's was the number seven ranked player over the past week according to Yahoo, so his trajectory continues to point up as the Spurs sputter with a banged up Tony Parker and 52 year old Tim Duncan.
This is one of those 'what do we have here?' fantasy explosions that seem to happen every year, and just in time for the banged up Heat.
The NBA is littered with these 'WTFantasy' storylines, like Larry Sanders in 2012-13, Linsanity in 2011-12, Dorrell Wright in 2010-11, Andray Blatche in 2009-10 and one of my favorites for you old-time fantasy players from way back when (he won me multiple leagues), Marc Jackson in 2000-01. Players like Whiteside can go either way – do they continue to develop after their breakout year – like Nikola Vucevic for example, or do teams adjust to the now 'in the limelight' player, like the aforementioned Lin?
The Heat lost Chris Bosh to a terrible blood clot on the lungs issue but Whiteside has done everything he can to replace what the team is missing – rim protection, inside scoring and double figure rebounds.
The blocked shots and rebound numbers have been real eye openers. One player has had three 24 rebound games this season – not DeAndre Jordan, not Kevin Love, nor Andre Drummond. Whiteside has three such games in his last 14 games – as he rampages his way into the discussion for most improved player this season.
There may not be a better waiver wire grab this year, Robert Covington was the darling for a while and Rudy Gobert has potentially more upside than Whiteside – but his 2014-15 stretch of domination will be remembered for a long time in fantasy circles.
Over his last seven games he's averaged 14.7 points, 15.6 rebounds, 2.9 blocks, just 1.3 turnovers and an awesome 61% from the field. There's some bad news, however, as he has registered just FOUR total assists in 728 minutes this season, while his free throw shooting needs some work at 54% on the year.
Tip of the cap to those managers who kept Jones amidst his serious nerve injury, as you're now seeing the fruits of your fantasy labors coming into season.
Jones was a big surprise to fantasy last season, proving to be a real asset whilst being eligible at both forward spots, adding 54% shooting from the floor and 1.3 blocks to the solid scoring (12.1 points) and rebounding (6.9) numbers.
This season, that damn injury side-lined him for what seemed like – actually it was – months, but it didn't slow him down when it comes to producing in the business end of the season. Dwight Howard has been out for weeks, with seemingly no end in sight, but as Jones has combined up front with Donatas Motiejunas, the Rockets haven't skipped a beat.
It doesn't hurt that James Harden has also been destroying players and opposing teams alike, well on his way to garnering a large chunk of MVP votes.
Since re-entering the starting line-up, Jones has dominated to the tune of 18.8 points, 9.8 rebounds and 2.2 blocks a night over six games. The 64% shooting from the floor is fantasy gold as is the 1.0 turnover a night, and the 36 minutes a night average is very encouraging as the season goes into the business end.
Layups
Byron Scott is as confused as a baby in a topless bar.
Completely clueless where to go with his rotation and buggered if he knows what to do when he does hit the right combo. Wes Johnson performing? Keep him on the bench! Carlos Boozer crapping the fantasy bed? Start him! Jeremy Lin thriving while the team goes 3-1? Keep him on the bench.
There's being a tank commander then there's getting out and spit shining the tracks along the way.
Lin's not the Linsanity fantasy beast mentioned earlier in this piece, but he doesn't deserve to be playing behind the likes of Wayne Ellington or Ronnie Price, as he did earlier this season. Jordan Clarkson is the future – until a bigger name (Rajon Rondo? Reggie Jackson?) comes along, but Lin is big enough to play some shooting guard alongside him.
He dropped back-to-back 20+ point games last week, while he's averaging 17.1 points, 6.0 assists and 1.7 steals in just 28 minutes a night over his last seven games, along with just 1.0 turnover a game during that stretch.
The Shved has officially hit the fan in New York.
Ron Harper, Brian Shaw and Sasha Vujacic. Three combo guards with limited athleticism, spotty shooting range and problems with consistency. Also for some reason the prototype lead guard to put in the triangle offense, alongside a star scorer.
Ok so Tim Hardaway Jr. isn't MJ or Kobe, but Shved has nearly supplanted the masses of mediocrity off the Knicks' bench (Lance Thomas, Shane Larkin etc) in the depth chart due to his play-making and ball-handling.
Admittedly, I haven't seen much of the Knicks over the last week (I have other things to do than watch Knicks games this year, i.e say anything short of watching a vasectomy), but Langston Galloway is apparently starting at point guard and he has exactly TWO assists in 80 minutes played over his last three games. Louis Amundson has four assists and Andrea Bargnani (more on him next) has eight over that same three game stretch.
In his last five games he's produced 12.0 points, 4.2 rebounds, 2.8 assists, 1.0 three and his real strength (this year at least) – 5.2 attempts at the line at an 89% clip. The 1.2 turnovers are gold in nine category leagues, though the 36% shooting from the field would make Antoine Walker blush.
Il Mago has been really nice over his last five games. Multiple scoring outbursts of 25 points, great free throw shooting from the center position, 2.6 assists and even 1.0 block per game.
Amazing what a contract year can do for a player isn't it?
Someone needs to do a study on free agents over the past 10 years and see what their PER is for their walk year compared to the year(s) leading into their free agency. I'm looking at you Erick Dampier in 2003-04. And you too Zack – off-season article?
Ride the hot hand until it flames out like it invariably will – either through injury or through shooting his way towards some Knicks wins. Yes, wins. This is a glaringly obvious tank situation as well.
I was quite high on Snell's chances at landing the starting small forward spot going into the season, so much so I projected his stats as 10.1 points, 5.0 rebounds and 1.5 threes per game in the Fantasy Hoops Insider draft kit.
It took over three months and 58 Bulls' injuries, but he's finally delivering on that promise he showed in summer league. Mike Dunleavy is old as dirt and Doug McDermott isn't ready to contribute on a playoff team with deep aspirations, while Nikola Mirotic is best suited as a stretch four/big small forward.
If you need threes en masse (2.8 over his last five games), solid shooting percentages (44% from the floor and 89% at the line) and the potential for steals upside, Snell is a guy to plug into your line-up until Jimmy Butler is back healthy.
As always we welcome your feedback, so feel free to hit me up on Twitter (@macetastic) and I'll do my best to reply to any comments.
Big ups to the amazing Basketball-Reference, for all the links and for de-railing me so often, all in the name of research.