Friday's DFS NBA 3/7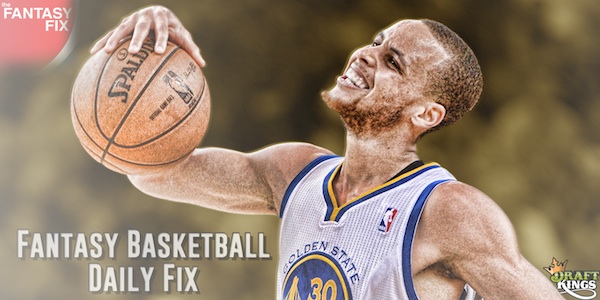 Thursday was a much needed off day with how Wednesday. NBA seems to be getting to that time of year where anything can happen. With all of the tanking and injuries, this is going to be a risky time of year. Be on the lookout for any information that might lead to a young guy sitting in the fourth or a player that has an injury that isn't going to get risked. Here are today's plays broken down by position.
Guards

Ty Lawson has been a stud since he returned from injury and now gets himself a great matchup. In his two games back, Lawson has put up a stat line of 25/5/9/3. Against the Lakers tonight I like him to do something very close to that. In two games so far this season, he's averaging 19/5/8/2/1. With the exception of a few points, those numbers are very close.
Tyreke Evans is a guy I told you not to forget the other night, so at least I got that right. He has put up 20+ points, 7+ rebounds, 5+ assists, and a steal in each of his last three games. Not coincidently, that's when he was pushed into the starting lineup and started getting 40 minutes a game. The Bucks are a good matchup for almost anyone. Evans averaged almost a fantasy point per game against them earlier this season, so that puts him on pace for 35-40 tonight if he repeats.
Ricky Rubio has not been playing too great lately, but it's his matchup I love tonight. The Pistons stop no one especially at the guard position. Rubio is going to be too quick and talented for Jennings, Bynum, or whoever else gets put on him. This was seen when he went for 35+ fantasy points earlier in the season. In that game he did it all posting a line of 15/4/9/2.
Forwards
Kent Bazemore is a guard, forward, or both depending on what site you play, but his price is pretty low on all. He's been very productive since joining the Lakers. In his last six games, he's averaging 16/4/3/1. Those are solid numbers from a cheaper option and one that should be a part of a high scoring game against the Nuggets tonight.
Pau Gasol is a force to be reckoned with right now. He has scored 20+ real points in four straight games even though he didn't even log 30 minutes in his last game. Tonight he should get back over the 30-minute hump with a blowout not so obvious. Gasol is going to thrive against the younger and less talented big men that the Nuggets have. In two games against them so far this season he has averaged 25/11/4/1/2. His average points, rebounds, and assists are all above his season average.
Kenneth Faried can have a good game while Gasol has one so don't worry. In two games against the Lakers this season he's averaging numbers almost as good as Gasol: 19/13/1/1/1. The Nuggets have trouble picking out which big man plays a lot, but recently it has been Faried. He has seen 32+ minutes in three straight games and because of it has posted 30+ fantasy points three straight times.
Centers
Anthony Davis had quite the game to remember the last time he played the Bucks. It wasn't a good game though. He played 19 minutes and was in foul trouble all game. Tonight he'll be at home where he has been much better this season. He's averaging two points, one rebound, and two blocks more at home. He had a great matchup last game where he dominated the Lakers for 28/15/3, which makes me feel more comfortable about this game tonight.
Tyson Chandler has a sexy matchup against the Jazz tonight. They have trouble against big men, and Chandler should be able to rebound all over them. He's averaging 16 rebounds per game in his last six and has two 20+ rebound games in his last ten. With that many rebounds, Chandler should be able to find at least a few easy put backs.