Sunday's DFS NBA 3/9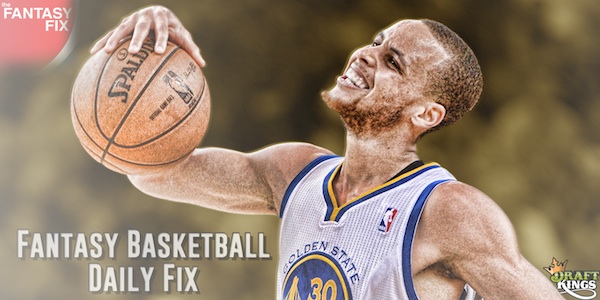 Sunday has nine games for us, but two of them come before the normal lock time, so I'm rolling with seven. There are a lot of guards that I like tonight, but some are multi-positional so I'm throwing them in with the forwards. It's all about giving you eight players tonight that I'm extremely confident with and that's what I have for you tonight.
Guards
Ty Lawson was a lock the other night and he didn't disappoint. Lawson had his second double double in his last three that included 30+ real points. He has fared well in his two games against New Orleans (more than one point per minute), but it's his recent performances that make me think he's matchup proof right now. He's averaging 27/5/12/2 in his last three.
Randy Foye hasn't played much against the Pelicans this season, but he's playing a ton lately. Just to give you an example of how much he's playing, he's averaging 37 minutes in his last five games. With Lawso back, Foye should hover around low 30s in minutes, but he'll still do great with it. Where he's priced low, I love Foye and the 16/3/4/1 line that he should be able to give you tonight with upside for more.
Rajon Rondo is 100% in play tonight against the Pistons. I wrote about the Pistons terrible defense and why Ricky Rubio was a great play because of it. Rondo is a much more talented shooter and just as good at passing and rebounding. Rubio was able to put up 11/8/9/3 against the defense Rondo faces tonight. He's also playing well with an almost triple double in his last game (20/7/9/4).
Forwards
Gerald Green can shoot the lights out can't he? In his last game, he had 41 real points and three games ago he put up 33. He's doing enough of the other stuff to become not so scoring dependent, but let's not kid ourselves. Green lives off his shooting ability. In his last five games, he's shooting 45% from the field including 49% from three. If Green can continue to be aggressive with the ball and getting to the free throw line there's no reason why he can't put up 25 real points against Golden State tonight.
Tyreke Evans continues to thrive in his starting role. He's averaging 19/7/7/1 in his last six games and it doesn't look to be stopping soon. The Nuggets are a great matchup for him and he should continue to post great numbers. He has scored 22 or more points in four straight games with at least four rebounds, five assists and one steal.
David Lee has a matchup against the Suns tonight that he has done well against this season. He's averaging more than one fantasy point per game against them this season. He has only played 77 minutes in his last three games due to illness and blowouts, but he has still managed 47 points, 21 rebounds, 7 assists, and 3 steals. Lee should see more than 25 minutes tonight against a Suns team that is seven point underdogs tonight.
Centers
LaMarcus Aldridge had a monster game against the Mavericks his last time out, so it feels safe to play him against the Rockets tonight. He has absolutely owned them this season. In three games, he's averaging26/17/2/2/1. Aldridge is probably my favorite play of the night.
Anthony Davis continues to be on this list and with good reason. He's averaging 28/14/4 in his last two games and seems to be on a roll. The Nuggets are a good matchup for him, so I expect to do more of the same. In the only game against the Nuggets this season, Davis posted over one fantasy point per minute in a 27-minute appearance. He put up 17/7/1/1/4 that night. The best part about Davis is that he's at home tonight where the official scorer is favorable to Davis and that's why he's averaging about eight fantasy points more at home than on the road