2013 Fantasy Football, Week Five Waiver Wire: Danny Woodhead Is Your Top Priority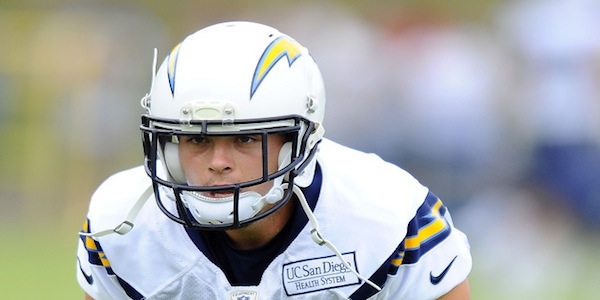 Welcome to TheFantasyFix.com's week five fantasy football waiver wire. Injuries are still decimating teams and matchups are becoming easier for us to recognize and exploit. This week we'll be looking at players like Danny Woodhead, Robert Woods and Coby Fleener.
Before we get to this week's potential waiver wire pickups, it's important to note that I indicate below each name what type of waiver priority I would use on said player as well as the amount of FAAB I'd be willing to use to acquire their services. If you have any additional questions, please feel free to leave them in the comments below.

Danny Woodhead | Chargers
Danny Woodhead is quickly becoming an integral component of the new-look Chargers offense installed by Mike McCoy and company in San Diego. Over the last three weeks, Woodhead has parlayed 19 rushes for 90 yards on the ground along with 20 receptions for 146 yards and two scores. With averages of 4.7 yards/carry and 7.4 yards/receptions, Woodhead is literally piling on fantasy points each time he touches the ball.
The Chargers should continue to spread the ball around going forward, making Woodhead a Sproles-esque type addition to your points-per-reception fantasy squad. He'll also make a fine bye week fill-in flex for standard scoring leagues.
Consider in leagues: 10-team
Waiver Priority Worthy: 3 and lower
Spend this much FAAB to acquire: 30%
Players I'd drop for him: Chris Ivory, Pierre Thomas, Montee Ball
Robert Woods | Bills
Bills deep-threat, Robert Woods reeled in 11 receptions on 25 targets for over 200 yards and two scores thus far in twenty-thirteen. But don't let the low percentage of receptions per target fool you. According to Pro Football Focus, nine of those targets were deep balls of twenty yards or more and Woods dropped just one of them. So this appears to be more of a case of EJ Manuel's accuracy than the receivers ability to haul them in.
Nonetheless, the opportunities for the big play are there. Averaging over 18 yards/reception, Woods needs to connect on just one, maybe two, of these deep balls per game to make a major impact on your fantasy squad. Add Woods for the home run ability in 12-team leagues and deeper.
Consider in leagues: 12 team
Waiver Priority Worthy: 8 or lower
Spend this much FAAB to acquire: 5%
Players I'd drop for him: Kenny Britt, Darrius Heyward-Bey, Greg Little
LeGarrette Blount | Patriots and Rashad Jennings | Raiders
If you're looking to add depth, or hedge your prior investments, both Blount and Jennings could be your targets.
Both Darren McFadden and Marcel Reece limped off the field on Sunday, providing the former Jaguar 23 touches. Jennings ripped off 15 runs for 45 yards and added eight receptions on eight targets for an additional 71 yards. Not a bad day for a "third-stringer," especially in PPR formats. If either of the primary backs aren't able to go in week five, Jennings could make for a fine flex play in deeper points-per-reception leagues.
Blount is a bull and will chew up yards if he's the back the Patriots are leaning on that possession. He's carried the rock 34 time for 148 yards and one touchdown. His 4.4 yards/carry may be a bit overstated considering he broke a 40-yarder on Sunday Night against the Falcons, but it happened, so we count it. Blount is a deeper league, emergency type add if you're desperate or need insurance. He is a former 1,000-yard rusher, but he may have a hard time cracking your starting lineup based on the face he's a one-dimensional back.
Consider in leagues: 12 team
Waiver Priority Worthy: 8 or lower
Spend this much FAAB to acquire: <5%
Players I'd drop for him:
Coby Fleener | Colts, Charles Clay | Dolphins and Heath Miller | Steelers
The Colts lost Dwayne Allen, leaving the lion's share of receptions for Coby Fleener from the tight end position. This week, Andrew Luck looked Fleener's way seven times, connecting of five of said looks for 77 yards and a score. Pro Football Focus indicates that eight of Fleener's 17 targets this season have been of 10 yards or more, meaning there are excellent opportunities for the long-ball connection — and bunches of fantasy points. Consider Fleener a backend TE1 from here-on-out.
Charles Clay is an essential component to the Dolphins passing game, regardless of how good that game actually is. In each of the first four weeks, Ryan Tannehill has targeted Clay a minimum of six times in each contest. They've connected 80% of the time Clay was targeted for 245 yards and one touchdown. The usage pattern and apparent trust between Clay and Tannehill make the tight end an interesting top-end TE2 for the duration of the 2013 season.
Miller just returned from Injury but should be immediately considered in all ten team leagues. If I had to add these tight ends, I would order them Fleener, Miller then Clay.
Consider in leagues: 12 team
Waiver Priority Worthy: 8 or lower
Spend this much FAAB to acquire: 5-10%
Players I'd drop for him: Fred Davis, Brandon Pettigrew, Brandon Myers
Nate Washington | Titans
Titans' gun-slinger Jake Locker went down with an injury, but this appears to be a case where Nate Washington should be fine going forward with former Bills' quarterbacks Ryan Fitzpatrick taking the reigns in Tennessee.
On the season, Washington has hauled in 19-of-28 targets for 332 yards and two touchdowns. He's eclipsed the 100-yard receiving mark in each of his last two contests, mind you, one of which was the horrific Chargers' passing defense. Washington will get the Chiefs in week five who are yielding more than 30 fantasy points per week to opposing pass catchers.
Consider in leagues: 12+ teamers
Waiver Priority Worthy: 8 or lower
Spend this much FAAB to acquire: 5%
Players I'd drop for him: Lance Moore, Kenny Britt, Vincent Brown
St. Louis | D/ST & Buffalo | D/ST
One of the more popular strategies in fantasy football is streaming defenses, and rightfully so. It makes perfect sense to add the defense playing the most offensively anemic or turnover prone team week-in and week-out, doesn't it?
Last week we, like many others, suggested the Colts defense against the Jaguars. That turned out quite well, leaving fantasy footballers running to grab the Rams defense facing the same Jacksonville club in week five. But if by chance the Rams aren't available in your league, look to add the Bills defense against the Browns on Thursday night. The Browns are yielding the fifth-most fantasy points per game to opposing defenses and new gun-slinger, Brian Hoyer, gets just a few days to prepare. Carolina deserves consideration agains the Cardinals if both of the above are spoken for.
Consider in leagues: 10-team
Waiver Priority Worthy: 8 or lower
Spend this much FAAB to acquire: 5%
Players I'd drop for him: San Francisco, Houston, Pittsburgh