2014 Fantasy Football: Who is Everson Griffen?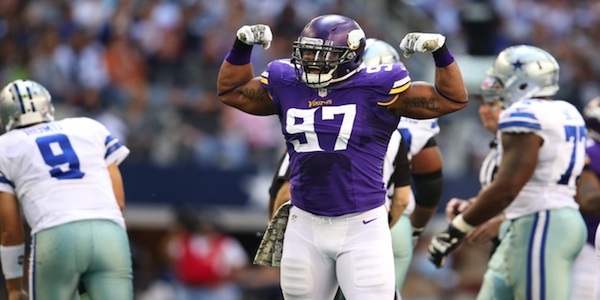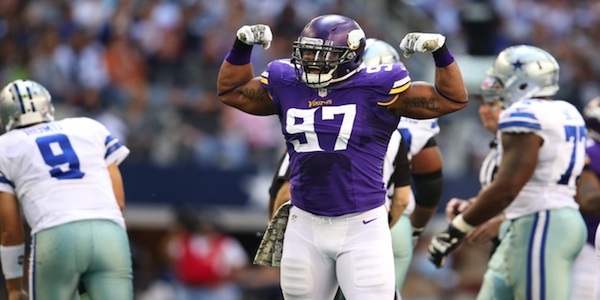 Patience is a virtue, continue to keep the hunger and keep working hard knowing your time is about to come and in the 2014 off-season that time has come for Everson Griffen, Defensive End, of the Minnesota Vikings.  With future Hall of Famer Jared Allen leaving town via Free Agency,  Griffen's opportunity to start has arrived. The Vikings paid Griffen a phat contract (5 years 42.5 million).   The question most will ask is if Griffen can handle the extended workload? How will he do when he's doubling his snap count?
Let's take a look at how Griffen will fare with this opportunity.  In his young career while playing sparingly along that Minnesota front line, he's racked up 17.5 QB Sacks and had a career high of eight back in 2012 and most thought that was his breakout year; but his best days are in front of him. Griffen is one of the top disruptive forces amongst defensive linemen in a 4-3 base.  In the last two seasons, Griffen hurried the Quarterback 62 times, but if you include QB hits that total rises to 95 QB disruptions in two seasons.  Another thing going for Griffen is that he can drop back into coverage. On a  total of 66 snaps Griffen dropped back into coverage and even had a pick-six while floating around the middle of the field.
Griffen is explosive off the ball, will attack you with a flurry of moves and is effective against the run.   In 2014, he will be the starting Right Defensive End (Jared Allen's place) while Brian Robison stays at LDE and I believe Griffen will have no problem against some of the top OT's on game day.  His attitude entering training camp is "You got to let your actions speak." He said.  "And you can't go out there and talk the talk when you're not doing it on the field."
In the Individual Defensive Players (IDP) world Griffen is on the verge of becoming a stud Defensive Line (DL2) option.  He's roughly the DL24 coming off the draft board, tough to argue who is going ahead of him but I've targeted him heavily and knowing I can grab him kind of late, I'm very confident in snatching him up as my every week DL2 option.  His ceiling screams Chandler Jones (a mix of tackles and high sacks) has a floor of Lamarr Houston and I'm gunning for his upside and what he can do with this defense.   Griffen will lead by example and will lead the team in sacks, a reasonable stat line for Griffen for his breakout campaign would look like (67 tackles 2FF 2FR 1TD 8PD 13 Sacks) you can't tell me that doesn't look intriguing, target Griffen on draft day or enjoy the benefit of buying him on the cheap side (for now).