2015 Daily Fantasy Football Strategy: Week 4 Wide Recievers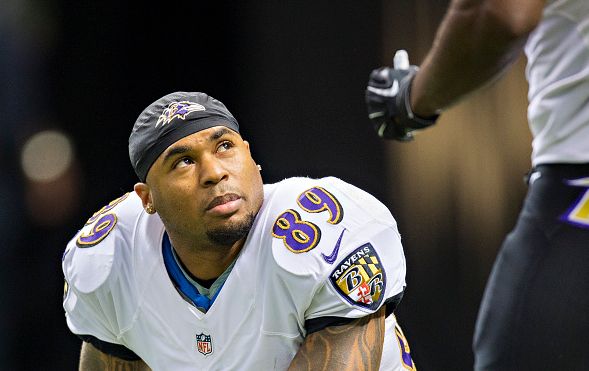 Welcome to Wide Receiver Wednesday Thursday at the Fix! Each Wednesday Thursday of the NFL regular season I'll provide you with several receiving options that are strong plays that week at DraftKings. Monday through Friday the Fix writers will provide you with a daily fix that covers each position, with a weekly roundup on Friday. Hit me up on Twitter, @RyNoonan.
The Wide Receiver position is loaded with options in this new, ever-prolific passing era of the NFL, so options abound. I'll break it up into tiers, essentially, WR1's, 2's, 3's and FLEX/deep options. We won't get too legalistic on the tiers. The goal is to highlight players in each pricing tier, highlighting the plays and matchups in each spot.
Your WR1 and WR2's are no-brainer starts in your normal season-long fantasy leagues. I'll highlight them if they have an exceptional matchup or price. We're likely going to find some inexpensive plays here week in a week out as well, due to the depth at the position. When applicable, I'll note if the player is more of a cash game play versus a tournament option. Cash games (where roughly 40-50% of the player pool wins money) and the players that you want to use in those contests can vary drastically from a tournament option (tournaments or GPP's where 10-15% of the pool wins money).
Scoring and other settings can be found here.
WR1
Julio Jones – ATL vs. HOU ($9,300)

Julio Jones is a monster. What he's doing right now is down right silly. He's putting up video game numbers, all while dealing with a hamstring injury that's costing him practice time each week. As long as it doesn't affect him on Sunday's, I'm not concerned. His 34 receptions are the most of any wide receiver's had through his first three games, and he's scored four times as well. He's averaging 0.91 points-per-snap, by far the best mark of any wide receiver. His matchup against the Texans is statistically neutral, but they don't have anyone to slow him down. The Falcons are a 6.5-point favorite here, but I'm not concerned with any expected game script issues.
Randall Cobb – GB @ SF ($7,400)
The challenge with paying up for Julio Jones this week is that the bottom of the Tier 1 wide receivers is just so deep. For cash games I think Randall Cobb is the best play this week. The Packers are a big road favorite here, but Cobb will be heavily involved in the game plan that'll likely propel Green Bay to jump ahead in this one. Tramaine Brock has no chance against Cobb in the slot here, and Aaron Rodgers will be able to pick the 49ers apart. If you're into narratives, Rodgers loves sticking it to the 49ers, his boyhood team that passed on him in the draft and selected Alex Smith instead.
If we had a healthy Ben Roethlisberger this week then we'd have Antonio Brown ($9,200) highlighted at the top of these rankings again. This is an interesting spot for him. He's manhandled Jimmy Smith and the Ravens in the past, but how effective will Michael Vick be? They'll obviously still lean on the quick outs and short screens that are vital to Brown's PPR success, but he's nowhere near the pocket passer that Roethlisberger is. With the Steelers playing on Thursday night I think there's multiple reasons to (gulp) fade Antonio Brown.
Buffalo doesn't typically shadow the opposition's number one option, so don't expect Stephen Gilmore to chase Odell Beckham Jr. ($9,100). That's good news for OBJ, but the rest of the Bills secondary is still strong (unless they're playing Tom Brady, but I digress). If you're paying up I'd try to go a little bit higher to snatch up Julio Jones, but Beckham Jr. will be way under-owned if you're looking for a tournament pivot. Teams are throwing a ton against Buffalo because they're strong against the run, so volume is in OBJ's favor. (And it's OBJ, people! ODB doesn't make any sense.)
Week 4 pricing came out prior to the Sunday game, so we're still able to get Demaryius Thomas ($8,100) at a steep discount compared to his peers. He'll likely see a lot of Xavier Rhodes if Rhodes suits up, but he hasn't played well enough to keep my off of DT in tournaments.
WR2
DeAndre Hopkins – HOU vs. TB ($7,300)
DeAndre Hopkins has the lowest catch rate of all receivers that are within 10 targets of him this season, but that has more to do with his quarterbacks than it does Hopkins skill. At the end of the day his talent will win out more times than not, and this matchup sets up well for another high volume target game. Atlanta cornerback Desmond Trufant plays primarily on the right side for the Falcons, so we don't have to worry about him chasing Hopkins around here. The Texans move Hopkins around a ton as well, picking on weaker opponents when they have the chance. He's not nearly as safe as Randall Cobb, who's just $100 more, but his 14.1 aDOT (average depth of target) makes him a strong tournament consideration due to his big-play upside.
Steve Smith Sr. – BAL @ PIT ($6,200)
Oh boy. This could get ugly. The Steelers secondary is an absolute dumpster fire, and will have their hands full on Thursday night. Football Outsiders' DVOA shows that Pittsburgh has been able to contain the run this season (ranked 4th) but they've struggled mightily against the pass (26th). The combination of Antwon Blake and Cortez Allen is basically DFS wide receiver porn. If you're worried about ownership in a large field GPP you might want to limit your Smith exposure, but he's a cash game layup.
Amari Cooper – OAK @ CHI ($6,300)
Amari Cooper didn't waste much time solidifying himself as an elite NFL wide receiver. His run-after-the-catch skills are among the best in the league, and the Raiders have been smart to use him like he was used a lot in college. He's getting a lot of quick targets right at the line of scrimmage (6.1 aDOT), and using his athleticism to turn those short catches in to big plays. He'll likely see more Alan Ball than Kyle Fuller, but it's somewhat irrelevant, as both grade out negatively according to PFF. Football Outsiders has them ranked dead last against WR1's and 30th against WR2's which bodes well for Cooper's teammate Michael Crabtree ($4,600).
Someone tell Larry Fitzgerald ($6,500) that it's not 2008 and it's supposed to be John Brown that's dominating in the desert. The reality is, Carson Palmer has always leaned on Fitzgerald when both have been healthy, and he's getting fed to start the year. At 9.3 targets per game, Fitzgerald is yet again a viable cash play at just $6,500. The general public loves to chase points though, so don't go too overweight on Fitz shares.
This isn't a very bold take, but I think either Mike Evans ($6,400) or Vincent Jackson ($4,900) has a big touchdown catch this weekend. The problem in nailing down which it'll be lies in the unpredictable nature of Josh Norman's usage. Norman is one of the league's top cover cornerbacks, but he plays on both sides, which can also be said when describing how Tampa Bay uses their receivers. This is not a situation I want to target even though Evans appears under-priced at first glance.
Jordan Matthews ($6,600) was extremely popular the first two weeks, but his matchup against the Jets last week had him off of the radar. Thing are on the up and up this week against Redskins who are much better at defending the run than they are the pass. Matthews will see Will Blackmon all day, and has the height and speed to win this matchup.
WR3
Pierre Garcon – WAS vs. PHI ($5,200)
There's not a ton of upside in Pierre Garcon's game, but as the clear top wide receiver option for the Redskins he's worth a look against the Eagles. Playing up in pace is helpful for Garcon too, and the potential to face off against Byron Maxwell is a boon for his fantasy prospects as well.
Anquan Boldin – SF vs. GB ($4,800)
After a terrible outing against the Cardinals it's difficult to be on any 49ers this week.  As 8.5-point underdogs at home, game script is likely to set up in Anquan Boldin's favor and he's the safest path to receptions in San Francisco. While he's unlikely to win you a million dollars, he has a pretty safe floor in my opinion.
FLEX
Allen Hurns – JAX @ IND($3,900)
As of this writing Allen Hurns is questionable with a thigh injury, but he was questionable with the same injury last week and he managed to play. Hurns is a high risk play because he has an inaccurate quarterback and he has a 13.1 aDOT. They target him deep down field but with Vontae Davis wearing down Allen Robinson all day, Blake Bortles won't have many other options. I don't expect a ton of volume from Hurns this week, but 5 catches and a long score could be in the cards.
Ted Ginn Jr – CAR @ TB ($3,400)
A lot of the Allen Hurns analysis applies to Ted Ginn Jr. except Ginn is seeing even more weekly targets than Hurns. His 19.0 aDOT is the highest mark in the league for anyone with 20 or more targets, and he offers some value in the return game as well. Ginn will run past Jonathan Banks all day, but will he and Cam Newton connect?