2019 FANTASY FOOTBALL, WEEK EIGHT WAIVER WIRE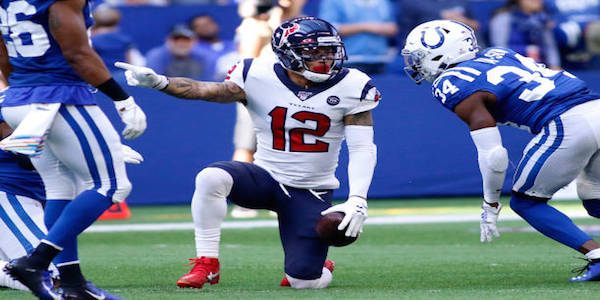 All hail King A-Aron. Six total touchdowns, five in the air and one on the ground. Completed 80.6% of his passes for 429 yards and added six yards rushing on two carries. No Davante, no problem. Chucky and the Raiders were blown out of Lambeau 42-24. For A-Rod, the most touchdowns thrown in a game since Week Three at home against KC in 2015; in that game he finished with a QB rating of 138.5. Rodgers scored just under 32% of his 2019 yearly total on Sunday and brought home a perfect passer rating of 158.3.
Week Seven started out with the 2018 Fantasy MVP rolling around on top of his center Austin Reiter with his kneecap dislocated. Reminded me of a joke a buddy once told me? What did one house say to the other house right after the earthquake?  …Get off Mahomes! It popped in my head, had to put you through the pain too. What a devastating way to start the fantasy week and we all hope Patrick heals quickly! How many fantasy owners reacted in late week waivers Friday-Sunday to get a QB before the herd? I sure did and grabbed Sam Darnold. He did SO well last night against the Patriots… ouch, better schedule ahead. Just a fill gap until our MVP Pat-ella Mahomes is back in a few weeks (fingers tightly crossed).
The Dallas Cowboys and Baltimore Ravens are on a bye in Week Eight, so two more QBs resting. Falcons QB Matt Ryan was rolled up on Sunday and looks like he suffered a high ankle sprain, which makes the QB player pool very shallow with lots of anglers. If Jacoby Brissett or Kirk Cousins are available in your league, snag 'em up. I would be happy with them, but they are over 40% rostered. Remember the players I recommend have a lower ownership than that.
Just imagine, you could have started the following line-up this past week and felt darn good about it when locking it in:
QB – Matt Ryan (2.6pts), RB1 – David Johnson (0.2pts), RB2 – Kerryon Johnson (2.3pts), WR1 – Kenny Golladay (3.1pts), WR2 – Will Fuller (1.6pts), TE – Evan Engram (1.6pts) and FLEX – Terry McLaurin (2.1pts).
In PPR scoring, they totaled a whopping 13.5 fantasy points. Vikings receiver Olabisi Johnson, who is owned in 0% of leagues scored 14 by himself (more on him later). If you were an owner with a putrid Week Seven total, tweet it to me so we can get a chuckle… remember you must be able to point a finger at yourself to excel in life. I want to stay active on waivers, here are some fellas I looked into.
Quarterbacks
Sam Darnold (NYJ)
Ownership: 21% ESPN, 34% Yahoo
Week Seven: OUCH – Patriots are ridiculous. 11/32 for 86 yards and was picked four times. Finished with a QB rating of 3.6!
Why am I recommending him? First of all, the Patriots D is out of this World and that performance can be swept under the rug. Darnold was seeing ghosts and has lots of work to prepare for the trip to Jacksonville. After that game, the schedule becomes super tasty. He could be a top 10 QB for the next six weeks on match ups alone… check this out! Week 9 – at MIA, Week 10 – Home vs. NYG, Week 11 – at WAS, Week 12 – Home vs. OAK, Week 13 – at CIN and Week 14 – Home vs. MIA
Matt Moore (KC)
Ownership: 0% ESPN, 1% Yahoo
Week Seven: 10/19 for 117 yards and a touchdown
I mean if Patrick Mahomes can go ape with this roster, why couldn't MM? In all seriousness, he should be serviceable with Andy Reid guiding the way and the extra time to prepare for Rodgers and Company on Sunday Night Football in Arrowhead. The Chiefs could hold Mahomes out until after their Week 12 bye. Moore could be the starter until then with tilts against the Vikings at Home followed by two road games against Tennessee Week 10 and the Chargers the following week. Kelce and Tyreek are still top plays, which means Matt Moore is connected.
Running Backs
Ty Johnson (DET)
Ownership: 1% ESPN, 1% Yahoo
Week Seven Snap Percentage: 64%
Week Seven: Ten rushes for 29 yards and caught all four targets for 28 yards.
Kerryon Johnson was removed early in the game and is likely to miss a few weeks with a knee injury. Ty took the lead role with J.D. McKissic spelling him. Detroit gets the Giants at home and Vegas already has the Lions by seven and the over/under around 50. Look for Detroit to skate by the G-Men and Ty finding the end zone. RB1 off of waivers, yes please.
Mark Walton (MIA)
Ownership: 4% ESPN, 21% Yahoo
Week Seven Snap Percentage: 52%
Week Seven: 14 rushes for 66 yards and caught only target for negative eight yards.
Kenyon Drake's name has been floated around recently in trade rumors and yes, the Dolphins are bad. That doesn't mean volume doesn't exist and Walton's touches have increased over the past two weeks. Not a lot of options this week and Walton could get you 15+ touches versus the Steelers Defense which gives up an average of 110.2 yards per game. Negative game script could get him involved in the passing game too which would bump him up a bit in PPR.
Wendell Smallwood (WAS)
Ownership: 0% ESPN, 1% Yahoo
Week Eight Snap Percentage: 35%
Week Seven: Five rushes for 23 yards and caught his lone target for 18 yards.
Chris Thompson has turf toe which opens up a role for Smallwood. The 34 year old man-child Adrian Peterson has received 43 carries over the past two weeks and popped up on the injury report yesterday with a sore right ankle. He even had an MRI on it. Skins travel to Minnesota on short week, Wendell could get 15 touches. RB2/Flex consideration keeping tabs on AP.
Wide Receivers
Olabisi Johnson (MIN)
Ownership: 0%
Week Eight Snap Percentage: 71%
Week Seven: Hauled in four of eight targets for 40 yards and a touchdown.
Thielen already out for Week Eight. Short week with Redskins coming into town. Shouldn't be much of a challenge for the Vikings and they might want to see what "Bisi" can do with Adam out. Cousins has been red hot tossing eight touchdowns in last two games. Diggs will get double teamed and eyes will be on Cook. Laquon Treadwell only saw 10 snaps versus Bisis's 52. Johnson takes one to the house is my prediction.
Kenny Stills (HOU)
Ownership:16% ESPN, 12% Yahoo
Week Seven Snap Percentage: 94%
Week Seven: Caught four of five targets for 105 yards.
Will Fuller is expected to miss multiple weeks with another hammy issue. Stills has stepped up in this same spot in the past for fantasy owners with good results. Deshaun Watson is rolling and likes to go vertical. Sure Keke Coutee is there, but the snap counts are a telling sign that Stills has locked down the #2 role. Kenny saw 16 more snaps than Keke this past week and now gets Oakland which just gave up five touchdowns to Rodgers and is second worst against the pass, averaging 289.8 yards per game.
A.J. Brown (TEN)
Ownership: 11% ESPN, 17% Yahoo
Week Seven Snap Percentage: 61%
Week Seven: Eight targets his way for six catches and 64 yards.
Ryan Tannehill is now the quarterback for the Titans and immediately Corey Davis and Brown have value plus the Buccaneers come to town and are league worst giving up over 300 yards passing a game (304.5). Tannehill was looking to A.J. as he led the team with a 27% target share. He is an elite talent and could pop soon.
Alex Erickson (CIN)
Ownership: 0% ESPN, 2% Yahoo
Week Seven Snap Percentage: 94%
Week Seven: Saw 14 targets but only caught eight for 137 yards receiving.
The 0-7 Bengals will travel to Los Angeles to take on the Rams and will need to use their three receiver sets as they will be chasing. Erickson saw his highest snap count of the season by far and was peppered with targets against the Jaguars. Be careful as this has the feeling of a one and done. Week Nine is Bengals bye week and they should get AJ Green back following, unless they trade him. Still Auden Tate has emerged and you can probably find a better fill in. Had to mention as looks could be deceiving.
Zach Pascal (IND)
Ownership: 0% ESPN, 1% Yahoo
Week Seven Snap Percentage: 47%
Week Seven: Caught six of seven targets for 106 yards and two touchdowns.
Another guy who busted on the scene and was owned by no one. These type of fantasy players show up occasionally, but just like Erickson above… tread lightly. Denver comes into town and only gives up an average of 195.3 yards per game through the air, third best behind the Niners and the Patriots. Potential let down and higher volume options should be looming and available.
Tight Ends
Jonnu Smith (TEN)
Ownership: 0%
Week Seven Snap Percentage: 83%
Week Seven: Caught all three targets for 64 yards receiving.
Delanie Walker could be out Week Eight after potentially re-injuring his ankle against the Chargers on Sunday. If that is the case, Jonnu is a plug and play TE against the bad Buccaneers secondary. Tampa Bay has allowed the second most fantasy points per game to Tight Ends at 19.1.
Irv Smith Jr. (MIN)
Ownership: 1% ESPN, 1% Yahoo
Week Seven Snap Percentage: 56%
Week Seven: Caught five of six targets for 60 yards.
The Vikings moved into two tight end sets once Adam Thielen was injured. Showing the power to run opened up looks for Irv in the passing game. Either Irv or Olabisi will become the #2 to Diggs in Thielen's absence. Cousins has been on fire and they should waltz over the Skins. Cook's usage will start to be dialed back and the pass catchers will continue to thrive.
Keep track of player injury updates through the week. Do your work and start dissecting other owners teams to see where their weaknesses are and how you could help them with a trade while assisting yourself at the same time. If you have a stacked bench and are looking good in the win column, time to start to think big picture. Start reviewing schedules for playoffs and what players could be attainable now that could get you the trophy. Many buy low candidates out there where owners might be in panic mode. Offer two for one deals to GMs who have a less than .500 record. Crunch time is here, will you make it out?
Todd D Clark – Fantasy Bro
Thanks for the read and check me out on Twitter @Lunchmade