Daily Fantasy Hockey Strategy: March 9, 2015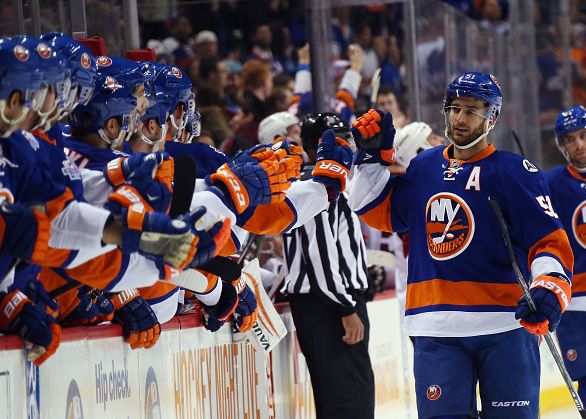 Welcome to The Fantasy Fix daily fantasy hockey strategy. Below you will find rankings and projections for tonight's NHL action. Building a winning lineup isn't easy, so we'll do our best to guide you in the right direction and help you win some serious cash. With that, let's take a look at some matchups you should be targeting tonight.
As always, make sure to check out LeftWingLock for goalie confirmations.
All shot attempt numbers discussed are at even strength and score-adjusted unless otherwise noted.
Teams To Target
[cointent_lockedcontent article_labels="hockey"]
New York Islanders v. Toronto Maple Leafs
The Leafs are in action tonight, which makes them an easy target for DFS players. Surprisingly, Toronto hasn't been getting destroyed in games recently, which is an interesting change, but they still give up a ton of goals. The Islanders are playing their second game in as many nights, but that shouldn't deter anyone from rolling with them in cash games and GPPs.
Let's start with the top line of Brock Nelson, Ryan Strome and captain John Tavares. This line is going to be heavily owned on almost every site, especially on a short slate. There's one problem though – all three are listed as C on DK. That basically makes it impossible to stack the entire line in any GPP, so it may be best to take a look at New York's second line of Josh Bailey, Frans Nielsen and Kyle Okposo. Nielsen/Okposo make for a great mini stack pretty much everywhere. Their prices are a little inflated on FD, but they play together both five-on-five and on the power play, so I'll pay the premium for the duo. If you want to go with a cheap mini stack, Strome/Nelson on FD and FantasyDraft is the way to go.
On the back end, Nick Leddy and Johnny Boychuk are the only two options to consider. Leddy is the less expensive option of the two and plays on the top power play unit. Boychuck however, is the better offensive option. For the price difference between the two, I'd pay up for Boychuk.
Anaheim Ducks v. Colorado Avalanche
No team in the NHL struggles at possessing the puck more than the Colorado Avalanche. In short: they suck. To makes matter even worse, they allow 2.77GA/60 on home ice. The Anaheim Ducks have been unstoppable over the last two months, and they should have no problem scoring goals against the subpar Avalanche team.
The top line of David Perron, Ryan Getzlaf and Nick Ritchie is going to be a popular play tonight. Getzlaf/Perron make for an excellent mini-stack, but even Ritchie is worth a look in cash games if you need some salary relief. Even if Colorado uses their best "shut down" line to try and limit Getzlaf and company, it's still won't be enough.
Another option to consider if you don't want to roll with the top line is the second line of Jamie McGinn, Rickard Rakell and Corey Perry. Perry joins Getzlaf/Perron on the top power play unit, but if you really want to differentiate yourself from the pack, McGinn/Rakell is the mini-stack to go with. The duo also plays together on the second man advantage.
On defense, Sami Vatanen is a wonderful option to go with tonight. The stud defenseman plays on the top power play unit, so if you roll with Getzlaf/Perron, Vatanen completes the power play stack. If you go with Rakell/McGinn, Hampus Lindholm is the defenseman to go with.
In goal, John Gibson is an elite option. For starters, he's not even the most expensive option, priced at just over 8K on FD. The Avalanche have some top goal scorers that can put the puck in the net, but Anaheim defensively is just so good, I can't see the Avs scoring many goals tonight. Assuming he starts, I like Gibson ahead of any other goalie (not taking into account his price tag).
Nashville Predators v. Calgary Flames
Let me start off by saying that this matchup feels like a trap. The Predators have been extremely good over the last month, posting a 9-0-4 record in the last 13 games. Calgary is ranked 28th in GA/60 (2.71) and 30th in team SV% (90.35%). So why do I feel like this is a trap? Nashville has been really good at home, averaging 2.82 GF/60 (4th), but they average a full goal less on the road (1.80 GF/60, 29th). Their GA/60 is league average on the road, while Calgary's GF/60 at home is ranked 7th (2.71) and their SH% is ranked 3rd (8.96%). In short: Calgary is a much better team at home and Nashville just isn't the same team on the road. Nashville is still a good option tonight, but don't expect them to score a crazy amount of goals.
With that being said, Nashville's second line is definitely the line to go with if you want some exposure to this game. Filip Forsberg, Mike Ribeiro and Craig Smith have been pretty much unstoppable over the last few games. Forsberg has been so good over this 13 game stretch, that his price tag on FD is 9K (only other forward more expensive that him tonight is Alex Ovechkin). It's hard to say fade Forsberg, but that's probably the best route to take. Ribeiro/Smith makes for an excellent mini-stack, and paired with Roman Josi, they make for a fine power play stack, too. Shea Weber also joins the trio on the top power play unit. If you want to make a four player GPP stack, adding Weber is the way to go.
Other Options to Consider
Chicago Blackhawks v. St. Louis Blues: The Hawks are a lot like Nashville: they aren't the same team on the road. Corey Crawford has been a stud all season long, but he struggles away from United Center. With the game being played in St. Louis, the Blues top line is an option to consider. Vladimir Tarasenko and Jaden Schwartz play together five-on-five and on the power play. Pair them with either Alex Pietrangelo or Kevin Shattenkirk and you have yourself a very nice Blues power play stack.
Arizona Coyotes v. Vancouver Canucks: The Coyotes allow the most GA/60 on the road, but Vancouver's GF/60 at home is ranked last (1.62). So which team do you trust? Honestly, I have no idea. This game could go either way. If you want to take the risk and trust Vancouver, Daniel Sedin and Linden Vey is the mini-stack to go with (assuming Henrik Sedin doesn't play tonight). Ben Hutton joins the two on the power play, so all three paired together make for a relatively cheap, risky power play stack.
Player Rankings
 Ranking are price sensitive
DraftKings
Forwards
Wingers
Defenseman
Goalie
FanDuel
Forwards
Wingers
 Right Wing
Left Wing
Defenseman
Goalie
FantasyDraft
 Forwards
Wingers
Defenseman
Team G
Vancouver Canucks–$13,900
Anaheim Ducks–$15,800
New York Islanders–$16,200
Washington Capitals–$17,500
Los Angeles Kings–$17,200
Arizona Coyotes–$12,300
Nashville Predators–$16,500
[/cointent_lockedcontent]