2016 NFL DFS: Week 16 DraftKings and FanDuel Breakdown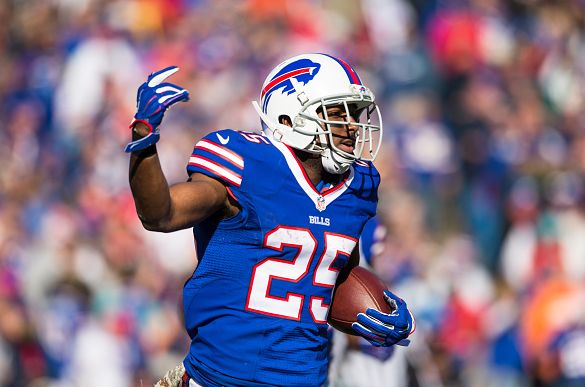 Below you'll find discussion of the players that are "in play" at each position for Week 16 main slate DFS contests on DraftKings and FanDuel (aka the 12 Saturday games beginning 1:00 PM ET or later).
Quarterback
Drew Brees — vs. TB — DK: $7,400 — FD: $8,500
Andrew Luck — @ OAK — DK: $7,000 — FD: $8,300
When you get through reading the quarterback section, you may know as little about who you want to roster at QB as you did before you clicked on this article. QB is really tough this week with every guy having something you can point to as a negative.
Brees and Luck are likely to be the highest owned QBs on Saturday, but they're most definitely not must-plays as both have tough matchups. Brees will face Tampa who picked him off three times and held him touchdown-less just two weeks ago. In Brees' defense, that game was on the road and Brees is historically better at home. But Tampa is generally not a great matchup for QBs as the rank 17th in 4for4.com's Schedule-Adjusted Fantasy Points Allowed (aFPA) and seventh in Football Outsiders' pass DVOA. Luck will get Oakland who ranks 10th in aFPA and 21st in DVOA. That game will be in Oakland where weather could be a bit of an issue with rain possible and some wind, though the bigger concern is just that it's on the road and outside of Indy's dome. The long story short are that these guys are good, they have good options to throw to, and their teams are projected to score high totals of points by Vegas. But they don't feel as safe as you might like an expensive QB to feel.
Matt Ryan — @ CAR — DK: $7,200 — FD: $8,100
Jameis Winston — @ NO — DK: $6,500 — FD: $8,000
Derek Carr — vs. IND — DK: $6,800 — FD: $8,100
Philip Rivers — @ CLE — DK: $6,900 — FD: $8,200
Ryan should probably have been grouped in with Brees and Luck above given that the main concern with him this week is matchup. But he's priced more like the QBs in this groups on FD, which is really the only site you want to consider playing him on this week. Carolina ranks 13th in aFPA and 15th in DVOA, so it's not like they're a prohibitive matchup, but a road game with a slightly below average matchup isn't ideal. That said, Ryan is an elite option whose team has a high implied total, so he's in play.
The rest of these guys all have good matchups. The best matchup belongs to Rivers against the Browns who rank 29th in aFPA and 31st in DVOA. But Rivers is struggling with six interceptions and eight turnovers overall in his last three games. He does have multiple touchdowns in seven straight games, but he hasn't thrown for 250+ in any of his last four. It's fair to wonder how much of a shit he gives at this point in the season. But the matchup is there, the Vegas variables are there, and the upside is there.
Carr's matchup is also excellent as Indy ranks 25th in aFPA and 27th in DVOA. In fact, if there's one QB who checks every box this week, it's Carr. His matchup is good, his team is a home favorite with a high implied total, and he's been a top 10 QB this season. The only problem is the question of how much his finger injury is lingering. You could argue it has been affecting him the last two weeks when threw for only 320 yards combined and one touchdown. But the last two weeks he's faced Kansas City and San Diego on the road, with both teams ranking top 10 in pass DVOA. He went for 260/2 in the first week after the injury, so perhaps the concern about the finger are overblown.
Jameis is also an option as the cheapest QB on DK in this tier with a good matchup against the Saints who rank 28th in both aFPA and DVOA.
Rivers, Carr and Jameis should all be owned a bit higher on DK than FD while guys like Ryan or Tom Brady should be a bit higher owned on FD. Pricing is softer on FD so Ryan and Brady can be fit into lineups a bit easier there, while mid-priced options like Rivers et al are more appealing on DK. That said, none of these guys will be so highly owned that they should be faded in GPPs. And they're all cash options depending on how comfortable you feel with them.
Tyrod Taylor — vs. MIA — DK: $5,400 — FD: $7,500
Matt Barkley — vs. WAS — DK: $5,000 — FD: $6,300
Going super cheap at QB should be a consideration every week, but it's often not that viable. Not only is it viable this week, it's arguable that it's preferable given the uncertainty discussed in pricier tiers. Barkley is a cheap option on both sites while Tyrod is only cheap enough to be an option on DK.
Barkley is obviously cheap for a reason. He's been decent in four weeks of work, but it should be noted that he's had a string of good matchups and has just been decent, not great. The good news is that the good matchups continue this week as Washington ranks 31st in aFPA and 24th in DVOA. At the minimum price on DK and much cheaper than any other viable option on FD, he's an option at that price point in that matchup.
Tyrod's matchup is a bit mixed as Miami ranks 24th in aFPA but 12th in DVOA. The most appealing thing about Tyrod is his upside as he's hit 20+ four times this season, including his 24.3-point day against Miami in Week 7. At this low of a price point, he has serious value potential given his upside.
Behind the paywall you'll find the rest of our Week 16 NFL DFS breakdown.