Daily Fantasy Baseball Strategy: July 29, 2016 – DraftKings & FanDuel Analysis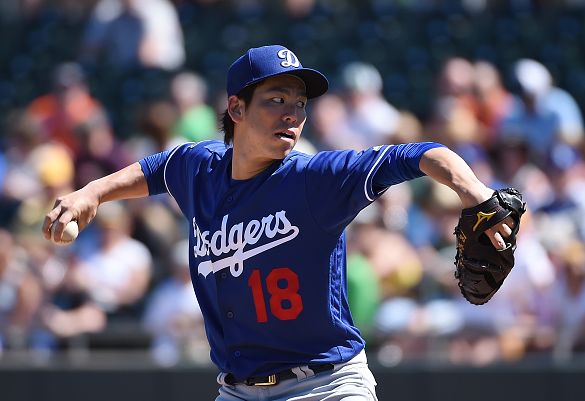 Below we've got breakdowns for each game of Friday's 14-game evening slate on DraftKings and FanDuel along with player rankings, suggested lineups, and a projections/research chart. Any discussion of a hitter's stats date back to the beginning of 2015 unless otherwise noted.
Game Breakdowns
Orioles @ Blue Jays
Marco Estrada will go for the Jays tonight, and as a heavy fly ball pitcher, you have to consider some O's bats. Estrada has had more trouble keeping the ball in the park against lefties, but, unfortunately, most of Baltimore's lefties have been struggling. Chris Davis and Pedro Alvarez have been brutal recently, though 3B is thin enough and Alvarez cheap enough that he could be a GPP option. Hyun-Soo Kim is also an option as salary relief as he's cheap across the board and has been back in the two-hole against right-handers. And then Manny Machado is worth a look given his still reasonable salary and SS eligibility on DK. He's plenty good without the platoon advantage (142 wRC+), and he's come out of a slump recently with a 166 wRC+ in the last seven days.
Rockies @ Mets
The projections embedded at the bottom of this post like Steven Matz a bit today, but I'm not sure I do. In his last five starts his hard hit rate is a shade over 40 percent, and his xFIP and SIERA are just north of 4.00. The matchup with the Rockies is a bit above average, and obviously his home ball park is much more favorable than if this game was being played in Colorado. But I'm not sure I trust a guy that has been getting that hard recently who has recently survived on an 86.5 percent strand rate. His price on DraftKings is pretty attractive and gives him some value potential, and the Rockies strike out enough to give him some upside. So if you like Matz, a GPP on DK is the spot to use him.
As for bats, Michael Conforto and Trevor Story are worth a look. Conforto has a 133 wRC+ vs. RHP in his young career, and he's been decent since recall with a 114 wRC+ in the last seven. He's a salary relief option on either site if you need it. And even though Story isn't playing in Coors, you still have to give him a look. He has a 146 wRC+ vs. LHP and a 154 wRC+ in July. He's inexplicably cheap on FD at only $3,000 even if he is away from Coors.
Astros @ Tigers
Miguel Cabrera won't have the platoon advantage against Collin McHugh, but he does just fine without it with a 161 wRC+ vs. RHP. Miggy has also been running hot with a 306 wRC+ in the last seven days. He's a bit pricey on DK but is priced reasonably enough on FD.
The Astros have been below average vs. LHP this season in wRC+, and they strikeout more than average vs. LHP, so they're a plus matchup for lefties. That said, the lefty they'll face today really struggles with right-handed hitters, something Houston has in abundance. Matt Boyd has a career 5.51 ERA (4.92 xFIP) vs. RHP, and his fly ball rate against them is an even 50 percent, which is a big reason why he allows almost two home runs per nine innings to RHP. Houston could easily hit a few dongs in this one. You could run Boyd out in a GPP given Houston's numbers vs. LHP and his low price tags, but there should be better options.
Two Astros who are not part of the problem against lefties are Jose Altuve and George Springer with each having a wRC+ vs. LHP north of 150. I'd happily pay up for them on either site with maybe the exception of Altuve on FD. Those are the Astros to lean on in cash games. Carlos Correa and Evan Gattis have less impressive numbers vs. LHP, but they've been running hot and work just fine in a Houston stack. You might also throw Alex Bregman in that stack to offset some of the cost. The kid has to get going at some point, and this is a fine matchup in which to do it.
Yankees @ Rays
Like Matz, Ivan Nova has been giving up way too much hard contact recently. In Nova's last four starts his hard hit rate is also over 40 percent as is his medium hit rate, which means his soft contact rate is miniscule. That said, Nova has managed a 3.41 SIERA in that stretch thanks to excellent strikeout and walk rates. And probably more important, Nova has the best matchup of the day against a Rays team who is brutal against right-handers. Tampa has a wRC+ of 90 vs. RHP and a 24.2% K%. You can't trust Nova in cash games, but he's got a great price on FD and could be a GPP option there.
Atheltics @ Indians
Not a lot going on here. Jason Kipnis and Josh Reddick have good numbers against the pitchers of the handedness they'll be facing, but neither has been just crushing it recently and neither has a great price tag anywhere. They're options, but meh.
Cardinals @ Marlins
Of the pitchers in action this evening, none of them have a SIERA better than Mike Leake's over the last 30 days. In five starts in that stretch over 32 innings Leake has struck out 32 batters and walked just one. He also has a solid 24.2 percent hard hit rate in that stretch. Unfortunately he's had terrible BABIP and strand rate luck, and so his ERA is 4.22 in this time frame. But a 4.22 ERA actually speaks to how good he has been with a .371 BABIP and 60 percent strand rate. Unfortunately, the Marlins aren't a great matchup for right-handers, the Cards are bit of an underdog on the road, and Leake doesn't have a crazy cheap price tag anywhere. But it's arguable no pitcher in action tonight is going as well as Mike Leake is.
Phillies @ Braves
The Phillies are a -150 favorite in this one, and the Braves have a 75 wRC+ vs. RHP, so Vince Velasquez seems like a pretty obvious cash option. It's a bit worrisome that he has walked four batters in each of his last two starts, but that's about the only quibble with VV in cash games. He's priced just about right on both sites.
If anyone is going to do damage to Velasquez, it's likely Freddie Freeman. Freeman has a 137 wRC+ v. RHP, and he has been running hot with a 136 wRC+ in July and a 204 wRC+ in the last seven days. Pass on him on FD where you could have Miggy for $100 cheaper, but Freeman is priced well on DK.
Behind the paywall you'll find breakdowns of the remaining games, player rankings, suggested lineups and my projections/research chart.
[cointent_lockedcontent article_labels="baseball"]
Royals @ Rangers
There'a a bit of value in the back half of the Texas order. Rougned Odor, Joey Gallo and Mitch Moreland have been hitting 5-6-8 in the order recently, and they've had some success. Odor and Moreland both homered last night (twice for Mitch), and Gallo homered in his first game back up from the minors. Those lefties will get RHP Edinson Volquez who has a 4.58 xFIP vs.  LHP. Odor is priced just about right on both sites, but Gallo and Moreland are nice values.
White Sox @ Twins
Jose Quintana has a 2.76 ERA over his last five starts, but things haven't been going nearly as well as it would seem. His soft contact rate is only 12.4 percent in that stretch, his BABIP is .183, and his strand rate is a whopping 99.1 percent. After struggling early in the year against lefties, the Twins now have a 104 wRC+ vs. LHP, so they've obviously improved. Miguel Sano, Brian Dozier and Robbie Grossman have the best numbers on the team vs. LHP. Grossman hasn't been going well so ignore him, but Sano and Dozier have been slightly above average in the last seven days even though the only left-hander they have faced in that stretch is David Price. Sano is priced well on DK and Dozier is priced well on FD.
Pirates @ Brewers
Pirates bats stand out a little here. Milwaukee starter Junior Guerra has a 1.35 ERA in his last five starts, but he hasn't actually been that good. In that stretch his walk rate is in the double digits, his BABIP is .198, and his strand rate is 89.7 percent. The Pirates have plenty of guys who are better than average vs. RHP, and they're getting a nice positive park shift on the road.
Gregory Polanco may be the best option with a 119 wRC+ vs. RHP and a 204 wRC+ in the last seven days. For salary relief, consider Matt Joyce who has a career 123 wRC+ vs. RHP and two home runs in his last seven at-bats. He's especially cheap on FD. Andrew McCutchen is also a good option with a 184 wRC+ in the last seven days and fair price tags on both sites. Those are the Pirates I'd think about in cash games, but if you wanted to stack Pittsburgh, John Jaso, Starling Marte and Jung-Ho Kang could be options to fill out a stack.
Red Sox @ Angels
Tim Lincecum has a 10.29 ERA in his last five starts and will face what is arguably the best offense in baseball. It would seem obvious to get Boston exposure in cash games, but their prices are through the roof. Get exposure to them if you can, but no judgment if you can't.
I'm inclined to say Boston lefties are the best way to get some cash exposure, but Lincecum's splits are bizarre this season. I know it's a tiny sample size but the right-hander has 19 strikeouts compared to two walks against left-handers and nine strikeouts compared to 13 walks against right-handers. Again, small sample size, but that's a significant gap no matter the sample size.
I still think paying up for David Ortiz is your best bet for exposure, but $5,300 on FD is admittedly hard to swallow. Mookie Betts is the other option for cash. He's just fine without the platoon advantage and has a 186 wRC+in July and a 230 wRC+ in the last seven days.
D'Backs @ Dodgers
Kenta Maeda is likely my favorite pitcher of the night. In his last five starts he has a 3.12 SIERA thanks to excellent strikeout and walk rates (28.8% and 5.4%, respectively). He also has one of the two or three best non-Tampa matchups tonight against an Arizona team that has an 89 wRC+ v. RHP and a higher-than-average strikeout rate vs. RHP. It also helps quite a bit that this game is in LA and not Arizona. The Dodgers opened as the biggest favorite of the day at -200, and Maeda's prices are more than fair on both sites, so I can't find much to dislike here.
Dodger bats are also in play against Zack Godley who has a 6.89 ERA (4.33 xFIP) in his last three starts. Dating back to last year Godley has as many walks as strikeouts vs. LHH and a 4.90 xFIP against them. Corey Seager is a lefty with a 159 wRC+ vs. RHP and a more than reasonable price tag on FD. Also consider switch-hitter Yasmani Grandal who is better from the left side and has been running hot with a 196 wRC+ in July and a 150 wRC+ in the last seven days. And dont't forget about Justin Turner, a right-hander who excels without the platoon advantage with a 150 wRC+ vs. RHP. Turner has a 179 wRC+ in July and a 235 wRC+ in the last seven days. You might add Adrian Gonzalez to that trio and make a Dodgers stack. Turner and AGonz are stack-only options.
Nationals @ Giants
Outside of the Boston @ LA game, Max Scherzer probably has the worst matchup of any pitcher in action tonight. The Giants have a 102 wRC+ vs. RHP, and they strike out way less than average. That said, it's Max freakin' Scherzer who has a 2.89 SIERA on the season and a 2.78 SIERA in his last five starts. And this game is in San Francisco which is arguably the most pitcher-friendly park in the league. As a -150 favorite and facing a struggling Jeff Samardzija, the appeal of Scherzer in cash is apparent. I think he's priced fairly enough on DK to use him there in cash if you'd like. But I'll likely go with cheaper options, and I'll definitely avoid him in GPPs given that he's easily the biggest name in action tonight.
Reds @ Padres
The ballpark in San Diego isn't hitter-friendly, but the two pitchers who will start in San Diego tonight sure are. Brandon Finnegan will go for the Reds and owns a 5.30 SIERA on the season. That's easily the worst SIERA of any starter in action tonight outside of the guys who only have a start or two under their belt this season. One of those guys is San Diego's starter Edwin Jackson. Jackson has made two starts this season and has managed a 2.92 ERA despite walking eight and striking out only five in 12.1 innings of work. WOOF!
For the Reds, Joey Votto and Jay Bruce are the best options. Votto has been running hot with a 219 wRC+ for the entire month of July, a month which only has three days left in it. But Bruce may actually top Votto's hotness with a nine-game hit streak going, and, more importantly, a five-game homer streak in which he has hit six dingers. And tonight he gets Edwin Jackson. He could easily dong for the sixth game in a row. Both guys are priced better on FD.
For the Padres, right-handers are the best options against the left-handed Finnegan. Finnegan has a HR/9 of 1.94 against RHH, so guys like Wil Myers, Derek Norris and Matt Kemp are candidates to dong tonight. Norris and Myers have been struggling of late, so Kemp may be the best option with a 128 wRC+ in July and a 178 wRC+ in the last seven days. Though despite his recent struggles, Myers' 158 wRC+ vs. LHP is pretty attractive. Kemp is priced really well on FD, and Norris could be a salary relief option at a thin position. Norris is also one of few catchers priced attractively on DK.
Player Rankings
**Players are listed according to their FD positional eligibility
Catcher
First Base
Second Base
Third Base
Shortstop
Outfield
Starting Pitcher
Max Scherzer (better price on DK)
Vince Velasquez
Steven Matz (better price on DK)
Ivan Nova (better price on FD)
Suggested Lineups
Below you'll find a suggested cash and GPP lineup for both DK and FD. These lineups were posted early in the morning and will not be updated later in the day on account of the author not being able to get home from work in time to do so. So be aware that these lineups were made and posted without knowing the weather for the day and who would and would not be in their team's lineup today. The lineups are merely suggestions to give you and idea about roster construction.


Research Chart
Download today's research chart from this Google Sheet. Projections are derived from Fangraphs Depth Chart projections, which are cut down to a per-game basis and then adjusted for ball park and matchup. A glossary for the columns in the 'hitter research' tab is included below the chart.
SP Adj. – Projected FIP (based on ZiPS) of opposing pitcher against hitters of that handedness
BP Adj. – 2015 Fangraphs HR park factor for LHH or RHH
Pen Adj. – xFIP of opposing bullpen against hitters of that handedness
Last 7 – Hitter's wRC+ in last seven days
July – Hitter's wRC+ in July
L/R – Hitter's 2015-2016 wRC+ against LHP or RHP
Projections and values are then included for each site.
[/cointent_lockedcontent]