Daily Fantasy Baseball Strategy, May 3, 2015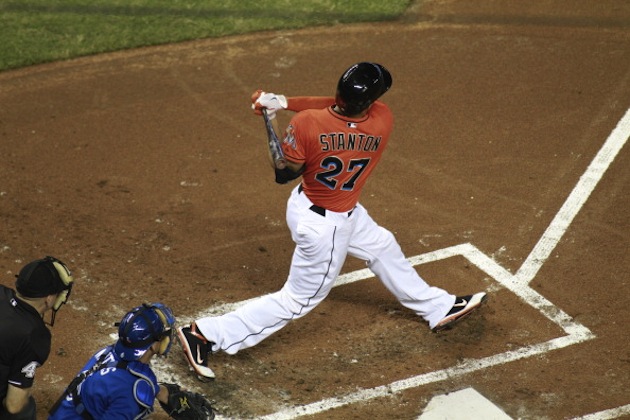 Good morning folks! Another week of baseball is in the books. Below we've got a discussion of today's starting pitching as well as the best teams from which to pick hitters. Included at the bottom is a set of rankings of the top plays at each position.
Pitching Perspective
The trend of minimal starting pitching options continues today. The best option on the board is Johnny Cueto ($11,000.) Cueto is the best option, but also carries the largest price tag. Fitting a really solid offense behind him will be difficult, but I think it's paramount to try and get some exposure to him in both GPPs and cash games. He is pitching away from Great American Ball Park, giving him an extreme park shift in his favor. Vegas has the total of this game currently sitting at 6.5, and the Braves team total is 3. The opposite side of this matchup Julio Teheran ($8,100) has a fairly solid pricepoint, but he has been struggling this year (6.07 FIP). The Reds lineup is aging, but is still capable. I think he makes for more of a GPP play considering the cheaper options that might fit better in cash games.
The second most expensive option today is James Shields ($9,900) who will also have a park factor in his favor. Shields will get the benefit of pitching at Petco Park against the Colorado Rockies who are taking an extreme negative park shift away from Coors Field. Shields is pitching a bit better than his FIP (3.24) suggests, but his K/9 is currently over 11. The Rockies are middle of the pack in terms of strikeout percentage (19.8%), but Shields is still a solid option today.
The middle tier of pitching options is headed by Michael Wacha ($8,400). The Pirates are really struggling to generate any sort of offense and I don't expect their bats to come around today. They are striking out the 4th most in the league (23.1%) which should help Wacha's K/9 regress back towards his mean (in this case, rising). He's been getting a lot of ground balls so far (55.1% GB%) and is a really cost efficient option. I like him for both cash games and GPPs.
The game in New York pits Dillon Gee ($7,000) and Doug Fister ($7,400) together and the game is currently carrying a total of 7.5, one of the lowest of the day. Both pitchers have been fairly "meh" so far this season and the lack of strikeouts is concerning. Fister's K/9 (4.01) is the lowest of his career. I know it's a small sample size, but the Mets are also in the bottom third in K% as a team, making it even less likely that Fister brings up that K/9 today.
The Nationals on the other hand are striking out in the top-10 in the league. Gee again isn't getting many strikeouts, but he's getting groundballs at a 61% clip. Couple that with the fact that they're playing in a great pitchers' park and I think he might make for a sneaky second tier option, but I'd prefer his game play in cash games, even without the strikeouts.
I should lastly give Jared Cosart ($6,500) a mention as the Phillies are sporting a team total of 3. Cosart again does not rack up the strikeouts, but he also gets a lot of groundballs. Odds are he will once again see an atrocious Phillies lineup and is worth some consideration in GPPs.
 Stack Options
Because of the incredible amount of options for hitters today, I'm going to more or less point out teams that you can use hitters from instead of listing individual hitters from every single team. All individual player rankings can be found below this section.
The Miami Marlins are starting to kick it into gear, even without Christian Yelich at the top of the order. Today they'll get a ripe matchup with Severino Gonzalez who is making his second major league start. Gonzalez got banged around in his first start, only lasting 2 and 2/3 innings pitched without striking out a batter. He struggled with his control and did not miss any bats (3.3% SwStr%). Dee Gordon ($4,900) has been awesome at the top of the order and provides great stolen base upside. It's always a plus to hit in front of Giancarlo Stanton ($5,700) who possesses unlimited power upside that you'll have to pay for. I love Marcell Ozuna in the cleanup spot ($4,600) and hope he remains there today.
The game in Cleveland will feature two young right-handed power arms in Trevor Bauer and Drew Hutchison, but also a pair of potentially dangerous offenses. Both the Blue Jays and Indians offenses should see a lower than normal ownership level today, but could both explode in a big way. There is a lot of power upside from both teams in Jose Bautista ($4,800), Edwin Encarnacion ($4,800), Josh Donaldson ($4,900), Carlos Santana ($4,200) and Brandon Moss ($4,700). The options are expensive, and will be a tad contrarian but could yield great rewards. They're just a GPP play for me.
It appears as if there might be some weather concerns at Target Field in Minnesota, but should it hold off, both of these offenses are in play. This time John Danks is really pitching for the White Sox and the obligatory stack against Mike Pelfrey is going for the Twins. I think all the bats are in play for these teams and particularly like Twins right-handers against Danks. Brian Dozier ($4,600) and Trever Plouffe ($4,000) emerge as valuable options once again. Pelfrey doesn't have much discrepancy in his splits, as both right-handers and left-handers hit him hard, so I think the top five or six hitters from the White Sox are all again great options should the weather hold.
Moving along, the game in Minute Maid Park is also up for grabs. The Houston Astros are set up perfectly to mash left-handed pitching and they'll look to tear apart J.A. Happ today. All of the Astros right-handers are in play, but Jose Altuve ($5,100) and George Springer ($5,100) stand out the most. Altuve is absurdly good right now and is the top ranked second baseman for me, but it'll be tough to pay up for him in cash games and land the starting pitchers you want.
The Mariners will get the former Fausto Carmona, now Roberto Hernandez. Luckily, this also sets up for the Mariners left-handed bats and always include Nelson Cruz ($5,400) who just won't stop hitting homeruns. The total for this game is currently sitting at 8.5 and both teams are pushing the over on 4 run team totals.
Sunday Night Baseball is also prime for DFS today. AJ Warren and Joe Kelly will square off to finish up the series of rivals. While the game currently has a total of 9, the hard part about this will be predicting the lineups. I would expect the lineups to stay particularly the same since they played a day game yesterday and will rest all the way until 8 pm eastern tonight, but it's something to monitor. Because DraftKings allows you to late swap, I would try to feature some of these guys in your initial lineups but also have swaps planned should we hear that one of them is out. David Ortiz ($4,800) is perhaps my favorite play from this game, but there are always a plethora of first base options.
Player Rankings
Catcher
Brian McCann -$4,200 – New York Yankees
Evan Gattis – $4,000 – Houston Astros
Carlos Santana -$4,200 – Cleveland Indians
 First Basemen
David Ortiz -$4,800 – Boston Red Sox
Paul Goldschmidt -$5,200 – Arizona Diamondbacks
Jose Abreu – $5,600 – Chicago White Sox
Miguel Cabrera -$5,300 –Detroit Tigers
Second Basemen
Jose Altuve -$5,100 – Houston Astros
Robinson Cano -$4,200 – Seattle Mariners
Dee Gordon -$4,900 – Miami Marlins
Brian Dozier -$4,600 – Minnesota Twins
Shortstops
Hanley Ramirez -$5,500 –Boston Red Sox
Troy Tulowitzki -$4,700 – Colorado Rockies
Jimmy Rollins -$3,500 – Los Angeles Dodgers
Third Basemen
Kyle Seager -$3,500 – Seattle Mariners
Matt Carpenter -$4,700 – St. Louis Cardinals
Alex Rodriguez -$4,200 – New York Yankees
 Outfield
Giancarlo Stanton -$5,700 – Miami Marlins
Jacoby Ellsbury -$5,400 – New York Yankees
George Springer -$5,100 – Houston Astros
Mark Trumbo -$4,000 – Arizona Diamondbacks
Joc Pederson -$4,200 – Los Angeles Dodgers
Starting Pitchers
Johnny Cueto -$11,000 –Cincinnati Reds
James Shields -$9,900 – San Diego Padres
Michael Wacha -$8,400 – St. Louis Cardinals
Julio Teheran -$8,100 – Atlanta Braves
Sonny Gray – $8,600 – Oakland Athletics
Doug Fister -$7,400 – Washington Nationals
Dillon Gee -$7,000 – New York Mets