Daily Fantasy Baseball Strategy: September 7, 2015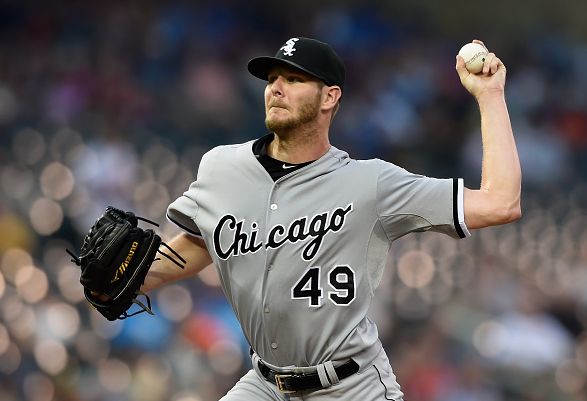 Welcome back to The Fix! Wait, what's that? Is that 'Full 15-Game Slate's' music?!?! I think it is. It's a rarity on a Monday, but the Labor Day holiday is bringing us a gift, and that gift is full slate on DraftKings. I'll give you my thoughts on the slate, and at the bottom we have rankings of the top plays at each position. If you're on Twitter, you can find me @RyNoonan.
Forecast
It's difficult to nail down weather hours and hours before first pitch. Given how often forecasts change between the time this post is written late the night before and when games actually start, make sure to follow @KevinRothWx for updates.
Pitching Perspective
If you like finding low priced pitching options, particularly to pair with a high-priced SP1, this slate is not for you. Not only is it extremely top heavy, I really don't love any pitching options below $8,000 tonight. This isn't an issue for me as far as how I construct lineups because I prefer to pay up. It's the most antifragile approach regardless of if you're entering a tournament or a cash game.

The highest priced option tonight is Zack Greinke ($14,000) on the road against the Angels. It's difficult to poke holes in the likely-Cy Young Award winners game, but $14,000 is a lot to pay for Greinke. I need 10+ strikeouts to fork up nearly 30% of my budget, and while that's an arbitrary number, it's worth noting that Greinke doesn't have the huge strikeout upside that some other high priced options have (8.15 K/9). The Angels are a fairly neutral opponent for Greinke (.306 wOBA/98 wRC+), and their strikeout rate is middle of the road as well. Vegas is on board though, with the Angels coming in at just 3.1 implied runs, the lowest number on the slate.
Next up is Chris Sale ($13,100) at home against the Indians. Sale has the huge strikeout upside that makes these ginormous price tags a bit easier to handle, and while the Indians don't strike out a ton (18.7%), Sale's 12.11 K/9 supersedes that for me. As good as Sale has been, his ERA is nearly a run higher than is 2.33 FIP, and Cleveland's low .124 ISO against left-handed pitching is another proverbial feather in Sale's cap.
It's hard to believe but it's been nearly two months since we've seen a 30-point outing from Max Scherzer ($12,400). He's been hit around a bit lately but still carries an ERA and FIP south of 3.00, which tells you just how dominant he was in the first half. The Mets 19.9% strikeout rate is high enough to expect some decent strikeout totals from Max (10.71 K/9), and despite having some bats that hit right-handed bats better than lefties, Vegas has the Mets at just 3.2 runs tonight. I think that number is a bit low given how Scherzer has pitched of late, so he's more of a tournament play for me.
Any time we can catch an elite arm against the Cubs, it's worth a look. The Cubs can slug with the best of them, but their 24.0% strikeout rate is always worth exploiting. It can make a pedestrian strikeout pitcher like Michael Wacha ($10,300) an excellent option on a given night. I don't love Wacha in cash games, but I think the strikeout upside he has in this matchup makes him a viable tournament arm. (UPDATE: Lance Lynn ($9,500) is now slated to start for the Cardinals today!)
Some times we need to look at things in smaller sample sizes because what we're currently seeing doesn't match what we've seen all year. The Mets offense and Justin Verlander are two examples of this. A third example is Yordano Ventura ($10,100). He's been outstanding in his past five outings, including last time out where he struck out 11 Tigers while walking just one. That's the important piece for Ventura. The arsenal has always shown great potential for strikeouts, but he's really struggled with walks this season. If he can continue this form, he'll be worth his huge jump in salary. He's facing the Twins at home, and Vegas has Minnesota with an implied run total of just 3.4, so they're buying, too. The Twins also have strikeout and walks rates that are on the wrong side of league average, both of which benefit Ventura in this spot.
Mike Fiers ($10,000) is our sixth starter who's priced at or above $10,000 tonight. His price is a bit steep for me, and while he does get a nice park shift tonight in Oakland, it's mitigated by the A's lack of team strikeouts (just 18.2%). I'd much rather pay an extra $100 for Ventura in both cash and tournaments, so perhaps that alone makes Fiers tournament worthy.
Some other pitching quick takes:
Michael Pineda ($8,400) was sharp last time out against the Red Sox, and he's facing a team that whiffs more than 5 percent more tonight in Baltimore. Is good Pineda back? His issues have been with home runs and runners on, something that the Orioles do well. If you're looking to go below $10,000, he's my favorite play.
Ian Kennedy ($8,900) has pitched much better recently but still has struggled against both right-handed (.341 wOBA) and left-handed bats (.334) all season long. He has a crazy-high HR/FB ratio, but he's given up enough hard-hit contact to justify a spike in that rate. He's not regressing to a mean of 10 percent here.
I'd be intrigued by both options in the Giants/Diamondbacks game if it were in San Francisco instead of Arizona, so I'm passing on Mike Leake ($6,500) and Patrick Corbin ($8,000).
Stack Options
According to Vegas, our best bets today are the Blue Jays (5.0 implied-runs), Royals (4.7) and Phillies (4.7).
I may be out of my mind, but I'm not a huge fan of the Blue Jays in this spot. If Rick Porcello ($6,300) were facing anyone else tonight, he'd easily be my favorite pitching option below $10,000. Red Sox fans have been screaming all season for Porcello to get back to what's made him successful in past seasons, and he's finally gotten back to it. Goodbye, four-seam fastball. Welcome back, sinker. His two starts since returning to the sinker have been outstanding, and while the Blue Jays are a different beast, his 13K-38.4-point performance against the Yankees is worth noting. There are other strong offenses against terrible pitching tonight.
The Royals are an excellent alternative. As a team they're fairly neutral against both lefties and righties, but their lack of strikeouts makes them difficult to face. Tommy Milone gives up a decent amount of fly balls and doesn't miss many bats, and that's a bad combination against anybody. I love Lorenzo Cain ($5,200) and Ben Zobrist ($4,400) who'll likely hit 2-3 in the lineup today.
The Phillies? You don't see this every day. They can thank Williams Perez for this. Perez has been extended batting practice for his opponents this season. The Phillies won't cost you much, and you can load up on their left-handed bats since they've been the biggest issue for Perez this season (.390 wOBA).
Other offensive notes:
Vegas has the Astros at just 4.1 implied runs today, but I like the over. Carlos Correa, Jose Altuve, George Springer and Jed Lowrie are all worth a look and are reasonably priced in Oakland against Felix Doubront.
The Rays should take advantage of Randy Wolf for as long as he's able to last. That won't be that long. Tampa's 114 wRC+ against left-handed pitching is one of the best marks in the league, and Logan Forsythe ($4,400) is an easy play. Zobrist is the same price but also has OF eligibility, or you can plug Forsythe in at first if you prefer.
Handedness wOBA splits of note against left-handed pitching: Kyle Kendrick .421, Dan Haren .370. Against right-handed pitching: Randy Wolf .369 (limited innings), Kyle Kendrick .363, Patrick Corbin .357, Wei-Yin Chen .347.
Player Rankings
Catcher
1. Brian McCann – New York Yankees $4,000
2. Wellington Castillo – Arizona Diamondbacks $3,800
3. Chris Gimenez  – Texas Rangers $3,800
4. Wilin Rosario – Colorado Rockies $2,200
First Base
1. Miguel Cabrera – Detroit Tigers $4,600
2. Edwin Encarnacion – Toronto Blue Jays $4,700
3. Anthony Rizzo – Chicago Cubs $4,600
4. Ryan Howard – Philadelphia Phillies $3,700
Second Base
1. Chris Coghlan – Chicago Cubs $3,000
2. Ben Zobrist – Kansas City Royals $4,400
3. Jose Altuve – Houston Astros $4,500
4. Logan Forsythe – Tampa Bay Rays $4,400
Third Base
1. Alex Rodriguez – New York Yankees $4,300
2. Ryan Zimmerman – Washington Nationals $4,500
3. Travis Shaw – Boston Red Sox $2,700
4. Derek Dietrich – Miami Marlins $3,100
Shortstop
1. Carlos Correa – Houston Astros $4,800
2. Jed Lowrie – Houston Astros $4,000
3. Xander Bogaerts – Boston Red Sox $3,800
4. Ivan De Jesus – Cincinnati Reds $2,400
Outfield
1. Lorenzo Cain – Kansas City Royals $5,200
2. Chris Young – New York Yankees $2,700
3. Jose Bautista – Toronto Blue Jays $5,400
4. George Springer – Houston Astros $4,400
5. Carlos Gonzalez – Colorado Rockies $4,400
6. David Peralta – Arizona Diamondbacks $3,300
Starting Pitcher
1. Chris Sale – Chicago White Sox $13,100
2. Yordano Ventura – Kansas City Royals $10,100
3. Max Scherzer – Washington Nationals $12,400
4. Zack Greinke – Los Angeles Dodgers $14,000
5. Michael Wacha – St. Louis Cardinals $10,300