In the Week 23 edition of fantasy baseball 3×3, we're dumping Pablo Sandoval, staying with Dexter Fowler, and rekindling our love for Javier Baez.
There are plenty of waiver wire columns out there that provide an exhaustive list of the most added players in fantasy leagues. This isn't one of them. Here, we'll run down a few of the most interesting players for fantasy owners, with perspective on who deserves your attention, who deserves your patience, and who deserves to go straight to bed without dessert.
Any questions, thoughts? Hit me in the comments or on Twitter.
3 TO CATCH
Players to be picked up; available in most standard leagues
Javier Baez | Chicago Cubs | 2B/SS
Javier Baez is here! After Joe Maddon and Theo Epstein scuttled my preseason hype twice (once by sending Baez back to Triple-A to being the season and a second time by calling up Addison Russell ahead of Baez), the third time has proven to be the charm. Baez is up with the big club and has started four of his first five games back.
And he's been just about what I thought he could be. In just the few days since his call-up, he's already scalded a home run into the Wrigley Field bleachers: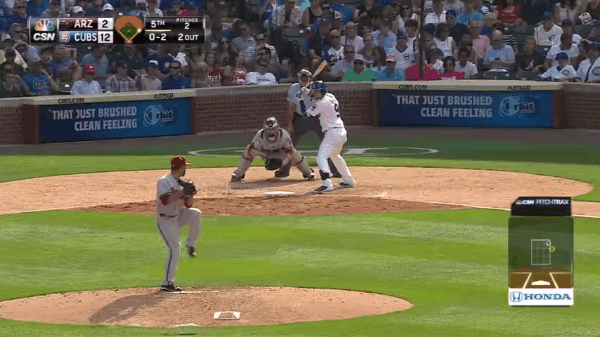 And screwed himself into the Wrigley Field batter's box trying to catch up to an Aroldis Chapman fastball: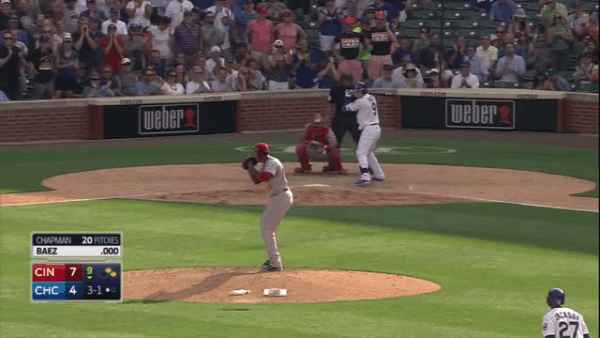 That's Javy Baez. You have to take the good with the bad; clips like that second one are the price of his all-or-nothing approach at the plate, the same approach that had FanGraphs Depth Charts projecting him to pop 26 homers and steal 14 bases win a full season's worth of MLB playing time.
And there is real hope in the fact that he hammered Triple-A pitching for a .324/.385/.527 slash line this season while cutting his strikeout rate by almost 20%. Baez has followed a familiar pattern, struggling initially when changing levels throughout his journey through the minor leagues, and every time, adjusting and eventually dominating. The fact that he's now adjusted and dominated Triple-A just like he adjusted and dominated every level before that makes me really optimistic for his prospects to eventually unlock his considerable talent as a big leaguer.
To pick him up, I'd drop: Francisco Lindor, Jung Ho Kang, Yunel Escobar
Josh Tomlin | Cleveland Indians | SP
Out of nowhere, journeyman Josh Tomlin has put up four quality starts in five outings for the Indians. He's pitched at least six innings, struck out at least five batters, and surrendered fewer baserunners than innings pitched in each of those five starts. It's an unbelievable turnaround for a pitcher who pitched to a 4.76 ERA in 104 MLB innings last season and held a 4.22 ERA in just over 21 Triple-A innings this season.
Tomlin has been better than ever since his early-season shoulder surgery. I was hoping for a Rookie of the Year situation, but Tomlin's velocity has remained unimpressive since his return. There really hasn't been any noticeable shift in his stuff or approach this season, beyond the fact that he's leaning a bit more on his fastball.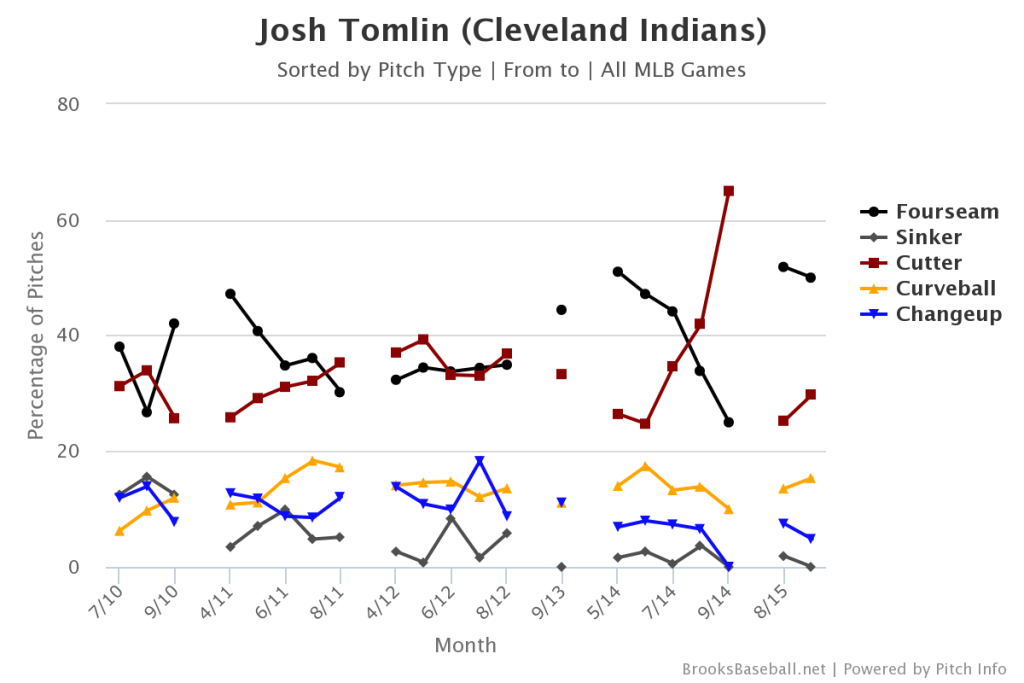 And that wouldn't seem to be a great thing to do, given that his heater rarely cracks 90 miles-per-hour and doesn't feature a ton of movement. But that pitch has been good enough to set up his curveball, which has been literally unhittable.
There's honestly not a ton of evidence to hang on to here, other than indicators that Tomlin has been incredibly lucky. Despite his excellent ERA, he's already given up seven home runs, six of which have been solo shots.
But his control has been spectacular, the strikeouts have been consistent, and even with his excellent BABIP luck, both xFIP (3.40) and SIERA (3.17) seem to think that this run is sustainable.
It'll help that Tomlin and the Tribe have a pretty manageable schedule down the stretch. Two of Tomlin's next three starts will come against the White Sox and his last couple of turns will likely come against either Minnesota or Boston, neither of which is particularly scary offensively. And aside from this week's trip to Chicago, Cleveland won't play a game in a hitter's park for the rest of the year.
At this point in the season, that's all I need. There's just not enough time to wait and see if Tomlin is for real. And even if he isn't, there may not be enough time left for him to turn back into a pumpkin. If you're desperate for pitching in a deep-ish league, you might as well grab him and hope to catch lightning in a bottle.
To pick him up, I'd drop: Chris Tillman, Ubaldo Jimenez, Dan Haren
Corey Seager | Los Angeles Dodgers | SS
When the best prospect in baseball gets called up, you shouldn't think twice about adding him to your fantasy team. That hold especially true when it happens this late in the season and even more especially true when that prospect happens to play a premium position.
With trade deadlines already past in most fantasy formats and the waiver wire remaining as the only avenue for team improvement, it figures that a player who was nearly universally regarded as baseball's best prospect at midseason would be worth burning whatever waiver priority or FAAB budgets you've got left.
And with shortstops collectively on pace for their worst season in decades, it figures that an offensive weapon who plays that position would be all the more valuable.
So yeah, even though he wasn't quite setting the world on fire at Triple-A, you should do whatever you can to get Corey Seager. His prospect status gives him more fantasy upside than almost any widely available player, which is certainly more valuable than whatever stiff currently occupies the last spot on your bench. Success is far from guaranteed, as it would be with any 21-year old facing big league pitching for the first time, but even so, the price of a waiver claim is well worth the risk.
The Dodgers are already well-stocked at every position Seager could play, but between Chase Utley, Jimmy Rollins, and Justin Turner, Don Mattingly will find enough days off to get Seager in the lineup more often than not; he's already started in three of four games since his call-up, appearing at both shortstop and third base. Clearly, the division title-chasing Dodgers believe that a lineup that includes Corey Seager gives them the best chance to win.
To pick him up, I'd drop: Asdrubal Cabrera, Erick Aybar, Starlin Castro
3 TO CUT
Players to be traded or dropped, depending on the depth of your league
Pablo Sandoval | Boston Red Sox | 3B
Like most of the Red Sox, Pablo Sandoval has been a big disappointment in 2015. After showing off a very unique and incredibly entertaining skillset in San Francisco, Sandoval hasn't been anything close to himself in Boston.
From 2012-2014, he was just about what we've come to expect Pablo Sandoval to be. He didn't hit with a whole ton of power in any particular zone, but he showed an incredible ability to hit with some degree of power against just about anything.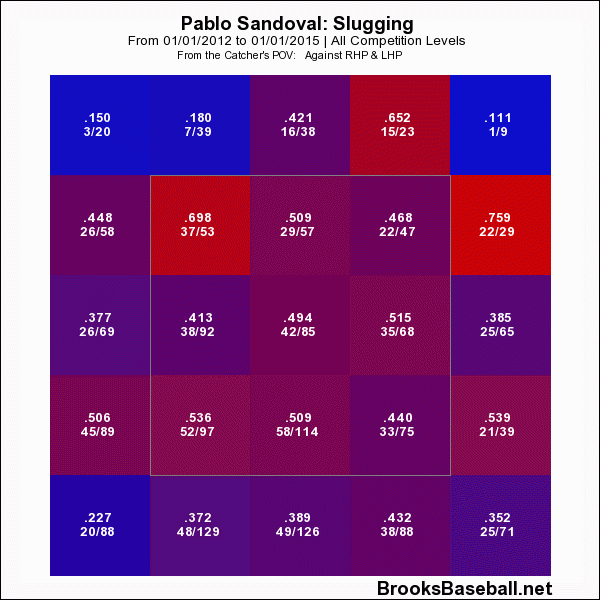 This season, the first half of that sentence has been true, but Sandoval has fallen woefully short on the second half.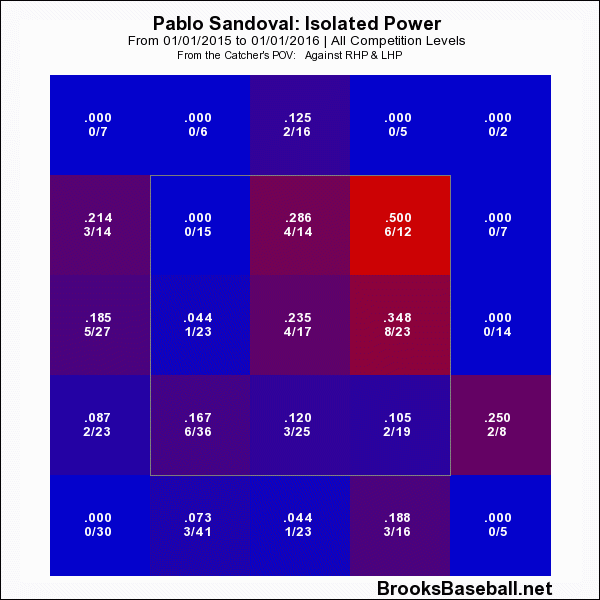 In the first chart, I counted nine boxes with a slugging percentage over .500. In the second chart, one.
Sandoval sat out the Sox' latest series with Philadelphia with mid-back tightness. He hasn't been placed on the disabled list, but I wouldn't be surprised at all if this turned into an extended absence. Boston is locked into the huge contract they handed him in the offseason, but with the club going nowhere this year and with other, younger options like Travis Shaw and Brock Holt able to slide in at third base, I can't imagine why the team would rush him back.
In mixed leagues, there's almost certainly a better option available on the wire.
I'd trade/drop him for: Miguel Sano, Trevor Plouffe, Nick Castellanos
Jimmy Nelson | Milwaukee Brewers | SP
Jimmy Nelson is exactly the type of pitcher that I often recommend at this point in the season. His lack of dominance in WHIP and ERA rightly depress his overall value, but for a fantasy owner trying to accumulate a lot of strikeouts in as few innings as possible, he looks like a perfect fit. But with the way Nelson's been lit up in two of his last three starts and the way his schedule's lining up for the rest of the month, I'd recommend seeking strikeouts elsewhere.
If the rest of his season plays out as projected, Nelson's final five starts will be all come against playoff teams with dangerous offenses. He'll have a start at Pittsburgh, then come home for St. Louis, travel to the Cubs, pitch at St. Louis, and close out his 2015 at home against the Cubs. Nelson actually handled the Pirates well in between his two recent disasterpieces, but he gave up at least four runs in three of his last six starts against those three division leaders. The Cardinals offense actually hasn't been that impressive lately, but the lineups in Pittsburgh and Chicago are both clicking right now; since the ASB, only the Mets have fielded a better offense in the National League. That's about as rough a final stretch as you could imagine.
I'd trade/drop him for: Kevin Pillar, Nori Aoki, Ender Enciarte
If Sandoval's season has been a disappointment, Hanley Ramirez' arrival in Boston has been nothing short of disaster. He was bad enough in left field to be banished to first base, but has now been shipped to the disabled list before ever making a start at his new position. The team reports that Ramirez has right shoulder inflammation, but when Ramirez sat out several games last week, before he was officially "disabled", he was reportedly suffering from a left shoulder injury.
This smells very fishy.
I suppose it's possible that Ramirez injured one shoulder while attempting to recover from an injury to the other, but for me, it's more likely that this move to the disabled list is a way to get Ramirez away from the team for the rest of this season. With rosters expanded, there's no reason for the Red Sox to place Ramirez on the DL if the team plans to have him back in 2015. But, if he's on the disabled list, it's a lot easier for the Sox to send Ramirez off somewhere to rest his shoulders and take grounders at first base, while Boston tests out its other in-house options at first base ahead of what will certainly be an offseason loaded with attempts to trade their erstwhile leftfielder.
The net is, I don't believe Ramirez is going to play again this season. If you don't have a DL slot in which to stash him, feel free to drop him.
I'd trade/drop him for: Christian Yelich, Brandon Moss, Jackie Bradley, Jr.
3 TO KEEP
Players to hold or trade for; owned in most standard leagues
Dexter Fowler | Chicago Cubs | OF
Even though the Cubs just acquired Austin Jackson, a centerfielder just a year removed from being the co-centerpiece of a trade for David Price, I see absolutely no reason to worry about the immediate fantasy future of Chicago's current centerfielder, Dexter Fowler. Playing time hasn't been an issue in the near term, since Kyle Schwarber's injury opened up a spot in right field, but even when Schwarber returns, I don't expect Jackson to displace Fowler with any kind of consistency.
Jackson offers a slight edge defensively, but not enough to force his way into the lineup; neither is much better than average in the field. But Fowler has a huge advantage at the plate, especially on the side where Jackson is strongest.
Jackson hasn't ever been platooned and doesn't show huge splits for his big league career, but this season, he's been a completely different hitter against lefties, slashing .297/.338/.441 against southpaws, which easily laps his .259/.302/.357 line against righties.
Unfortunately for Jackson, the switch-hitting Fowler also rakes against lefties; he's put up a .316/.386/.470 line against them this season. Part of that comes from Fowler's much higher BABIP against left-handers, but his hard-hit rate and line drive rate are both significantly higher against lefties as well. I'd actually suspect that the gap is more a result of bad luck hitting from the left side than good luck hitting from the right.
And even setting those platoon splits aside, there's no reason for the Cubs to want to take Fowler out of the leadoff spot. With the possible exception of the Diamondbacks' A.J. Pollock, Fowler has been the best table-setter in baseball since the All-Star break. Over that time span, only six hitters have scored more runs and only six hitters have a better OBP; MVP candidates Joey Votto and Bryce Harper are the only players to outpace Fowler in both categories.
He'll continue to serve as Chicago's sparkplug and continue to be startable in just about any mixed league.
I wouldn't trade/drop him for: Joc Pederson, Shin-Soo Choo, Ben Zobrist
Aaron Nola | Philadelphia Phillies | SP
At first glance, there are quite a few reasons to consider bailing out on Aaron Nola. For starters, he got rocked in his last outing, giving up nine hits, two homers, and six earned runs in just four innings against the scorching Mets.
Plus, he's on an innings limit:
Pete Mackanin said Phillies most likely going to a six-man rotation. Aaron Nola's innings limit (180-185) a factor.

— David Laurila (@DavidLaurilaQA) September 3, 2015
And finally, his velocity has been noticeably slower in his past few starts, per Brooks Baseball: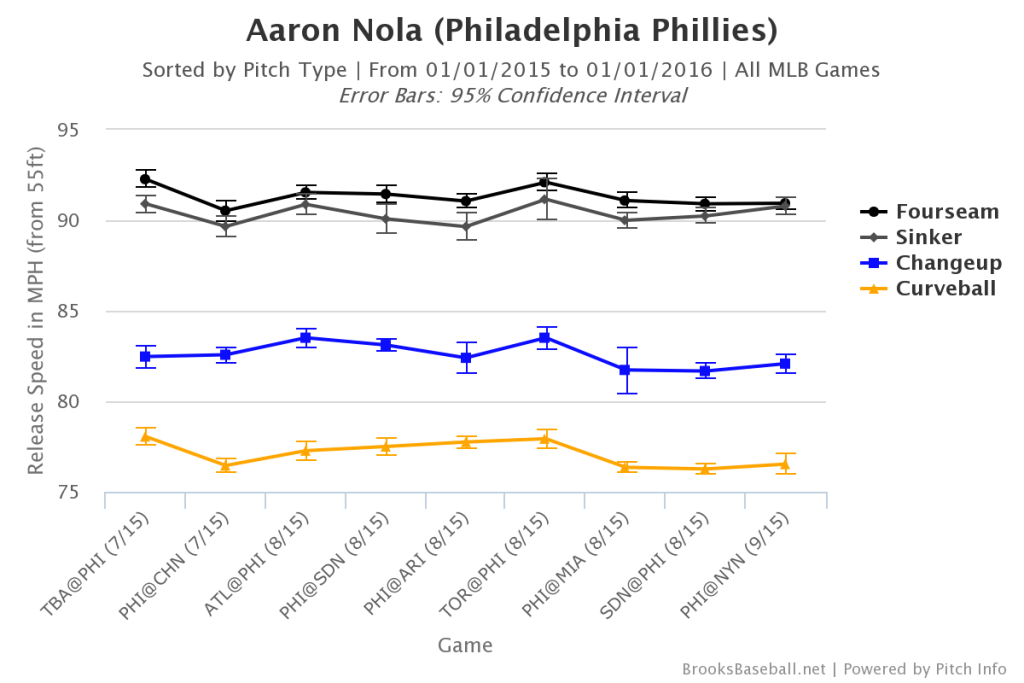 And yet, I couldn't recommend him more highly down the stretch.
Sure, Nola's fastball velocity is down on a start-by-start basis, but the reason is actually the opposide of fatigue. His three lowest fastball velocities in single games this season all came in the starts in which he pitched at least seven innings, two of which happened to be in the last couple of weeks. He's not running out of gas, he's rounding into form.
One of those starts, his best of the season, came against the Marlins, a team Nola is all but guaranteed to face at least once down the stretch. He's also likely have two starts against the Atlanta Braves, meaning the majority of Nola's final outings this season will come against the two worst offenses in the National League.
I wouldn't trade/drop him for: Taijuan Walker, Andrew Cashner, Steven Matz
Welp, it appears I spoke (typed?) too soon. From Hardball Talk:
Twins closer Glen Perkins recently returned to action after missing time with a neck injury, but now he's skipping the team's upcoming road trip due to back spasms.

Perkins told reporters that he "couldn't get out of bed" Wednesday and "can barely walk" today, so suffice it to say the Twins may be without their All-Star closer for a significant length of time.
Kevin Jepsen will remain the interim closer and remains a very interesting fantasy commodity. I really never had an issue with his skills, so I do think he'll perform well in the role.
I wouldn't trade/drop him for: Tom Wilhelmsen, Drew Pomeranz, Drew Storen