2015 Fantasy Baseball Week 10 Waiver Wire: 3 to Catch, 3 to Cut, 3 to Keep
In the Week 10 edition of fantasy baseball 3×3, we're snagging Eduardo Rodriguez, sticking with Gio Gonzalez, and getting out early on Mark Melancon.
There are plenty of waiver wire columns out there that provide an exhaustive list of the most added players in fantasy leagues. This isn't one of them. Here, we'll run down a few of the most interesting players for fantasy owners, with perspective on who deserves your attention, who deserves your patience, and who deserves to go straight to bed without dessert.
Any questions, thoughts? Hit me in the comments or on Twitter.
3 TO CATCH
Players to be picked up; available in most standard leagues
Eduardo Rodriguez | Boston Red Sox | SP
Eduardo Rodriguez has been spectacular in his first two major league starts, going at least seven innings each time and whiffing seven against just two walks on both occasions. Certainly, his BABIP (.118) and strand rate (100%) will come down, but Rodriguez' 2.91 FIP suggests he'll continue to be effective. He's certainly proved that he's got a fantastic set of tools to work with.
The whiff rates on all of his pitches are right around average, but his foul rates are sky high. Hitters can't consistently square up against the incredible life he shows on his fastball. And though Brooks Baseball categorizes all of the heaters he's thrown this season as fourseamers, I saw an excellent ability to mix things up with his fastball in his start last week against the Twins. Rodriguez flashed one fastball with outstanding tailing action to the outside corner against right handers, then switched up to a heater with a bit less horizontal movement to pound them inside, sawing hitters off as they swing expecting it to drift back over the heart of the plate. It's a dangerous area; I love to see a young pitcher with such a brazen willingness to pound right-handers inside with hard stuff.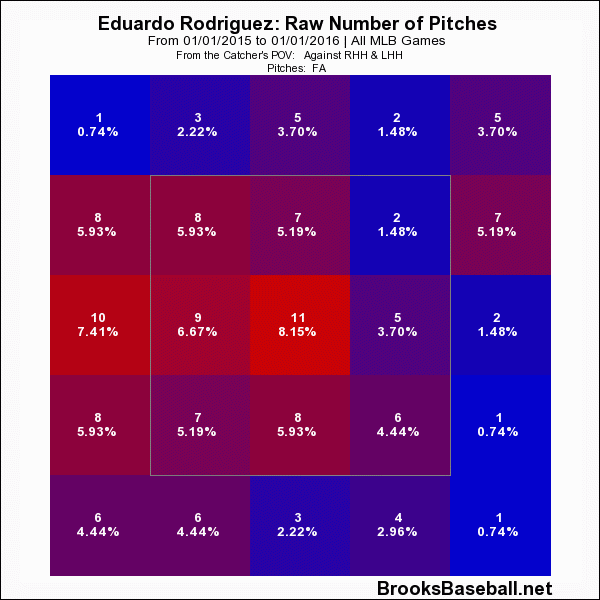 This isn't the most impressive pitcher GIF I've posted, but check out the way he finishes off Eduardo Escobar here. After Rodriguez sets him up by commanding the inside corner, the right-handed hitting Escobar is helpless against a fastball that paints the outside half.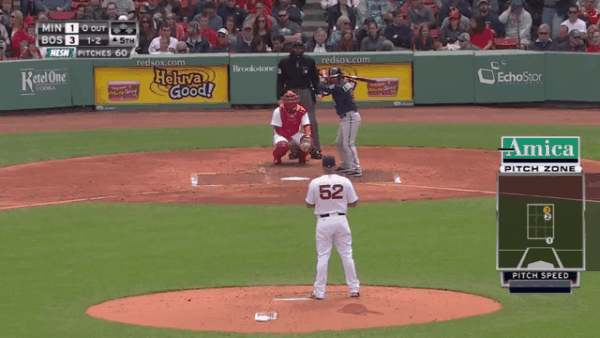 The fastball sets up his breaking and offspeed pitches, which can reliably miss bats down in the strike zone. His 38% chase rate would rank among the best in baseball, if he had enough innings to qualify. Only Corey Kluber and Chris Sale have induced swings outside the strike zone more often this season. He doesn't quite have the swinging strike rate to match the likes of Kluber and Sale, but his ability to induce non-damaging contact is already excellent.
Rodriguez has thrown 73 non-fastballs this season and has yet to allow a single hit. And hitters haven't performed much better against his fastball either, managing just a .290 slugging percentage in 31 at bats, per Brooks.
To pick him up, I'd drop: Andrew Cashner, Bartolo Colon, Noah Syndergaard
Hector Santiago is blessed with one of the liveliest heaters in the big leagues. Per Baseball Prospectus' PITCHF/x leaderboards, only Sale has shown more horizontal run on his fastball this season. It's almost too slippery; hitters often realize they have no hope of making contact. Among pitchers who've thrown at least 500 fourseamers this season, nobody has a lower swing rate. And no heater has rung up more called strikes; only Jordan Zimmmermann's has registered more called balls.
That untouchable fastball has made Santiago murder on lefties, but he hasn't had much luck holding down opposite-handed hitters. Righties have tuned him up for a .406 career slugging percentage. That's the kind of weakness that can scuttle a pitcher's fantasy value, but it's one that Santiago has made huge progress toward correcting in the early going this season.
He's been more aggressive, coming inside to righties more often and allowing far fewer fly balls (and by extension, far less power) when he does.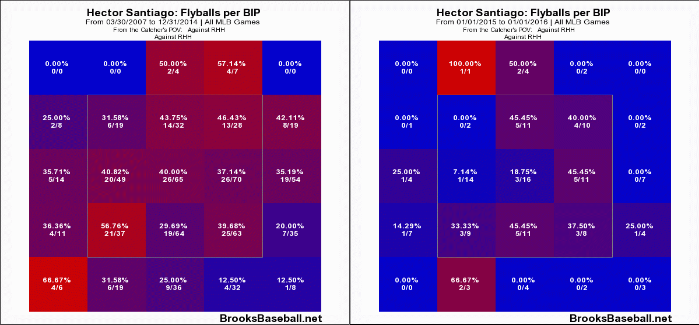 He's still getting pounded when he goes up and away or misses down the middle, but the fact that he's finally able to take an ownership stake in the inside corner has made a huge difference. When he does work down and away, he's getting significantly more whiffs on breaking and offspeed stuff.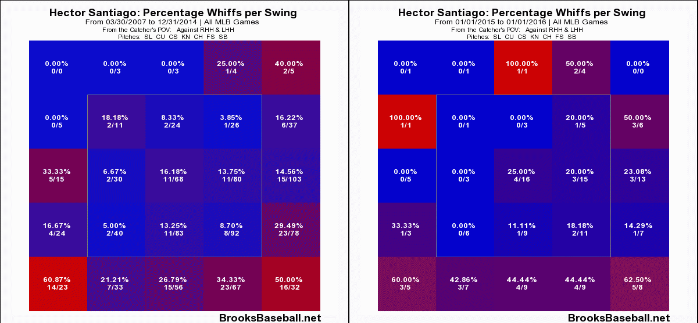 He's mostly scrapped the screwball that he'd used over the last couple of seasons, instead choosing to focus on his changeup and curve, both of which have never been better, sporting career best whiff/swing rates without any dropoff in swing rate.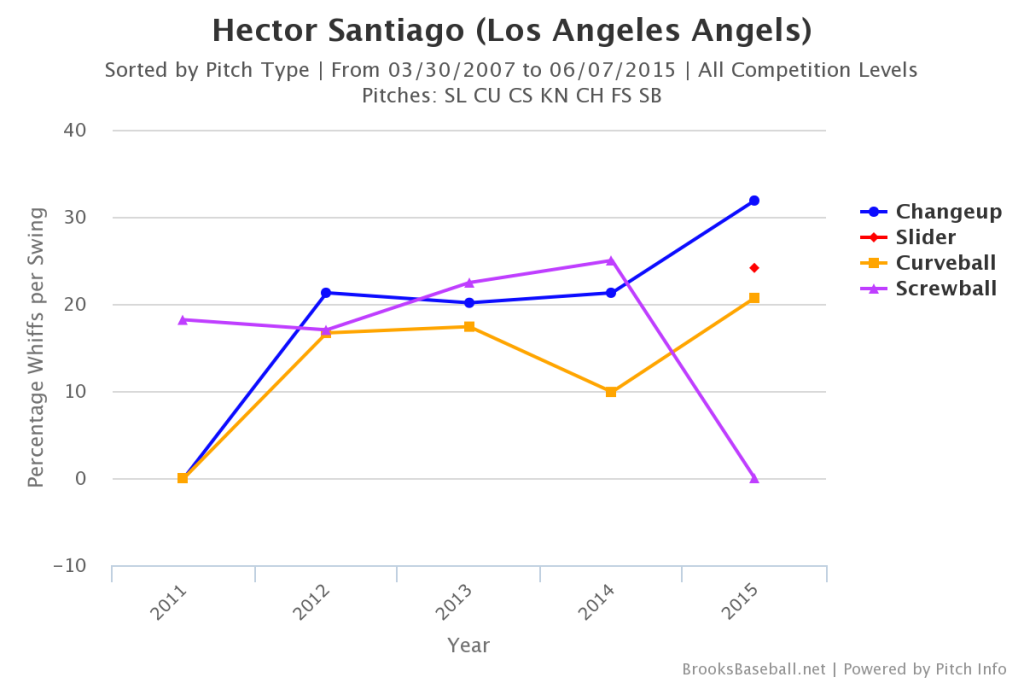 Santiago's BABIP and strand rate will perk up a bit and that'll hurt him, but these changes in approach can stick and make him a valuable source of strikeouts without much collateral damage in other categories. The ERA will spike a bit, but as he's shown for the last three seasons, Santiago is capable of outperforming his FIP by a significant margin. Something around 3.40 for the season, with about a strikeout per inning, is definitely within reach.
To pick him up, I'd drop: Lance McCullers, Ubaldo Jimenez, Jered Weaver
Delino DeShields is not a flash in the pan. I mean, he's just about as fast as one, but his fantasy value will last much longer than one of his dashes down the basepaths. DeShields is a frighteningly efficient thief, he's already snagged 13 bags in 14 attempts in his rookie season after converting at just a hair under 80% of his steal attempts as a minor leaguer.
It's a fantastic skill, but as Billy Hamilton has shown us, base stealing prowess isn't enough on its own. Luckily for DeShields (and his fantasy owners), his approach at the plate is far more advanced than Hamilton's. DeShields has no power, and he completely accepts that fact. He recognizes that his job is the get on base by any means necessary and executes a perfect plan to make that happen. He hits the ball on the ground (61.8% GB%), doesn't chase bad pitches (19.5% O-Swing%), and takes a ton of walks (12% BB%). He maximizes his chances of getting on base, thereby maximizing his chances of stealing a base.
His projections aren't rosy, but it's hard to find any holes in this approach. His OBP was consistently great in the minors; I don't see why he can't maintain something around .350 for the balance of the season.
The only question remaining is playing time; DeShields wasn't in the everyday lineup to begin the season, but he's become a fixture in recent weeks, almost always as the leadoff man. The Rangers have some depth in the outfield, but Josh Hamilton's injury has diffused that issue for the time being. DeShields will likely struggle a bit at some point this year, but as a Rule 5 pick, the Rangers have to keep him on the big league roster. He's a must own in every league.
To pick him up, I'd drop: Billy Burns, Ben Revere, Leonys Martin
3 TO CUT
Players to be traded or dropped, depending on the depth of your league
Mark Melancon | Pittsburgh Pirates | RP
Before fanning two to close down a win on Sunday, Mark Melancon was tied for fourth in the majors in saves with 17, but had by far the worst strikeout rate among regular closers. His 12.3% strikeout rate is less than half of last year's career best rate and by far the lowest of his career. Melancon's 7.8% swinging strike rate is his worst since his debut season back in 2009, when he pitched to a 4.44 FIP with the Yankees.
Melancon rose to the closer role by leading with his excellent cutter, but that pitch has experienced a disastrous drop in velocity this season. He's picked it up a bit recently, but the days of Melancon touching 95 miles-per-hour seem to be behind him.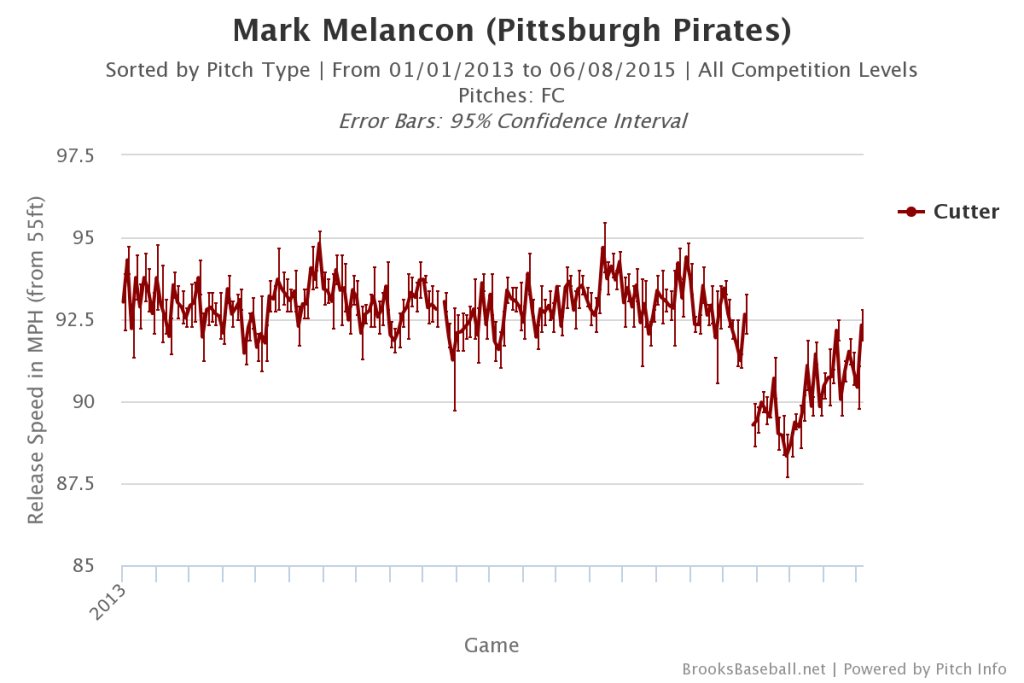 Without the cutter to set up the rest of his arsenal, it's no surprise to see Melancon's whiff rates flagging across the board. His curveball has been almost completely declawed this year.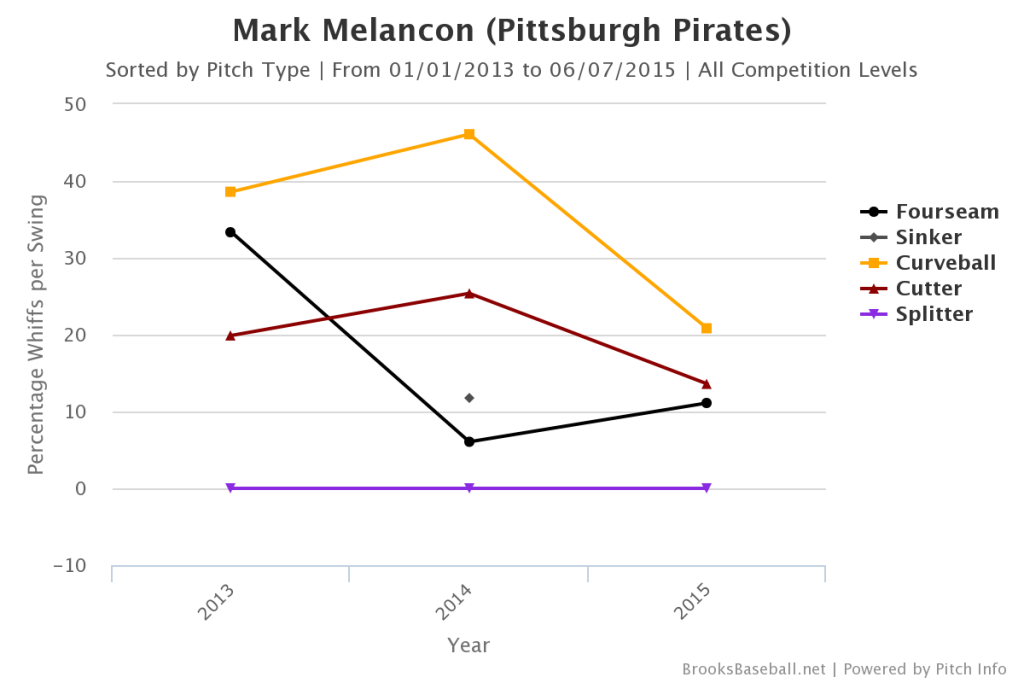 He's survived by maintaining his stellar ground ball rate, but sooner or later, one of those grounders is going to squirt through Pittsburgh's over-shifted infield at an inopportune moment. The Pirates defense is among the best prepared in the big leagues, but it's only been about average this season by DRS. Yet Melancon has benefitted from a .222 BABIP with men on base this season, by far the lowest of his career and more than 60 points below his career average. That's due for a correction.
At some point this season, his inability to miss bats is going to send him on one of those runs that cause closers to lose their jobs. And when that happens, Clint Hurdle will be tempted to turn to a bullpen loaded with flamethrowers. Both Arquimedes Caminero and Tony Watson feature a strikeout rate of at least 25% and a FIP below 3.00, and both have proven their ability to deliver (more effectively than Melancon) in high leverage situations.
Melancon is an excellent trade candidate while he still has the job.
I'd trade/drop him for: Luke Gregerson, Tyler Clippard, Shawn Tolleson
Seemingly out of nowhere, Brandon Crawford has grown into an elite run producer. After starting the season setting the table for the pitcher, Crawford has moved up the batting order, hitting no lower than sixth in his last 14 starts. He leads all shortstops in ISO and RBI, and he's tied for the league lead in homers among shortstops.
It's been an incredible season for Crawford, but based on where his name is mentioned in this article, you can probably tell where I'm going next… It's not going to last.
The RBI totals are easiest to pick off; Crawford laps in the field in BABIP with men on base. His .478 mark is just a few ticks off the league lead and almost 100 points better than the next best shortstop, Jhonny Peralta. Crawford's career numbers in those situations aren't bad, but he's in store for at least 150 points worth of regression that'll quickly torpedo his soaring RBI totals.
The power has actually been legit, comparatively. Five of his eight bombs have travelled more than 400 feet and he ranks among the league leaders on Baseball Heat Maps' batted ball distance leaderboard. However, none of that changes the fact that he's a lefty pull hitter who plays his home games in quite possibly the worst park in baseball for left-handed power, per FanGraphs. Crawford's not a dead pull hitter, but in San Francisco, his power stroke is like a Skee-Ball player gunning for that 50-point ring. Where he's aiming, there's just not much room for error.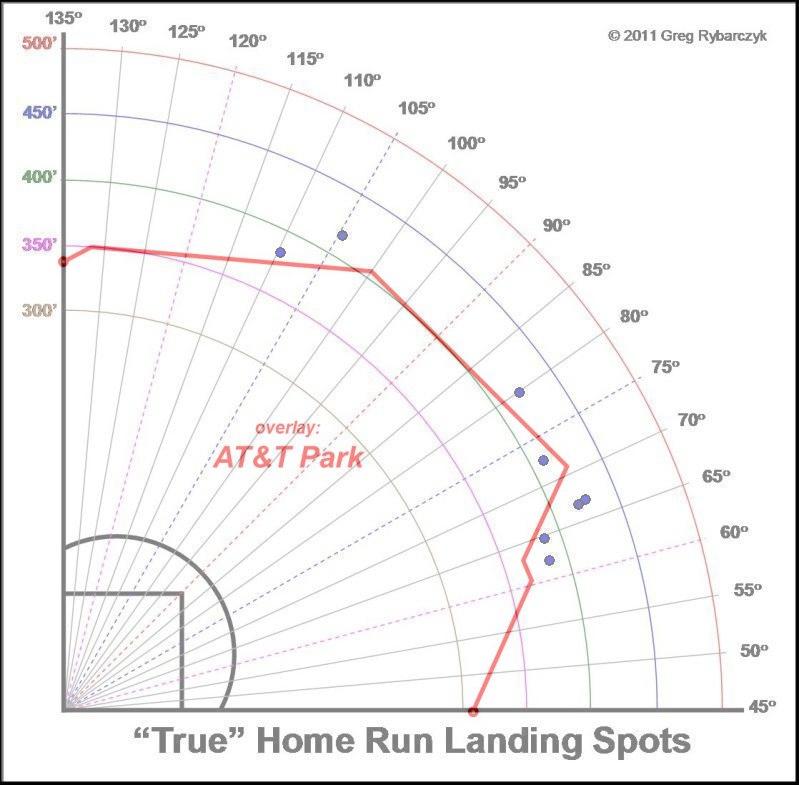 Unless you're this guy, challenging the right field power alley at AT&T Park just isn't a winning proposition.
The batted ball distances that Crawford's flashed this season are outstanding, but it's the first time he's ever displayed this kind of power. His batted ball distance has increased more than 30 feet over last season's, I can't assume that it'll stay at this level all summer long. With regression snapping at his heels and park factors upping the ante, Crawford has a snowball's chance at maintaining his 20-plus homer pace this season.
He probably cost you next to nothing on draft day, so best to just turn whatever profit you can now and move on to a more proven offensive commodity.
I'd trade/drop him for: Marcus Semien, Carlos Correa, Ben Zobrist
Yordano Ventura's having a bit of a sophomore slump. His ERA has leapt nearly a run and a half above last year's mark, despite the fact that he's taken a healthy bite out of his walk rate and just about matched his BABIP from last season. This'll sound cliched, but I think it's because Ventura hasn't really learned how to pitch yet.
Last season, he dominated by missing bats in the strike zone. Per FanGraphs, only five pitchers posted lower contact rates on pitches inside the strike zone, with two Cy Young winners dotting that list. His stuff was lively enough for a "here it is, hit it" approach.
This season… not so much.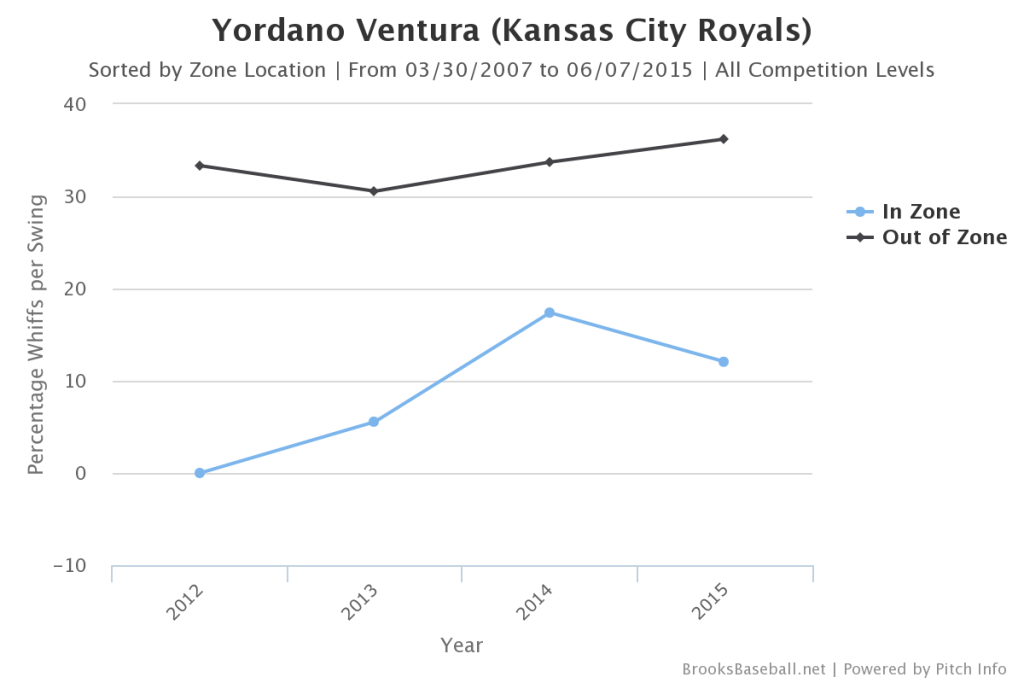 He's mixing in more sinkers and fewer fourseamers, but neither pitch has been as effective at missing bats as it was last season. And the fourseamer, in particular, isn't fooling anybody anymore; opposing hitters are slugging .642 against it this season, per Brooks Baseball.
Ventura is continuing to miss bats outside the zone and his chase rate has remained flat, but he's yet to prove that he can dominate when hitters can square up his heater. It's another step in his development, but he hasn't really shown a ton of progress. His fastball has occasionally missed bats, but he hasn't yet done it in back-to-back games. He may well clear this developmental hurdle and bounce back to last year's form, but this isn't a case where he's guaranteed to come around. I'm not buying until I see it more consistently.
I'd trade/drop him for: Trevor Bauer, Collin McHugh, Carlos Martinez
3 TO KEEP
Players to hold or trade for; owned in most standard leagues
Gio Gonzalez | Washington Nationals | SP
My Matt Shoemaker support isn't going so well so far, so this week, let's throw some support behind the anti-Shoemaker. The hard-throwing, free pass-granting, home run-preventing Gio Gonzalez. He's not the sort of pitcher that I typically gravitate toward, but he's an incredible buy low opportunity right now.
There's not much on Gonzalez' FanGraphs page that's out of line with his career norms other than his ERA (nearly a full run higher than his career average) and BABIP (80 points above his career average). His strikeout rate has dipped slightly but still checks in near a batter per inning. His walk rate still isn't great, but it's manageable. His groundball rate sits at a career-best 56.1% and his home run rate continues to be reliably excellent. He's never allowed less hard contact and though his overall contact rate has ticked up a bit, it's still just barely below average.
Of all of those stats, the ground ball rate is maybe the most critical marker. The uptick is certainly on purpose; it's come alongside Gonzalez trading in fourseamers for sinkers.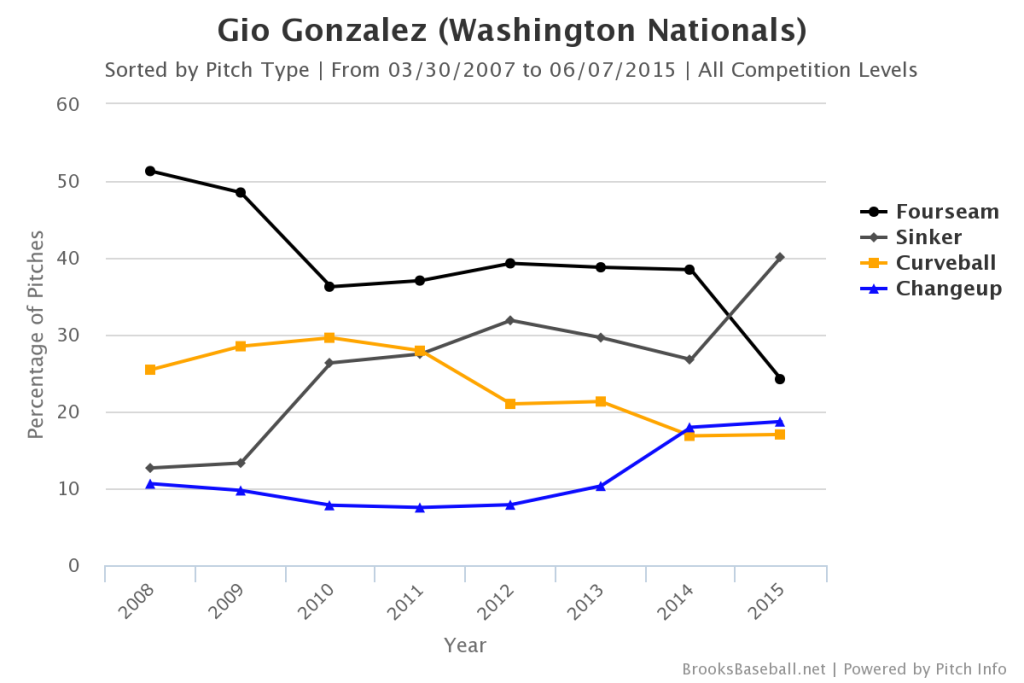 That increase in grounders might end up as a slight spike in BABIP, but nothing like the increase we've seen so far. Once his luck turns, Gonzalez' ERA will move much closer to matching his 3.06 FIP.
The strikeouts are worth watching, though. His putaway changeup hasn't been quite as effective at generating whiffs this season. Hitters are hacking as often as ever, but making a good deal more contact. The slugging percentage against his change has remained right around his career average, though, which suggests that the dip in whiffs is just a random hiccup. I'd expect he'll be back to a strikeout rate around 25% soon.
I wouldn't trade/drop him for: Julio Teheran, Alex Wood, Jake Odorizzi
Joey Gallo | Texas Rangers | 3B
I wrote something similar about Alex Rodriguez earlier this season, but it's worth repeating here. I realize that taking too much information from just one swing of the bat can be dangerous, but there are a very limited number of humans on the planet who can do this.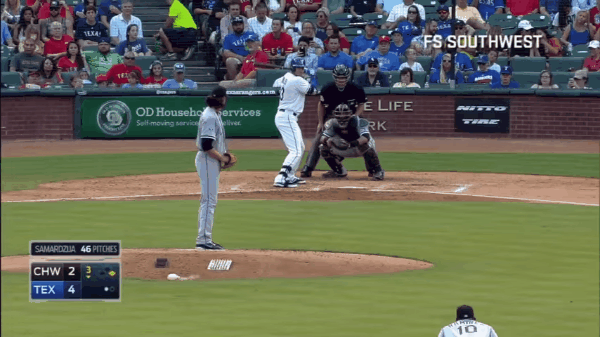 Joey Gallo's second major league swing rocketed that baseball 430 feet, according to ESPN's Home Run Tracker. A few plate appearances later, he tacked nine feet of distance and a couple stories of height onto his second career round tripper. Only 19 homers this season have jumped off the bat faster than that moonshot.
That glorious Sriracha fountain was quickly doused in cold water; Gallo struck out nine times in his next 12 plate appearances.
But absolutely none of this should come as a surprise. It's almost not even worth looking up the stats to confirm what we already know. Gallo is going to strike out a ton, there's no way around it. But as Chris Carter and his band of aggressive Astros showed us last season, strikeouts aren't necessarily a governor on power production.
In Gallo's case, I really don't care about the K's. This kid's got generational power and plays his home games in one of the best possible showcases for that skill.
Plus, his manager doesn't seem to care either:
"'With the power, the strikeouts do come with it,' Banister said. 'But you do want him to swing with authority. It's not about cutting down the swing. It's about recognizing the pitch. I'm not concerned.'"
Gallo is special. He's locked into playing time until Adrian Beltre recovers and even then, you'd think the Rangers would try to find a place on the big league club for the crown jewel of their organization. You could probably get a ton for him in a trade right now, but if I've got him, I'm holding tight. In the end, fantasy baseball is something we all do for fun, and there are few things more fun that being able to root for this to happen over and over again.
I wouldn't trade/drop him for: Pablo Sandoval, Mike Moustakas, Pedro Alvarez
.@RaysBaseball Chris Archer is the 1st pitcher in modern era with 10+ K and 0 BB in 3 consecutive starts.(via @EliasSports)

— ESPN Stats & Info (@ESPNStatsInfo) June 7, 2015
The Rays' ace has been consistently dominant this season. He's posted a FIP better than 2.29 in ten of his 13 starts and struck out at least seven batters nine times. He was already good in 2013 and 2014, but he's taken his game to another level this season, ratcheting his swinging strike rate up by more than 30% while dropping his walk rate to a career low. He's missing more bats in the strike zone than ever, ranking seventh among starters in zone contact rate heading into Sunday's action, according to FanGraphs.
We're not used to seeing his name alongside the likes of Max Scherzer, Chris Sale, and Clayton Kershaw, but he absolutely belongs. Archer deserves his place in the top ten starting pitchers.
I wouldn't trade/drop him for: Johnny Cueto, Madison Bumgarner, Matt Harvey