2020 Fantasy Baseball: Fun with PECOTA–Second Basemen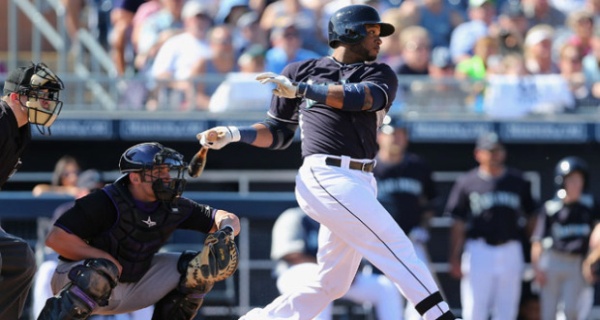 This time around we are going to combine a couple of different features into one article. We had started a variation of the three to keep, add, and drop when I shifted gears to fun with PECOTA. So, we will combine those here. We are taking a look at three second basemen that typically went undrafted (drafted by less than 50 percent of Yahoo leagues), but are somehow rated highly by PECOTA. We will add in the Steamer and Rotowire projections to offer a basis of comparison.
PECOTA comes from Baseball Prospectus and is one of the few things I look forward to every Spring. Unfortunately, supply chains and delivery delays brought this series a little later than I normally would like. Fortunately, we have plenty of time until the season actually begins. All projections are based on a 162 game schedule. As we know, that is highly unlikely. The current estimates are a 100 game season. Numbers can be adjsted there, but we will keep to 162 game projections to keep things easier to comprehend.
Rankings for second basemen for Baseball Prospectus are based on two points. First, we use Value Over Replacement Player (VORP). That compares all second basemen with the typical AAA second basemen. Secondly, we took the top 25 second basemen that will primarily play second base. There will be players that are eligible at second base than will be used elsewhere because that is where they will play most of the time this year.
Three to Add
Robinson Can0–New York Mets
VORP: 15.5 (13th)
Yahoo Owned: 11%
Yahoo 5: 22nd
Yahoo 6: 21st
PECOTA: .256/18 HR/57 Runs/65 RBI/2 SB/35 BB
Rotowire: .275/16 HR/61 Runs/53 RBI/0 SB/36 BB
Steamer: .271/18 HR/61 Runs/66 RBI/1 SB/35 BB
There is nothing more insidious in fantasy sports than the memory of a great player. Cano's place in the history of the game is difficult to pinpoint with his PED suspension on the record. All that being said, he is a solid performer that should produce solid numbers if he can remain healthy. When you get to this point of the draft/waiver wire you are always taking chances. What are the odds that he rebounds to what he was? They might be the same as taking a flier on a younger player.
Adam Frazier–Pittsburgh Pirates
VORP: 15.5 (13th)
Yahoo Owned: 3%
Yahoo 5: 21st
Yahoo 6: 20th
PECOTA: .260/9 HR/49 Runs/51 RBI/9 SB/36 BB
Rotowire: .276/10 HR/72 Runs/50 RBI/5 SB/39 BB
Steamer: .277/10/64 Runs/53 RBI/7 SB/43 BB
Frazier has two important things going for him. First, he is eligible at second and short. That makes him more valuable by sheer definition. Secondly, he does a little bit of everything. That makes him an ideal bench performer on both counts. The Pirates are destined for the basement, but they do have a few intriguing players and Frazier is one. He won't wow you with any of his numbers, but none of them will kill you either.
Hanser Alberto–Baltimore Orioles
VORP: 11.6 (18th)
Yahoo Owned: 6%
Yahoo 5: 19th
Yahoo 6: 23rd
PECOTA: .275/14 HR/58 Runs/65 RBI/5 SB/18 BB
Rotowire: .296/11 HR/57 Runs/53 RBI/3 SB.14 BB
Steamer: .288/12 HR/61 Runs/51 RBI/5 SB/19 BB
This is where the format makes all the difference. Flawed teams are forced to use flawed players. The Orioles have no interest in competing any time soon and Alberto is a useful guy for now. In a couple of years he might be selling insurance or serving as a utility infielder somewhere. He just doesn't have enough patience to be productive long-term, but in a five category league he can serve your needs just fine.
Three to Avoid
Scott Kingery–Philadelphia Phillies
VORP: 0.1 (25th)
Yahoo Owned: 79%
Yahoo 5: 16th
Yahoo 6: 17th
PECOTA: .228/18 HR/54 Runs/62 RBI/12 SB/31 BB
Rotowire: .256/18 HR/74 Runs/56 RBI/17 SB/35 BB
Steamer: .240/17 HR/60 Runs/64 RBI/14 SB/35 BB
Kingery is a jack of all trades and a master of none. Before the end of the season he will end up being eligible at second base, third base, and center field. He may not be a regular at any of them, but he will likely pile up the at bats anyway. Kingery's problem is that he doesn't steal first base often enough. There's a new sheriff in Philadelphia and it remains to be seen how much of a slave to numbers Joe Giradi will be. He got the knock for being too old school in New York. If he is paying any attention he will limit Kingery's exposure.
Rougned Odor–Texas Rangers
VORP: 11.2 (19th)
Yahoo Owned: 55%
Yahoo 5: 17th
Yahoo 6: 16th
PECOTA: .222/30 HR/70 Runs/84 RBI/11 SB/39 BB
Rotowire: .219/26 HR/77 Runs/80 RBI/12 SB/46 BB
Steamer: .235/28 HR/70 Runs/77 RBI/13 SB/43 BB
Statistical analysis is like peeling an onion. To say you should avoid Odor doesn't mean dropping him necessarily. Even PECOTA indicates he should rostered in a standard 12 team mixed league. All three projections show a very flawed guy that probably shouldn't start. If he is somehow available in your league you could do a lot worse by adding him, but you can also do better. If you own him you should limit his exposure. He will be prone to prolonged slumps.
Michael Chavis–Boston Red Sox
VORP: 12.3 (16th)
Yahoo Owned: 51%
Yahoo 5: 9th
Yahoo 6: 11th
PECOTA: .237/28 HR/71 Runs/83 RBI/3 SB/45 BB
Rotowire: .262/27 HR/73 Runs/81 RBI/3 SB/43 BB
Steamer: .249/21 HR/57 Runs/63 RBI/3 SB/34 BB
I'm down with OBP (yeah you know me), I'm down with OBP (yeah you know me), I'm down with OBP (yeah you know me). Like Odor, Chavis should be rostered. He is also eligible at first base afterall. He just shouldn't be in the regular lineup. He strikes out far too often and doesn't draw enough walks. He has impressive power, but power is not something that is that rare.
Author's Note: The Hall of Fame Index Part II is available via Amazon.com. Digital versions are available for $5.99 and paperback versions are available for %14.99. The Hall of Fame Index takes players already in the Hall of Fame nd uses a sophisticated formula to measure them against players that many think should be in the Hall of Fame. It's as comprehensive a look at those players as any available.