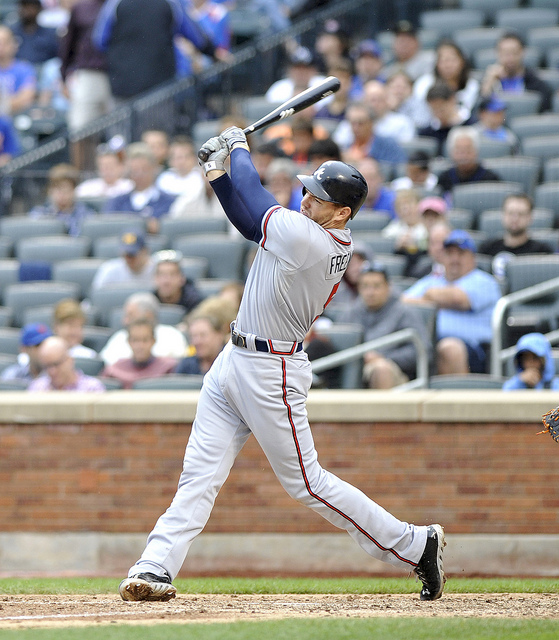 News broke on Tuesday that Atlanta Braves first baseman Freddie Freeman, who likes to dole out hugs to his teammates almost as much as he likes smashing line drives into the outfield, was rewarded with an eight-year, $135 million extension. Freeman will make an average of $16.875 million a year over the course of the eight-year deal, and it is the largest contract ever given out by the Braves. Freeman certainly earned the extension with his stellar play over the last three years, and his 2013 slash line of .319/.396/.501 with 23 home runs, 109 RBIs, and 89 runs in 147 games led to him being selected as a member of the National League All-Star team for the first time. The 24-year-old has been remarkably consistent over the last three seasons and the sky is the limit for his real-life and fantasy potential.
As for Freeman's fantasy prospects for the upcoming season, they look especially bright considering his past success and fabulous skill set. Freeman is a virtual lock for 20-plus homers as he has reached that plateau in each of the last three seasons. Additionally, Freeman has recorded at least 620 at-bats all three years as a full-time player while also increasing his RBI total from 76 in 2011, to 94 in 2012, to 109 in 2013. He also had a career-high BB% of 10.5% and a career-low K% of 19.2%. Drawing more walks and striking out less means he's making more contact, which bodes well for his chances to keep his OBP above .360 and his average over the .300 mark.
Two statistics where Freeman is likely to regress are his BABIP and average with runners in scoring position. Freeman hit .443 with RISP, an outstanding achievement considering the only player he trailed was Miguel Cabrera. In 2013 his BABIP was .371, beating his best mark of .339 in 2011 by 32 points. His .371 BABIP was an exceptionally high number considering the league average tends to fall between .290-.310. This is nitpicking though and although his BABIP may drop which may lead to less hits and a lower average, he should have no problem batting .290 considering his career batting average is .285.
Freeman's batted ball profile also gives credence to the idea that he can keep up his string of extremely productive seasons. Some statistics that can be helpful in determining whether players production is sustainable are line drive rate, ground ball rate, fly ball rate, GB/FB ratio and HR/FB ratio. The league average for line drive rate is 19 percent, 44 percent for ground ball rate, 37 percent for FB rate, 1.10 GB/FB ratio and a 9-10 percent HR/FB ratio. As evidenced by the table below, Freeman either exceeds or is very close to matching all these averages.
| | | | | | |
| --- | --- | --- | --- | --- | --- |
| Year/Category |      GB/FB |       LD% |       GB% |       FB% |       HR/FB |
|       2011 |       1.23 |       23% |       42.4% |      34.6% |       14% |
|       2012 |       1.01 |       26% |       37.1% |      36.9% |       14.8% |
|       2013 |       1.08 |      26.7% |       38.2% |      35.2% |        15% |
In a standard 12-team mixed league, Freeman is a surefire second or third-round draft pick, and if he somehow falls to the fourth round or later, you should definitely use a draft pick on him. The only first basemen I would rank ahead of Freeman would be Miguel Cabrera, Paul Goldschmidt, Chris Davis, Joey Votto, Prince Fielder and Edwin Encarnacion.
Moving on to a different subject, there are still some marquee free agents who have yet to find a home. The best available free agents remaining in no particular order would be Nelson Cruz, Ervin Santana and Ubaldo Jimenez. What these three free agents all have in common is that their free agency is tied to draft pick compensation and they were all demanding exorbitant amounts of money at the beginning of free agency. While Santana and Jimenez have seemingly backed off a bit on their contract demands according to recent reports, Cruz hasn't taken the same stance. Nonetheless, backtracking on the contract demands obviously hasn't solved the problems of Santana and Jimenez finding new teams.
It makes sense as to why teams are hesitant to sign these trio of players to big money deals. Jimenez has had only one truly great season with the Colorado Rockies back in 2010 and his focus and commitment has often been questioned. Santana had a career year last year in his age-30 season with the Kansas City Royals and has been quite inconsistent throughout his career as he posted a 5.16 ERA with the Los Angeles Angels in 2012.  For Cruz, talent has never been an issue as he has averaged 26 home runs and 84 RBI over the last three seasons, but durability issues have plagued Cruz throughout his career, and he was involved in the Biogenesis scandal last season and subsequently suspended 50 games for his involvement.
Without teams to which we can attach these players, it's hard to say how these players will perform in their new surroundings. It's also possible than one or more of these players could head back to the teams they played for last year if other MLB teams are wary of forfeiting draft picks to sign these players to contracts. With that being said, these are all players that you will want to look for on draft day under the right circumstances. If you can get Cruz as fourth outfielder for your fantasy team, you should be quite satisfied. As for Jimenez and Santana, you shouldn't be expecting them to perform any miracles and definitely shouldn't build your fantasy pitching staffs around them, but they can be quality SP4 types for your team.
Thanks for reading and also thanks to Fangraphs.com for providing the statistical information. Feel free to contact me on Twitter @MattMoczy if you have any questions for your fantasy teams.