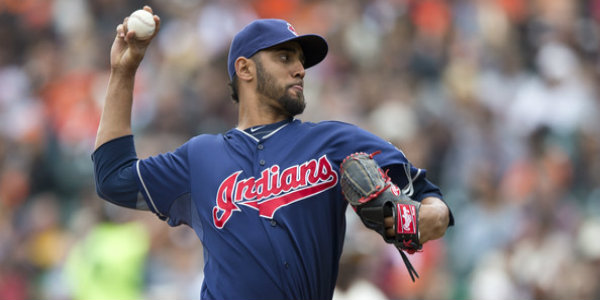 Editor's Note: This post was written prior to Salazar's Sunday start, and the stats and info contained within do not include that start.
We're less than one month into the 2014 season, but the data is beginning to pile up slowly but surely, and one pitcher's early season scuffling has ruffled the feathers of his fantasy owners. Danny Salazar was a pitcher who I had high hopes for entering the year, and I wasn't alone. With gamers beginning to ask me if they should sell Salazar for pennies on the dollar, it got me thinking, and I decided to take a look at what's going on with the second-year major leaguer.
The Indians' flame throwing right-hander was a popular draft day option for gamers chasing upside and strikeouts. The strikeouts have been there, as Salazar has a strikeout rate of 11.29 K/9, though, that's the only positive in his surface statistical profile. He's yet to win a game, opening with three losses in four starts, and his ERA sits at 7.85 with a 1.96 WHIP. Yuck. Let's lift the hood and see what's happening.
The 24-year old is walking batters at a high rate, and his walk rate of 4.91 BB/9 is well above the rates he's posted since recovering from Tommy John surgery he underwent in August of 2010. One of Salazar's biggest problems, and a likely contributing factor to the surge in walk rate, is that according to FanGraphs his first pitch strike rate has dropped from 67.3 percent in 2013 to 55.7 percent this year. The league average first pitch strike percentage is 59.9 percent this year, so Salazar is making life tougher for himself starting with his first pitch to opposing batters. He's also thrown fewer pitches in the strike zone seeing his zone percentage drop from 46.0 percent to 44.5 percent. The drop isn't as dramatic as his first pitch strike percentage nose dive, but it should be pointed out that the league average zone percentage has risen from 44.7 percent in 2013 to 47.1 percent this year. Strike throwing hasn't eluded the right-hander in his recent history, and Indians pitching coach Mickey Callaway was able to get Ubaldo Jimenez and Scott Kazmir, two guys with a track record of poor control prior to working with him, to to get their walk rates in check. With that in mind, I like Salazar's odds of turning things around in this aspect of his struggles.
Walks haven't been the only contributing factor to Salazar's swollen ERA and WHIP. Batters are hitting .333 against him due in large part to an unsustainable .420 BABIP. Both of those numbers will drop substantially. Speaking of poor luck with hits, gopheritis has also afflicted Salazar as his home run rate sits at 2.45 HR/9. That rate is going to drop, though, his flyball heavy batted ball profile is going to lead to an above average home run allowed total. Once Salazar gets his base runner issues in check, whether it be a result of him making changes or regression from some poor luck, the solo shots will be much more palatable.
One of the final accelerants being poured on this figurative dumpster fire is an out of the ordinarily low left-on-base percentage. Salazar's 65.5 percent left-on-base percentage is well below what FanGraphs credits the league average to be this year, 73.0 percent, and an even further cry from his 83.3 percent mark in 2013. Stranding runners doesn't stand out as a problem in Salazar's minor league career or his time in the bigs last year, and that leads me to believe he'll right the ship when it comes to preventing base runners from scoring as regularly as they have thus far.
Even with so many factors likely turning around in Salazar's favor, as he's been quite unlucky to date, it's time to recalibrate expectations from him for the remainder of the year. The Indians' hurler isn't fooling hitters and getting them to chase out of the strike zone like he was last year, and his o-swing percentage (swings on pitches outside the strike zone) has dropped from 38.2 percent in 2013 to 26.7 percent this season. He's also not generating as many empty swings with his swinging strike percentage dropping from 14.6 percent in 2013 to 9.2 percent this year.
It's likely a decrease in velocity is the driving force behind batters getting more wood on Salazar's pitches. Brooks Baseball has his fourseam fastball average velocity down almost two full ticks from 96.80 mph in 2013 to 94.94 mph this year, and the rest of his repertoire features diminished velocity this year, too. Velocity is a big deal for starters, and Eno Sarris tackled that topic for Sports on Earth recently. Thankfully, the bar was set high by Salazar last year, and he had ticks he could afford to give. Furthermore, he should be expected to gain up to around one tick on his fastball as the season wears on as Mike Fast, now a member of the Astros organization, but formerly of Baseball Prospectus, shows in this piece.
I expect Salazar to rebound from his dreadful start to this year, but there are enough warts on his profile to drop him in rest-of-season pitcher rankings. I viewed him as a number two fantasy starter entering the season, but now I would peg him as a top 40-to-50 starter as opposed to a top 20 arm. His upside remains unchanged, and Salazar's ability to tally in bunches is hard to ignore, but a few clunkers getting mixed in seems about right. If you're a Salazar owner that can get top 40-to-50 starter value for him, and you wish to escape the roller coaster ride, feel free to move him, but I wouldn't deal him at any steeper a discount than that. In most leagues, the best move is for his owners to hold him and wait for the brighter days that should lie ahead.