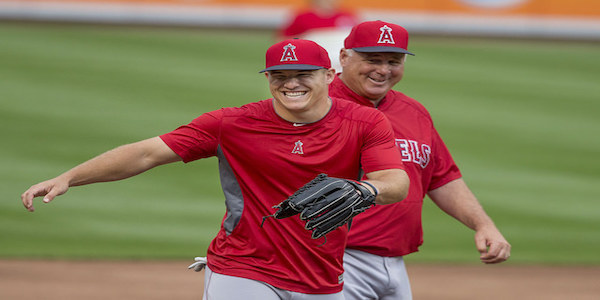 Offseason Overview
The Los Angeles Angels recorded a MLB-best 98 wins in 2014 and reached the playoffs for the first time since 2009 thanks to a dynamic offense and better than expected pitching. But their season ended on a sour note as they were swept 3-0 in the ALDS by the Kansas City Royals.
The Angels weren't especially busy in the offseason, but they did make a few notable transactions. Longtime second baseman Howie Kendrick was traded to the Dodgers for pitching prospect Andrew Heaney, while the team also acquired Matt Joyce and Josh Rutledge in trades to address the second base and right field positions.
Perhaps the most alarming bit of news for the Angels this offseason was the revelation that mercurial outfielder Josh Hamilton is facing a possible suspension from MLB commissioner Rob Manfred for his recent relapse, and his status has yet to be determined. While his loss will undoubtedly hurt the team, the Angels are poised to repeat as AL West division champions with a solid nucleus led by the reigning AL MVP.
Top Draft Picks (Studs)
Mike Trout (OF): Trout is the unanimous number one pick in fantasy baseball drafts and it's easy to understand why when you look at his production to this point of his brilliant career. In his MVP campaign in 2014, Trout produced a .287/.377/.561 slash line and hit 36 home runs with 111 RBI, 115 runs, and 16 steals. The marks in homers and RBI were career-highs and the scary part is his ceiling hasn't even been truly reached yet. While the average was a career-low, it's by no means a bad mark, and he's a career .305 hitter so he'll likely improve in that area if he can improve upon his 26.1% strikeout rate from last year.
After attempting only 18 stolen bases last year, the 23-year-old has also gone on record saying he wants to steal more bases this year and this development is just icing on the cake for his fantasy owners. Another 30-30 season is within reach for him and those who own him are going to have plenty of fun in doing so.
Albert Pujols (1B): While the annual .300-30-100-100 seasons may be a thing of the past for one of the best hitters of this generation, Pujols showed last year that he's still plenty capable of supplying fantasy owners with ample production. He hit .272 with 28 homers, 105 RBI, and 89 runs a season ago over 159 games. While his upside may be capped, players with power and durability are extremely valuable for fantasy purposes. The 35-year-old needs to improve his career-low 6.9% walk rate from last year if he wants to better the lousy .324 OBP he posted for those of you who play with that category. His 46.2 ADP seems a bit pricey, though, and the fifth or sixth round seems like a better place to target him.
High Upside (Sleepers)
Kole Calhoun (OF): Calhoun raked throughout his entire minor league career and when given the chance to be an everyday player for the Angels in 2014, the outfielder more than proved his worth. In only 127 games, thanks in part to an ankle injury that cost him roughly a month of action, Calhoun hit .272 with 17 homers, 90 runs and five steals. Considering the impressive numbers he posted last year while missing 35 games, it's conceivable that Calhoun could hit 20 homers and score 100+ runs batting atop the Angels explosive lineup if he manages to stay healthy this year.
The 27-year-old is in his prime and he carries plenty of fantasy appeal as an OF3 with a 102.8 ADP. There aren't many players with a legit chance to score 100 runs  that you can acquire after the 100th pick, and fantasy owners are advised to take advantage of his affordable ADP at the moment.
Garrett Richards (SP): Even when you factor in the likely 15-day DL stint Richards (knee) is staring at to begin the season, it's perplexing to see his 133 ADP considering his dominance last year. Richards was well on his way to AL Cy Young consideration before he tore his patellar tendon trying to cover first base against the Red Sox, finishing with a 2.61 ERA, 1.04 WHIP, and a 164/51 K/BB ratio over 168.2 innings.
His 2.60 FIP and 24.2% strikeout rate suggest his breakout season was no fluke and his ability to pinpoint his high-octane fastball was a big reason for his success. All updates regarding his status have been positive to this point and he's scheduled to partake in a intrasquad game on Wednesday. If Richards experiences no setbacks as he works his way back, he's likely to return at some point in April. It's not often you can acquire a pitcher with SP1 upside for the price of a SP3.
Matt Shoemaker (SP): All Shoemaker did last season was win as he recorded 16 of them over 20 games started, and he was one of the biggest pitching surprises in both fantasy and reality. Additionally, the rookie posted a 3.04 ERA, 1.07 WHIP, and 124/24 K/BB ratio over 136 innings. For someone who recorded a 6.14 ERA in Triple-A from 2011-2013 and wasn't considered a top prospect in the Angels minor league system, it was impossible to see his success coming. Let's be clear, Shoemaker has minimal odds of enduring such success again this year and he's likely to regress across the board if his minor league track record is any indication. With that being said, his 194.2 ADP equates to a 17th-round selection in standard 12-teamers and you can likely get him after pick 200 considering his lack of a pedigree. At that price, there really isn't too much risk attached to see if he can provide SP5/SP6 value.
High Downside (Busts)
Jered Weaver (SP): While the right-hander led the AL with 18 wins last year, we all know wins can be influenced by a myriad of factors and aren't a true indicator of a pitchers success. For the fourth year in a row, Weaver's ERA (3.59) and WHIP (1.21) rose and his 4.19 FIP suggests he was fortunate to finish with those numbers. While Weaver has never been known as a flamethrower, his declining fastball velocity means Weaver's margin for error is smaller than in years past. The 32-year-old has never been known as a great asset for strikeouts and that will remain the case in 2015. Weaver still makes for a fine SP3/SP4 target, but don't be surprised if we've seen the best from him.
Closer Situation
Huston Street (RP): Street was acquired in a trade from the Padres last season to take over as the Angels closer, and he certainly delivered for the Halos as he posted a 1.71 ERA and 17 saves over 28 appearances. The Texas product owns a career 2.83 ERA and 1.03 WHIP, and he has recorded at least 20 saves in six consecutive seasons. With that being said, the 31-year-old isn't a great source of strikeouts and has had his share of injury issues in the past as he hasn't pitched more than 60 innings since 2009. While this isn't a deal breaker, it's certainly something to consider when evaluating who you want to close for your team. The Angels are poised to be a very good team this year, and Street is a good bet for 30-40 saves. Joe Smith is the player to own for potential saves if Street is forced to miss any action this year.
Impact Minor Leaguers
Andrew Heaney (SP): Heaney started the offseason as a Marlin before he was traded to the Dodgers as part of the Dee Gordon package and then was traded to the Angels in exchange for Howie Kendrick. Considering the impressive names involved in the trades, it's clear how high some teams view Heaney. The ninth overall pick of the 2012 draft, Heaney has long been regarded as one of the best left-handed pitching prospects and is poised to start the year in the Angels rotation. Although he struggled with the Marlins last year, the 23-year-old possesses a plus fastball and slider to go along with an improving changeup and decent command. Mixed-league value may be out of the equation this year, but he'll certainly be useful in AL-only leagues.
Surprising Stat
Though he hasn't received more than 462 at-bats in any year since 2011, Matt Joyce is averaging 16 homers, 58 RBI, and 61 runs over the last four years in his limited action. The 30-year-old is expected to open the year as the Angels everyday left fielder, yet his 411 ADP indicates he's being undrafted in almost all leagues. Joyce should be a decent source of power in deeper leagues for those looking for a bat with pop off the bench.
Thanks to FanGraphs, ESPN, Yahoo, and FantasyPros for providing the statistical information. Be sure to comment below with any questions or remarks. You can follow me on Twitter @MattMoczy and I'm more than willing to answer any questions.