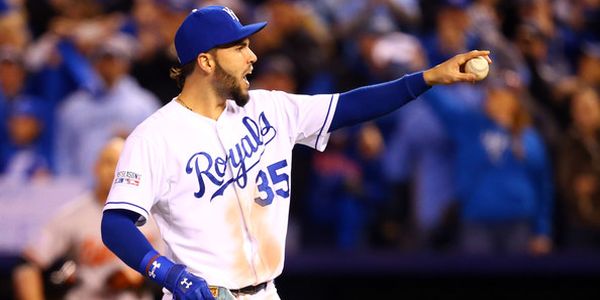 The following is a team preview for the Kansas City Royals from a fantasy baseball perspective, contributed by Brian Dunshee.
Offseason Review
It would be an understatement to say that the Royals made their franchise relevant again last year. For the first time since 1985, the Royals made the playoffs and they took advantage of it; ultimately coming within one game of taking home the World Series trophy. After losing their ace James Shields and fan favorite Billy Butler, the Royals need to find a way to fill those voids and try to stay relevant in what could be the best division in baseball.
Top Draft Picks
There is a good chance that the first Royal player you see taken off the board in your fantasy draft is closer Greg Holland, and that may not be until round 7. The Royals don't have any superstars on their roster, as they're now famous for combining great defense and a shutdown bullpen to win ballgames. Right around the same time Holland goes off the board, you can expect that outfielder Alex Gordon and catcher Salvador Perez will be taken as well.
High Upside
Fortunately, the Royals are packed with players that could break out at any moment and fill the fantasy superstar the team is lacking. Twenty four year old fireballer Yordano Ventura is ready to become the ace of the rotation now that James Shields has headed to the NL west. Last season, during his rookie campaign, Ventura put up solid numbers behind Shields, winning 14 games while posting a 3.20 ERA and logging 183 innings. You should be able to draft Ventura around the same time or for the same bid that you would get more seasoned pitchers like Justin Verlander, Anibel Sanchez and Scott Kazmir. His upside is that of at least a number 2 starter on your staff.
There are reasons to believe that this year could be the year we've all been waiting for; the year that Eric Hosmer finally lives up to the lofty expectations and becomes a 20 home run first baseman. It seems like Hosmer has been in the show forever, but he is still just 25 years old. The Royals have been extremely patient during his development, and the patience is beginning to pay off, as Hosmer hit .351 with 2 homers and 12 RBI during the Royals' postseason run. If there were an opportune time for him to break out, this would be the season to do it. There are some serious questions surrounding this team going into the season, and the importance of Hosmer having a breakout season cannot be overstated.
High Downside
The Royals signed right-hander Edinson Volquez in December with hopes that he will be able to repeat his 2014 success in what was a resurgent year with the Pirates. Once the headliner of a deal that sent Josh Hamilton from the Reds to the Rangers, Volquez was never able to repeat his breakout rookie season in 2008, in which he posted a 3.21 ERA with 206 strikeouts in 196 innings. Though he was able to post solid numbers last season in Pittsburgh, statistics show that much of his success was attributable to luck. His FIP (fielding independent pitching) was a whole run higher than his actual ERA, suggesting that his fixed ERA would be a 4.15. Three years since 2011 his era has been 5.71 or higher. Let someone else take a chance on this risky right-hander this season.
Closer Situation
The bullpen certainly was not an area of concern for the Royals last year, and had they won the World Series, we would have been talking about this bullpen being one of the best of all time. The anchor of the bullpen is Greg Holland; who has become one of the best shutdown relievers in all of baseball over the past two seasons. Like Craig Kimbrel and Aroldis Chapman, it seems like Holland strikes out every batter he faces. He is a top three reliever in all formats, and unless he gets injured, he is a safe bet to repeat his success.
Impact Minor Leaguers
The Royals Minor League System is bare with so many of their top prospects reaching the majors the last few seasons (Hosmer, Moustakas, Perez), There is not a lot of help on the way, with the team whiffing on top picks Aaron Crow, Christian Colon and Bubba Startling picking at or near the top of the MLB draft from 2009-2011.
Brandon Finnegan, the team's 2014 first round pick, made his major league debut late in the season and got his first taste of playoff baseball. He pitched in 7 games in the post season, including two in the World Series. The Royals will likely stretch him out in the minors to being the season as they hope he can become an effective starter. If he is effective the smallish (5'11 – 185 lbs) lefty may get the call early in the season.
The player that may have the most upside impact this year is starting pitcher Kyle Zimmer, but he comes with a huge injury risk. Zimmer has struck out 11 batters per nine innings during his minor league career, but pitched only 4 innings in 2014 due to shoulder problems. The Royals sent him to the Arizona Fall League where he was among the most impressive pitchers, striking out 11 batters in a five-inning start before he was shut down with shoulder soreness again. The Royals have chosen rest over surgery, which can be a dangerous road. Just ask the Texas Rangers' Jurickson Profar, who will miss the entire season after missing 2104 and opting against surgery. Watch medical reports on Zimmer closely this spring.
Surprising Stat
Not a single player on the Royals roster hit 20 home runs, drove in 80 or more RBIs, scored 100 runs, or won more than 14 games pitching and they were one win away from the World Series title.