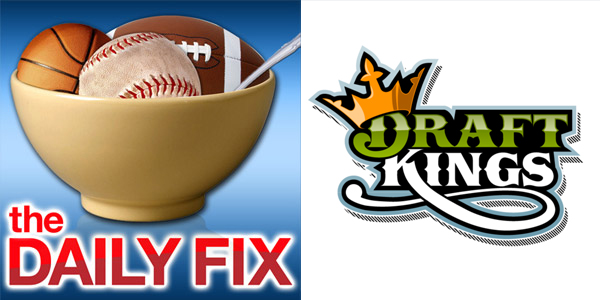 Good morning, all. I hope your Week 1 was less frustrating than mine. I think the middle of September is my least favorite time of the year because I'm always beating myself up over why I decided to play fantasy football again. I just keep telling myself that this year can't be as bad as last year when three of my first four picks in one league were Trent Richardson, David Wilson and Steve Smith. Somehow, miraculously, I won that league.
Once again, I'll list several different options in different price ranges at DraftKings, a great daily fantasy sports site. DraftKings is currently running a special contest with a $100,000 prize pool, which is free to enter with your first deposit. DraftKings will match that deposit up to $600. Otherwise, the entry fee is just $2, with first place winning $10,000. Be sure to check that out. Here are the full NFL scoring and settings rules at DraftKings.
Expensive
Arian Foster – $7,000 at Oakland – Oakland gave up 174 yards rushing to the underwhelming Jets running backs on just 24 carries (7.25 yards per carry). Foster carried the ball 27 times and caught two passes. The other running backs combined for two carries. As long as he's healthy, which he is, Foster is a workhorse, three-down back who'll get the red zone opportunities. The Oakland defense is icing on the cake.
Montee Ball – $6,800 vs. Kansas City – Ball had 23 of 27 running back carries for the Broncos Sunday night, and he caught both his targets for 16 yards. He only rushed for 67 yards, but he did score. The Chiefs lost starting Pro Bowl linebacker Derrick Johnson and starting defensive end Mike DeVito Sunday for the season in a game they gave up 148 rush yards on 32 carries to the also underwhelming Titans running backs. Ball should see plenty of touches and the end zone again Sunday.
Reasonable
Knowshon Moreno – $5,700 at Buffalo – Moreno saw 24 carries to Lamar Miller's 11 Sunday, as he averaged 5.5 yards a carry and scored. It looked like Miller was the red zone back and sometime third-down back, but Moreno played often and well. The Dolphins didn't bring him in to only give him a handful of carries, and Sunday proved that. Buffalo gave up 169 total yards to Matt Forte, so another productive game is easily doable for Moreno.
Frank Gore – $4,900 vs. Chicago – I'd recommend going with Gore in a Double Up contest or other similar contest where the payouts aren't big but you have a better shot at ending up in the money. Gore doesn't have the upside you need to help you finish near the top in a high-payout contest, but against Chicago, which again looks like a very bad run defense, he should see a good amount of carries. His price is low enough to help you out at other positions.
Cheap
Mark Ingram – $4,500 at Cleveland – Ingram looked like a boss Sunday, running well for 60 yards on 13 carries and scoring twice. Both scores were from inside the 5, so it looks like he's the Saints' red-zone back. Cleveland gave up 109 yards, 5.2 yards a carry and a touchdown to Le'Veon Bell Sunday, so there's production to be had here.
Fred Jackson – $4,000 vs. Miami – Jackson had an underwhelming yet solid first game, rushing for 61 yards on seven carries and breaking off a long 38-yard run near the end of the game. He also caught three passes for 13 yards. While he'll obviously split time with C.J. Spiller, the Bills are going to be heavily run-oriented so Jackson will see plenty of touches weekly. I believe something like the 70 total yards and five catches Shane Vereen had against Miami last week is what Jackson is capable of this week. At $4,000 he's a great bargain with a very high floor to let you load up elsewhere.